About The Mirage Las Vegas
The Mirage Las Vegas is a Polynesian-themed resort plus casino located on the Strip. The resort was originally built by Steve Wynn (an art collector and real estate businessman) and is currently owned as well as operated by MGM Resorts International. It was designed by interior designer Roger Thomas and architect Joel Bergman. The Mirage Las Vegas was built on the site previously by the Castaways and before this, the Red Rooster Nite Club. The original marquee sign located in front of the resort is the world's largest free-standing marquee.
The resort was proposed with a 565-million dollar initial cost. Financier Michael Milken helped in financing the project by selling 525 million dollars' worth of mortgage bonds. It was the first ever resort built with Wall Street money using junk bonds. This project went over budget, becoming history's most expensive hotel-casino with a 630-million dollar construction cost. The distinctive gold windows of the hotel get their beautiful color from real gold dust that was used in the tinting process.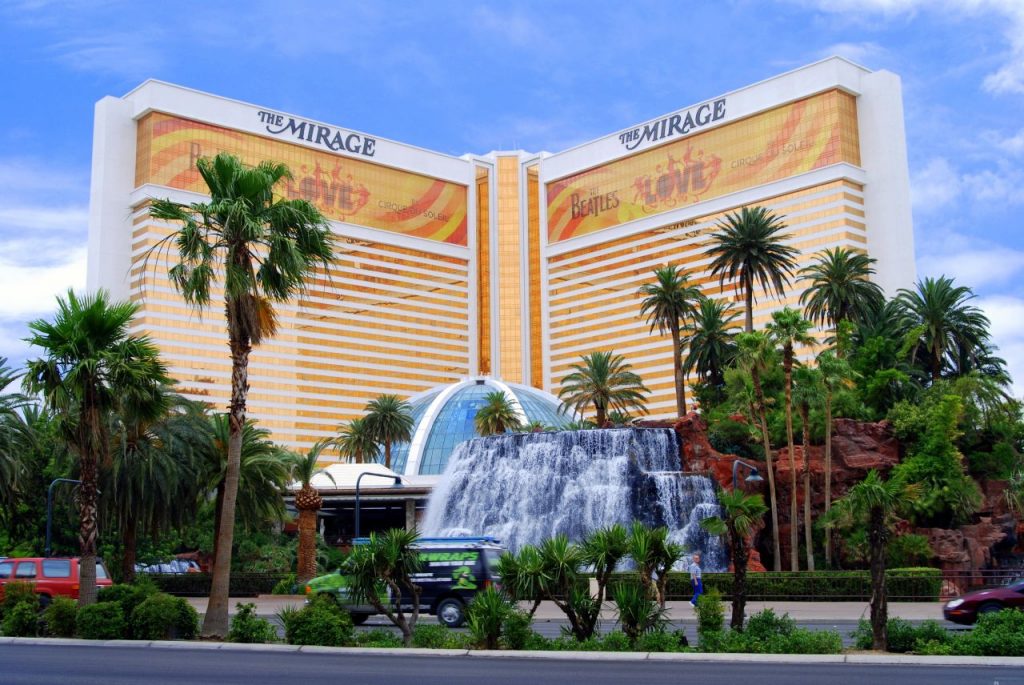 The Mirage Las Vegas opened its doors to guests on November 22, 1989. When it was opened, The Mirage was the world's largest hotel. The 29-story hotel tower was built in a Y-shape design; this concept was later used by Mandalay Bay, Monte Carlo, and Las Vegas' Treasure Island resorts. The construction of this resort is considered noteworthy because Wynn set a new standard for Las Vegas resorts, and it's widely considered as the father of today's Vegas.
One of the original luxury resorts on the Strip, the Mirage Las Vegas is a striking mix of Vegas glitz and tropical greenery. Parade by the erupting volcano out front and then into the posh gambling house, with its exotic flowers and plants and airy atmosphere. The vibe is more refined when compared to the younger party hotels on the Strip.
Location
Hotel Rooms
The Mirage Las Vegas has a total of 3,044 rooms, ranging from standard rooms to huge suites ideal for large gatherings. Standard rooms feel more spacious than they actually are. Contemporary design features black 'pleather' headboards, faux wood paneling, plus low-backed, butter-yellow chairs. Guests will sleep soundly on their pillow-top mattresses.
Also, tech-savvy amenities include media hubs, 42-inch LED TVs, and iPod docking stations. Bedrooms have Gilchrist & Soames' Aqua Lime bath amenities, a backlit vanity mirror meant for primping, and a marble-topped sink.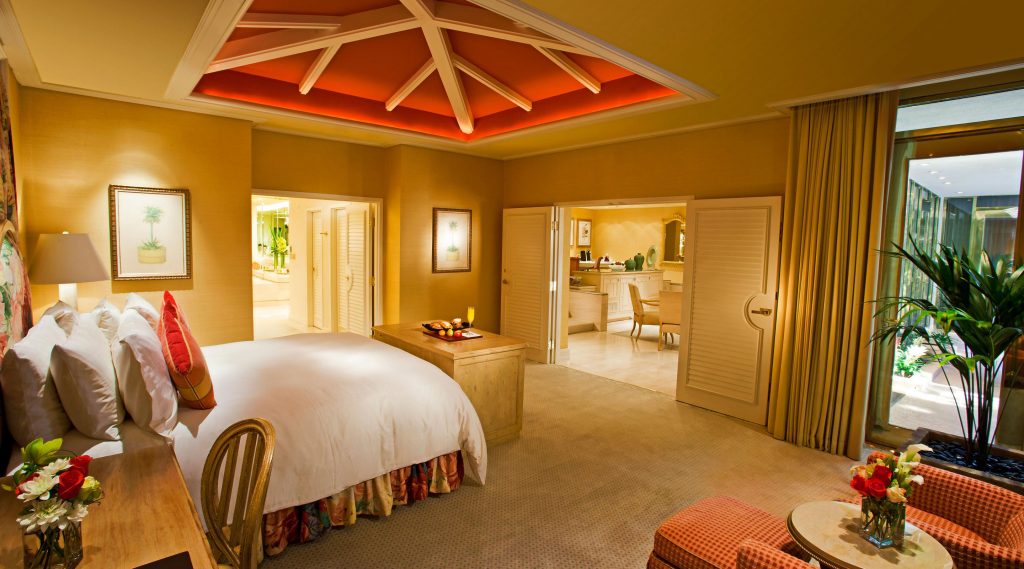 Spa and Fitness Centre
Guests can enjoy a therapeutic massage at The Mirage's spa, or they can indulge themselves with one of the natural, soothing treatments they offer. The spa will definitely cater to every desire that guests may have. Separate women's and men's wet areas offer whirlpools, saunas, and steam rooms, plus relaxing meditation rooms. For your convenience, a 20 percent service charge is added to all spa and salon services you receive. Fitness facility at The Mirage Las Vegas includes strength equipment, various cardio equipment, and free weights.
Venues
The Mirage Las Vegas is the perfect place for hosting conferences, meetings, weddings, or any special event. High standards for environmentally friendly practices when it comes to business has earned the resort Green Key Global's 5 Green Keys. The resort offers over 170,000 sq.ft. of completely adaptable space.
The Mirage Las Vegas Events Center is fully carpeted and features modern fiber optic, lighting, power, and rigging support that will accommodate the most complex events and shows. The Grand Ballroom consists of 40,000 sq.ft. of pillar-less space plus a recessed stage, making it an adaptable and accommodating venue for exhibits, celebrations, presentations, and more.
For high-impact meetings in an intimate space, the Nassau Boardroom is the ideal place. Impeccably outfitted for VIP gatherings and board meetings, this professional space provides ultra-modern audio-visual technology bringing presentations to life.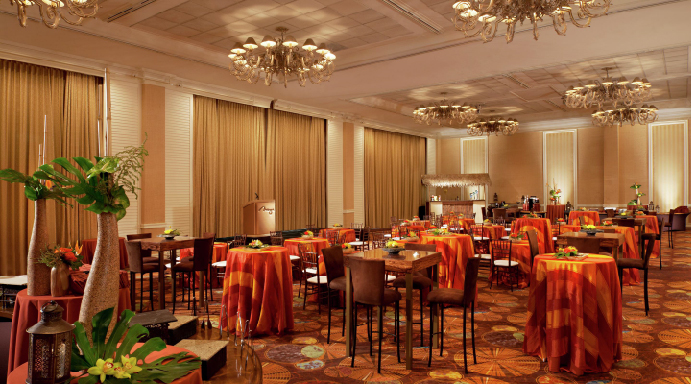 Entertainment
Nightclubs, Bars, and lounges
Guests can head over to Rhumbar, where they can mix and mingle with a cigar in one hand and a specialty cocktail in the other. Rhumbar also offers a striking view of the Strip. You can sample a Latin Manhattan, a refreshing Rhumbar Mojito, a frozen daiquiri, or choose from the available wide variety of top-shelf rum while live DJs entertain you with great music. Parlor Cocktail Lounge at The Mirage Las Vegas is the perfect mix of timeless elegance and a contemporary twist. This intimate piano lounge serves award-winning handcrafted cocktails plus sophisticated sounds. Guests can sip, serenade, and socialize.
The Lobby Bar places guests front and center for prime individuals watching and socializing. You can enjoy refreshing cocktails and a wide variety of house-made beverages. Whether you are kicking the night off or meeting friends, you will be surrounded by tropical scenery, casual elegance, plus the diverse walks of life that bustle through the resort. The New York-themed 1 OAK nightclub embraces the new and the unknown and represents the new as well as the experimental ideas and methods in music. 1 OAK bounces with the experienced hip-hop DJs.
The outdoor pools and gardens particularly stand out, with lagoons and waterfalls for splashing around. The resort offers one of only complete European-style pool experience, which means topless in Vegas: it's called Bare. While men are welcome, the Bare is mainly promoted for the ladies, who can get inside the lounge for $20 to $40. However, you must be 21 years and above to enter.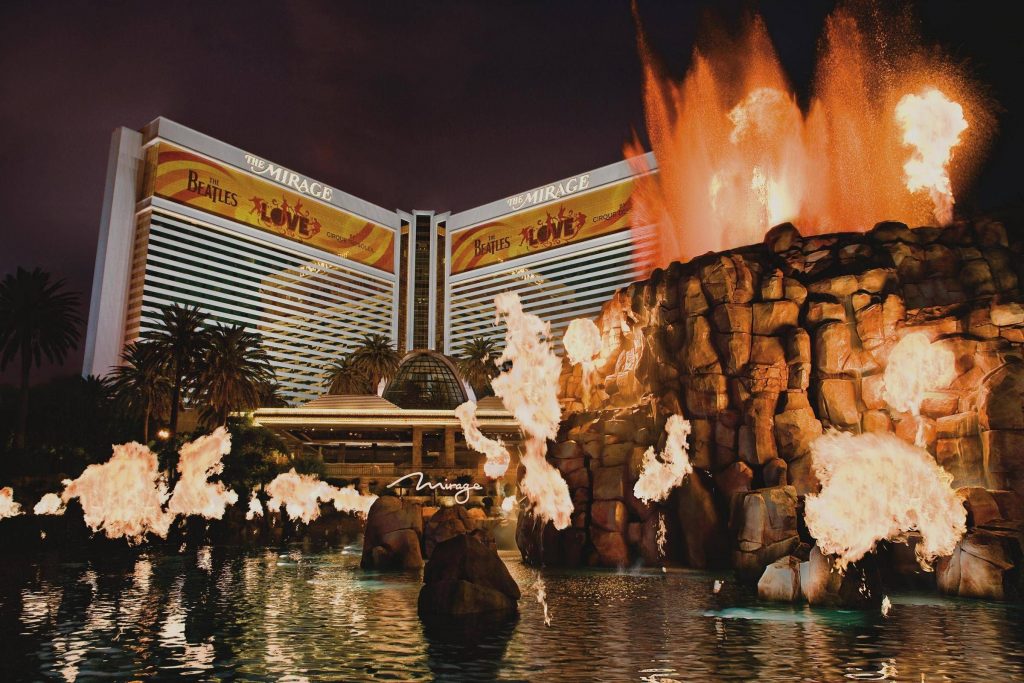 Also, there is a Volcano show every evening at 8 p.m., 9 p.m. and 10 p.m. along the Strip that attracts visitors. Guests can find nearly 1000 specimens at the 53-foot-long, 8-foot-tall aquarium located behind the registration desk.
Shops and Boutiques
Whether you would like to splash out on best in designer apparel, gifts, jewelry, home décor, or you just want to get something that will remind you of your Vegas trip, the shops and boutiques at The Mirage Las Vegas have you covered. These include Dolphin Shop, Essentials II, Essentials, Karma and Luck, Nectar Bath Treats, Misura, Optica, Secret Garden, Paradiso, The Art of Music, Spa Retail, Starlight Tattoo, and The Art of Music.
Shows
To experience Vegas to its fullest, guests can enjoy the numerous exclusive shows at this resort. The shows include performances by Beatles LOVE, Boyz II Men, and the award-winning Aces of Comedy, which features the best in comedy. Many comedians roll through the resort throughout the year. The list of comedians includes David Spade, Ray Romano, Ron White, Lewis Black, Jay Leno, George Lopez, Gabriel Iglesias, Daniel Tosh, and Chris D'Elia. Terry Factor, a current showcase, captures the hearts plus funny bones of audiences from all over the world.
On December 7, 1989, the boxing match between Sugar Ray Leonard and Roberto Durán 3 was held at The Mirage Las Vegas. Other boxing matches that were held on the resort include Evander Holyfield versus Buster Douglas (December 7, 1989) and Félix Trinidad versus Freddie Pendleton (May 18, 1996).
Gambling
The casino at The Mirage Las Vegas is approximately 100,000 sq.ft., making it one of the largest in Las Vegas. It offers table games and slot games as well as race and sports book.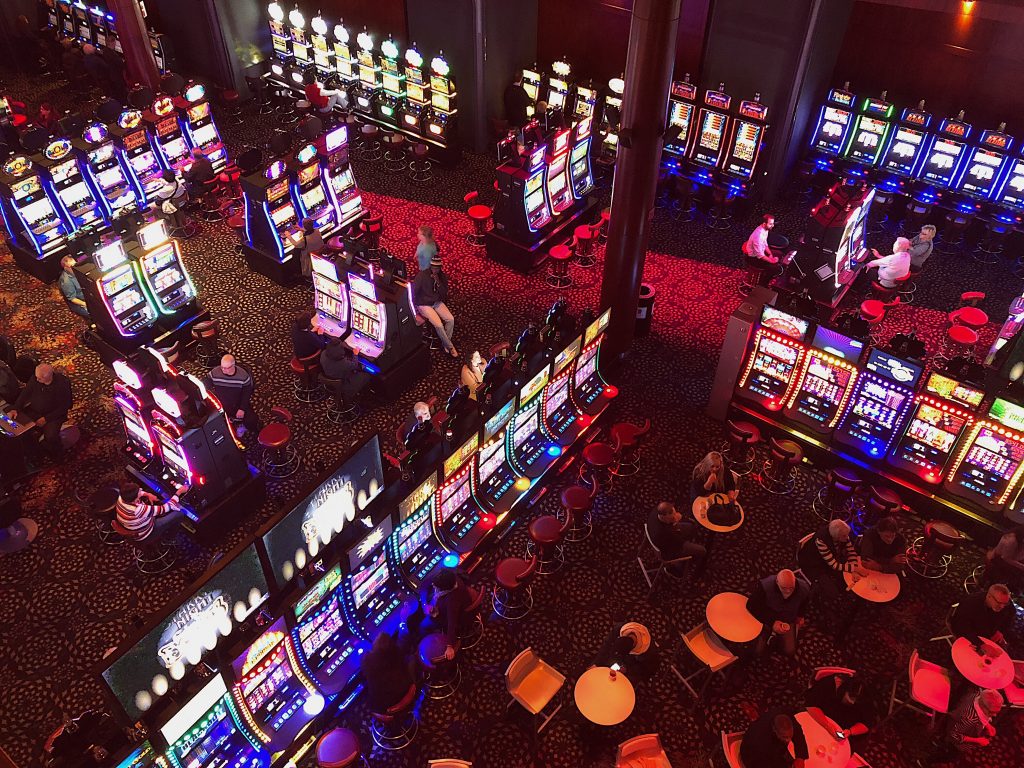 Blackjack
There are twelve single deck blackjack tables, each with a 6-5 payout. The rules allow players to double down on any 2 cards. The house dealer must hit soft 17. There are a total of nineteen 6-5 6-deck blackjack games.
Most of the blackjack tables at The Mirage Las Vegas casino use continuous shuffle machines. You can double down after the split or on any 2 cards. Re-split and surrender are allowed. Also, the dealer hits all soft 17s.
There are four 25-dollar minimum 3-2 tables that have similar rules to those of the 6-5 ones, but the dealer stays on 17. There's a 25-dollar double-deck blackjack table that stays on 17s and also allows re-split aces, doubling after the split, and doubling down on any 2 cards. The maximum on these blackjack tables is 10,000 dollars.
Similar tables can be found in the high limit section with a 100-dollar minimum. There is also a Free Bet Blackjack table with $10-$1,000 limits. Video blackjack is also available on a 5-dollar minimum Enchanted Blackjack machine.
Slots at The Mirage Las Vegas
From the hottest new games to favorite classic Vegas slots, The Mirage Las Vegas offers a wide selection of games spread all over the main floor. Whether you are an experienced slot player or a novice, there is a game for everyone. The Mirage has latest HD plus 3D-action packed games as well as classic slots.
You can play for one penny or 1,000 dollars, whichever suits your winning streak. The reels of the real money slots at The Mirage are always rewarding with great jackpots.
Craps
There are four 10-dollar minimum craps tables offering 3-4-5 times odds. There's also a Shoot to Win Craps machine with a 5-dollar minimum.
Other Table Games at The Mirage Las Vegas
The Mirage Las Vegas Casino also offers other popular table games, which can be found its main pit. The games include the following:
Two $10-$500 tables for Crazy4Poker
Two $10-$500 tables for Ultimate Texas Hold 'em
Three $10-$1,000 tables for Three Card Poker
Four $10-$10,000 tables Pai Gow Poker
Eight $10-$200 tables for Double Zero Roulette
Two $10-$500 Let it Ride tables
Poker Room
The poker room at The Mirage Las Vegas is adjacent to the sportsbook. The high ceilings plus excellent lighting combined with the airy venue make it comfortable for long poker sessions.
There are comfortable basic padded swivel chairs in the poker room and the décor is a mix of bright swirly yellow, red, and blue carpeting plus beige and brown poker tables. Each table in the poker room comes with automatic shufflers and USB ports where players can charge their cell phones.
The main games available at this 19-table poker room are 3/6 Fixed Limit Hold'em and 1/2 No Limit Texas Hold'em. Every day there four No Limit Texas Hold'em tournaments. Its biggest tournament is The Stack," which takes place at 11 a.m. Friday-Sunday, wherein 120 dollars will get you 25,000 in starting chips. There is reentry and late registration through the first 2 hours and blind levels are 25 minutes long.
When it comes to cash games, the poker room at the Mirage Las Vegas spreads different games throughout the day. The popular games include $2/$5 and $1/$2 No limit Texas Hold'em, $8/16 and $4/$8 Omaha 8 or better, $6/12 and $3/$6 limit Hold'em, as well as $9/$18, $6/$12, $4/$8, and $3/$6 8 various mixed games.
This poker room attracts both locals and visitors, and whether you like playing tournaments or cash games, you will certainly find a nice mix of players at different skill levels.
Sportsbook at The Mirage
The 85′ HD projection screens feature sporting and horse racing at 4 times the resolution of Full HD for the ultimate viewing experience. There are multiple large screen TVs, several other large ones, plus twenty smaller ones below it.
The sportsbook has lots of cashiers to accommodate during busy days, and there's a ton of seating for players. The racing side has 48 desk seats, which have been placed in rows, each having its own TV.
On the left side, just by the sportsbook's bathroom, you will find the pamphlets for that day's sports and horse action together with upcoming sports events and futures: This information is enclosed in a glass case. The VIP area has a clear view of everything with its 4×4 ascending rows of long leather couches.
Restaurants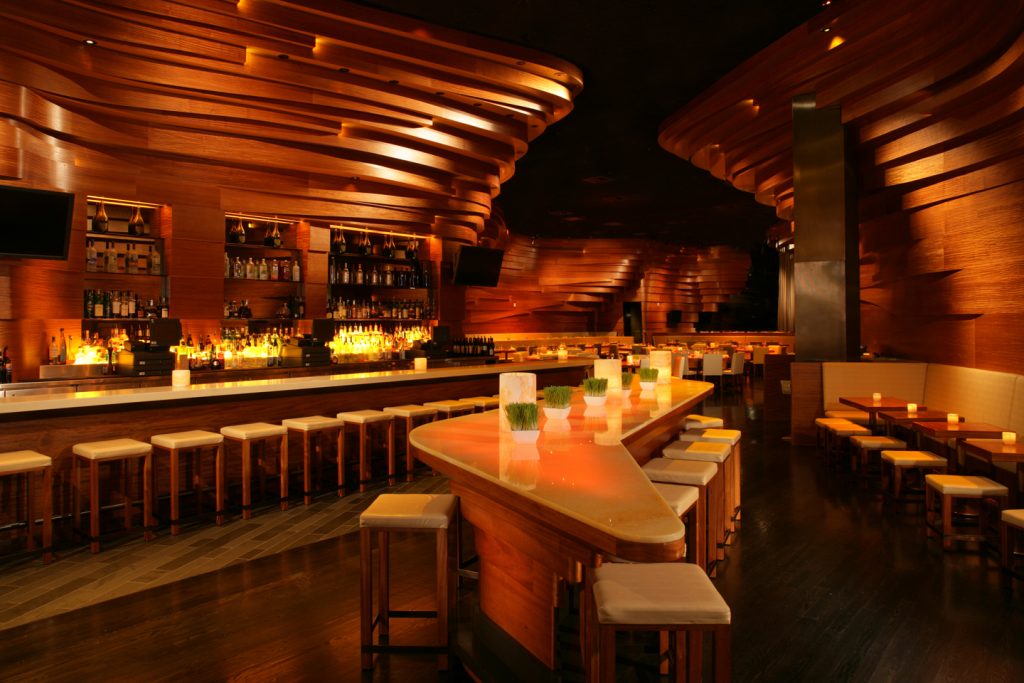 The Mirage Las Vegas has a lot of dining options; there are over a dozen food establishments scattered throughout the resort. Whether you are looking for an expansive buffet or a high-end Asian Bistro, you will definitely satisfy your appetite. Most of the restaurants at The Mirage serve large portions. If you are looking for a place where you can enjoy your lunch, you can have fries or burgers in a casual setting or cocktails by the pool. In the evening, you can feast on fresh sushi or steak.
If you are looking for all you can eat buffet, Samba is the perfect place for Brazilian rotisserie meats. Alternatively, you can enjoy the Cravings buffet at the gambling section, with eleven live-action cooking stations. Wood-fired steaks, lobster salad, and delicious Berkshire pork belly with cheddar crumble and apple butter fill out a contemporary American steakhouse menu.
Conclusion
This lush, tropical resort is among the prettiest illusions in the desert gambling capital. Night or day, you can get anything that you desire: dancing, dining, drinking, shopping, or gambling. Spacious rooms are sophisticated, plus romantic hideaways and the huge pool complex will make you swoon.
About the Author