About Treasure Island
Treasure Island Las Vegas (TI) is a hotel plus casino owned as well as operated by Phil Ruffin. The resort is located on The Strip in Paradise, and it's connected by a pedestrian bridge to the shopping center called Fashion Show Mall as well as a tram to The Mirage.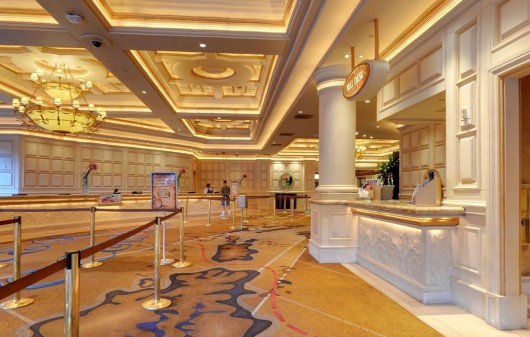 In 1993, Mirage Resorts opened TI under the direction of Atlandia Design (a subsidiary of Mirage Resorts) and Stephen Alan Wynn (an art collector as well as a real estate businessman). The cost of opening the resort was 450 million dollars. The original plan required a tower to be added to The Mirage but this later evolved and became a completely established separate hotel casino resort.
The resort originally wanted to attract families with comical pirate features and icons like a large video arcade, the death's head strip marquee and staged pirate fights every night in Buccaneer Bay at the entrance of the casino on the Las Vegas Strip. Treasure Island Las Vegas was designed by architects Jon Jerde and Joel Bergman in collaboration with Steve together with Roger Thomas: Thomas designed the interior of TI.
In 2003, Treasure Island Hotel and casino largely abandoned the pirate theme for a more modern resort that provides primarily adult services and amenities. Kid-friendly pool areas and the original video arcade were replaced with a nightclub, hot tub, and party bar.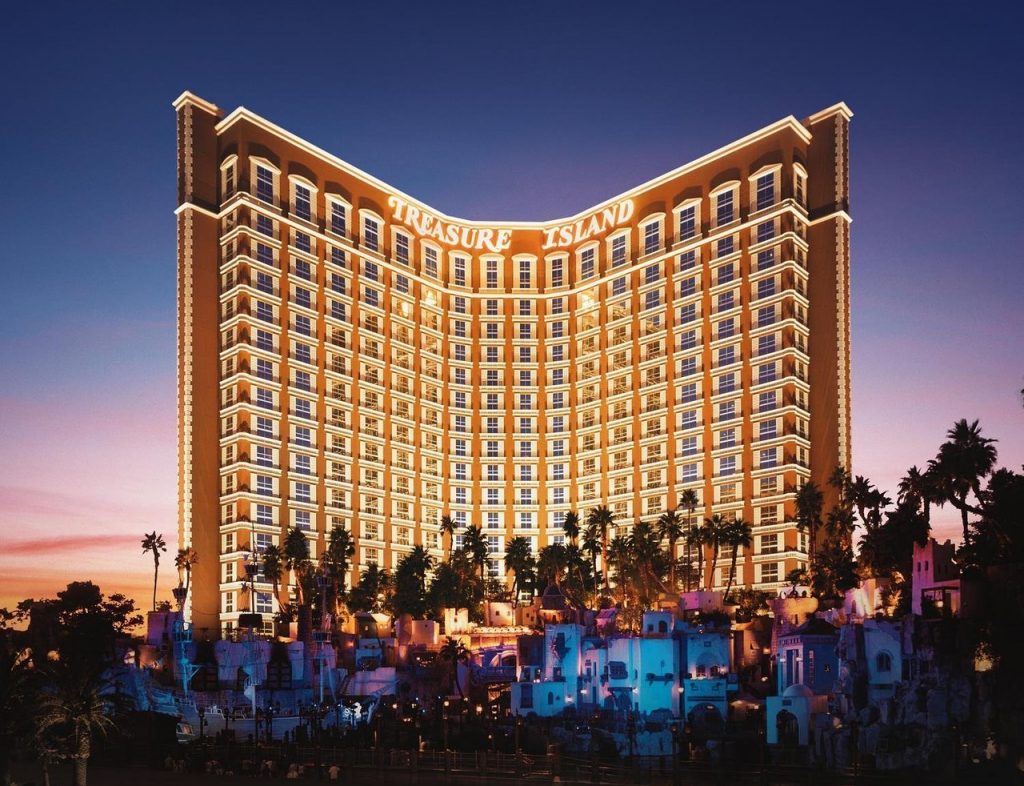 The skull-and-crossbones sign located at the Las Vegas Strip entrance was also replaced by a TI" marquee serving as a giant LED video screen and also displaying the logo of the hotel. The exterior color of this resort was changed too. On March 20, 2009, Phil Ruffin took full ownership of TI after purchasing it for 775 million dollars. A Strip landmark, Treasure Island Hotel Las Vegas makes cameo appearances in numerous TV shows and movies set in Vegas.
Location
Hotel Rooms
There are almost 2,900 recently renovated guest rooms at Treasure Island Hotel Las Vegas. There are many stylish suites on corners and on higher floors with stunning views. Sink into a comfortable pillow-top bed in roomy surroundings, colored with olive, gold, tan, and chocolate brown artwork, furnishings, and fabrics. This all spells elegantly and stylishly fashionable Caribbean hideaway. Individual climate controls and Radios with iPod docks are also nice touches. There are also ample-sized marble-clad bathrooms stocked with spa bath products with the hotel brand.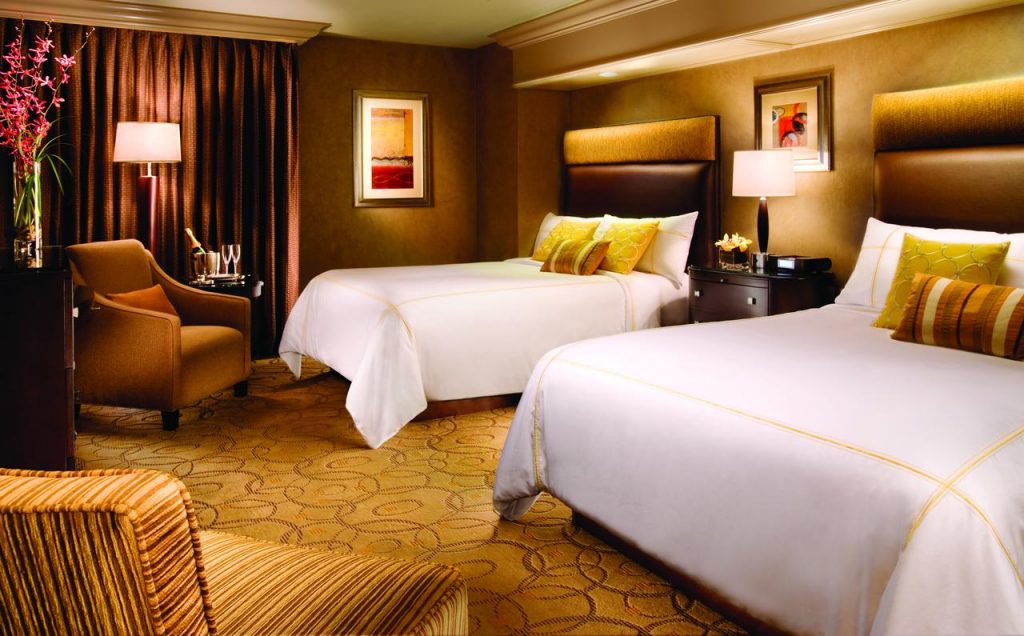 The resort fee is 25 dollars per night. During promotional periods, reservations of 2 nights or more will make you qualify for 2 for 1 buffet and show tickets. The Deluxe rooms measure 400 sq. ft. and have two queen beds or one king bed. Rates start at 60 dollars on weekends and 42 dollars per night on weekdays. A Strip view will cost you 24 dollars per night. Rates of the 630-square-foot Petite Suite start at 108 dollars on weekends and 90 dollars during the week. Tower Suites measure 930 sq. ft. and offer 1 king bed and Strip view: rates start at 132 dollars on weekends and 114 dollars during the week.
Spa and Fitness Centre
Oleksandra Spa and Salon at TI was created to make sure that every detail provides guests with an unparalleled experience. They have combined the best products and techniques with highly skilled professionals providing top-notch services to usher guests into a level of vitality and relaxation beyond imagination. Hotel guests will have to pay 17 dollars per day to use the spa services while non-hotel guests pay 27 dollars per day. The fitness center opens daily from 6 a.m. to 7 p.m., and you can use the salon services every day from 9 a.m. to 7 p.m. The spa opens from 8:30 a.m. to 7 p.m.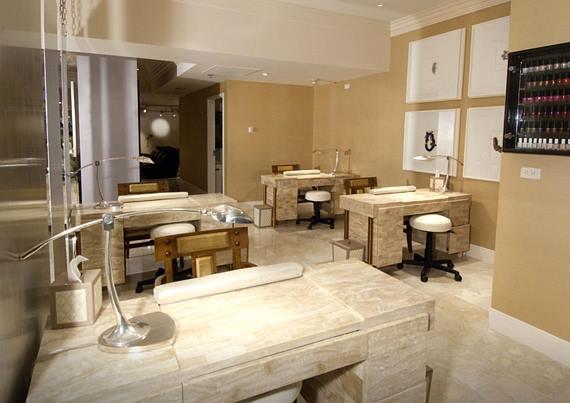 Venues
Treasure Island Las Vegas offers 30,500 square feet of flexible, convenient private meeting space. The resort has a total of 14 meeting rooms with the largest one measuring 11,808 square feet. The outdoor space measures 41,439 square feet. This makes the resort the perfect event venue for weddings and meetings.
Entertainment
Treasure Island Las Vegas has a dozen places to get a drink and enjoy music. Gilley's Saloon is a barbecue restaurant that combines the spirited saloons that existed during the Wild West frontier time with the modern style as well as the action of the Strip.
Gilley's spreads 3 massive bars, and you can take a ride on the mechanical bull in the middle of the joint. If you like dancing, there is a large dance floor and the music the theme mainly leans towards country.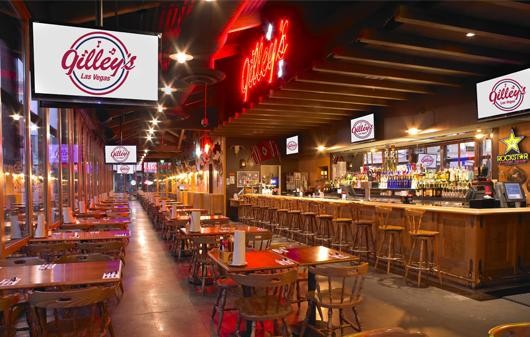 Senor Frog's and Kahunaville are bars with common tavern food. Señor Frog's is the only joint on the Strip dedicated to people who want to be adventurous by experiencing the authentic Mexican hospitality along with a party atmosphere. Additionally, there are bars on the casino floor and in the sportsbook. The high limit salon also offers top shelf liquor.
Shops and Boutiques
There are many reasons why Vegas shoppers call this resort a "Treasure Island." The location of Treasure Island Las Vegas allows guests to have easy access to shopping on the Strip. The pedestrian bridge that connects TI to Grand Canal Shoppes and the Fashion Show Mall gives you access to upscale department stores and over 200 specialty shops.
Treasure Island Hotel and casino also house its exclusive collection of shops and boutique stores offering various choices. These include unique gifts for different occasions, designer fashions, and fine jewelry. You can also visit ShopTIvegas.com where you will find a limited selection of TI merchandise available.
The shops at this resort include:

Sizzle Me
$10 at TI
TI 2 GO
Gilley's Trading Post
CVS
Lobby Store
TI Gift Shop
Sirens' Cove Shoppe
Perfume Eleven
Shows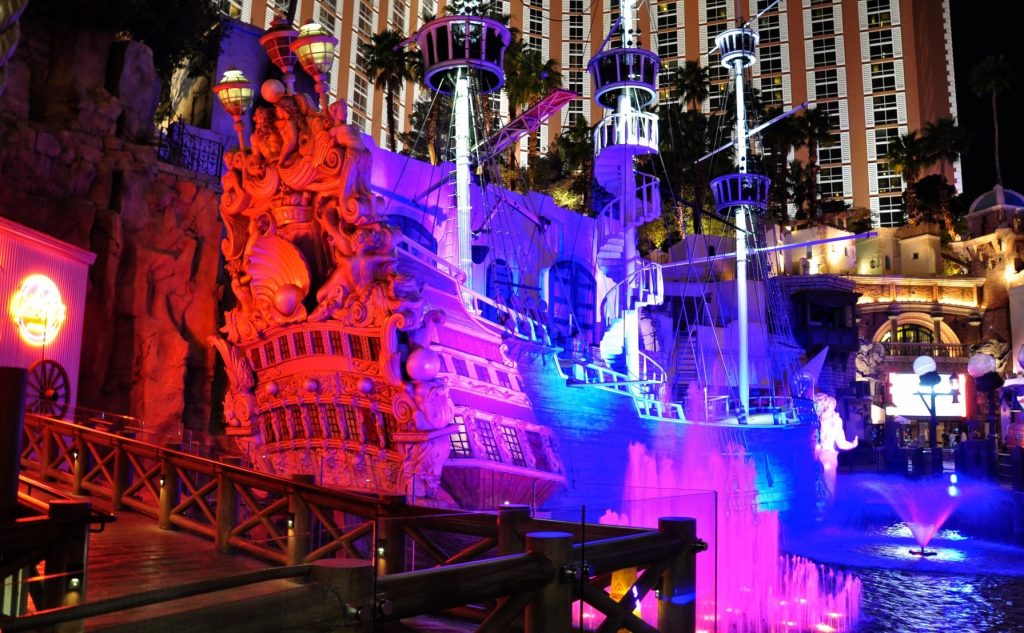 Treasure Island Las Vegas is home to the Mystère, one of the 6 Vegas' resident Cirque du Soleil shows. The Mystère introduced the amazing, entertainment style of the Belgian theatre director Franco Dragone. This show started in Las Vegas in 1993 as Cirque du Soleil production.
The reader's poll of the daily newspaper Las Vegas Review-Journal voted Mystère 9 times as the city's best production show. With the sale of the resort, it's the only hotel located on the Las Vegas Strip and not affiliated with the entertainment company MGM Resorts International to host this show. You can also enjoy other concerts and shows throughout the year from famous comedians and musicians.
Gambling
Treasure Island Casino Las Vegas offers some of the Strip's best gambling. It has advantageous video poker pay tables. The slots are also more generous to slot players.
The blackjack that Treasure Island Las Vegas offers is one of the best in the city. The 4 single deck tables are only blackjack games paying 6-5 when you get a natural blackjack. There are 4 of these blackjack tables with 10 to 1,000-dollar limits. You can double down on any 2 cards and the house dealer will always hit a soft 17.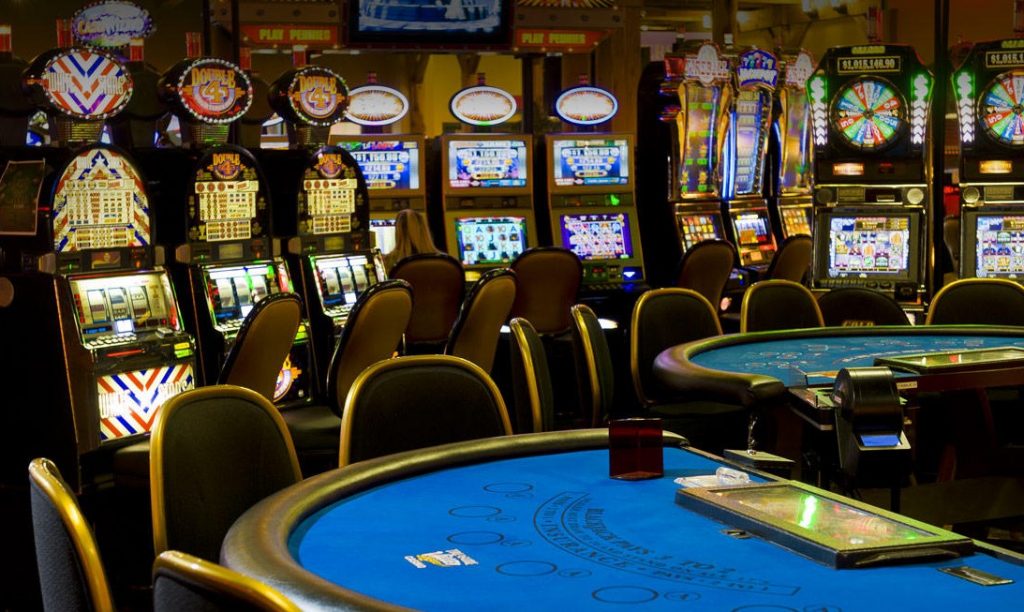 Additionally, there are 5 double deck blackjack tables with 10 to 2,000-dollar limits. You can double down on any 2 cards and also after splitting. The dealer also hits soft seventeen. The 19 shoe blackjack tables have the same game rules, except that you can resplit aces and surrender. Some of these blackjack tables at Treasure Island Las Vegas use continuous shuffle machines.
The best real money blackjack games can be found in the high limit section: the limits are 50 to 5,000 dollars. There are 3 double deck blackjack tables that stay on 17 and allow you to double down, even after you have split your cards. The rules of the shoe games are the same as the games you will find on the main floor except that the house dealer must stay on 17s.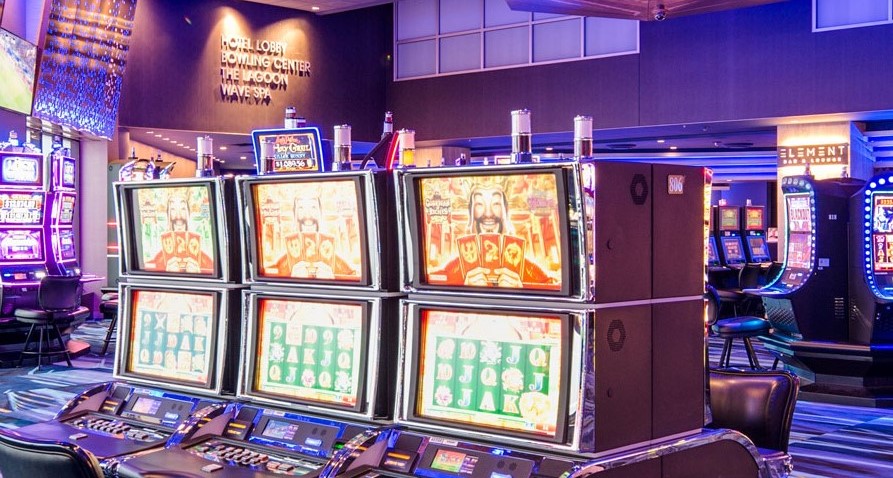 The high limit salon at Treasure Island Casino Las Vegas has several other 50 to 5,000 games. The table games you will find include roulette with one zero, baccarat, Pai Gow Tiles, and Pai Gow Poker. These tables are open during peak hours. If you love playing craps, the casino has four craps tables with 3-4-5 odds.
Other table games you'll find at Treasure Island Las Vegas include Ultimate Texas Hold'em, Let it Ride, Three Card Poker, Big Wheel, and Double Zero Roulette. TI offers also offer virtual table games with 1-dollar minimum. They include Single Zero Roulette, Shoot to Win Craps, and Big Wheel.
Slots
Treasure Island Casino Las Vegas has over 2,200 slot machines. The casino has a wide variety of slot games for players to enjoy. The casino floor at TI is intimate in size, which allows you the opportunity of progressing from one slot machine to another and try out different games with ease.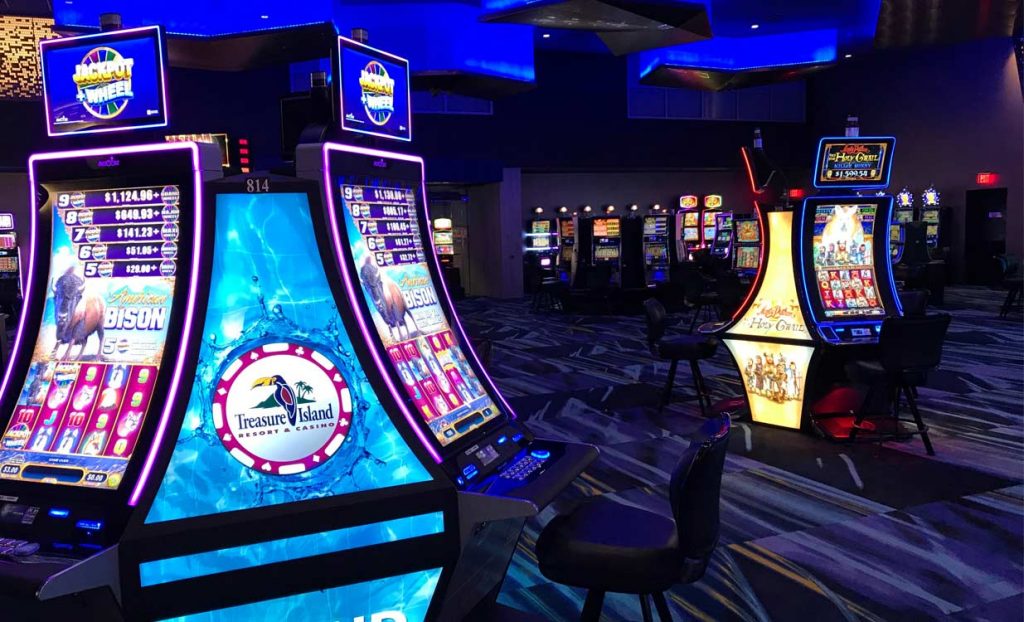 Poker Room
The poker room at Treasure Island Las Vegas has eight tables with live games. There are 4 No Limit Texas Hold'em tournaments every day with a 65-dollar buy-in. The 10 p.m. and 2 p.m. tournaments have a 1,000-dollar guaranteed prize pool. 2/4, 4/8 Limit Texas Hold'Em and higher are available upon request.
When it comes to Omaha High, the casino is offering 4/8 Limit as well as Pot-Limit with 1/2 blinds plus 3/6 blinds. Tangerine Mixer- 3/6 Limit is the feature game at Treasure Island Las Vegas poker room.
This game rotates through Crazy Pineapple, Omaha High, and Hold'Em and has an option of adding many other exciting games. You can earn special room rates and complimentary using the MGM MIRAGE Players Club card while in the poker room.
Sportsbook
The sportsbook at Treasure Island Las Vegas can be accessed through the entrance of the hotel from the shopping mall or from the gaming area. Every seat in the sportsbook has an individual monitor, allowing guests to choose the race or game they want to watch. The room has 20 small TV screens and 11 big TV screens covering all the action of the day. The book offers various actions, including propositions, futures, daily lines, parlays, and pari-mutuel racing. The venue has120 seats.
The sportsbook at Treasure Island Las Vegas also provides excellent cocktail service, a bevy of statistical information, and extensive electronic boards. The sportsbook at this resort is a great place for guests to relax and watch their favorite game, whether they want to bet on the game or not.
You will get complimentary drinks depending on the amount you wager. If you want to enjoy your drink while watching a game, the padded chairs are comfortable and feature drink holders
Restaurants
The resort has nearly a dozen places where you can have something to eat. Phil's Italian Steak House is the main dining attraction at TI; it offers an eclectic menu that will please any guest at the table such as classic Italian specialties, mouth-watering seafood, and prime cuts of meat. Also, private dining is available at Phil's Italian Steakhouse for parties up to 40 people.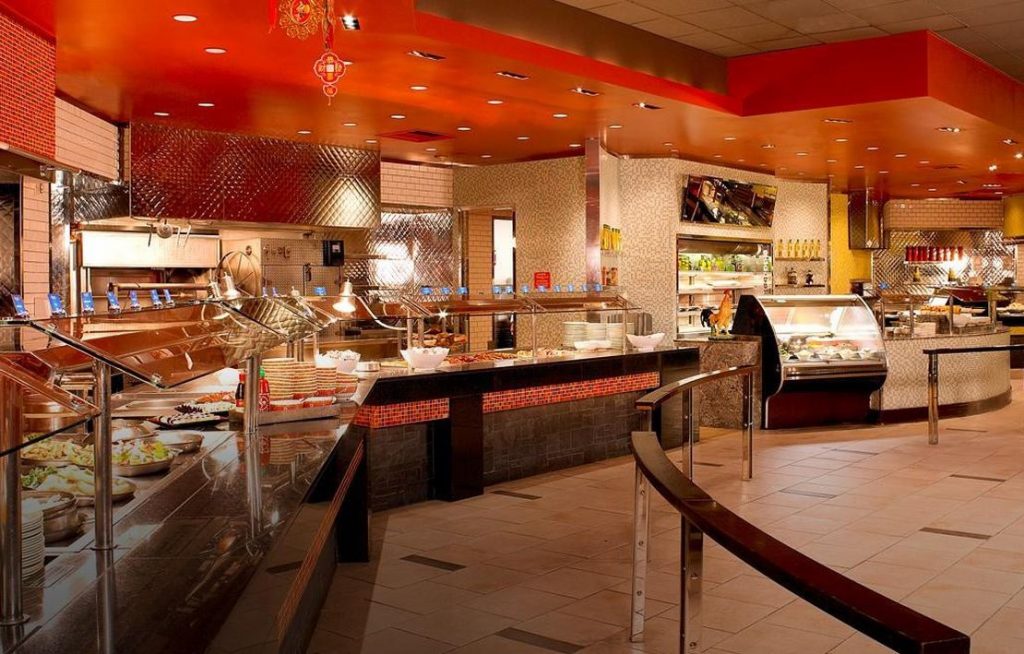 The Seafood Shack at Treasure Island Las Vegas offers comparable to oyster bar menus. Steak, chicken, and pasta are on the menu as well. Gilley's BBQ is open for dinner and lunch featuring a show kitchen, the globally-famous Gilley Girls, live entertainment, and more. More casual options include the TI Buffet, Pizzeria Francesco's, and Pho, which serves authentic Vietnamese cuisine. Pho's specialty is noodle soups, but the restaurant also offers a wide selection of traditional dishes that delight guests with delicate, exotic flavors. Located next to TI's poker room, Little Richie's is also a great Italian beef and hot dog joint.
From 1999 through 2013, Treasure Island Hotel and casino was given the AAA Four Diamond rating. The resort was also awarded TripExpert's 2019 Experts' Choice Award.
Conclusion
If you're looking for a venue that offers one-of-a-kind nightlife with lavish lounges, hipster-friendly bars, and stylish guest rooms as well as the best gambling experience, Treasure Island Casino Las Vegas offers all the best gambling, entertainment, and shopping options on the Strip.
About the Author