The Cromwell Las Vegas Review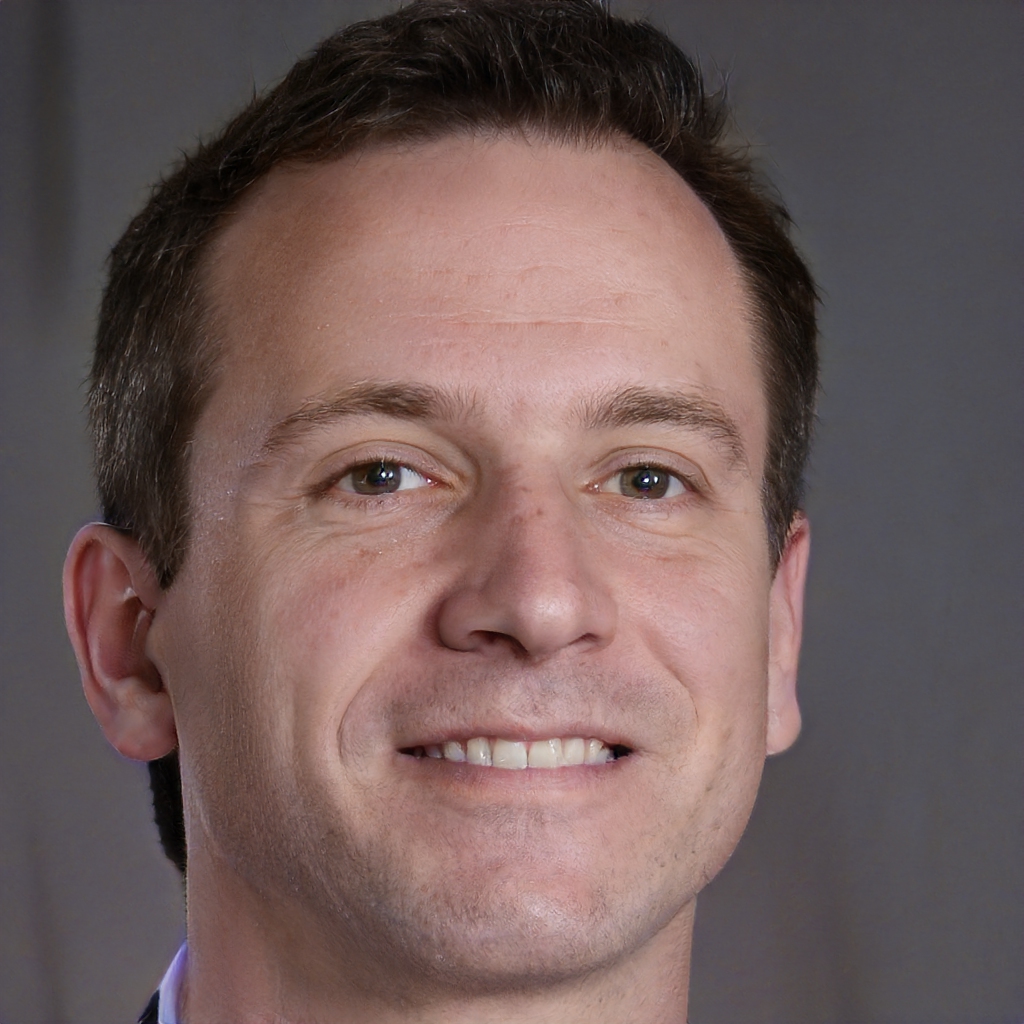 By Herbert Hanson
The Cromwell Overview
The Cromwell Las Vegas is a luxury boutique hotel plus casino owned by Caesars Entertainment Corporation. It is located on the Las Vegas Strip and was formerly Bill's Gamblin' Hall & Saloon and Barbary Coast. The property was Empey's Desert Villa site from 1952. It became Barbary Coast in 1979. Michael Gaughan built the casino, and it was opened to the public on March 2, 1979.
Over time, the property, together with others that Gaughan owned, became Coast Casinos Inc. Boyd Gaming acquired the Barbary Coast in July 2005. Boyd bought the 4.3 acres of land that the hotel occupied in September 2005. Before the purchase, the hotel was leasing the land.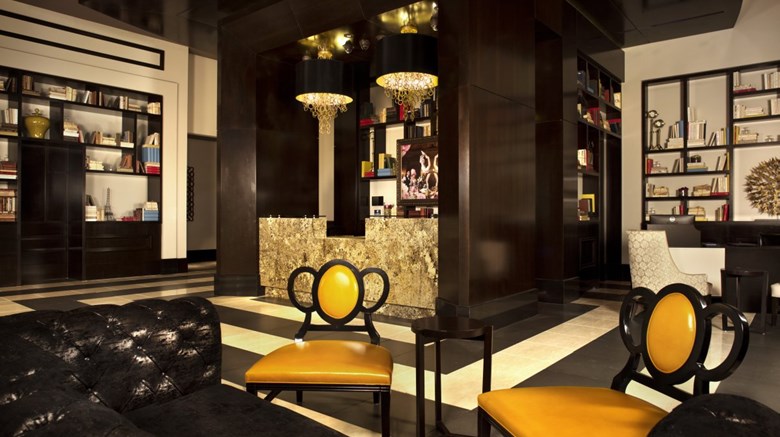 Boyd Gaming gave the Barbary Coast to the gaming corporation Harrah's Entertainment, and they were given the 11-acre site of the demolished hotel-casino Westward Ho on the Strip, to be used primarily for the $4.8-billion project. On February 27, the Barbary Coast closed and reopened the following month rebranded as Bill's Gamblin' Hall & Saloon, in honor of Bill Harrah (the company founder).
On February 4, 2013, Bill's closed for a complete renovation to turn it into a contemporary luxury boutique hotel. In March 2013, Caesars Entertainment Corporation announced that the hotel would undergo complete renovation at a cost of 185 million dollars and changed into an outpost of Gansevoort Hotels chain of luxury boutique hotels based in New York, with a 40,000 sq. ft. casino, 188 rooms, and 65,000 sq. ft. indoor/outdoor nightclub/beach club overseen by Victor Drai.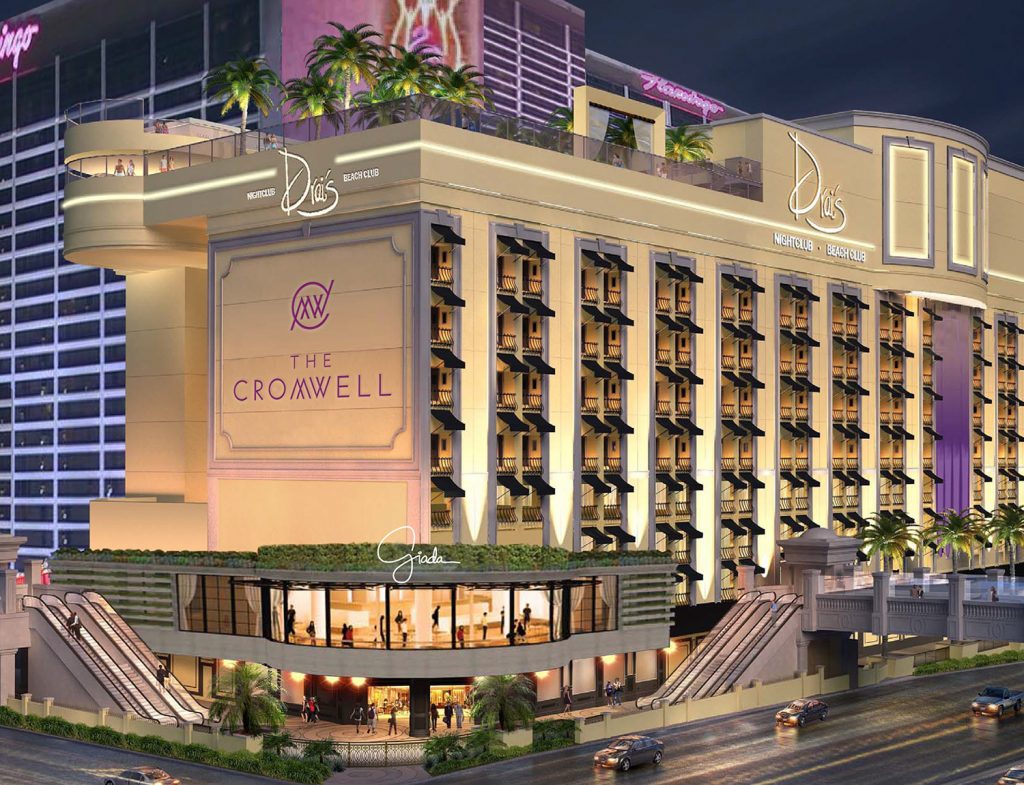 However, in October 2013, Caesars Entertainment Corporation ended its agreement with Gansevoort Hotels and stated that it would continue with Bill's redevelopment without the Gansevoort name. On January 31, 2014, Caesars confirmed that the name of this hotel would be The Cromwell Las Vegas. On April 21, 2014, the hotel had a soft opening to the public. From May 21, 2014, the guest rooms were available to the public.
The Cromwell Las Vegas Hotel and casino is fashionable, with whimsically patterned carpeting and gleaming chandeliers. The combination of Hollywood Regency styles and luxury boutique is classic.
Location
Hotel Rooms
The Cromwell Las Vegas Hotel has 188 rooms that offer 10 percent discounts to military members, government employees, first responders, students, and teachers. The resort fee is 41.94 dollars per night and includes Internet for two devices as well as fitness and pool center access.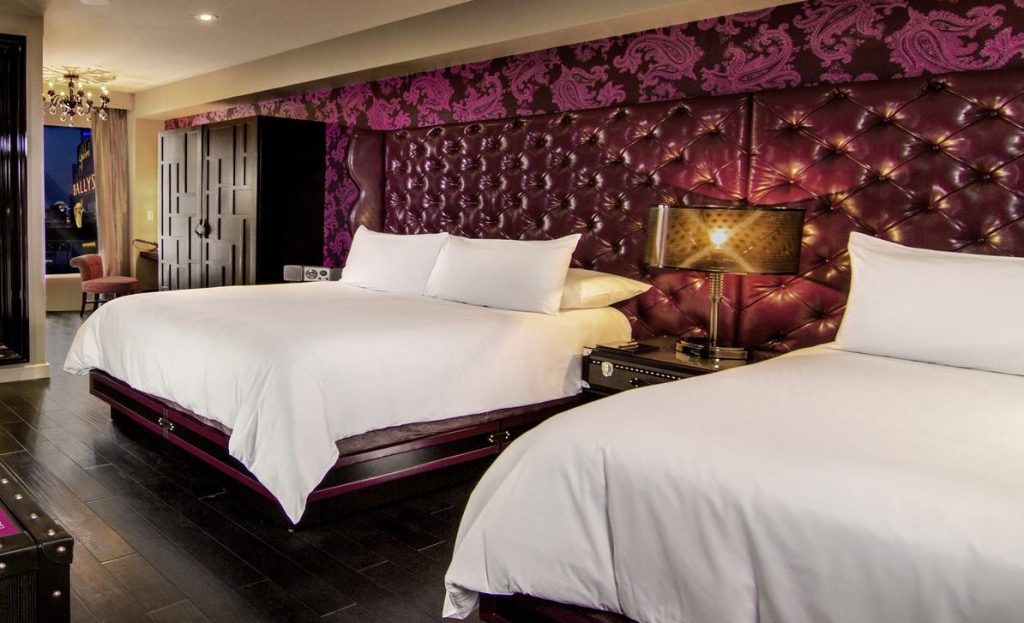 The rooms at The Cromwell Hotel are designed to be sexy and plush, with padded leather headboards, purple wallpaper, and bathrooms that have steam showers. Some of these rooms have stunning views of the Strip and others are pet-friendly. The standard room measures 360 sq. ft. with room rates ranging between 100 and 200 dollars.
The complimentary coffee and tea service by the elevators is also one of the things that make The Cromwell Las Vegas Hotel stand out. There are three suites: Gallery (1,411 sq. ft.), Boulevard (1,061 sq. ft.), and The Parlour Suite (723 sq. ft.). The rate for the Gallery starts at 650 dollars. The Boulevard stays in the $500-$700 range while The Parlour ranges between $300 and $400. The suites are normally reserved for VIPs, so you should call in advance to confirm the rates and whether they are available or not.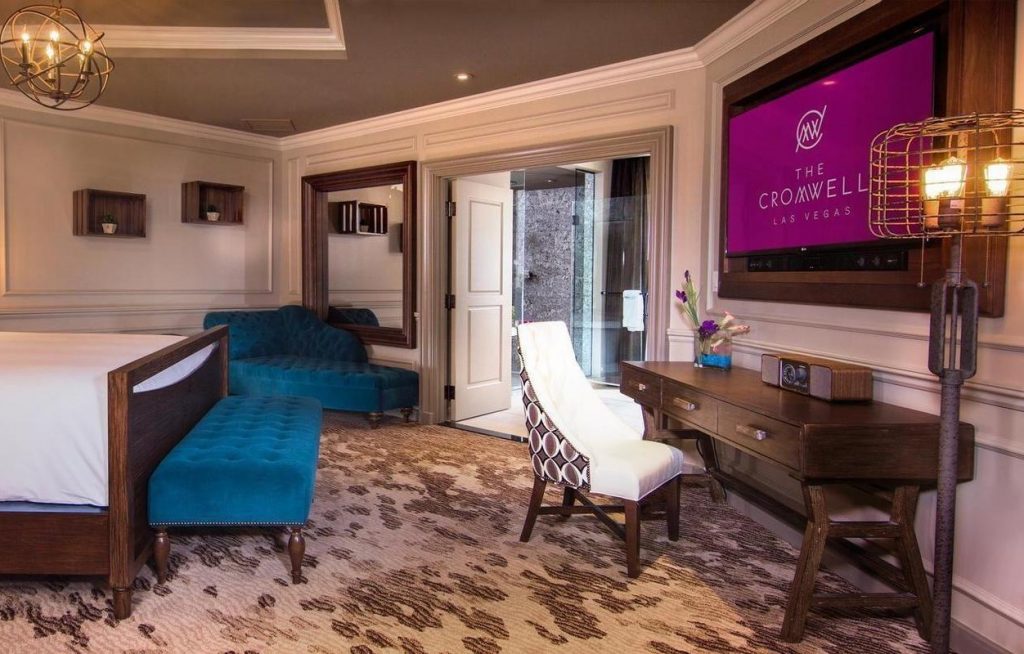 Spa and Fitness Centre
The fitness center at this hotel is conveniently open 24 hours, and you can access it with your hotel room key. Hit the treadmill for some cardio, and tone with free weights. This ultra-modern gym will gear you up for that day's action.
Venue
The Cromwell Las Vegas offers a world-class venue with 65,000 square feet of meeting space. The venue also features live performances from hip hop programming and renowned EDM artists. You can take your event to uncharted territory. The venue is also available for private events.
Entertainment
Nightlife at The Cromwell
There are video poker bars open 24 hours on the casino floor. If you are looking for fancier bars, the Interlude Casino Lounge is the ideal place to go with your friends and enjoy a drink. They also offer free live entertainment every Friday and Saturday. You can go to this joint to play video poker while enjoying cocktails at 1 dollar during the happy hours, which starts from 6 to 7 p.m. every day.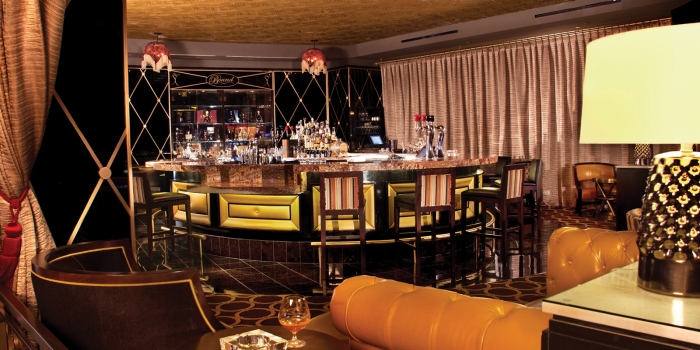 The first happy hour will be followed by another one that serves 5-dollar cocktails and 3-dollar beers. Interlude opens in the afternoon. Bound is the elegant lobby bar at The Cromwell Las Vegas. This classy Vegas bar opens afternoons; it features live music nightly starting at 9 p.m.
After Hours Nightclub and Drai's Nightclub, Beachclub
Drai's After Hours Nightclub and Drai's Beachclub and Nightclub are the signature attractions at this hotel. The daily newspaper published in Vegas called Las Vegas Review-Journal voted Drai's the number one nightclub.
To enter and have a great time at Drai's Beachclub, men have to pay a cover charge of 30 dollars and 20 dollars for women on Thursdays and Sundays. Every Friday, the split is 30/50 dollars and on Saturdays $40/$60. On Sundays, locals get in free after showing their ID.
You can enjoy the nightclub either outdoors or indoors. VIP bottle service and VIP tables are available in each area. Drai's has a night swim on Tuesdays. Hotel guests along with Diamond and Seven Star cardholders get in free. Make cabana reservations to party privately with friends.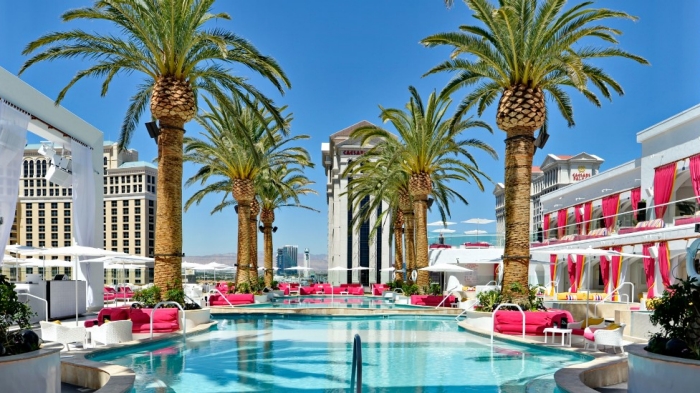 The cover of Drai's After Hours at The Cromwell Las Vegas is $35 for men and $25 for women. The club opens from 1 a.m. to 10 a.m. every night from Friday to Wednesday. 3There are 2 different types of music to go with its 4 rooms. It's darkly lit in red, which provides a cool late night vibe.
Swimming Pools
You can head over to Drai's Pool inside The Cromwell to relax and unwind. Drai's Pool is located on a rooftop deck, eleven stories above the Las Vegas Strip. Take in the panoramic Vegas views from 2 main pools and 6 hot tubs accessible when you get one of the ten bungalows surrounding the pools. You can enjoy the drink service as you lounge around the beautiful palm tree-lined pool.
There is also a full bar and specialty cocktails such as blueberry mojitos, spicy margaritas, and cucumber lemonade with fresh lemonade, Grey Goose, fresh cucumber, and cucumber soda. The pool at The Cromwell Las Vegas opens from 10 a.m. to 6 p.m. Monday to Thursday. Admission is free for guests who are 21 years and above.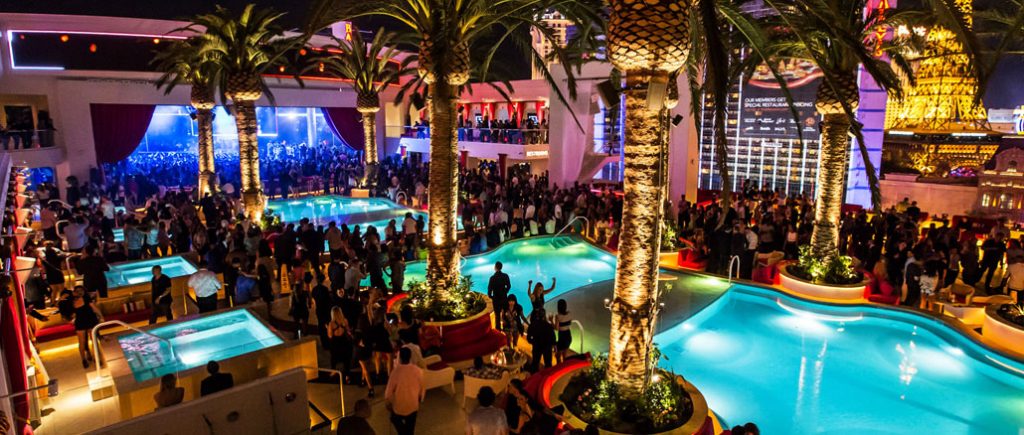 Shops and Boutiques
Curios is the popular retail shop located at The Cromwell Las Vegas. It offers a unique Vegas shopping experience. You can browse a wide selection of items from all over the world. These include vinyl records, home décor, beauty products, vintage jewelry, and accessories. Guests can also pick up gourmet chocolate and wine for a romantic dinner with a special person in their life. Stop by and get unexpected souvenirs that will make your trip to Vegas memorable.
Gambling
The gaming space of The Cromwell Las Vegas Casino underwent numerous renovations and looks great. The casino is constructed as a rectangle, and you'll find its table games in multiple pits: the games selection is also great. The casino also has a sportsbook and a wide variety of slots.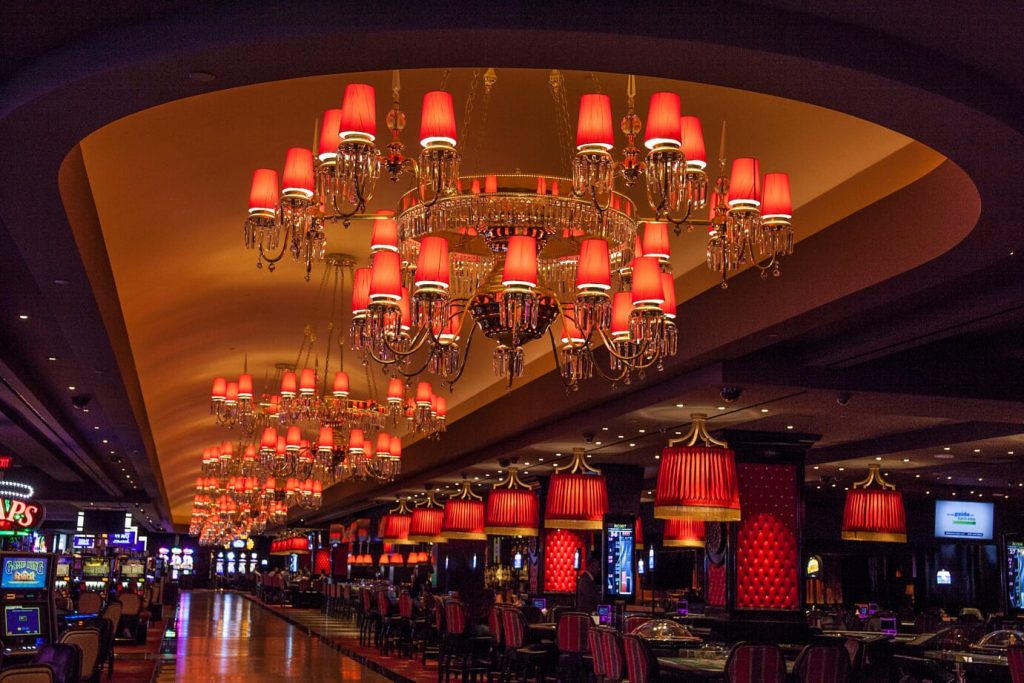 Baccarat
You can play EZ Baccarat at The Cromwell Las Vegas without 5 percent on winning banker hands. The minimum bet of this game is 15 dollars. Midi-Baccarat is also available with the DB (Dragon Bonus) side bet being 100 dollars. DB allows you to wager that either the Player side or the Banker side will win and the winning side is going to crush the side that has lost by significant points.
Blackjack
The Cromwell Las Vegas offers blackjack 3-2 payout. The dealer always hit on soft 17s. This is great when you consider most casinos on the Strip pay 6-5.
You can also play Double deck blackjack at The Cromwell Las Vegas. The table minimums at this casino are split in 15, 25, 50, and 100 dollars. There is a virtual blackjack game with a 3-dollar minimum and a live dealer.
Roulette
There is a 15-dollar standard double zero roulette at The Cromwell Las Vegas Casino. You can also play the European roulette with a 25-dollar minimum; this roulette comes with only one zero.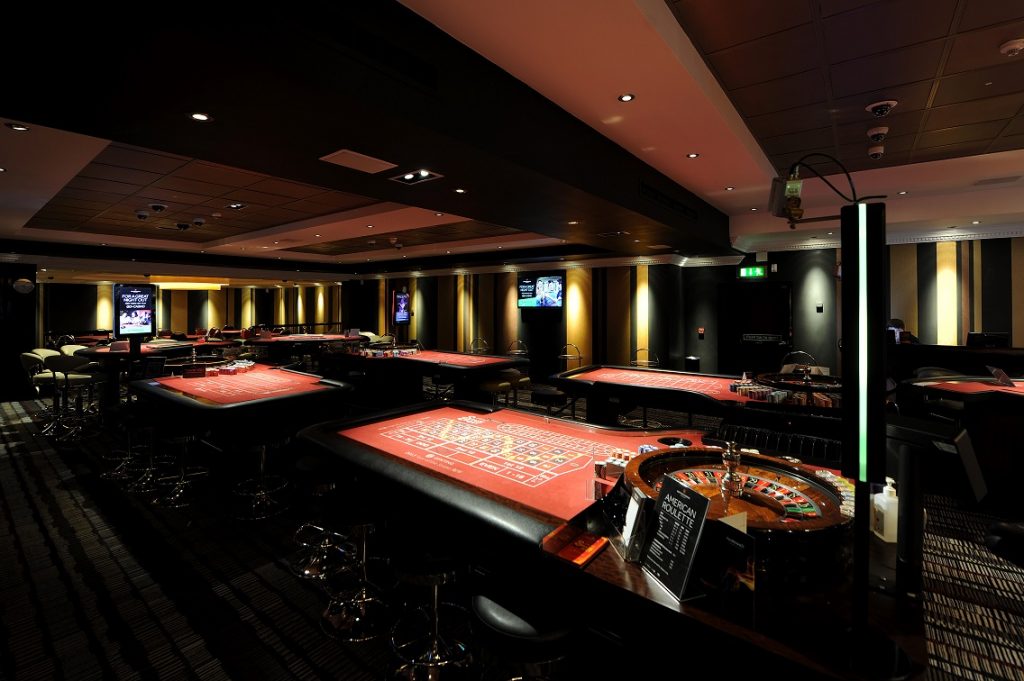 Craps
The most noteworthy feature at The Cromwell Las Vegas is its 100x odds for the crap games, which have either $15 or $10 minimums. The casino also offers 1-dollar virtual craps.
Other table games at this casino are Ultimate Texas Hold'em, Crazy 4 Poker, Crazy 4 Poker, Mississippi Stud, and High Card Flush.
High Limit Table Games Area
The high limit broom at The Cromwell Las Vegas Casino is privately secluded. Blackjack is available with 100-dollar minimums for either a full or double deck shoe. The dealer stands on all 17s on the full shoe blackjack. The dealer always hit on all soft 17 on double deck, and you can't double down after you have split your cards.
Video Poker
Video poker is available at The Cromwell Las Vegas, which you can play for comped drinks at any of the bars, and they are also available around the casino floor. The betting limits start at one penny, nickel, dime, quarter, 1, 2 and 5 dollars. Some of the machines have friendly payouts of 99.73 percent.
Slots
There are 440 slots spread throughout the casino. Penny slot machines are available at The Cromwell Las Vegas Hotel and casino with betting limits increasing gradually up to one dollar. The video reel and reel slot are marked off. The slot games are modern with plenty of the most popular choices. Some of them are The Walking Dead, The Walking Dead, Dragon Link, and Buffalo.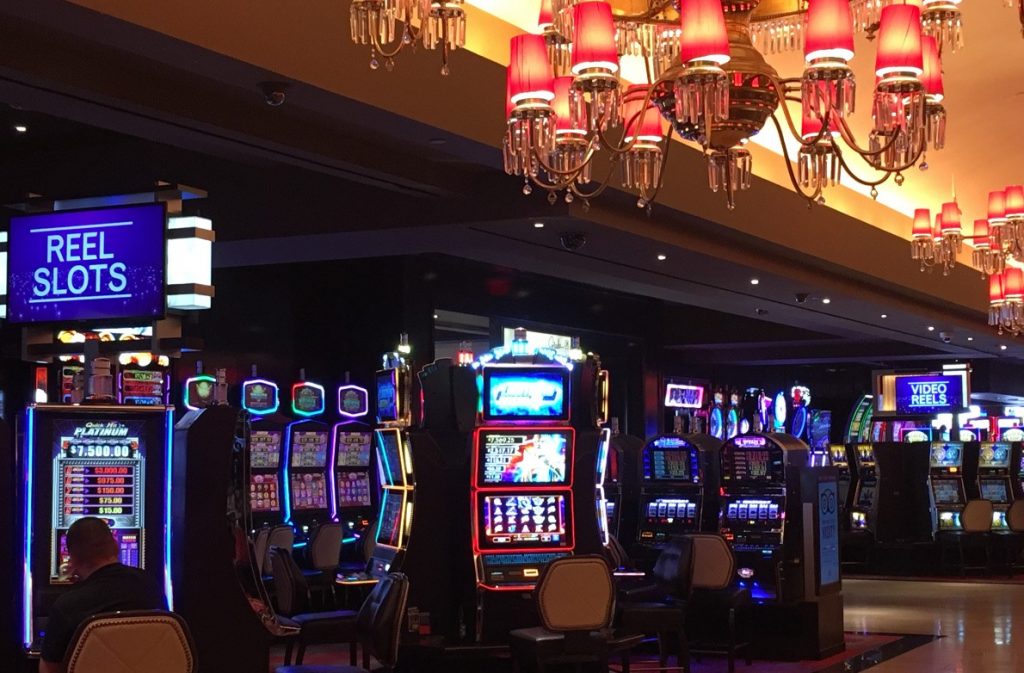 The high limit slot section at The Cromwell is called The Abbey. The betting limits start at 1, 5, 10, and 25 dollars. It is mostly comprised of new slot machines, but you will also find video poker machines with the same limits.
Sportsbook
The sportsbook at The Cromwell Las Vegas Casino has twenty TVs, including 4 big ones; the lighting, sound and picture quality are all solid. You can stay updated with the 9-ft-by-5ft LED odds wall that displays updates and latest scores.
Even if you are in the sportsbook at The Cromwell Las Vegas, you can view the wall from different parts of the casino. If you want to just linger, the sportsbook also offers a nice lounge-like setting that can comfortably fit fifty guests.
There is a VIP section and the seating is comfortable with 27 leather chairs and high chairs and tables to the side. The pamphlets showing all the day's action plus lines for upcoming events, available props, and futures are available.
Restaurants
In late 2013, plans indicated that Giada De Laurentiis, an Italian-born American chef, would open a restaurant in the newly-renovated hotel. In July 2014, the chef opened her first restaurant inside The Cromwell Las Vegas and called it GIADA.
GIADA offers seating in the outdoor patio, lounge, or dining room with views of the Caesars Palace and the Bellagio fountains. The menu of this restaurant includes Italian cuisine along with Californian influences, such as rosemary focaccia, marsala herb chicken meatballs, chicken cacciatore, lemon spaghetti, and more.
Also, family-style, vegan as well as gluten-free options are available along with antipasto station. The open kitchen allows guests to watch chefs prepare their favorite food.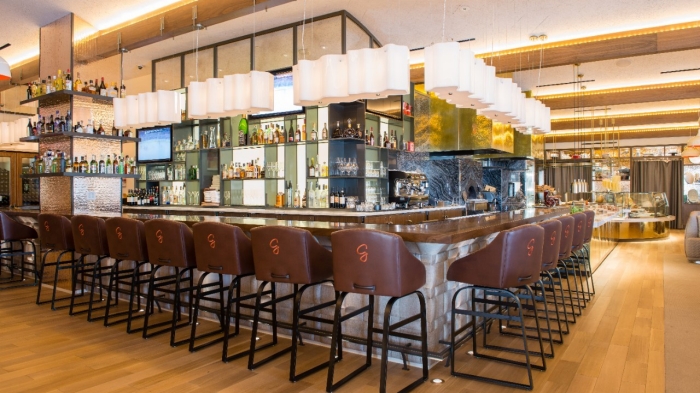 If you need a quick meal, you can get a delicious bite at Eatwell, which is open 24 hours. You can have a light meal or a gourmet snack. The types of food you can enjoy at Eatwell include pizza, late-night nosh on tacos, salads, sandwiches, and pastry. In the morning, you can take Starbucks coffee to get caffeinated. The restaurant seats 28 guests. Make sure you try Barbary dogs, which is Eatwell's signature chili cheese.
Conclusion
If you're looking for a resort located on the Strip that delivers more personalized service, The Cromwell Las Vegas is the perfect place. The resort is one of Vegas' glitziest new breed hotel resorts with a glamorous casino, a great place for shopping, unique nightlife, and beautifully updated hotel rooms.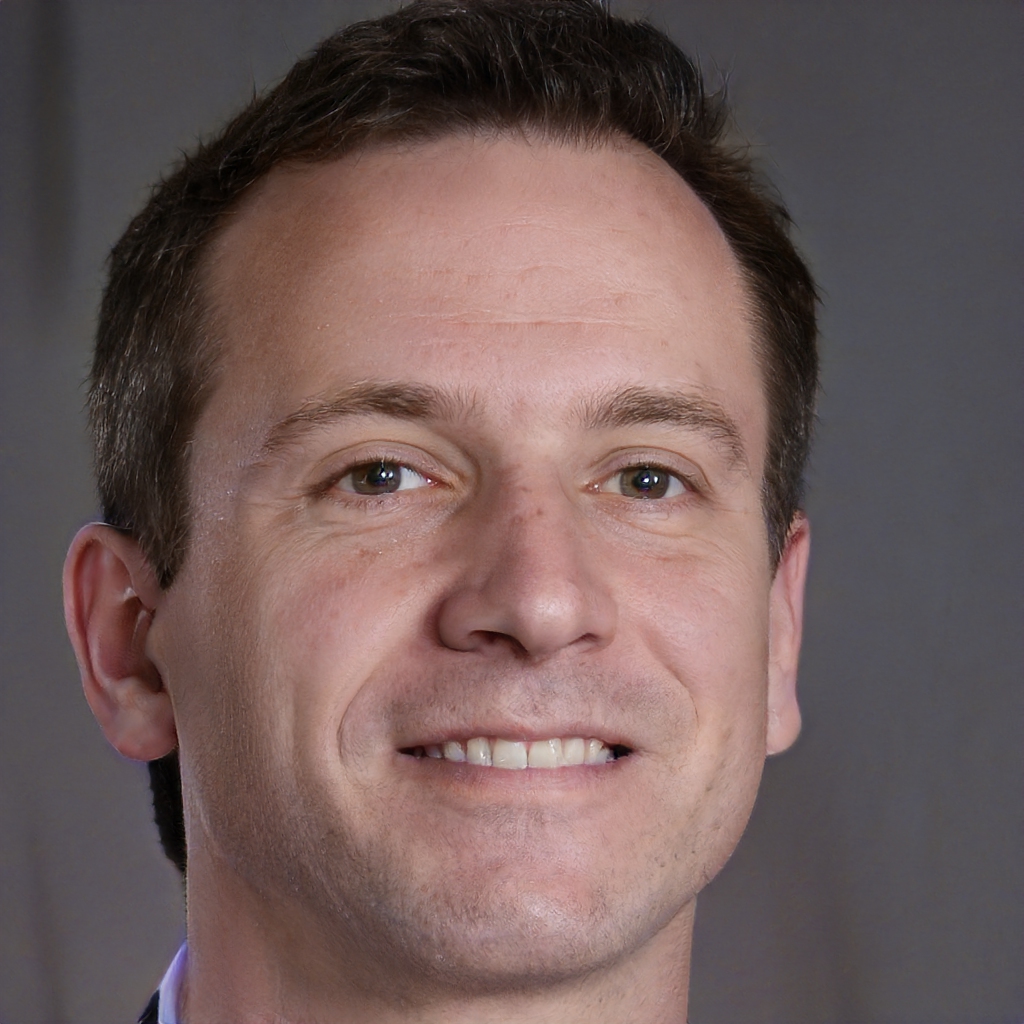 Author
Herb has spent years working in the gambling industry, helping to provide gambling entertainment. He started from the land-based casino and then moved to the iGaming industry and joined our team as an author with great knowledge of the Las Vegas casino industry. His unique approach is the key to our content creation strategy. Do you need the latest bonuses and promotions; Herbert Hanson is your man with great knowledge.