Located at 3645 South Las Vegas Boulevard is Bally's Las Vegas Hotel and Casino. Currently operated and owned by Caesars Entertainment Corporation. Choose from one of the more than 2,800 rooms, many renovated in 2018. Majority of the spacious rooms and suites are in the Resort Tower and the remaining rooms are in the Jubilee Tower that was built in 1981. Complete with a floor of shops and boutiques below the gaming level, there is also a monorail station at the rear of the complex. Bally's Las Vegas is linked by a bridge to a sister property, Paris Las Vegas.
The site was originally the Three Coins Motel in 1963 and then became the Bonanza Hotel and Casino in 1967. By 1973 it was the MGM Grand and was a bigger building than the Empire State Building. Dean Martin was a long time entertainer and his TV show Dean Martin Roasts was filmed here. A new standard in luxury and size when it was built, it had a big impact on what was to follow.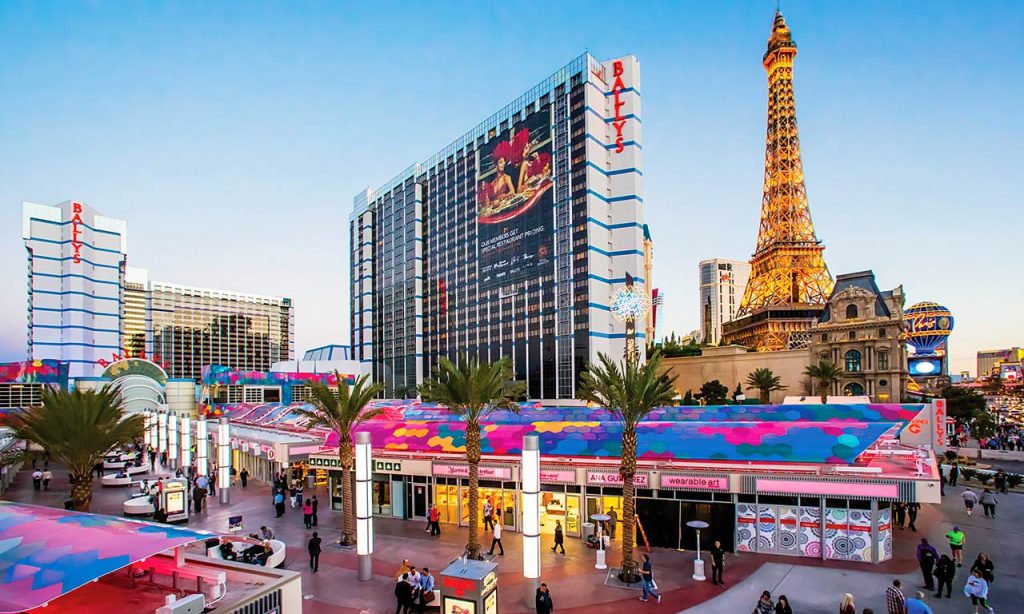 Sold to Bally Manufacturing in 1986 for a staggering $594 million, the name MGM Grand was transferred to the Marina Hotel. Hilton Hotels bought Bally in 1995. In 1997 Paris Las Vegas was started and opened 2 years later. Hilton's casino division became Caesars Entertainment in 2003. In 2018 a $125 million renovation of more than 2000 rooms saw the North Tower renamed the Resort Tower. The Jubilee or South Tower was renovated in 2014.
Bally's Las Vegas Hotel and Casino has featured in many TV shows and movies:
Dean martin Celebrity Roasts from 1974 to 1984
Rocky IV-site of Apollo Creeds exhibition bout
Fever Pitch 1985
The Late Show with David letterman for one week 1987
Hot Shots 1991
Honeymoon in Vegas 1992
Leaving Las Vegas 1995
Hosted the second season of Monopoly Millionaires Club
Who wants to be a Millionaire studio is located here