Paris Las Vegas Overview
Paris Las Vegas is a popular tourist destination located on the Strip in Paradise. The hotel-casino is owned and also operated by the gaming corporation Caesars Entertainment Corporation. The charming resort uses the theme of Paris city, France and includes a 540-foot tall replica of the wrought-iron lattice tower Eiffel Tower, a theatre known as Le Théâtre des Arts, Arc de Triomphe, and a sign that has a Montgolfier balloon shape. The front of this resort suggests the Louvre Museum and the Paris Opera House.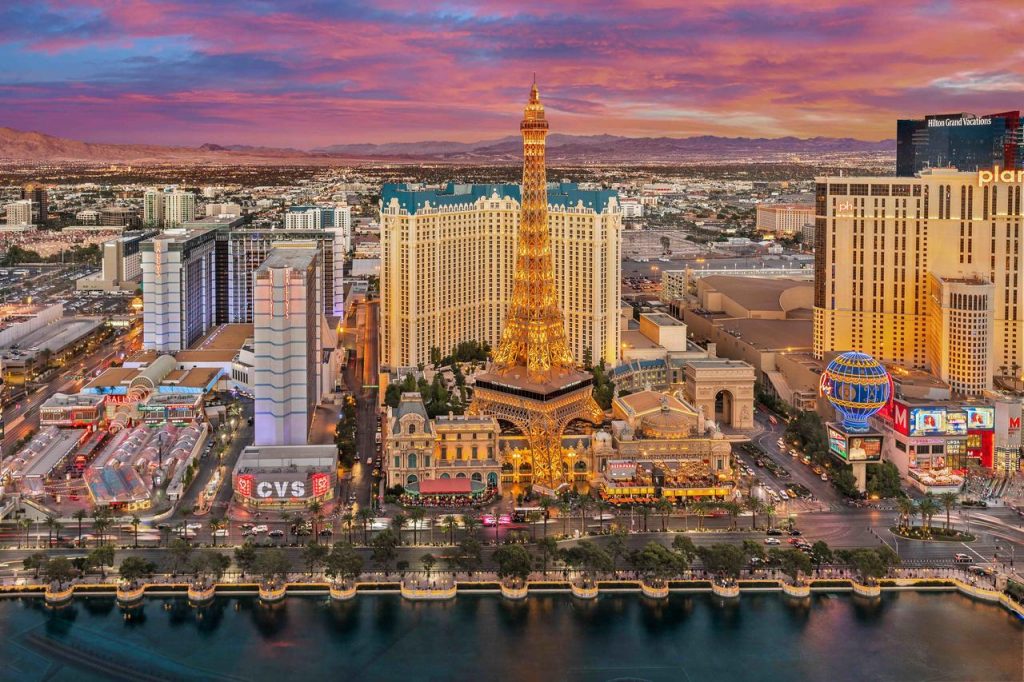 The owner of the Bally's Las Vegas, Bally Entertainment, made an announcement regarding the projects in May 1995 at a shareholders meeting. On April 15, 1997, Bally Entertainment broke ground for the resort and construction started in May the same year on the 9.7-hectare parcel. The estimated cost of building Paris Las Vegas was 760 million dollars.
On September 1, 1999, Paris Hotel and Casino Las Vegas opened with fireworks shot from the 164.6-m tall Eiffel Tower. Catherine Deneuve, a French actress, flipped a switch and turned on all of the lights at Paris, including the different crystal chandeliers found in the main lobby. In 2010, Caesars started a series of improvement projects, which would see some removal of the Paris theme. Caesars Entertainment Corporation started phasing out the French greeters on the property.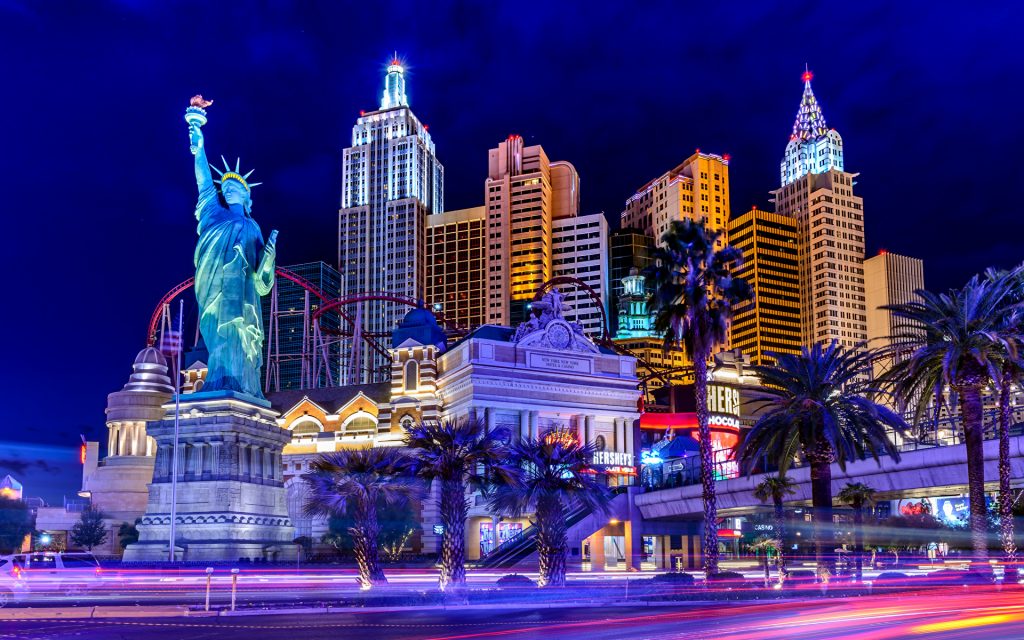 Cruising the Las Vegas Strip, you just can't miss this resort because of the landmark tower. Inside this resort, the Parisian theme continues with remarkable signposts in French (like 'Le Bar du Sport' and 'Le Cabaret') plus fleur-de-lis designs seen everywhere. The vivacious Paris Casino Las Vegas is beautiful, the Francophilic mimicry really stands out. Many of the most popular attractions on the Las Vegas strip are just within easy walking distance.
Location
Hotel Rooms
Paris Hotel Las Vegas features around 3,000 rooms with various standard guest rooms to go with the suites. Standard rooms include the Burgundy Room, Red Room, and Classic Room: they measure 390 sq.ft. The rates of these rooms range between 60 and 100 dollars during the times of year that are less busy. This depends on whether guests want a view of the Eiffel Tower or the Strip, if the room has a couch or if it's the remodeled version.
A renovated Burgundy room at Paris Las Vegas features geometric patterned wallpaper, sunburst metallic mirrors, jewel-toned curtains, and white leather headboards. Also, it has bright and spacious marble bathrooms with floral-scented toiletries from the bath and body brand Gilchrist & Soames plus a separate shower and bathtub.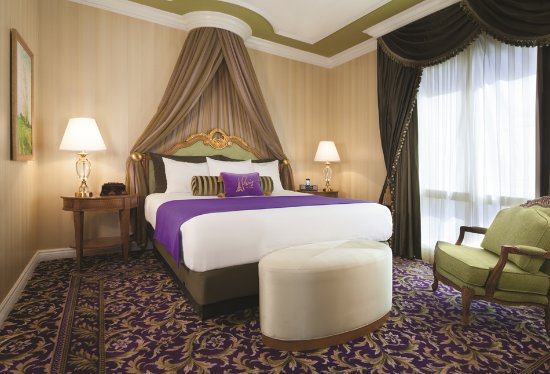 Paris Hotel Las Vegas offers quite a wide variety of suites. The most basic deluxe and classic suites range from 130 to 200 dollars. Other suites measure from 700 sq.ft. and beyond with prices of more than 500 dollars. The Napoleon Suite is reserved for VIPs and starts at 4,000 dollars, while the remodeled 1560 square-foot St. Tropez Suite breaks 4 digits.
Spa and Fitness Centre
Guests at Paris Hotel and Casino Las Vegas do not pay to use the spa services, it is included in the 42 dollar-tax fees paid when booking the guest rooms. Non-hotel guests have to pay 35 dollars. The spa and salon at Paris Las Vegas are open every day from 7 a.m. to 7 p.m. The spa and salon use the Balinese influence and offers an elegant menu of nail and hair treatment to go with makeup, waxing, massages, and facial services.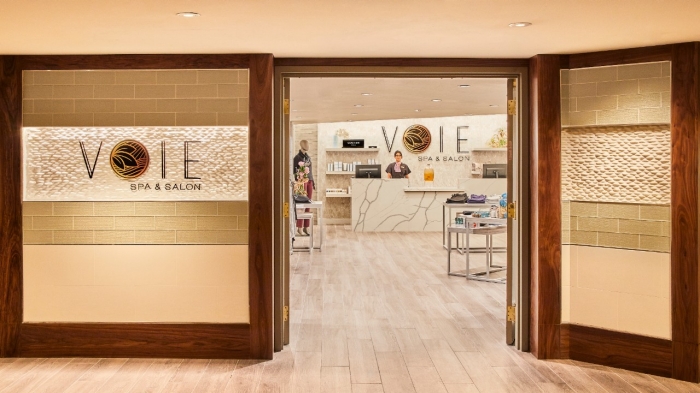 The fitness center state-of-the-art cardio plus weight training equipment is always open from 6 a.m. to 7 p.m. every day.
Venues
Le Theatre des Arts is where you'll find music greats such as Barry Manilow performing. The 1200-seat theater is a stage that hosts some of the world-famous music acts in showbiz. Paris offers a world of enchantment and romance, with equally exciting headliners, concerts and shows. You can enjoy the hilarious adult show by Anthony Cools, the R-rated spellbinding hypnotist. Paris Hotel and Casino Las Vegas also offers plenty of opulent, classy and flexible meeting spaces for large conventions and small intimate affairs in an unconventional setting.
Entertainment
When it comes to nightlife, Paris Las Vegas has numerous place to keep guests entertained. Alexxa's Bar is a Strip-front bar that offers an outdoor patio and nice live music. It is open 24 hours and you can go to this place to enjoy craft cocktails, Homemade Sangria, small plates, and international flavors. You can also head over to Le Bar Du Sport and have a drink while watching your favorite game on their big-screen TVs. The resort also offers many other unique places where guests can enjoy their drink while playing video poker games all over the floor. They include Le Central Bar, where guests can enjoy a variety of martinis and Le Cabaret, a beautiful garden-style Vegas lounge that features live music and DJs.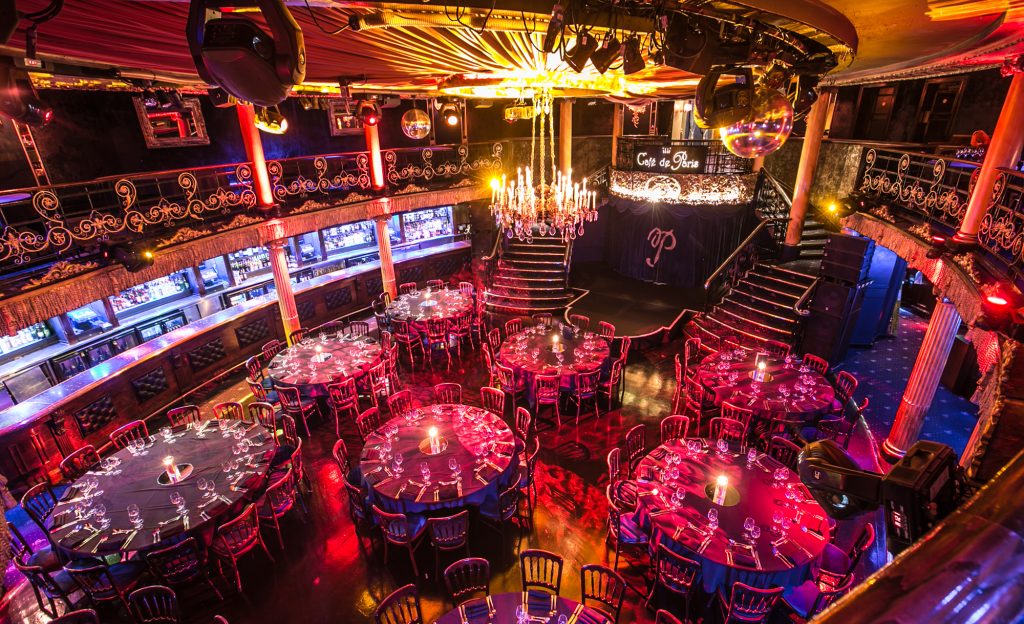 You can go to Chateau Nightclub & Rooftop for a unique nightlife experience under the stars. The 14,000-sq-ft nightclub has breathtaking views of the Strip, and it's a rooftop party spot with luxurious VIP tables, room for dancing, plus high-energy dance music.
There is also Gustav's Las Vegas Bar, which opens 24/7 and serves Margaritas in souvenir glasses that are in the shape of the Eiffel Tower. Head over to Napoleon's Lounge if you're feeling like you want to dance or you need a cigar or cocktail. The drink menu features an impressive wine list and plenty of Chambord-based cocktails, bourbons, whiskey, scotch, and cognac. For the sweeter side, you can indulge in alcoholic dessert drinks; for example, you can have the Banana Split Martini or the Midnight in Paris plus Godiva chocolate liqueur.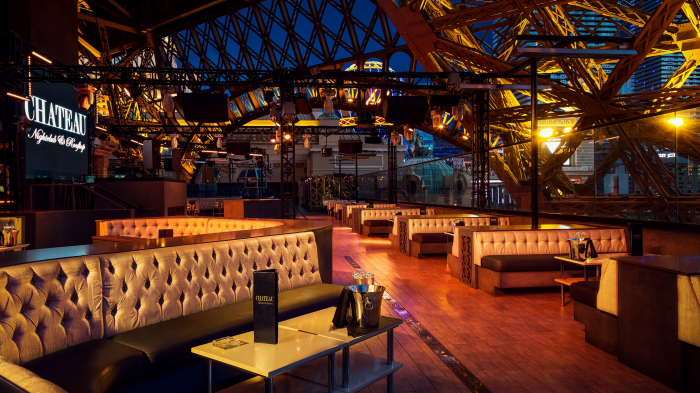 Shops and Boutiques
The resort features exquisite shopping, including casual clothing, accessories, handbags, and designer shoes at Paris Line. For unique gift ideas, Les Eléments is the ideal place. Paris Vegas has 2 retail areas that will remind you of a picturesque Parisian village with painted ceilings and cobblestone streets. Stroll through the Le Boulevard and Bally's Promenade where you can find items like stylish clothing, memorabilia, gourmet treats, cigars, jewelry, and accessories.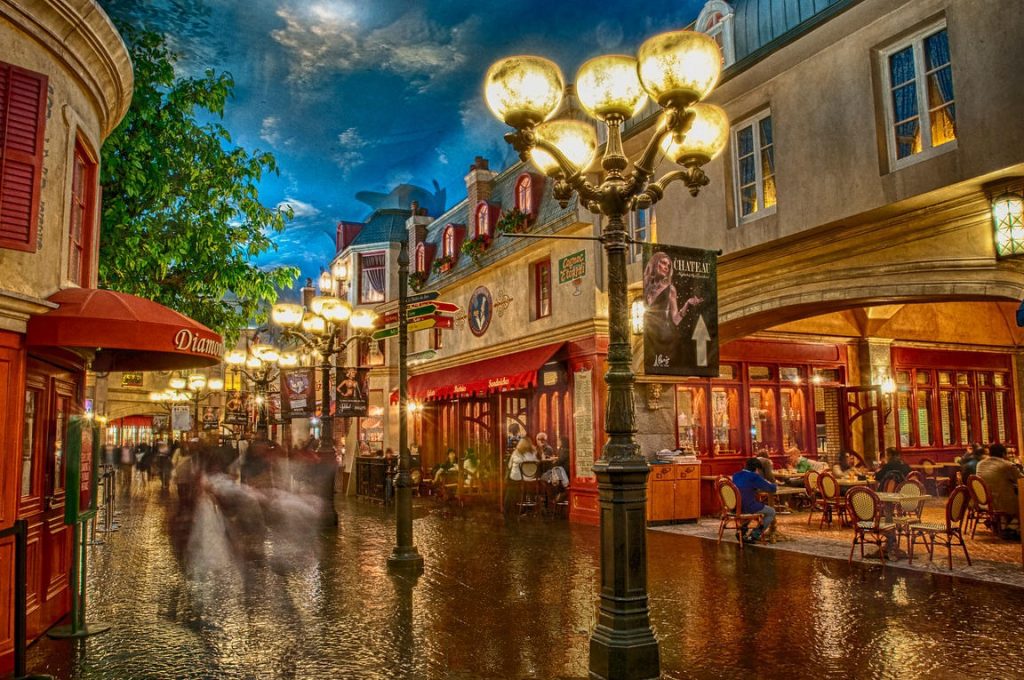 At Bally's Promenade, you can find women's designer accessories, jewelry, and French-inspired fashion boutiques. You can get gifts, such as Eiffel Tower memorabilia, perfume, and wine at Le Boulevard. Other shops at Paris Las Vegas include Les Nécessités, Travel+, GLITZ TO GO, OPTICA, Swarovski, Perfume De Paris, Misura, Presse, La Cave, and more.
Shows
Eiffel Tower Light Show
The enhanced lighting at this resort was inspired by the illuminations in the France-based Eiffel Tower. It offers a light show every half an hour and 30 minutes from sunset to midnight. The show is free and features synchronized, choreographed twinkling plus colored lights for guests to enjoy every night on the Las Vegas Strip. With around three hundred color washing light fixtures plus over eight hundred white strobe lights located on the exterior of the tower, this show has changed the Vegas skyline forever.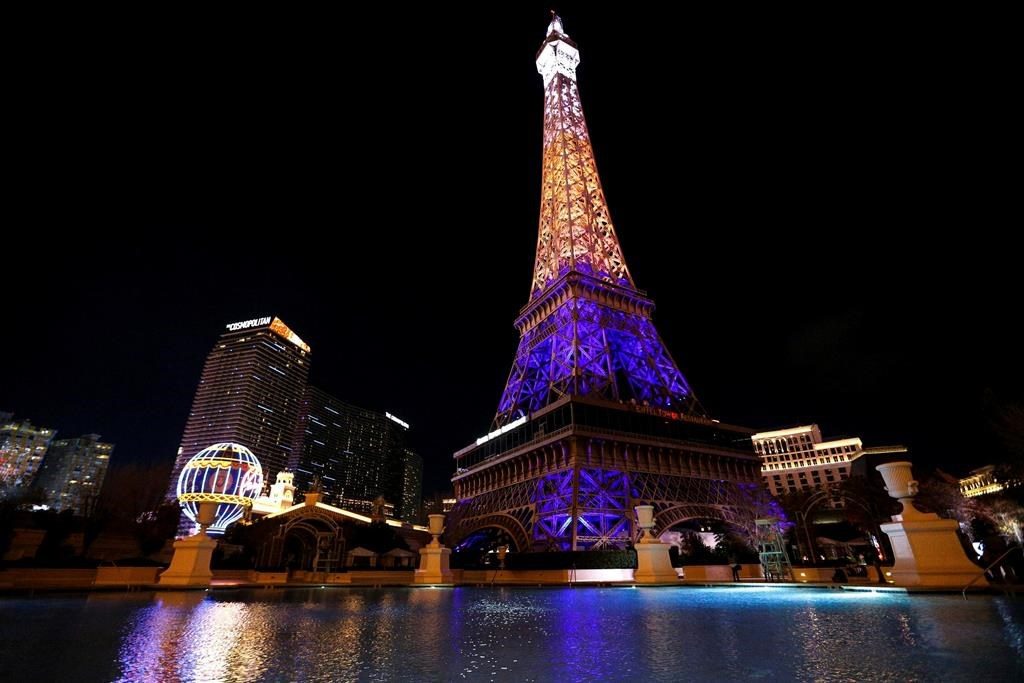 Eiffel Tower Viewing Deck
You can go for a fun night out with your friends or celebrate your special occasion on the amazing Eiffel Tower Viewing Deck located at Paris Las Vegas. They also offer customizable packages and experiences such as weddings, family reunions, birthday parties, and more. The place has stunning views and guests will have a great France in Las Vegas experience high up in the sky.
Gambling
The gaming floor of Paris Casino Las Vegas measures 95,000 square feet. They make sure the smell of smoke is erased on the floor, and at night go-go dancers are there to entertain guests while they enjoy their favorite games. The casino at Paris Las Vegas has a nice selection of slots and table games.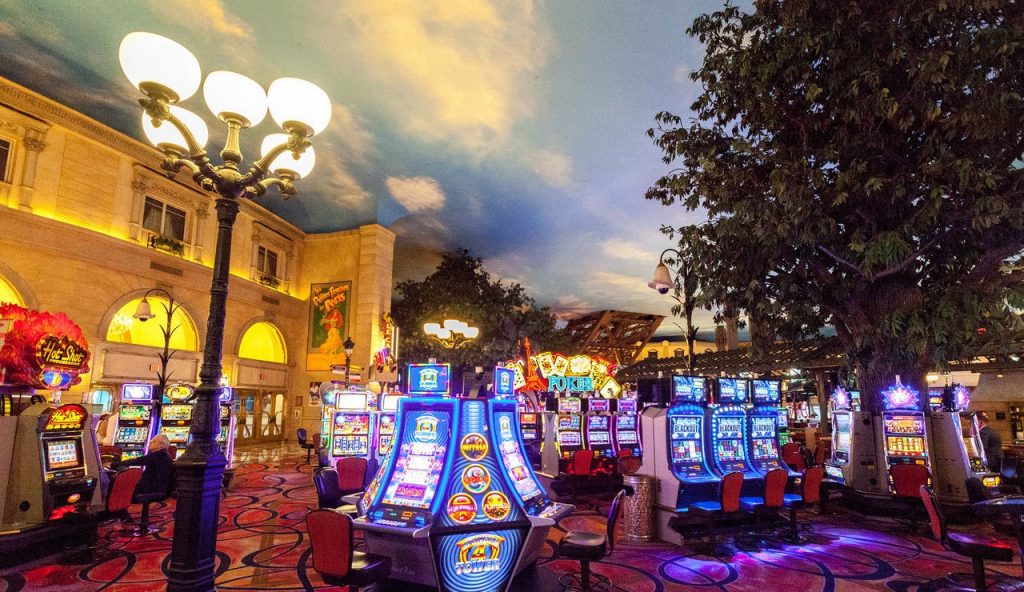 Slots
With more than 1,700 slots spread throughout the casino, Paris provides a large selection of new games and the old-school style slot machines. Wagers start at one penny and increase in small amounts to 1, 2, and 5 dollars. Some of the slot games you will find at Paris Las Vegas include The Walking Dead, Top Dollar and the popular Wheel of Fortune.
High Limit Slot Section
The high limit section for slot games is large, attractive, and has its own entrance. Here, you will find 0.25-dollar slot machines just by the entrance. From there, limits are 1, 5, 10, 25, and 100 dollars. Slot machines have most of the action. Video poker games are also available with the same limits as slot games.
Video Poker
Video poker games are also offered at bars where guests can play for comped drinks. There are lots of video poker machines spread throughout the gaming floor offering a wide selection of games. If you are a high limit video poker player, the paybacks for Jack or higher go up to 99.54 percent. If you are playing Bonus Poker, the payout is at 98.01 percent. On the main floor, betting limits start at one nickel and increases in small amounts to 1 dollar.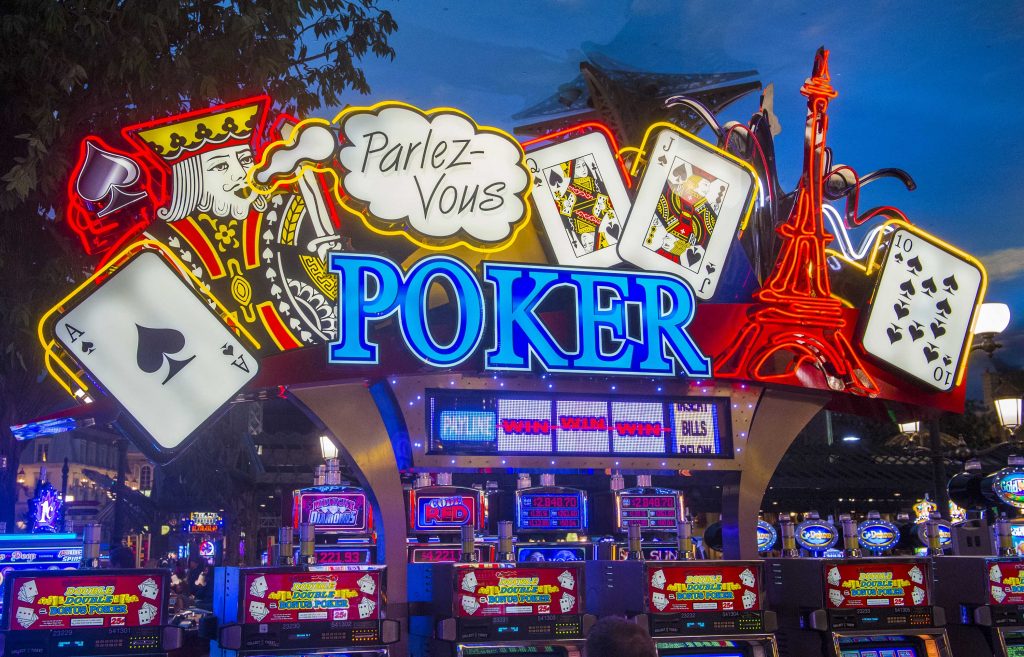 Blackjack
There are many blackjack tables at Paris Las Vegas, including 5-dollar tables with progressive bonuses, making the game more interesting and fun. Most of the blackjack tables have 3-2 odds. You will also get some tables with the same minimum, but with 6-5 odds. The rules and shoes are the same. The dealer always hit on soft 17.
The casino also has blackjack tables with a 15 or 25-dollar minimum. Paris Casino Las Vegas also offers double deck blackjack; you can't double after splitting in this game. If you would like to play a virtual blackjack, you can go to the slot section, where you will find a 5-dollar game. If you like playing other variations of blackjack, the casino offers Blackjack switch.
Baccarat
For a memorable gambling experience, you can play mini-baccarat at Paris Las Vegas, which is offered at a 25-dollar minimum.
Roulette
Paris Casino Las Vegas also offers 10 and 15-dollar standard double-zero roulette, which is one of the popular table games at this casino. There is also a 5-dollar virtual roulette game by the slot area. It has a live dealer and uses a live wheel.
Craps
If you like playing craps, the minimum for this game is 10 dollars with 3-4-5 odds. You can also go to the slot section to play a virtual 3-dollar crap game.
High Limit Room for Table Games
The high limit section at Paris Las Vegas is quite large and secluded from the main floor. This section offers blackjack and mini-baccarat. The minimum for tables at the high limit room is 100 dollars. Blackjack has the same rules as the tables on the main gaming floor, except that the dealer has to stand on soft 17.
Sportsbook
The sportsbook at Paris is situated next to Mon Ami Gabi (a French steakhouse) and near a strip entrance. It is large and does not overhear any noise from outside. It's nice and secluded in its own corner. The betting board is huge and there are also plenty of big-screen TVs. Seating includes many comfortable big leather couches. There is no smoking; if you want to smoke at Paris Las Vegas' sportsbook, you will have to sit in the first 3 rows, where smoking is allowed. It is beautifully designed and looks more like a square, which allows you a clear view of everything regardless of where you choose to sit.
Restaurants
The resort has 15 restaurants, which gives you plenty of options when you are looking for somewhere to dine. Le Village Buffet offers a balance between fine dining and inexpensive quick bites. This is the perfect place if you want to eat delicious foods like omelets, pastries, and crepes served at brunch and breakfast.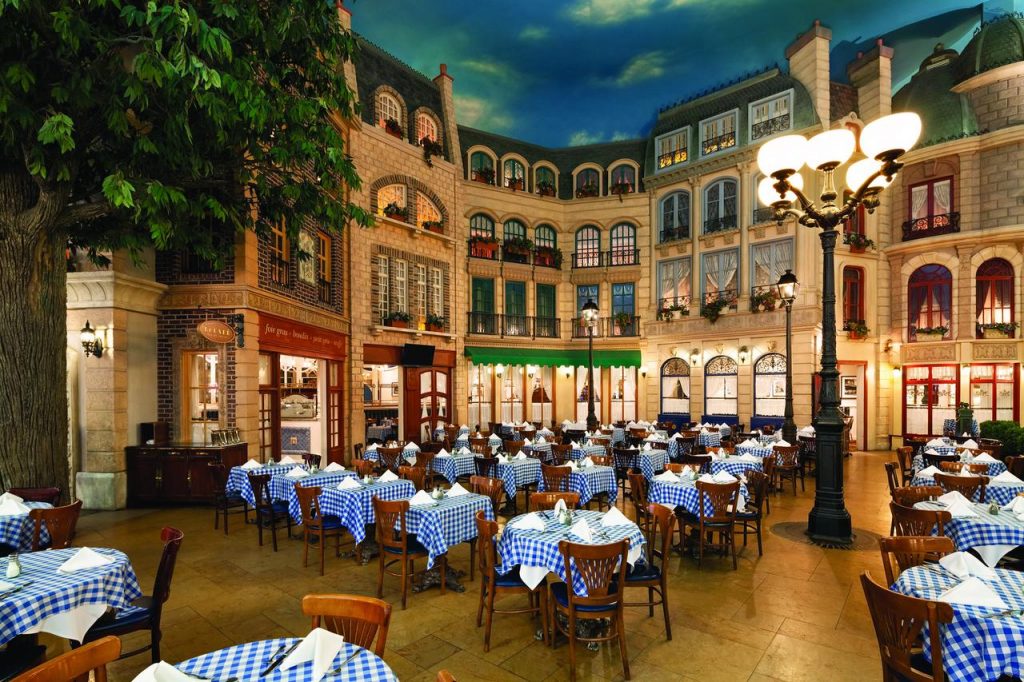 La Creperie is a great place to get a desert at Paris Las Vegas while Alexxa's Bar serves guests small plates 24/7. Gordon Ramsay Steak is definitely one of the top steakhouses on the Las Vegas strip. In the dramatic United Kingdom-themed dining room, you can order a juicy filet in a Himalayan salt room or the roasted beef Wellington, which is the chef's signature.
For fine French cuisine at Paris Hotel Las Vegas, head over to Eiffel Tower Restaurant, the Strip's most romantic restaurant. Located at the foot of the Eiffel Tower, Mon Ami Gabi is also a crowd-pleaser. Yong Kang Street Chinese offers the flavors of China, Hong Kong, and Taiwan with a menu that's structured in a different way when compared to a typical Chinese restaurant. Everything is made fresh, and the menu features dim sum carts, wok-tossed vegetables, wok-tossed vegetables, dry noodle dishes, a large variety of noodle soups, and a wide selection of dumplings.
Conclusion
Paris Hotel and Casino Las Vegas is the ideal place for visitors who want to have a memorable time in Vegas. Whether you want to shop till you drop, play your favorite casino game, or you are looking for a place with stunning views of the Strip, Paris Las Vegas offers everything you will need.
About the Author