About Silverton Las Vegas
When you think of Las Vegas, the first casinos that come to your mind are the Bellagio, MGM Grand, Venetian, Caesars Palace, Cosmopolitan, Excalibur Las Vegas, Mirage, and a few others. However, these are just some of the casinos that Las Vegas' skyline is known for.
In reality, there are dozens of smaller, yet great casinos that Sin City has to offer, and one of them is the subject of this review. Namely, by reading the following text, you will learn the most important details about Silverton Las Vegas Casino, a three-pearl establishment that has plenty to offer in terms of casino entertainment, luxury accommodation, dining, and more.
Silverton Las Vegas Casino, formerly known as Boomtown Las Vegas, was opened on May 27, 1994. The establishment is owned by the American businessman and real estate developer Edward Roski Jr.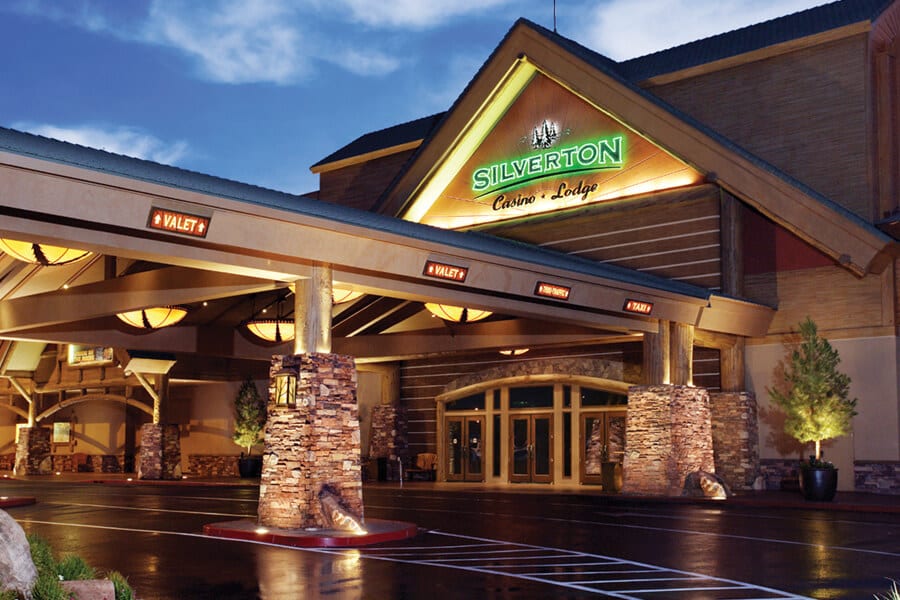 In the first couple of years of operation, Boomtown struggled to draw visitors. In December 1997, Roski renovated the facility and re-themed the resort as a rustic hunting lodge. This is also the time when the casino changed its name to Silverton. Since then, Silverton las vegas has been renovated a few more times, with the most recent renovation taking place in 2009.
The casino is not located on the Strip, which is probably why it's not known among first-time visitors. However, you can reach the establishment with just a 10-minute drive from the Strip, and the exact address is 3333 Blue Diamond Road.
The casino has a total gaming space of 69,056 square feet. If you plan on spending the night here, you'll be happy to know that Silverton Casino hotel has 300 rooms that range from fairly affordable apartments to luxury suites. There are also several restaurants and buffets where you can enjoy tasty dishes while taking a break from the tables.
Location
Gambling At Silverton Las Vegas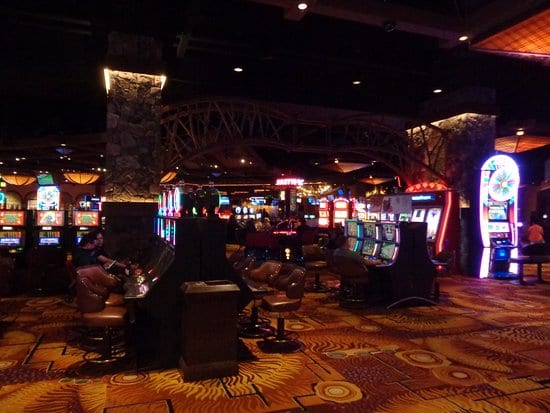 No matter which types of casino games you like testing your luck on, Silverton has them all. The casino floors are, of course, mostly covered with video slot machines. Apart from video slots, you can also enjoy dozens of video poker and video keno machines. There are over 1,100 gaming stations, some of which include massive rewards.
The 18 Lightning Link slot machines are all tied together to form the casino's progressive jackpot. The latest additions to the casino's already impressive library of games include Lightning Link Lounge, Good Fortune, Buffalo Gold, Dancing Foo, Wheels Go Round, and Scarab. All these state-of-art games have stunning visuals and come with betting limits that cater to both low-level players and high-rollers. For those who come with a little bigger bankroll, Silverton Las Vegas Casino offers the so-called High Limit Salon.
If you're more into table and card games, you'll be glad to know that Silverton Las Vegas Casino has a total of 26 tables with friendly, professional, and attentive dealers. There are several blackjack tables with games such as Royal Match, King's Bounty, and Bonus Spin. All games pay 3:2 on blackjack.
Other games include craps, no commission Pai Gow, face-up Pai Gow, Three Card Poker, Ultimate Texas Hold'em Progressive, and American roulette.
Silverton Casino is not only about casino games. Namely, there's also a race and sportsbook facility powered by CG Technology. A huge 53-feet wide video wall maximizes visibility of all available sports markets that include football, basketball, baseball, tennis, golf, boxing, and car races. The betting options include point spread, money line, parlay, and various prop bets.
Silverton Las Vegas Hotel Rooms
Silverton Las Vegas Casino Hotel has 300 rooms that come in three different varieties — resort rooms, luxury king, and Las Vegas suites. The room prices range from $49 to $199 a night, while the sizes range from 378 to 800 square feet.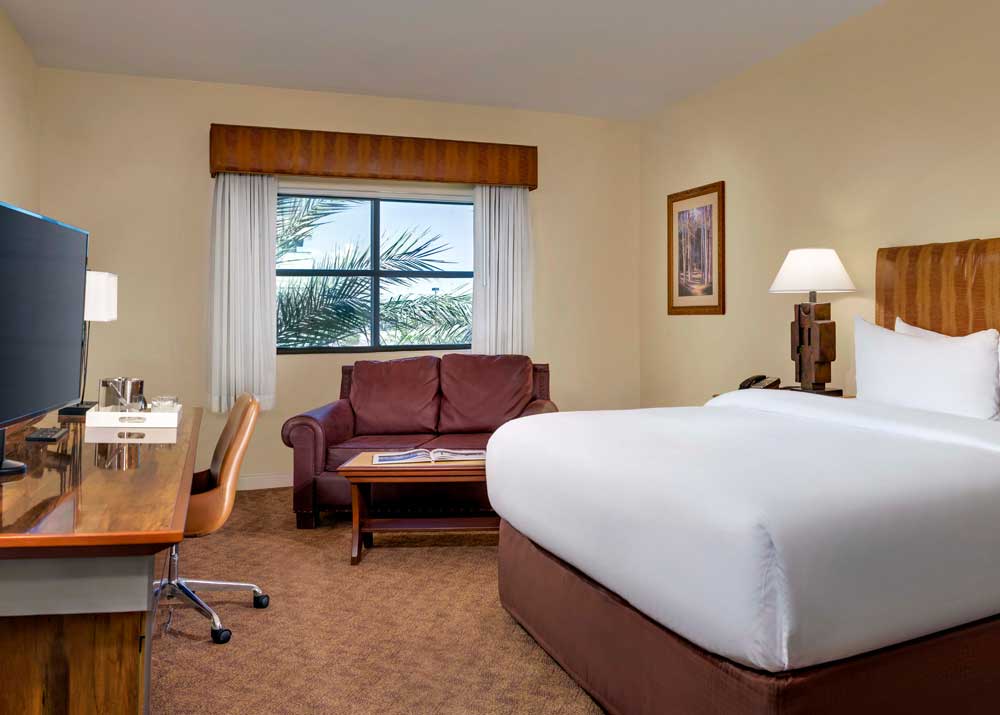 The rooms are decorated in the same style as the casino, so you can expect a simple rustic look with pinewood furnishings and earth tones. Inside the rooms, you will find comfy king-sized or queen-sized beds, large 42-inch flat-screen TVs, a docking station for your devices, living room furniture including a sofa and a working desk, and spacious bathrooms with rain showerheads. Las Vegas suites also feature an adjoining living room, a breakfast bar, and a relaxing spa-like soaking tub. For an extra fee, you'll be able to use the room's mini-fridge and Wi-Fi. Room views range from the parking lot to the hotel's swimming pool. Of course, room service is available at all times.
Alternatively, guests visiting the Silverton Las Vegas Casino can find accommodation at the adjacent Berkeley Hotel. This 18-story building has hundreds of single and double-bedroom suites, providing the finest first-class accommodation off the Strip.
Berkley Hotel rooms feature living room and dining areas, fully-equipped modern kitchens, king-size beds, sleeper sofas, spacious dual-access bathrooms, vanity areas, two HD flat-screen TVs in both the living room and the bedroom, cable TV, in-room Wi-Fi, air conditioning, and many other amenities.
Restaurants
Silverton Casino offers around a dozen dining rooms, bars, and lounges inside of its complex. The most notable restaurants include Twin Creeks Steakhouse, Sundance Grill, Seasons Buffet, and the Mermaid Restaurant & Lodge.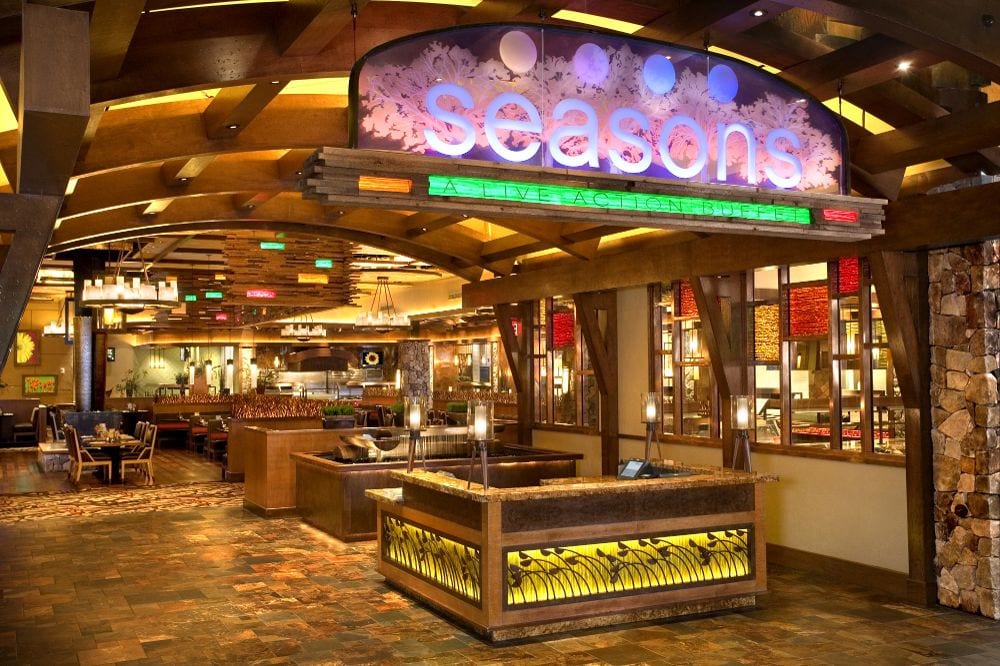 As you can see, there are plenty of different places where you can satisfy your taste buds while taking a break from the tables. Each restaurant has its own master chefs that prepare some of the most delicious meals off the Strip and do so at fairly affordable prices.
Twin Creeks is known for its elegant setting and private dining areas, serving the finest steak and seafood in Las Vegas. There's also something for those who have a taste for boutique bourbons and wine.
Mi Casa is also an interesting place to visit, with its delicious Latin food and over 65 tequila brands. Adjacent to it is the Su Casa Sushi Mas that offers a unique mix of traditional Asian cuisine with a Mexican influence.
For those who are looking for a buffet experience, you can go to the official Silverton Casino buffet called Seasons. Brunches and dinners are served from Thursday to Sunday, together with a four-hour lunch on the first four days of the week. The prices range from $12 to $46, but you can get a discount if you own a Silverton Casino Rewards card.
Sundance Grill is at the top of the list for everyone who is looking to find tasty alternatives outsides of the Strip. The best thing about it is that it's open 24/7. The menu includes grilled entrees, sandwiches, prime rib, and tasty desserts, among other things. Of course, healthy salads are there for those who are watching their diet.
As for bars and lounges, Silverton Casino Las Vegas has three of them, with the most popular one being the Mermaid. The main reason the Mermaid is so popular is not its menu but its location, as it is placed right next to the casino's 117,000-gallon aquarium that's full of mesmerizing and exotic ocean life.
Other Silverton Casino restaurants and bars we didn't mention include Wuhu Noodle, Johnny Rockets, Starbucks, Shady Grove Lounge, and Flare Bar. Even though we didn't have time to go into details of these places, they all come with their own unique themes and are worth checking out.
Entertainment
Silverton Casino & Silverton Casino Las Vegas constantly organize live events that include popular music concerts and other shows. There are several wedding venues such as the Veil Pavilion, The Green, and Sway Pool.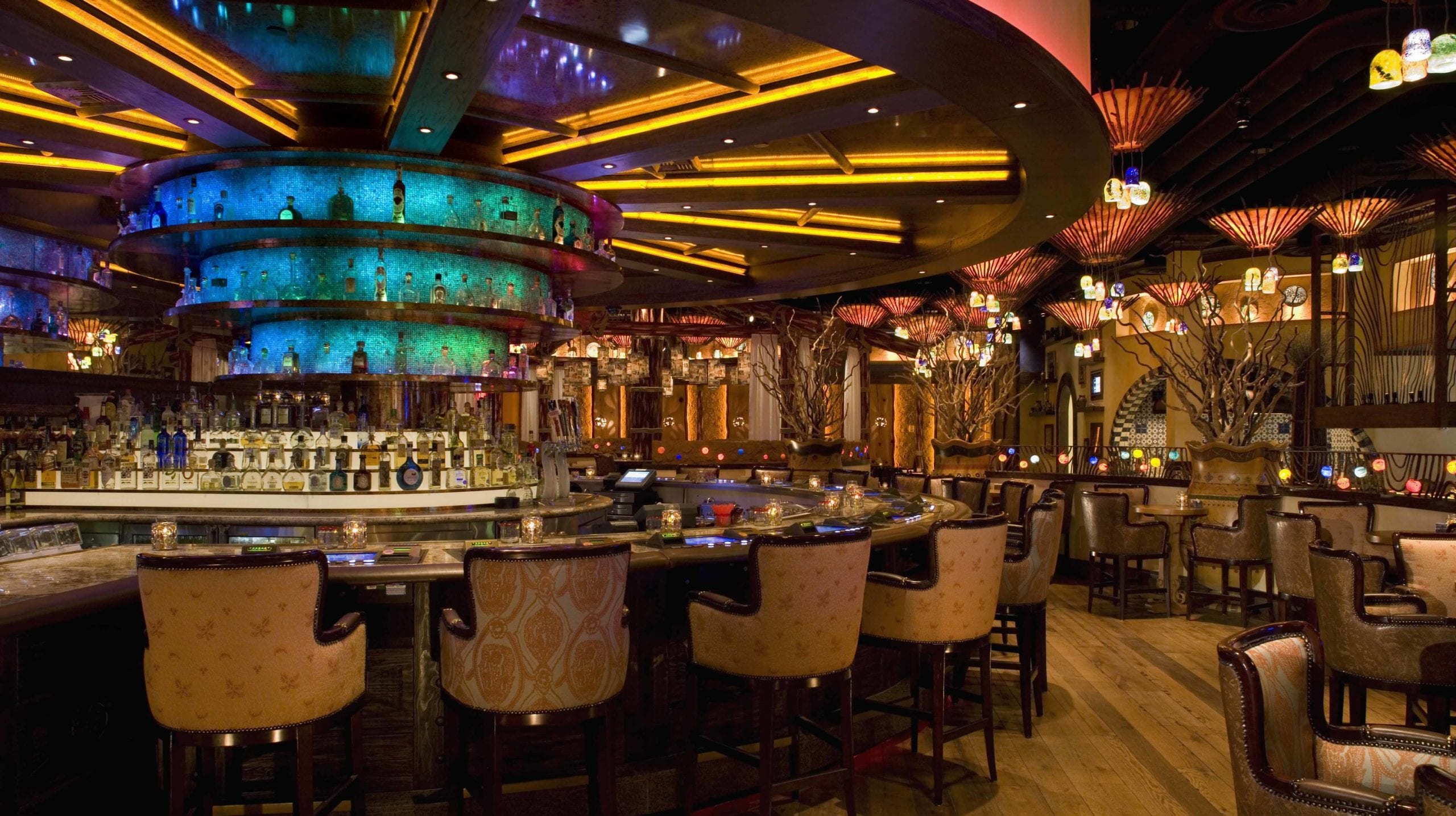 Probably the most unique thing about Silverton Las Vegas Casino is its massive aquarium. Apart from hosting rich and colorful ocean life, it also has live mermaid shows and fish feeding throughout the day, all of which can be enjoyed from the Mermaid Lounge.
There are also Bass Pro Shops that are mega-stores for everyone who is looking to enjoy activities such as fishing, hunting, and boating outside of the city.
Other Silverton Casino hotel amenities include a 24/7 fitness center, gift shops, and an airport shuttle service.
Conclusion
Silverton Las Vegas Casino is one of the best and most luxurious casino resorts that you will find off the Strip. Of course, if you want to visit the Strip and take a walk alongside many city's landmarks, it will only take a 10-minute ride.
The casino features over 1,000 gaming stations and a few dozen tables where you can play classic games. Several variants of blackjack and poker are available, together with craps, roulette, and Pai Gow tables.
Silverton Las Vegas Casino hotel provides top accommodation with comfortable king-sized beds, high-speed internet, cable TV, air conditioning, spacious bathrooms, and more. For those who like to relax and enjoy the hot Nevada sun, there's an outdoor pool with a jacuzzi.
Several restaurants provide guests with delicious meals at affordable prices. Music concerts and shows fill up the calendar throughout the year, and the aquatic show at the casino's aquarium is a must-see.
About the Author