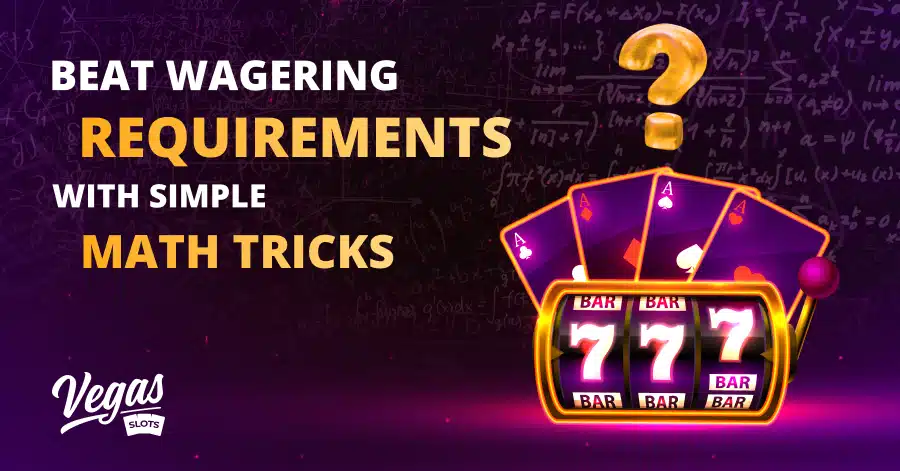 Online casinos provide different incentives and promotions to their players to attract new customers and keep the regulars returning. Nevertheless, these bonuses often come with wagering requirements that must be satisfied before a player can withdraw any money they have won from using them. In this post, we will explore how players may learn to master the art of bypassing wagering restrictions by employing simple mathematical tactics.
What Are Wagering Requirements?
You have probably heard of "wagering requirements" if you like playing online casino games. Nonetheless, it may be a murky concept for people who are unfamiliar with the world of online gaming. To put it more simply, a wagering requirement is the number of times a player is required to bet a bonus before any earnings may be withdrawn.
When you claim a bonus from a casino, it's typically paid in bonus money, rather than real money. As with other bonus features, any winnings from free spins will be awarded as additional bonus funds. Players will have to meet a wagering requirement before they can withdraw this bonus money, which is held in separate accounts. You cannot withdraw your winnings in the form of actual cash until you have fulfilled this criterion.
Players, particularly newbies to online gambling, may find wagering requirements to be a cause of irritation. Yet, it should be noted that they form an integral element of the online gaming business. These prevent gamers from withdrawing their bonus funds without first using them to play games.
Some Math Tips and Tricks
Here are a few math tips and tricks that could help you master the art of beating the wagering requirements at your favorite online casino:
Can You Avoid Wagering Requirements?
To put it simply, no. There's no getting around the fact that wagering restrictions are an inherent element of every casino bonus you accept. You may, however, consider some of the recommended measures to reduce the burden of the requirements.
A casino bonus may be quite useful, even though you must fulfill a wagering requirement before you can cash out your winnings. Your odds of winning large will increase by a factor of two or three if your bankroll has been doubled or tripled. This means you may try out that new slot machine with less of a financial commitment or play your favorite jackpot slot game with less risk.
The other option is to seek a bonus without wagering, such as a cashback offer. Alternatively, you may search for casinos that have no-deposit bonuses with no wagering requirements. Any earnings from these bonuses may be cashed out immediately without meeting any wagering conditions.
Avoiding the Pressure of Meeting Wagering Requirements
Feel like you're being held hostage by online casino wagering requirements whenever you attempt to cash in on a bonus or promotion? You're not alone. Unfortunately, most casinos attach rewards to their games, and almost all of them come with wagering requirements, making it nearly impossible to cash out your winnings. Players on tighter budgets who can't afford the hefty rollover sums will find this very irritating.
While avoiding bonuses may limit the funds available for gambling, it can also help cushion the blow of losing more than you can afford. It is worth noting, however, that certain bonuses are the exception to the rule and come with no strings attached, allowing you to enjoy them and withdraw your winnings without having to make a deposit. This is why you should not think twice to accept a deal with favorable conditions if you come across one.
The key is to establish a middle ground that allows you to capitalize on the reward schemes offered by your favorite iGaming platform. Still, note that you should probably stay away from bonuses if you are not certain of your ability to fulfill the wagering conditions.
The Bottom Line
As a professional gambler and bettor, one of the key skills to develop is the ability to identify valuable betting opportunities. This means looking for situations where the probability of a particular outcome is greater than the implied probability estimated by the iGaming operator.
The odds listed by online casinos are not always reflective of the genuine likelihood of a certain outcome. In reality, the way they earn money is by constantly building in a profit margin to the odds they provide. This indicates that the odds that are shown are almost usually a little bit lower than what they would be if they accurately represented the probability of winning.
Conclusion
Ensure that the online casino you want to join has a valid license from a recognized gaming jurisdiction before depositing any money there. If you're looking for a safe and reliable gambling destination, go no further than a regulated casino. You never need to worry about unreasonable wagering requirements with such sites.
Frequently Asked Questions
What are wagering requirements?
Wagering requirements are conditions that online casinos impose on bonuses, requiring players to bet a certain amount before withdrawing winnings.
How can math tricks help beat wagering requirements?
Math tricks can help calculate the optimal bet size to meet wagering requirements with minimal risk, increasing the chance of making a profit.
What are some common math tricks used to beat wagering requirements?
Common math tricks include the Kelly criterion, which calculates optimal bet size based on bankroll and odds, and the Fibonacci sequence, which involves increasing bet size after losses and decreasing after wins.
Is it possible to beat wagering requirements every time?
No, there is no guaranteed way to beat wagering requirements every time, but math tricks can increase the chance of meeting requirements and making a profit.
Are there any risks associated with using math tricks to beat wagering requirements?
Yes, there are risks associated with gambling, even with math tricks. Players should understand the risks and gamble only with money they can afford to lose, and carefully read bonus terms and conditions for restrictions on gameplay.
About the Author