Las Vegas Casino Odds — What to Play and What to Avoid?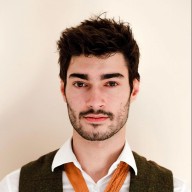 By Adam Shaw
If you want to go to the Entertainment Capital of the World, you should definitely check the best and the worst Las Vegas casino odds first. The thing about odds is that they are not actually connected to casinos, but rather individual games.
In other words, you won't find the best odds in Vegas by playing in a specific casino, but by playing specific games. However, before we proceed to talk about those games, let's dwell on the notion of "odds" for a bit.
How Are Odds Determined?
Odds are a term that we usually use in sports betting. In the casino industry, we talk about the "house edge." Therefore, speaking of Las Vegas casino odds means exploring which games have the lowest house edge in general.
But what exactly is the house edge? Simply put, it's the amount of money that casino earns from players playing a game. Games with the best odds in Vegas usually have the lowest house edge.
For example, if the house edge of a casino game is set to 5%, the casino should win overall $5 for every $100 that players bet in it. The remaining $95 return to players via prizes in those games. Therefore, it's only logical that we seek those games that have the smallest house edge.
Without further ado, let's take a look at the games that offer the best odds in Vegas.
Blackjack — 1% House Edge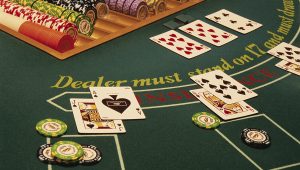 Blackjack is probably the only game that has the lowest house edge of all, according to the majority of experienced casino players. Although it is essentially a game of chance, many players are able to insert the element of skill in it. How so?
If you play blackjack with just basic knowledge, the house edge can be quite high. However, this card game is so popular that blackjack professionals came up with a unique strategy that helps players alway play the best possible hand. That way, the house edge is lowered to as little as 1%.
In other words, if you manage to stick to the strategy, you will be able to get some of the best Las Vegas casino odds in this game.
One cannot speak of blackjack without mentioning the infamous card counting. This technique could lower the house edge even more. However, it's something that is not really allowed in casinos. Although it is technically legal to count cards, casinos reserve the right to ask you to leave if they think you're applying this strategy to blackjack.
Craps – 1.4% House Edge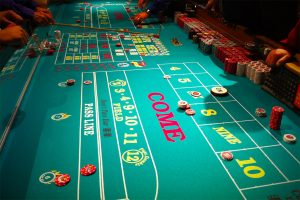 Although much more complicated than blackjack, craps is very similar to it when it comes to the house edge. Since there are so many bets in this game, you need to be very specific if you want to make craps have one of the best odds in Vegas. Just like blackjack, you need to adhere to a specific play strategy so as to get the most out of this game.
European Roulette – 2.8% House Edge
Roulette is definitely one of the most popular games in casinos all over the world. There's something special about that wheel that makes many players fall in love with this game. Las Vegas casino odds for roulette may differ depending on the type you choose to play.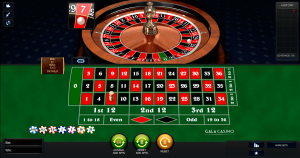 At the moment, the two most popular variants of roulette are European and American. The only major difference between the two is that American roulette has two zero fields on the wheel, whereas the European variation has only one.
It turns out that zeros make all the difference in roulette. Once you start making 50/50 bets such as red/black, 1-18/19-36, odd/even and more, you will realize that the chances of winning are not 50%. Simply put, if the ball lands on 0, you lose either way. But when there are two zeroes, the possibility to lose even bets is even higher. The zero field is the house edge.
If you follow roulette betting strategies and manage your bankroll properly, you will be able to achieve a house edge of 2.8% in European roulette. The lowest possible edge in American variants is 5.2%.
Therefore, players who want to go for the best Las Vegas casino odds shouldn't take European roulette out of the equation.
Let's take a look at the games with the worst odds.
What Las Vegas Casino Odds Are the Worst?
Blackjack, roulette, and craps have the best odds in Las Vegas. This list should also include games such as baccarat and Pai Gow poker, as they can also be very rewarding if your luck is backed by sufficient skill.
However, some games don't have a house edge that is as low as in blackjack.
Slot Machines
Slots are the most diverse type of game in Las Vegas, meaning they can offer a wide variety of odds to players. Some are more rewarding than others, as their house edge starts at 3% and goes up to 20%. Needless to say, when choosing the best possible slot, it's best that you go for ones that have a lower house edge.
Keno
Keno is a super-entertaining game, but it definitely doesn't have the best odds in Vegas. On the contrary, many consider keno to be the worst in terms of the house edge, as it varies from 20% to 40%. Therefore, unless you really like keno, you should be careful when playing this casino game.
Conclusion: Fun Comes First
Las Vegas casino odds are not as important as entertainment. After all, if you're not lucky, the odds cannot help you that much, even if you apply the best possible strategy.
Most of the games in Sin City are games of chance. That fact alone plays a huge role in the industry and brings casinos in Vegas millions of dollars in annual revenue. Unless you cheat, it's impossible to gain the edge over casinos. Therefore, it's important that you have fun, test your luck, and know when to stop. Once these three are taken into account, you are ready for your Vegas journey!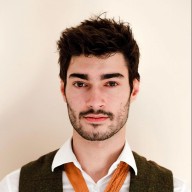 Author
Hi, I'm Adam Shaw, the Chief Editor at VegasSlots.net. I love casinos and have been working in the slots industry for more than 12 years. My passion for slots and casino games made me create this website, and under my supervision, our team will make sure you're enjoying the latest games and getting the best online casino deals!