Capital Grille Overview
Feeling hungry in Las Vegas? We know a top-tier place that will engage all your senses.
Take a break from casinos and stop by the Capital Grille Las Vegas. There's no doubt you will be blown away by their offer. Expect exceptional cuisine in a welcoming and elegant setting.
In the text below, you can read about:
Reasons to visit Capital Grille Las Vegas

Available food and drinks

Capital Grille's hospitality

How to find Capital Grille Las Vegas

Price range
Let's get straight to it.
3 Reasons to Visit Capital Grille Las Vegas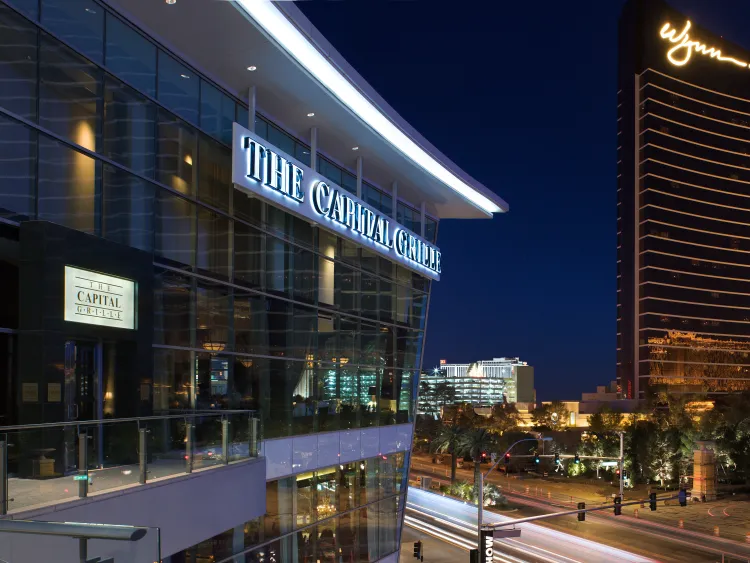 It will only take one visit to fall in love with the Capital Grille Las Vegas. Before you make that move, check out our three reasons why you should have already reserved your place for tonight.
Extraordinary Food Selection
For a restaurant, food quality and preparation should be a primary concern. As expected, the Capital Grille Las Vegas pays close attention to both of these factors.
This is a restaurant that only features fresh ingredients of the finest quality. The chefs make the most of their craftsmanship while preparing every meal. Their goal is to turn food into art and make it palate-pleasing.
The Capital Grille Las Vegas takes pride in offering organic steaks and fresh seafood from both coasts. Their steak preparation is something you probably haven't seen before. The meat is diligently dry aged in a climate-controlled room for more than 18 days.
After dry aging, the meat is carved by expert butchers with laser precision. The final product is beyond compare — both texture- and flavor-wise.
World-Class Wines
Apart from spectacular food choices, the Capital Grille Las Vegas has another ace up its sleeve — an outstanding wine cellar. To be honest, it is only fair that those mouthwatering bites get an equally satisfying liquid counterpart.
The award-winning selection of wines contains bottles from all over the planet. Almost every renowned wine-growing region has sent their sample to the Capital Grille Las Vegas. The restaurant counts around 350 top-of-the-range wines at the moment.
Both Old World and New World wine lovers can find their favorites here. The Capital Grill's sommelier handpicked some of the greatest hidden gems and brought them to Las Vegas just for you.
Private Dining
If you wish to enjoy out-of-this-world dining away from everyone else, the Capital Grille Las Vegas is the right place for you. The employees of this lavish establishment will host your business meeting, private party, or anything else you desire.
Along with privacy, comfort, and finesse, the Capital Grille Las Vegas offers the following:
A personal event coordinator

Customized menus

Wine pairing guidance

Complimentary valet parking at most restaurants

A full complement of media technology, including webcasting through a high-speed internet connection
The accommodating staff is also willing to discuss any other preferences you might have.
Food Menu at Capital Grille Las Vegas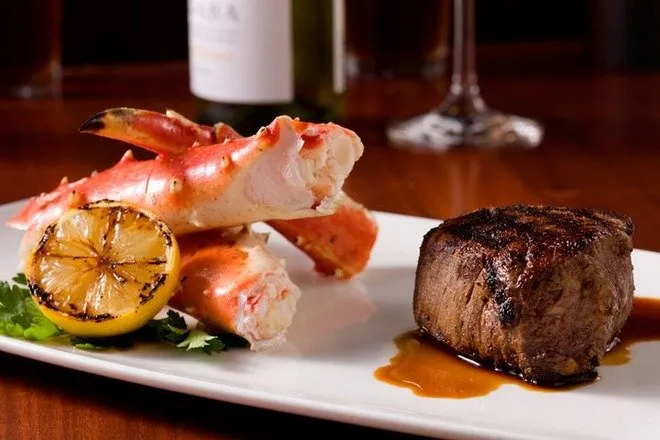 The Capital Grille Las Vegas is an American steakhouse that takes lunch and dinner reservations. If you have a sweet tooth, don't worry. They also serve delicious desserts once you finish your main meal.
The menu includes:
Appetizers

Soups and salads

Chef's suggestions

Main courses

Seafood

Portions to share
If you are on a special diet, feel free to inform the waiter. The chefs will masterfully adjust the meal so that it meets your requirements. They even offer gluten-free meals to their customers.
What to Drink at Capital Grille Las Vegas?
As we already mentioned, the first-class wine selection is a trademark of the Capital Grille Las Vegas. Try a glass of the best wines from around the world only to confirm the initial urge and go for a whole bottle. And don't think they will run short of it — they currently own more than 5,000 bottles.
The wines fall into three categories: sparkling, white, and red. Whichever you choose, you won't make a mistake. There is even an app you can download that contains a list of all the wines at the Capital Grille. The app is available for both Android and iOS devices.
If you are not a fan of wine, an interesting list of cocktails will be waiting for you. Our recommendation is Stoli Doli, the Capital Grille's signature martini served since 1990. It is a mix of Stolichnaya Vodka and fresh pineapple chilled to perfection.
If you are not into experimenting, stick to the all-time favorites. Black Tie Margarita, Mojito de Uvas, and Capital Cosmopolitan never disappoint.
Ambience & Service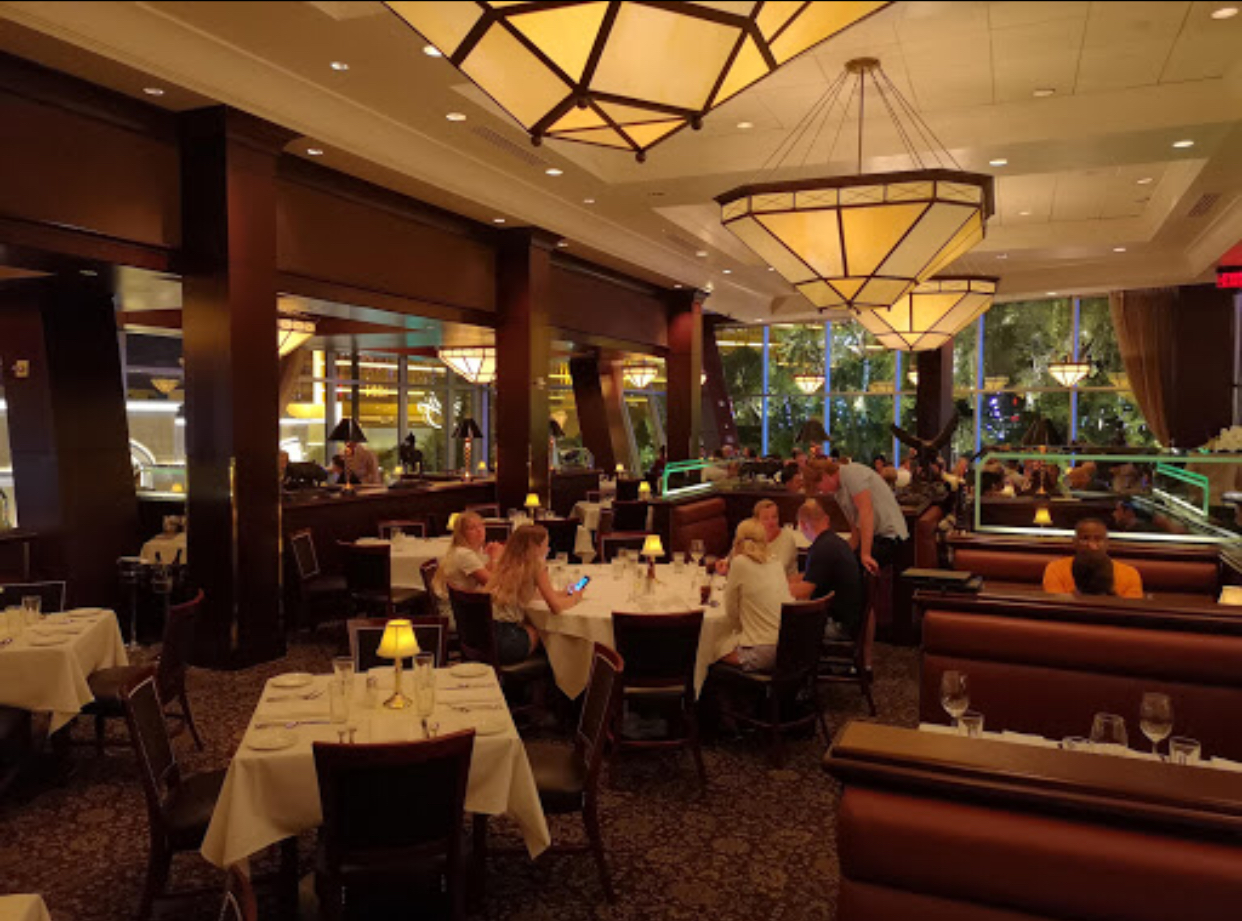 This sophisticated place is perfect for turning a regular day into the best day ever. The ideal blend of unique furniture and African mahogany will make you feel like royalty.
From the moment you enter the Capital Grille, the servers will greet you and be at your disposal during your time spent at the restaurant. You will be impressed by the level of professionalism these employees display.
After all, it's no wonder that the American Culinary Federation chose this restaurant for their "Achievement of Excellence Award". The team behind this success deserves all the praise it can get.
Location & Opening Hours
You can easily find the Capital Grille Las Vegas on the Strip. The address is 3200 Las Vegas Blvd South, Las Vegas, NV 89109.
From Monday to Thursday, you can visit the restaurant between 11:30 AM and 10:00 PM. On Friday, it opens at 11:30 AM as well and works until 11:00 PM. Working hours differ slightly on weekends.
On Saturday, the service starts at noon and ends at 11:00 PM. Finally, on Sunday, you can enjoy a late lunch from 4:00 PM and maybe even stay for dinner since the restaurant works until 10:00 PM.
Prices And Value
Satisfied visitors rate the Capital Grille Las Vegas as moderately priced. The average cost of a lunch or dinner is between $50 and $75.
Cocktail prices start at $14, and you can order a glass of sparkling wine for $10. As far as the food is concerned, you can order a cocktail plate to share for around $20. The signature steak will cost you a bit more, starting from $50.
Conclusion
The Capital Grille Las Vegas is the perfect place on the Strip that's worth visiting. The atmosphere is posh, yet the prices are moderate. A mind-blowing wine selection followed by finger-licking entrées is all you need for any private or business occasion.
We hope this in-depth review has served you well. Also, your opinion about the matter is always welcome. Feel free to leave a comment below this text and share your impressions of this place.
About the Author