Travel Back in Time: Exploring the 10 Oldest Vegas Casinos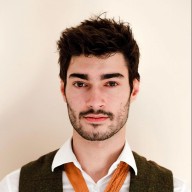 By Adam Shaw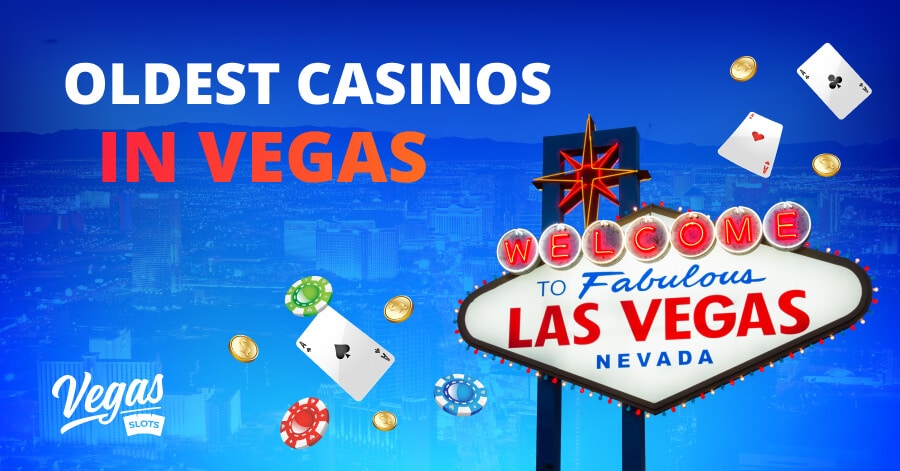 Las Vegas is famous for its lavish hotel casinos and high-energy nightlife. But it wasn't always on everyone's bucket list to visit Vegas. The city has a long history of over 100 years, with some of the oldest Vegas casinos holding tales from the early frontier days.
Come along as we tour ten of the oldest casinos that have entertained guests for decades.

Oldest Casinos in Vegas from Oldest to Most Recent
Many Vegas casinos came and went throughout the years, but some are still with us today. Here are ten of the oldest casinos you can find in Las Vegas today:
#1. Golden Gate Hotel & Casino – Opened in 1906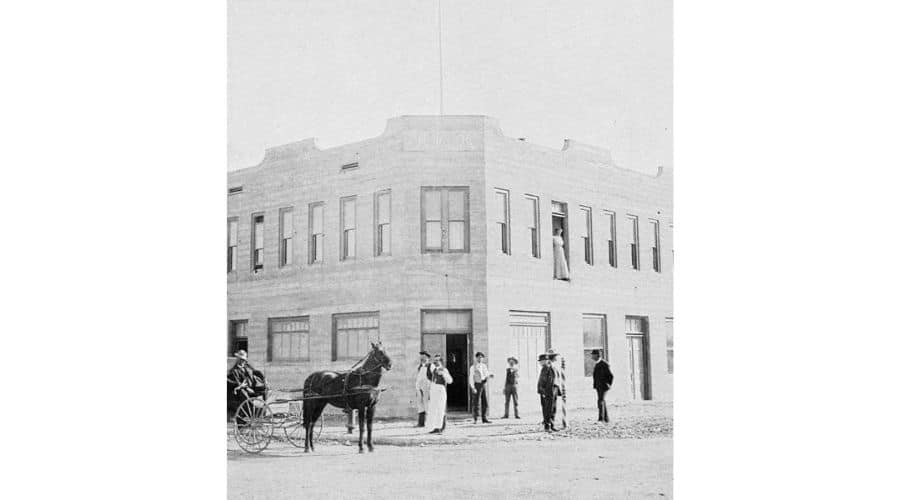 Golden Gate Hotel & Casino opened in 1906 to serve travelers nationwide. This is the place that started the hotel and casino business in Vegas.
They introduced gambling in 1907 with slot machines and tables. However, the statewide ban on gambling in 1909 forced it to halt operations. It wasn't until 1931, when gambling was legalized again, that it could reintroduce gambling.
But the small setback didn't stop them from becoming one of the biggest casinos in Vegas. Even after 100 years, tourists still love the old-fashioned charm of the Golden Gate in Vegas.
Fun Fact: The lobby bar in Golden Gate, built in the 1890s, is the oldest bar in Las Vegas. It still has its original dark wood fixtures!
#2. El Cortez Hotel & Casino – Opened in 1941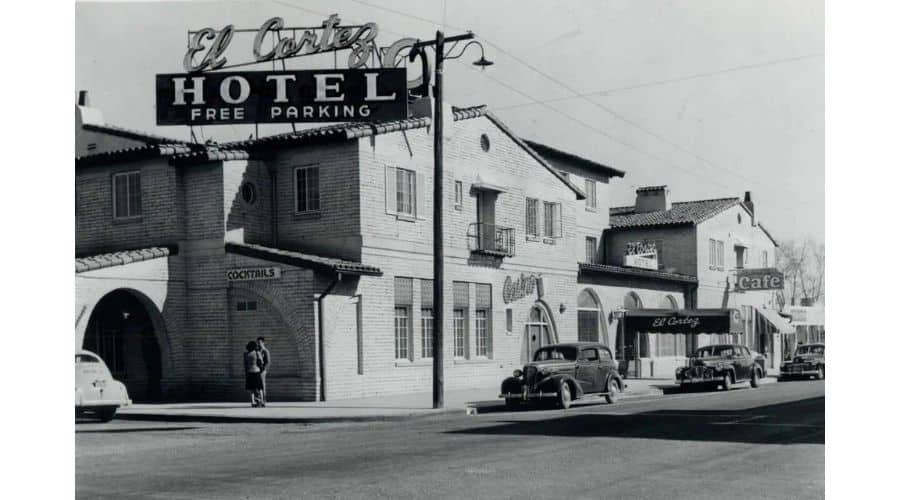 The Spanish-colonial El Cortez is in downtown Las Vegas. It is the city's longest continuously operating casino. In 1941, Marion Hicks and J.C Grayson, local businessmen, built and launched it together. Initially, they mainly served locals, but tourists later came to the Strip.
East Coast mobsters like Meyer Lansky and Bugsy Siegel were drawn to the property. They bought it in 1945 because it was downtown's classiest casino.
The El Cortez became famous over time for treating players nicely. They gave out generous freebies and had some of the looser slot machines. Today, the vibrant casino instantly takes you back to old downtown Vegas in the 1940s.
Fun Fact: The famous El Cortez sign has appeared in many movies, including Spectre.
#3. Flamingo Las Vegas – Opened in 1946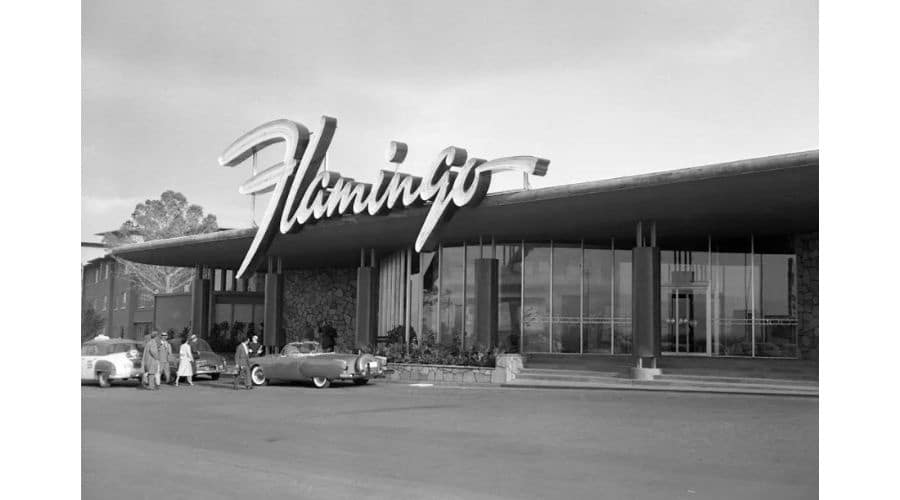 The Flamingo Las Vegas has a long history with mob connections. It was opened in 1946 by mobster Bugsy Siegel. He bought it from Billy Wilkerson, who ran out of money while constructing it.
Bugsy had it designed to be a glamorous place infused with a tropical Miami vibe.
At first, it was called the Fabulous Flamingo. Siegel named it after his girlfriend, Virginia Hill. She was nicknamed "Flamingo" because of her tall legs.
After Siegel was murdered in 1947, Gus Greenbaum and Moe Sedway took over and removed "Fabulous" from the name. They changed their focus from wealthy gamblers to regular tourists and gamblers.
The Flamingo has since changed ownership but continues exemplifying vintage Vegas extravagance. Walking by the sunny courtyard and flamingo home brings back memories of when the mob ran things.
Fun Fact: Donny and Marie Osmond started performing in Las Vegas at the Flamingo. They had sold-out shows from 2008 to 2019.

#4. Tropicana Las Vegas – Opened in 1957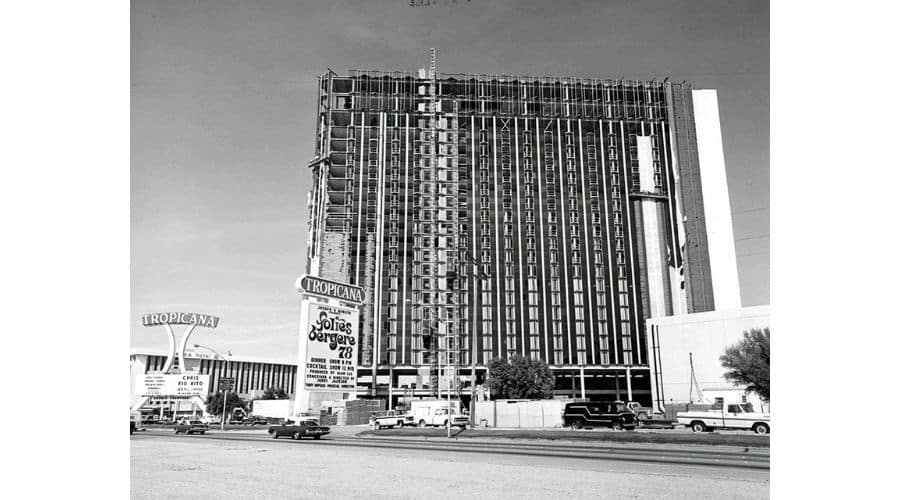 Built in 1957, the Tropicana Las Vegas stands out among vintage hotels for its enduring Cuban-inspired theme. Ben Jaffe, the founder, wanted to bring the tropical magic of Havana Tropicana Casino to life.
He did this by organizing live shows, playing music, and creating an exotic atmosphere. Nikita Khruschev's 1963 visit to the Tropicana cemented its reputation as a slice of pre-revolution Cuba.
The property's early financial woes led to mob investor Deil Gustafson gaining control by 1961. When he owned it, the Tropicana in Vegas was very popular and had fancy shows.
Ownership has since changed hands multiple times with extensive renovations. However, the Tropicana artfully retains its vintage Cuban vibe.
Fun Fact: The Tropicana has a statue of Emilio Fuentes outside its casino. The figure has been there since 1962 and represents the Caribbean theme.

#5. Binion's Gambling Hall and Hotel – Opened in 1951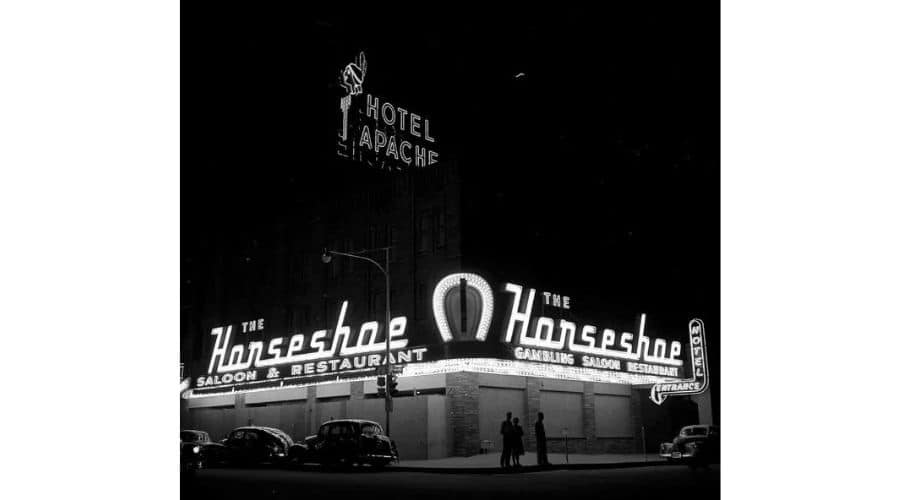 A famous gambler, Benny Binion, bought this Las Vegas property in 1951. He renamed it Binion's Horseshoe Casino and made Fremont Street downtown famous.
He attracted crowds by openly displaying over $1 million in cash on the casino floor. Horseshoe Club became widely known for the highest table betting limits in the city, drawing famous high rollers.
Binion's major achievement was starting the World Series of Poker in 1970. This event helped make poker popular. He sought to crown the globe's best players through a competition open to anyone willing to pay the entry fee.
Though renamed Binion's after Binion died in 1989, it remains the home of the eagerly anticipated annual World Series of Poker.
Fun Fact: The famous 'Benny Binion's Display of Money' photo was taken in 1964. Benny Binion arranged 69 stacks of $10,000 on the carpet of the Horseshoe Club.

#6. Sahara Las Vegas – Original Opening in 1952, Reopened in 2014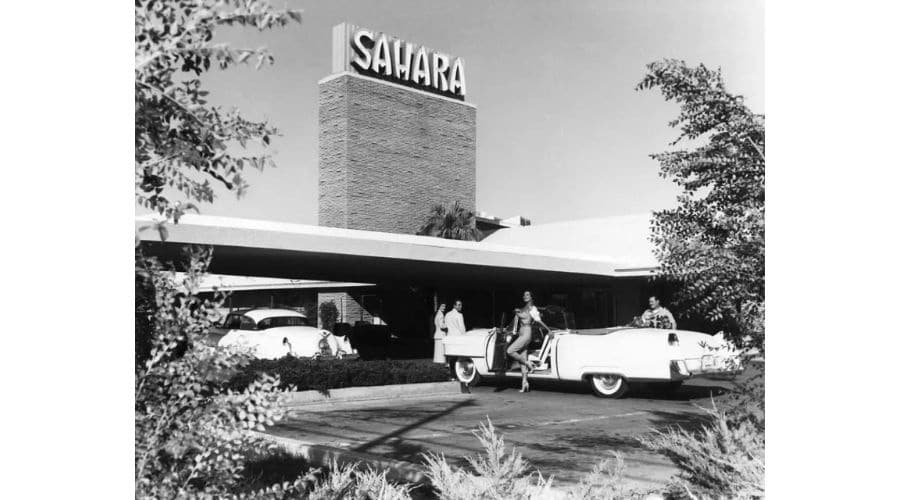 The Sahara Las Vegas has captivated visitors on the north Strip since its exotic Moroccan-themed opening in 1952.
Its alley of live camels and fire eaters lent an adventure vibe that lured crowds for decades. Headliners like Marlene Dietrich and Don Rickles performed at the Congo Showroom and iconic Sahara Theater.
The Sahara closed and was gutted from 2011 to 2014. But SBE Entertainment completely revived it as the SLS Las Vegas.
However, new owners, the Meruelo Group, restored its original name in 2019 to honor its importance in Las Vegas lore. A renovated casino floor and a new modern tower now coexist with touches of vintage Sahara style.
Fun Fact: With over 1,600 rooms and suites, the Sahara is one of the largest hotels on the Strip and can host up to 4,000 guests.

#7. Caesars Palace – Opened in 1966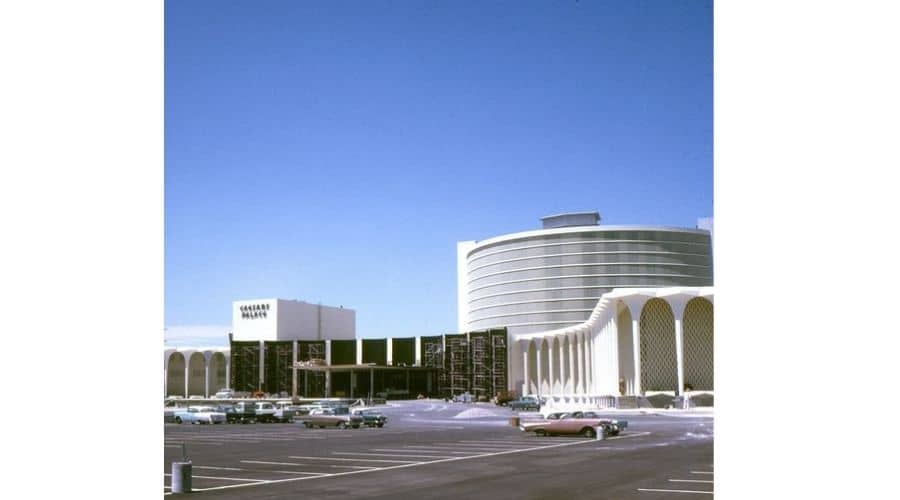 Caesar's Palace has always been known for its extravagant luxury. It opened in 1966 and was designed by Jay Sarno to give guests a complete Roman Empire experience.
Extravagant Roman statues, columns, fountains, and architecture transport patrons into decadent ancient grandeur. Its lavish Forum Casino expanded over the decades to become Las Vegas' largest gaming floor at over 4,500 square meters, housing 2,000 slot machines.
Notable entertainers like Celine Dion and Elton John have graced the spectacular 4,200-seat Colosseum. The property changed owners many times but kept its iconic elegance and grew bigger.
Its renown as the world's most prestigious casino resort stands undimmed after almost 60 years of welcoming high rollers.
Fun Fact: Guests at Caesars Palace can enjoy a large three-story spa right there. The spa covers more than 45,000 square feet and has Roman-style baths.

#8. The Four Queens Hotel and Casino – Opened in 1966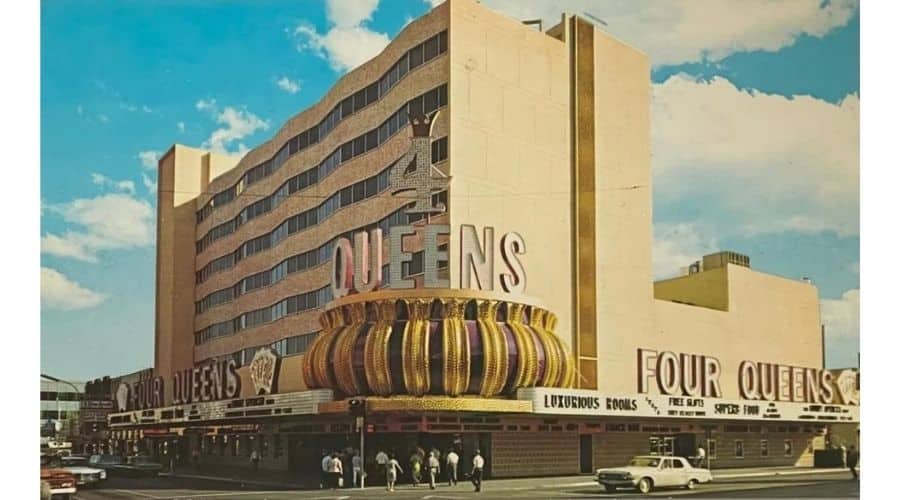 The vibrant Four Queens has been a fixture on Fremont Street in downtown Las Vegas since 1966. Its original owners likewise ran the Golden Nugget and Pioneer Club next door, with the name 'Four Queens' referencing them and their wives.
Four Queens became famous for offering customized service in a relaxed atmosphere, unlike the casinos on the Strip.
Four Queens underwent ownership changes but continued endearing itself to middle-class travelers seeking a friendly downtown casino experience.
In 2005, the gaming facilities were expanded, and a hotel tower was added to keep its charm. It remains downtown's second-largest hotel with nearly 700 expertly renovated rooms and suites.
Fun Fact: The Four Queens' SD Guy logo wearing a red-striped jacket and bow tie has been its visual identity on signboards since the 1970s.

#9. Harrah's Las Vegas – Originally Opened as the Holiday Casino in 1973, Rebranded as Harrah's in 1992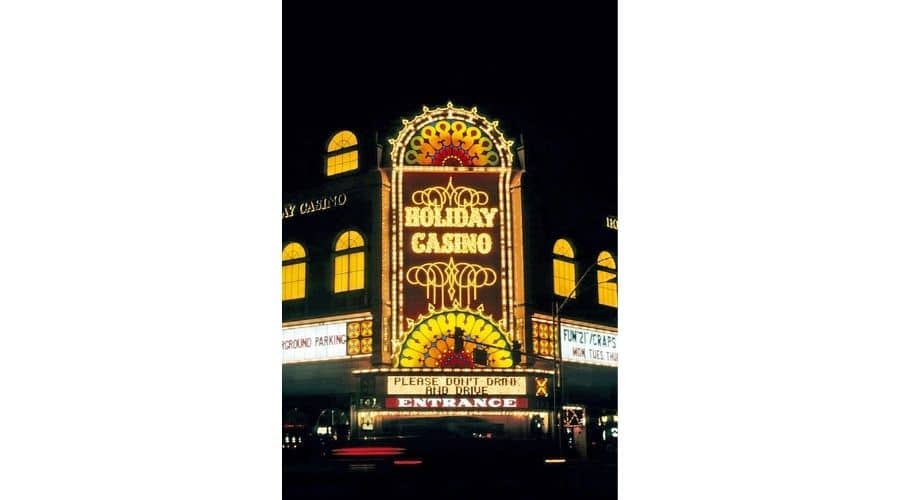 Harrah's Las Vegas has its origins as the Mardi Gras-themed Holiday Casino, which opened in 1973 on the thriving Strip.
After being acquired by Harrah's Corporation, it was rebranded as the company's flagship location in 1992. Its Carnival Court transports revelers to New Orleans with live bands and frozen drinks.
Spanning over 90,000 square feet, its vibrant casino today houses over 1,200 colorful slot machines and video poker devices.
Despite some updates, the fun decorations from before are still there. It continues showing upbeat vintage Vegas.
Fun Fact: You can enjoy one of the city's largest outdoor bars at Harrah's Carnaval Court in Vegas. It offers a great view of the Strip and is spread across 5,000 square feet.

#10. The D Las Vegas – Originally Fitzgeralds Casino & Hotel, Opened in 1987, Rebranded as The D in 2012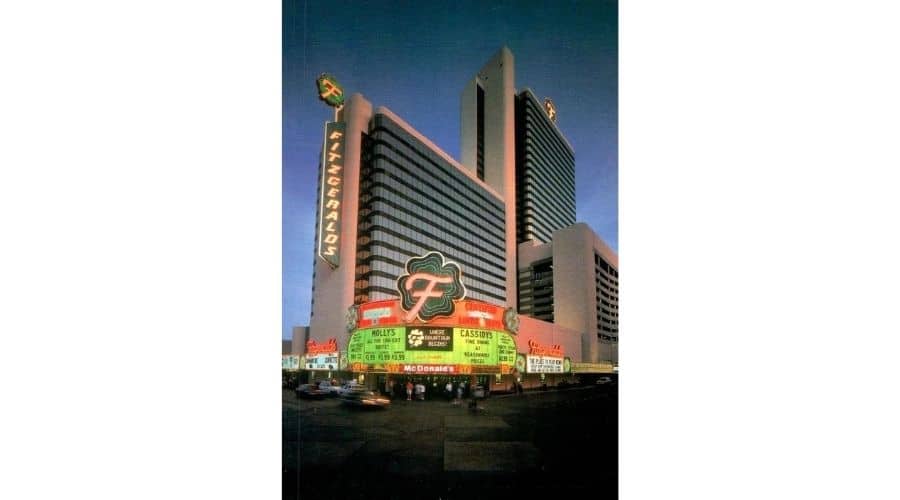 The downtown casino, originally called Fitzgeralds, was opened in 1987. It got a new name, The D Las Vegas, in 2012.
The casino was lovingly revamped to highlight its vintage character. The casino has seized law enforcement items on display that show traces of the original property.
The D is the longest-running casino in downtown Las Vegas. It has an Irish pub, the oldest hotdog joint, and coin slot machines. Friendly and dancing dealers add to the mirthful energy.
Blending historical charm with hipness, the D continues exemplifying downtown's old-school quirkiness.
Fun Fact: Did you know that at D's Vintage Vegas Weddings, couples can get married in a pink Cadillac or with Elvis impersonators?


Conclusion: From Rough Beginnings to One of the Most Iconic Gambling Avenues in the World
Stepping into the oldest Vegas casinos offers an enlightening walk through time. Their long travels show how Sin City changed from a dusty town to a glamorous leisure spot to a thrilling adult playground.
These embody the old-school Vegas style: entertainment, friendly service, and letting loose. They laid the groundwork for the city's success.
These stalwarts keep the nostalgic charms of vintage Vegas, making it alluring. They are constantly changing and growing.
The amazing stories they tell show us important parts of Las Vegas history. These landmarks are proud symbols of a unique legacy and also mark new beginnings.

FAQ
What is the first and oldest casino in Las Vegas?
The Golden Gate Hotel & Casino, originally Hotel Nevada, opened in 1906 as the first hotel and casino in Las Vegas. It has operated continuously since reopening after gambling's re-legalization in 1931.
What were the first five casinos in Las Vegas?
The first five casinos to open in Las Vegas were:
– Golden Gate Hotel & Casino (1906)
– El Cortez Hotel & Casino (1941)
– Flamingo Las Vegas (1946)
– Sahara Las Vegas (1952)
– Tropicana Las Vegas (1957)
Who owns Golden Nugget Casino?
Tilman J. Fertitta's company, Landry's, owns the Golden Nugget in downtown Las Vegas. They purchased the property in 2005.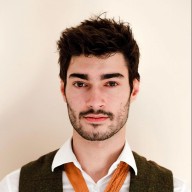 Author
Hi, I'm Adam Shaw, the Chief Editor at VegasSlots.net. I love casinos and have been working in the slots industry for more than 12 years. My passion for slots and casino games made me create this website, and under my supervision, our team will make sure you're enjoying the latest games and getting the best online casino deals!