CHAPTER FIVE
BLACKJACK CHARTS


CHAPTER FIVE
BLACKJACK CHARTS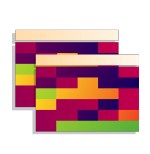 Stop guessing how to play and use these strategies in our Blackjack Guide to win more. Blackjack is a negative expectancy game, meaning that you will lose money over time due to the casino house edge.
After learning the Basic strategies from Chapter 2: Blackjack Strategies, these charts will teach you exactly when to; Hit or Stand, Double Down, Split Pairs and Surrender. Basic strategy charts tell you the best mathematical way to play any hand you're dealt.
By using the basic strategies from Chapter 2: Blackjack Strategies and the blackjack charts given below you will typically lower the house edge down to just 0.5% or less depending on the table rule, number of decks and the variation of blackjack game when played perfectly.
Blackjack Basic Strategy Chart
Most players don't realise that the blackjack strategy charts differ depending on the number of decks played and the rules of the table will also affect how the charts should be. Here we will show you the basic strategy chart based on the standard rules and 4-8 decks being played where the dealer stands on soft 17.