About The Orleans Las Vegas
Located at 4500 Tropicana Avenue is the Orleans Las Vegas Hotel and Casino. This casino is owned and operated by Boyd Gaming and has a sister casino the Gold Coast Hotel and casino on the Strip. First opened in 1996 it did not initially live up to owners expectations. By 1999 other amenities were added and the casino renovated and made larger. These proved to be a successful addition with other additions being added in later years. In 2003 the Orleans Las Vegas arena was completed and this can be turned into an ice rink. In 2004 another hotel tower was added.
Although primarily considered to be a local's casino, tourists flock here for the Mr Olympia contest. The addition of a free shuttle bus to its sister casino, Gold Coast and the Linq on the Strip between the hours of 9am and 12.30am has added to the Orleans Las Vegas Hotel and Casino's appeal.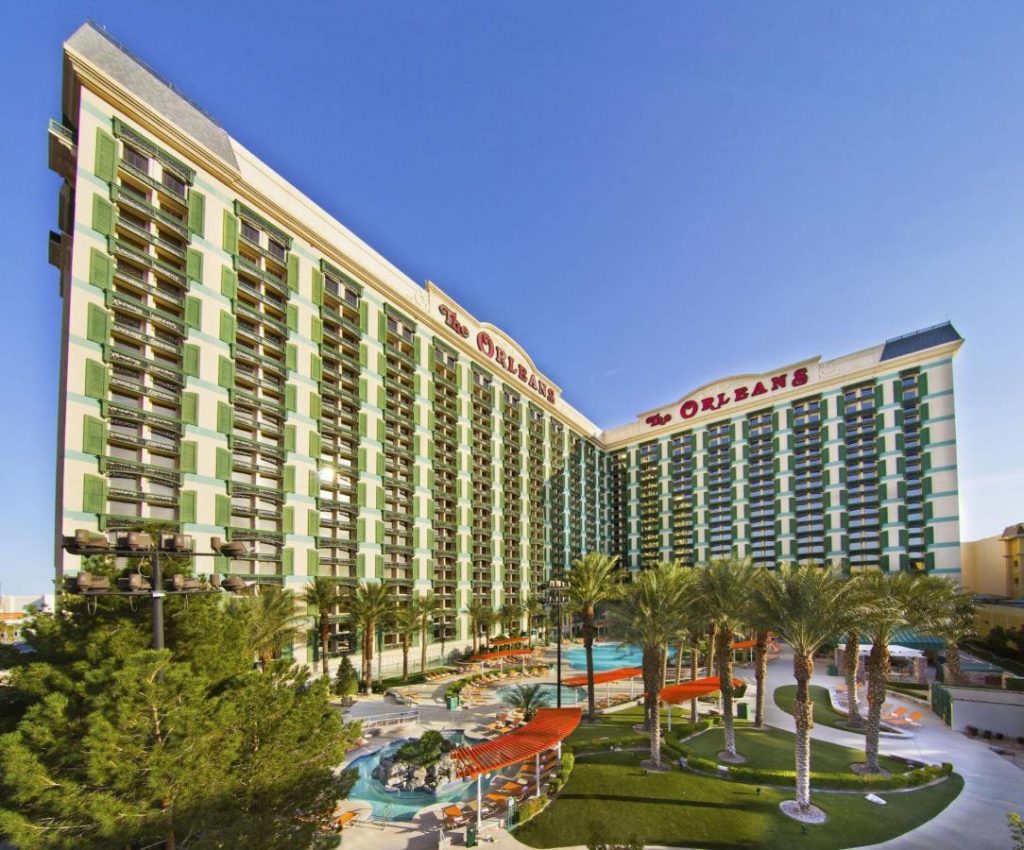 The Orleans Las Vegas Hotel and Casino has nine sister casinos in Las Vegas and they are:
Gold Coast Hotel and Casino West Flamingo Road
Aliante Casino Aliante parkway
Sun Coast Hotel and Casino Alta Drive
Sam's Town Hotel and Gambling Hall Boulder Highway
Eastside Cannery Hotel and Casino Boulder highway
Cannery Casino and Hotel East Craig's road
California Hotel Casino East Ogden Ave
Fremont Hotel and Casino Fremont Street
Main Street Station Casino Brewery Hotel North Main Street
Location
Hotel Rooms
The Orleans Las Vegas Hotel and Casino has 1886 rooms and suites all beautifully arranged with luxury and comfort in mind. Enjoy a view of the Strip of the mountain panoramas of the surrounding countryside. All handicapped accessible rooms have wider doorways, grab bars in bathroom and roll in showers. Smoking and non-smoking rooms are available; all rooms have 24 hour room service, cable TV and movies, coffee maker, safe and clock radio. Always check out the specials available online before you book a room.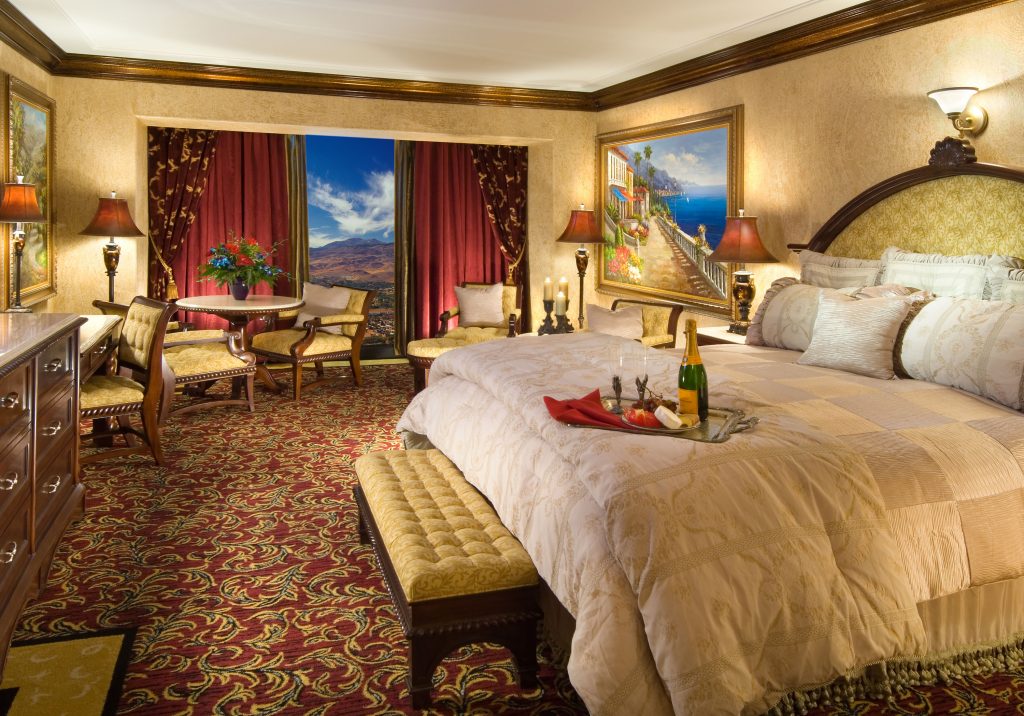 Choose from a deluxe king room or double queen room, premium rooms, or if you need more space choose a one bedroom executive suite or two bedroom Louisiana suites. Suites have a larger shower and room to spread out and are ideal for a large family group.
For the ultimate in enjoyment the New Orleans Suite and the Presidential Suite both have a Jacuzzi to relax in. Both these suites are extra spacious with plenty of room to relax and enjoy La Vegas.
Spa and Fitness Centre
Spa Orleans
Be pampered in one of 8 treatment rooms or soak in the Jacuzzi. The Spa has areas for men and women separated for complete privacy and comfort. Walk into the tranquil spa and expect to be queen or king for a day. Enjoy a relaxing and indulgent massage or a rejuvenating body wrap, skin treatment or a facial. The Orleans Las Vegas Spa opens from 6am to 9pm every day, though hours can change on a seasonal basis. Massages start daily at 9am and finish by 7pm.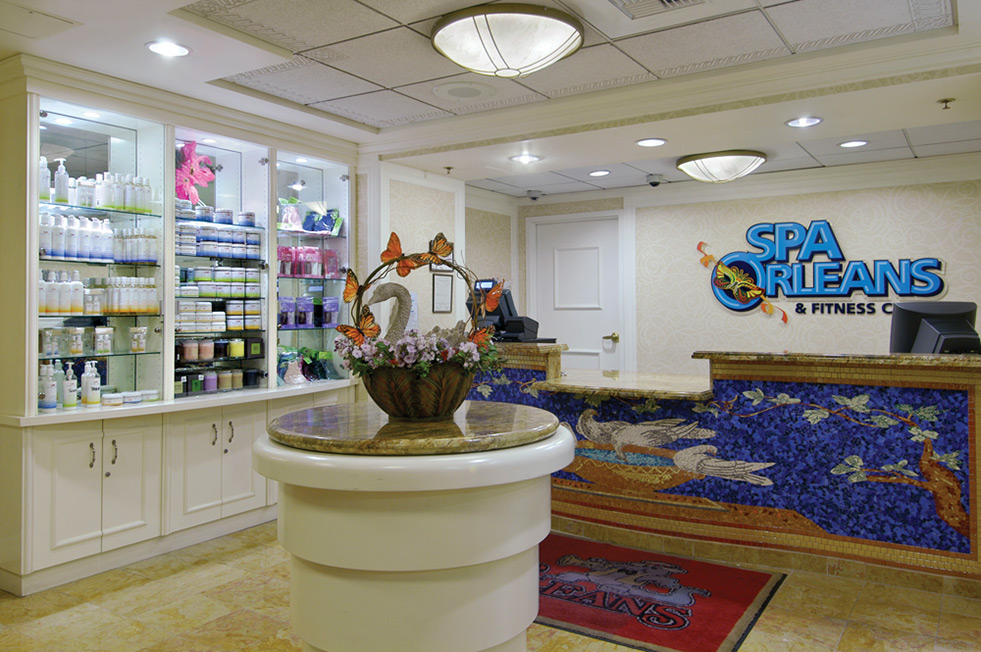 Barbershop and Beauty Salon
If you need a new style cut or some hair pampering while on holidays visit the Barbershop and Beauty Salon at The Orleans Hotel and Casino. It is located conveniently near the Guest elevator for all your grooming needs.
Entertainment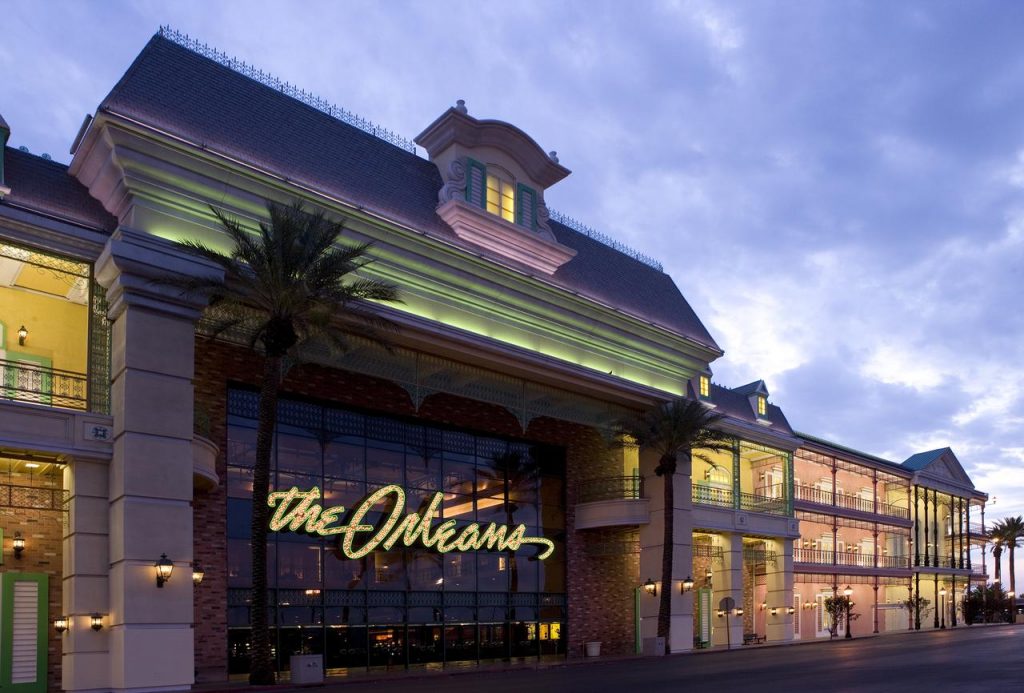 The Orleans Las Vegas arena
Hosting around 200 events each year from professional sporting events and entertainment for the entire family, The Orleans Las Vegas arena has been named America's best mid-sized arena by Venues Today Magazine. Sporting events include NCAA basketball tournaments, college basketball from then West Coast Conference and Western Athletic Conference. Upcoming events include Hillsong United-The Peoples Tour, Theresa Caputo, Throwback Sizzling Jam and the Harlem Globetrotters. With a state of the art sound system and video system you will never miss a thing in the arena in super comfortable seats and plenty of rest rooms for everyone.
Bourbon Street Lounge
This small lounge with 140 seats is home to great live entertainment in a genuine Louisiana style atmosphere. Enjoy a drink with friends or family and watch the show.
Bailiwick
This lounge area combines food and drink with live entertainment, bands and much more for everyone. Enjoy social hour with sharing plates of bite size morsels, cocktails and draft beer. This is a casual laid back lounge area.
Century Orleans 18
Enjoy the latest movies in luxury at The Orleans Las Vegas Hotel and Casino with lounge recliners for the most comfortable seat in the house. Get a snack or drink from the concession menu and watch your movie with friends or family.
The Orleans Las Vegas Bowling Centre and Time Out Arcade
Fun for the whole family is waiting at The Orleans Las Vegas Bowling Centre with 52 lanes. The centre has been named the Best of Vegas Bowling Alleys by the Las Vegas Review Journal. This great centre has a Pro Shop provided by K&K Bowling Services. Watch the kids play from the comfy and spacious bar and lounge area. Grab a snack from the Snack bar or play a game in the Time Out video arcade. There are also 5 large meeting rooms for out of town teams playing at the casino. Group packages are available for large groups and it's a great place to celebrate a birthday.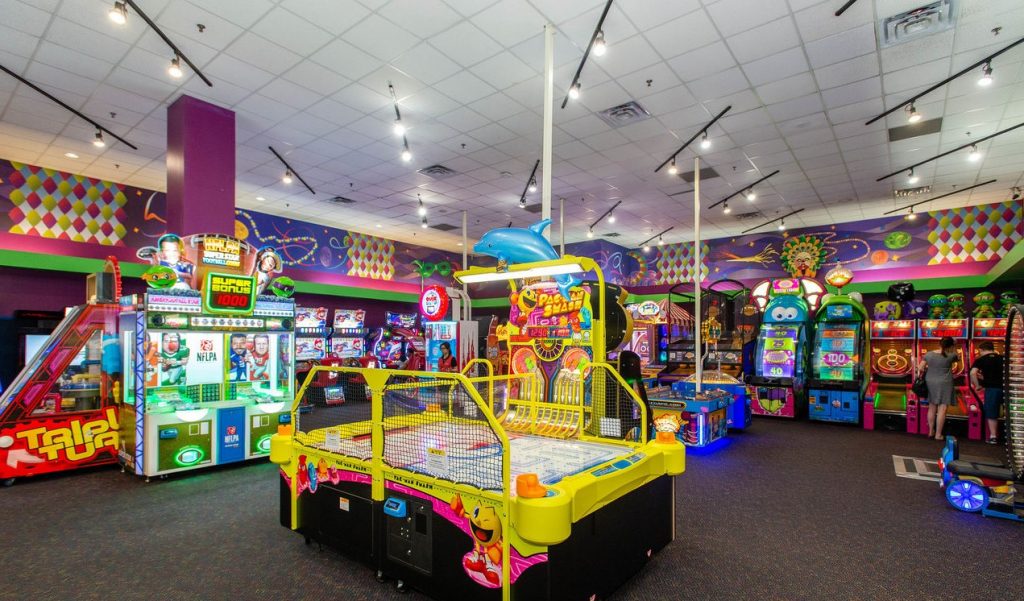 Kids Tyme
A fun filled space for all children aged between 3 years and 12 years of age. All staffs are fully qualified and have CPR and First Aid certification. Open every day of the year, Monday to Thursday Noon to 11.30pm, Friday and Saturday 11am to 12.30am and Sunday 11am to 11.30pm, with activities specific to each age group.
There is a multi-level gym completes with ladders and slides, an arcade room, movie room and interactive play areas with Lego and cars. Art and Craft Tyme is for the creative kids with pencils, crayons and paint for them to create a masterpiece. The snack bar is available for food and drink purchases throughout opening hours.
Shops and Boutiques
Grab a gift for friends back home or a souvenir from the Gift shop. For exquisite jewelry check out Landau Jewelry or for anything wine and spirit based visit the liquor store.
Shows
One of the best off the Strip entertainment venues, this 850 seat venue has seen acts from Natalie Cole, Dana Carvey, Wynonna and the Temptations. Home to comedy and music legends alike.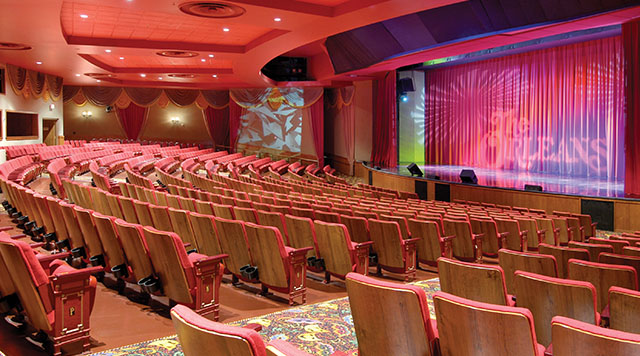 Gambling
Become a member of B Connected in order to qualify for many of the promotions on offer in the casino.
Slots
Play all of your favorite slot machines with high limits in the Slots area in a luxurious appointed room. There are known to be some of the loosest slots in Vegas here. With TV screens around the room you can also keep up to date with your favorite sporting events. Next to the slots area is a private lounge for all Emerald Members of B Connected. B Connected is a club available at The Orleans Las Vegas Hotel and Casino. You can also find the location of your favorite machine at the online slot search app.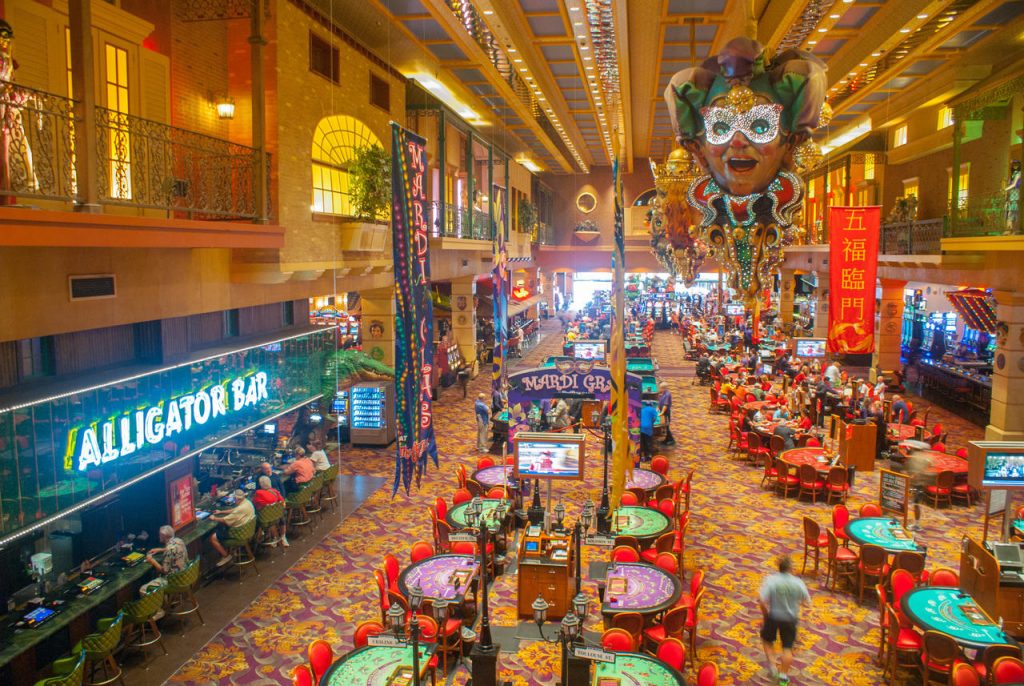 Keno
Hope to pick winning numbers as 20 balls are randomly chosen from 80 numbered balls. For just $1 you try your luck. Stay and relax in the Keno Lounge or stay up dated at a Keno display throughout the Orleans Las Vegas Casino.
Table Games
Find all of your favorite casino table games at The Orleans Las Vegas Casino. Join a classic game such as Blackjack or Craps or try a new game and have fun. Don't forget to become a member of B Connected and show your card to each dealer when you take a seat.
The classic card game where you try to get as close to 21 without going over.
Craps
The dice game you all love to play but watch out for snake eyes.
Pick a number or color and round and round goes the little ball.
James Bond's game of choice, all a matter of luck.
The Orleans Las Vegas Casino has one of the best poker rooms in the area being named Best Poker Room by readers of Las Vegas review Journal. With over 30 tables and 25 LED TV screens and comfortable furnishings this is a fantastic place for poker. Open 24 hours a day with the 2019 Summer Series beginning May 28. Grab a share of over $2million in prizes.
Poker games played are Texas Hold'em with 1/2 kill, Omaha Hi-Lo with 1/2 kill, 7 Card Stud and 7 Card Stud Hi-Lo, No Limit Hold'em. Buy in for as little as $1. Or try your hand at Fortune Pai Gow poker Progressive.
Available as a table game outside of the Poker Room is Let It Ride and Three Card Poker.
The Orleans Las Vegas Race and Sports Book
With seating for over 100 people and the latest high resolution screen TVs and up to date LED reader boards, the Race and Sports Book at the Orleans Las Vegas Casino is a fun place in the casino. There are 13 betting windows for Race Book and seven betting windows for the Sports Book. Don't miss out on the new promotions available for each sporting season.
Restaurants
At the Orleans Las Vegas Hotel and Casino you have a choice of dining options from fine dining to casual to snack and fast food.
The Prime Rib Loft
Recently remodeled this is a fine dining experience you don't want to miss. With an outlook over the casino and succulent prime rib on the menu there is a lot to like about this fine dining venue. Your choice starts with a Orleans, English Cut, Real Beefeater cut or Cajun style. All steak has been dry aged, seasoned an d then roasted slowly to keep in all the juices and flavors. Every steak is served with a jacket potato and your choice from bacon bits, butter or sour cream and chives. Other dishes available include chicken, pasta and seafood and make sure you leave room for a fabulous dessert. Open daily from 5pm.
Alder & Birch
This is the other fine dining option at the Orleans Las Vegas Hotel and Casino. Here you will find traditional American elegance alongside steaks and cocktails. Choose a classic entree or share a plate with friends and family. With homemade ginger beer and hand crafted cocktails there is a great choice in drinks. Rib eye and Wagyu steaks are our specialty. There is a range of fish and seafood, soups, salads. Open daily from 4pm for social hour where you can share a plate. From 5 pm for dining.
Casual dining at the Orleans Las Vegas is wide open for choice with 6 establishments to choose from.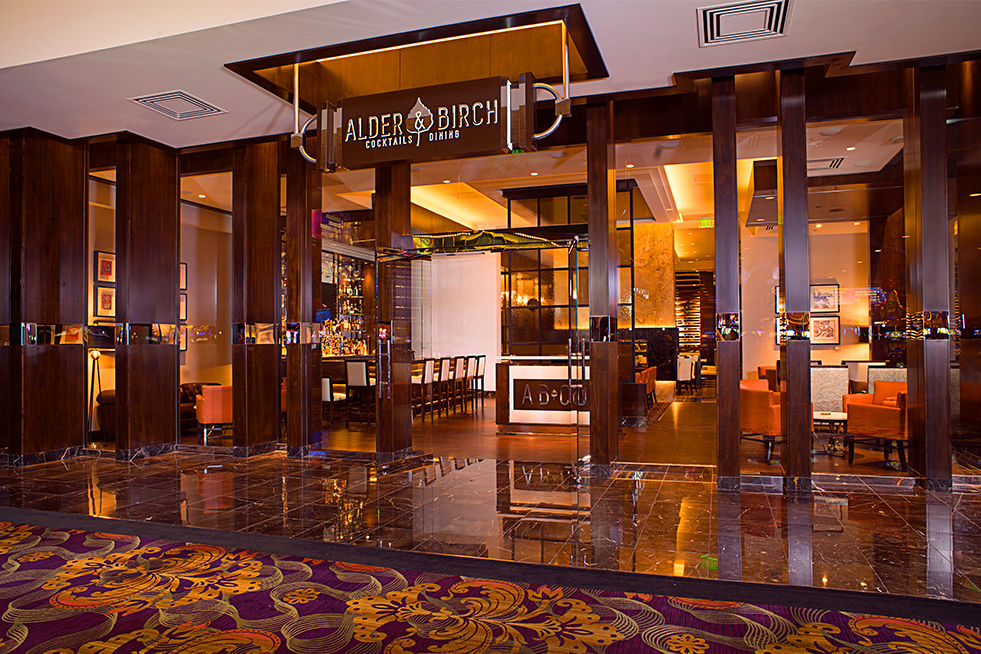 Bailiwick
Visit the Orleans Las Vegas only gastro pub for great food and drink. Open from 4pm every day.
Served on the food court is a range of fast food and snack food.
Copper Whisk Cafe
This is a new cafe and open 24 hours a day that serves breakfast all day. They have a Cinnamon Roll to feed a family that is as big as a plate and fluffy omelets as well as specials from the griddle. A customer favorite is a burger from the burger bar or the French Dip.
Medley Buffet
For tasty treats from across the globe this is the place to eat. Take a pick of 8 cooking stations BBQ, Italian, American, Seafood, Asian, Mexican, Deli and make sure you leave room for Desserts. Open from 8am Monday to Friday and 9am Saturday and Sunday.
Ondori Asian Kitchen
Taste the best of Asia with this Chinese and Japanese menu. Chinese entrees sit comfortably alongside sushi and other Japanese dishes. Open every day from 11am to 1am with Tomodomo hour 3pm and 4pm and 11pm and midnight.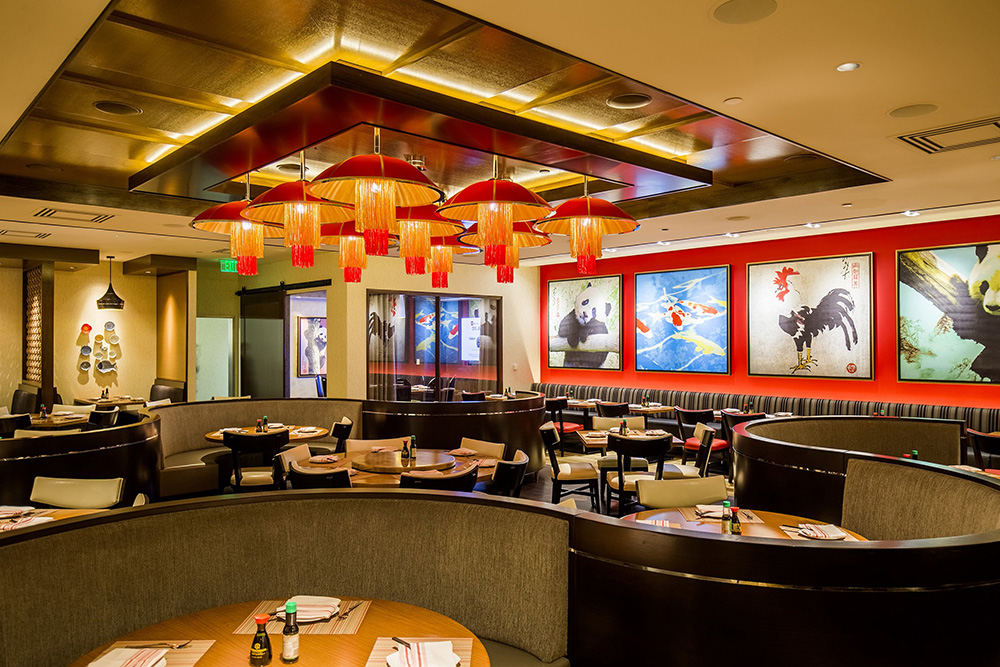 T.G.I. Friday's
Enjoy Friday every day with Flat Iron Steaks, ribs as well as Chicken and Cheese. Add a side of Crispy Potato Skins or tasty hot wings and its Friday!
Baskin-Robbins
Your favorite ice cream and desserts are in over 30 flavours as well as smoothies, milkshakes, sundaes and cappuccino blasts.
Fuddruckers
For all things burger on house baked buns. Also available are chicken sandwiches, fish sandwiches, salads and hot dogs. Open 24 hours a day.
Sbarro
For all things Italian, pizza, pasta and fresh salads
Subway
For all your favorite sandwiches and salads open from 7am to 2 am daily.
Big Al's Oyster Bar


For the freshest oysters around from 11am every day. Grab clams and oysters freshly shucked or try a hearty bouillabaisse or pasta. Take out is only available on cooked seafood dishes and not raw oysters and clams. All dishes have a Creole or Cajun flair for extra flavor.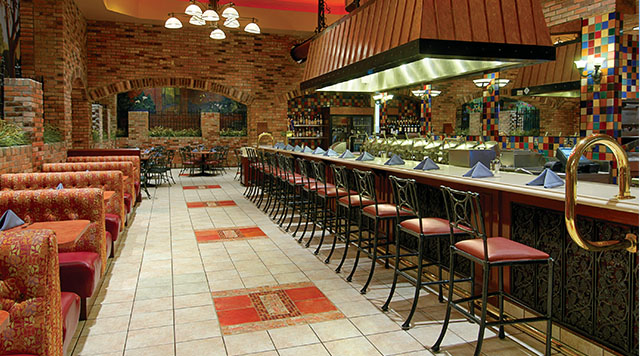 Rocky Mountain Chocolate
The place is for all chocolate lovers. Choose from fine chocolates, as well as the signature bear paws, and old fashioned favorites like nut clusters, toffee, truffles and butter creams. Everyone says the caramel apples and strawberries dipped in chocolate are just amazing.
Java Vegas Coffee
For all the coffee lovers coming to Vegas you need to stop here. Try one of the hot or cold espresso creations, or choose a tea, juice or hot chocolate. Also on the menu are scones, bagels and cookies. Open from 5am every day.
Conclusion
The Orleans Las Vegas Hotel and Casino is a great place to stay off the Strip. You can be there is just a few minutes on the free shuttle bus. The accommodation here is varied and will suit a single person or a family in one of the spacious suites. Gaming is open for everyone with a great slots room and a high limit room too. All your favorite casino games are here as well as Keno. Dining here is fantastic with something for everyone including fine dining steakhouses to fast food with casual dining as well.
About the Author