About The Linq Las Vegas
Part of the Caesars' chain of hotels and casinos, offering a diverse range of entertainment and casino experiences around the world, The Linq Las Vegas Hotel are located at 3535 Las Vegas Boulevard South, Las Vegas, Nevada.
Originally opened in 1959 as the Flamingo Capri with 180 rooms, next to the Flamingo Hotel, a casino was added in 1972. By 1979 it was the Imperial Palace Tower with 650 rooms. During the 1980s extra towers were added bringing the number of rooms to over 2,600. In 2012 the resort was renamed the Quad and was the second largest hotel in the world that was privately owned. And finally after a staggering $223 million renovation, The Linq Las Vegas Hotel was opened in 2014. The adjacent shopping Centre on The Linq Las Vegas Promenade gave rise to the new name and it was officially opened on October 30 2014.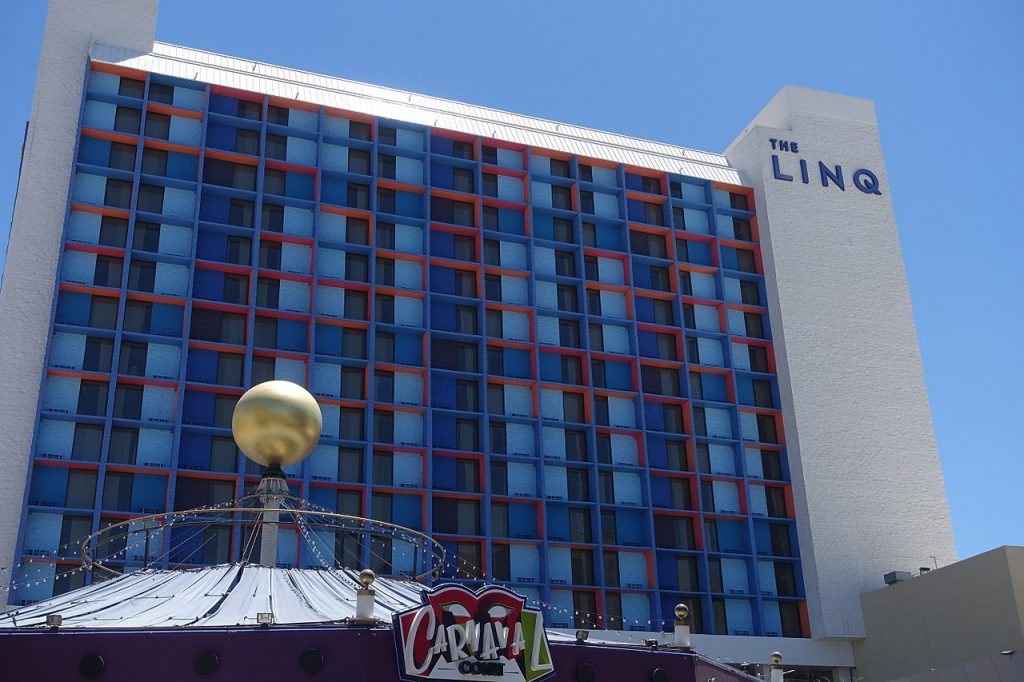 Part of the history of the area lies with several movies. The exterior was used in Midnight Run as the casino for Jimmy Serano's, played by Dennis farina, base of operations. As the Imperial Palace, the Las Vegas scenes of Love Streams the John Cassavete's movie were filmed here. It was named the Four Dragons Casino in Grand Theft Auto: San Andreas. The character Alotta Fagina from Austin Powers: International man of Mystery stayed at the Imperial Palace.
Offering visitors two unique experiences is The Linq Las Vegas Hotel and Casino. Fly high above the Las Vegas strip on a zip line or hop on the High Roller, the world's tallest observation wheel. Both give fantastic views of the region. See Las Vegas from a different view point. The Fly Linq comprising 20 zip lines side by side was opened in late 2018 while the 550 foot tall High Roller was opened in 2014.
Location
Hotel Rooms
The Linq Las Vegas Hotel and Casino offers a choice of 2640 rooms and suites. All rooms have a safe for personal belongings, a personal computer and floor to ceiling windows for great views of the strip. All bathrooms have hair dryers, dressing gowns and slippers. Choose a room in a tower, or stay poolside in a bungalow or double room. Rooms range from single to sleeping four people. All luxury and deluxe rooms include toiletries and a range of bed configurations from King Size to double beds and bunks.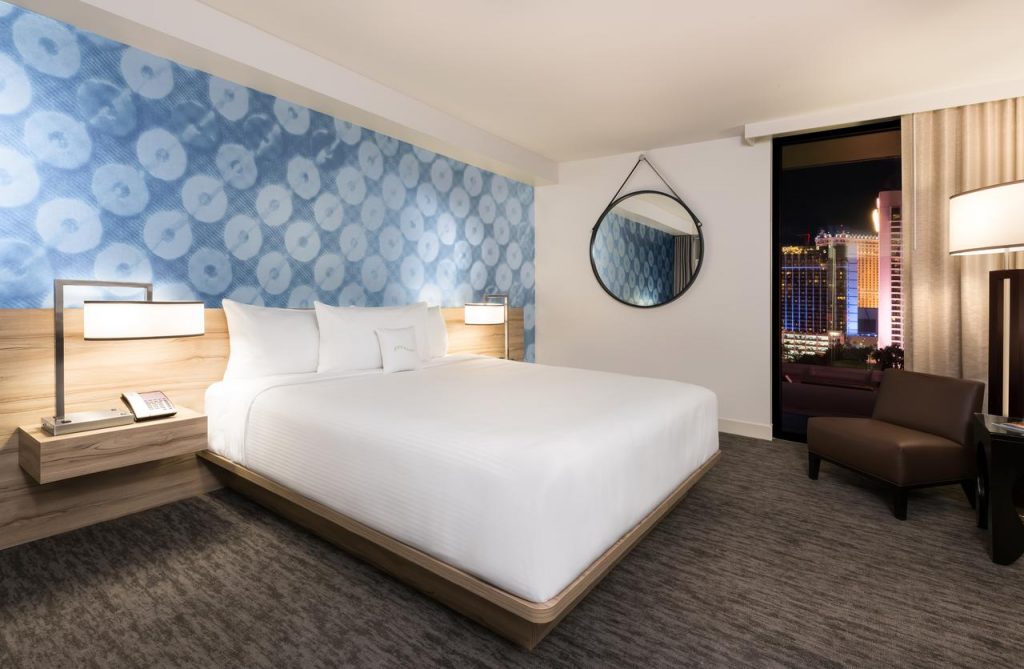 The King Room is a suite featuring a king bed and living room space for the ultimate holiday. Also, Luxury cabins all have a view of the pool and other rooms and suites offer a view of the city.
For the ultimate treat try the Linq Las Vegas Penthouse suite, with art on all the walls, unique furnishings, a spacious kitchenette and padded leather bar. Enjoy the rain shower in the bathroom and take a seat at the vanity.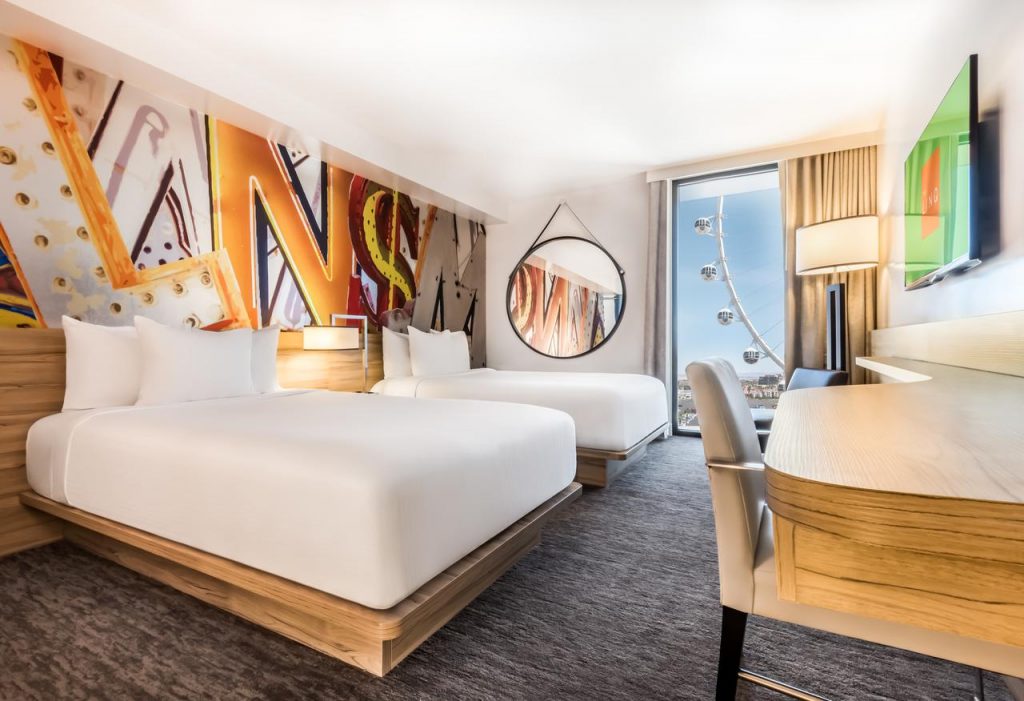 Deluxe poolside Cabana is 300 square foot of luxury with 2 double beds and a private patio. Above all, you have waitress service from the pool bar. After a relaxing dip in the pool enjoy a movie on the 47 inch flat screen TV.
Most of the casino and hotel is non-smoking but there are some smoking rooms available. And some rooms have a great view of the High Roller observation wheel.
Spa and Fitness Centre
Located on the 6th floor of the main guest tower is the Linq Spa. Offering something no one else has in Las Vegas, a natural Himalayan salt therapy cave. The 45 minute session is good for several health conditions including asthma, congestion and sinus conditions. It is available to anyone booking a spa treatment over $50. Just book in advance and then relax.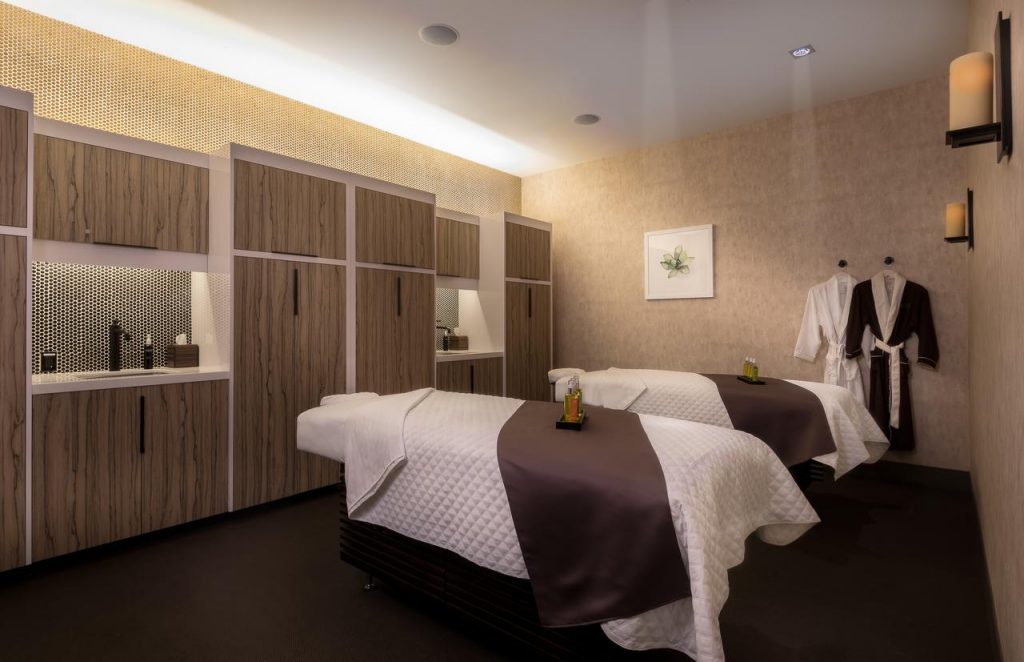 Listen to relaxing jazz tunes or bring your own music to relax to while indulging in any treatment session. Further relax to the enticing aromas of natural oils and aromatherapy and done forget about the By My Side Packages for couples, best friends, moms and daughters.
Separate male and female lounge areas offer whirlpools, steam rooms as well as coffee, tea, juice and fruit. All of this is included with any spa treatment over $50 or just pay for the relaxing lounges.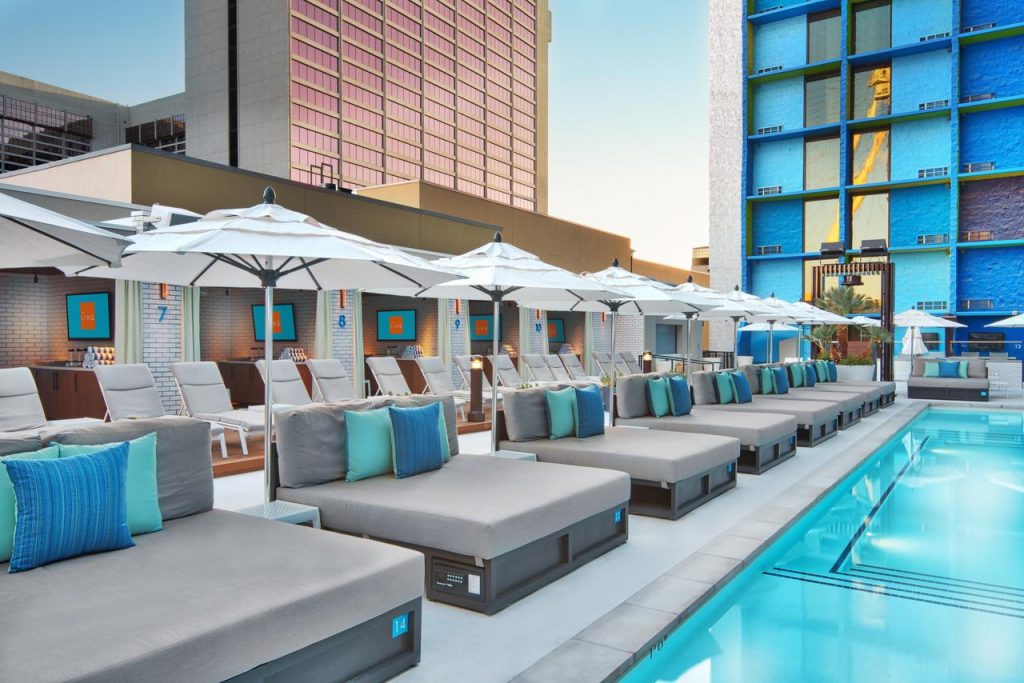 If you arrive at the casino and decide you need a new hair style or trim, visit the salon. Available is spray tanning, beard trims, airbrush makeup and you can purchase the products used to take home.
If you are not into relaxing check out the gym and the fitness trainers that are available to all guests at the Linq Las Vegas Hotel and Casino.
Entertainment
Caesars' entertainment takes many forms and at the Linq Las Vegas Hotel and Casino you are able to choose from Jimmy Kimmels Comedy Club, magic shows and music.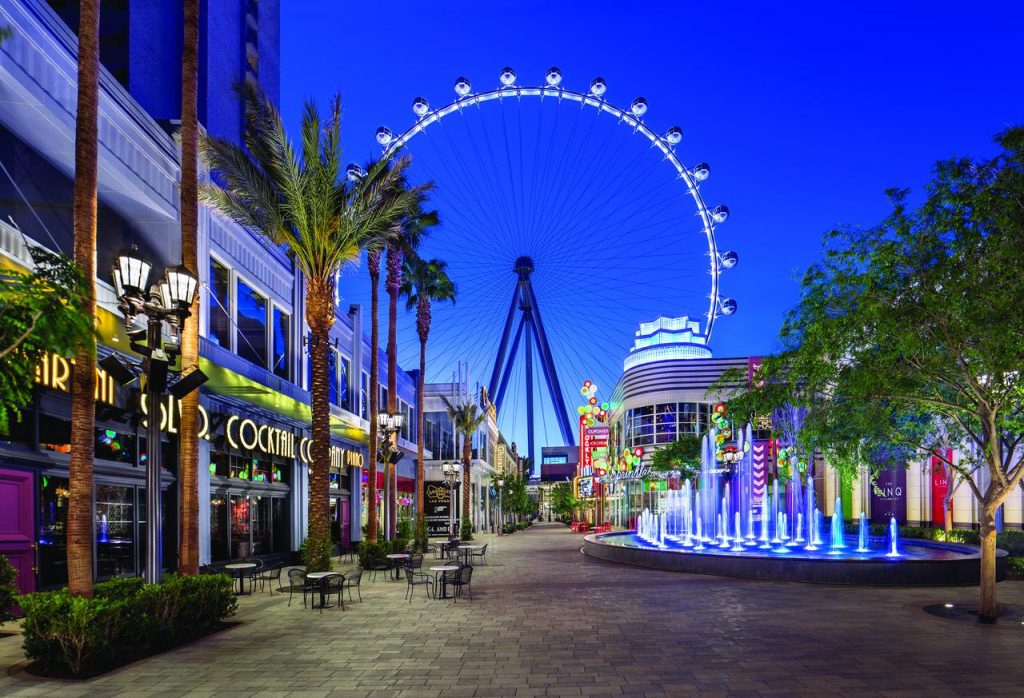 Comedy Club
This space has been designed by Jimmy Kimmel, an Emmy award nominated TV host, comedian and writer. Enjoy late night shows with surprise guest stars, lots of local memorabilia and take advantage of the authentic concession style menu. Open every day from 4pm with comedy shows on every Thursday to Sunday from 8pm.
Brooklyn Bowl
Bowling and live music, what more do you need?
At the Brooklyn Bowl there are 32 lanes for bowling, six bars all serving your favorite cocktails and drinks as well as the best comfort food on the strip all in one place. Music is supplied by some of the hottest and latest acts around.
Concert
If you loved Jersey Boys this concert is the one for you. The Bronx Wanderers take you back the time of rock'n'roll and songs from 6 decades and the Great American Songbook. Performing across the USA for the last 12 years they are at the Linq Las Vegas Casino Hotel and Casino for your toe-tapping, hand clapping fun. With dynamic musicianship and a love of great music this concert is a treat for everyone regardless of age. With 3 shows every night at 4pm, 8pm and 9pm, you won't miss a song.
Tattoo'd America
This is a great playground for adults only based on the theme " Body is beautiful". Choose an interactive room for a fun pillow fight, a tasting room for Sailor Jerry Spiced Rum, join the ink pool party and let go your inhibitions. Here we celebrate the appeal of tattoos and the artistry of them.
Shops and Boutiques
Retail therapy is well provided for at the Linq Las Vegas and on the Linq Promenade. From sweet treats and boutiques there is sure to be a shop right for you. Take home a souvenir from Welcome to Las Vegas or some cookies from the Honolulu Cookie Company. Whether you need shoes, clothing, flip flops, candy or new Harley Davidson apparel, it is all here at the Linq Las Vegas and on the Promenade. After a trip on Fly Linq or the High Roller grab a souvenir at the Sky Shop.
Shows
The Linq Las Vegas Hotel and Casino brings you the winner of America's Got Talent magician Mat Franco. Magic and humor, with a fun, fresh, feel-good vibe to the magic show and don't be surprised to find yourself part of the show. Every show is different and guided by the crowd that is in that night giving you a different and unique experience every time you go. If you want to meet Mat, you can purchase a meet and greet VIP package that includes a photo with Mat, an autographed souvenir and a drink. Shows are on every night at 7pm and 9:30pm. Anyone over 5 years of age can see the magic show.
Gambling At The Linq Las Vegas Casino
The Linq Las Vegas Casino offers you over 50 tables containing all the well-known favourites.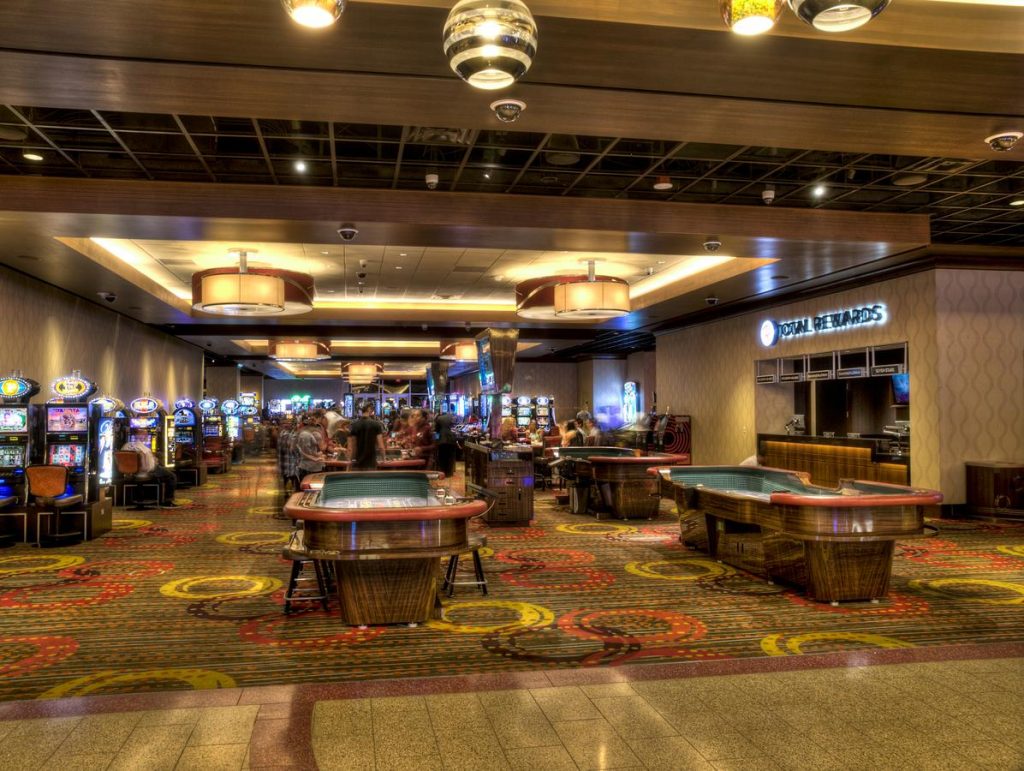 Blackjack or 21
Blackjack or 21 is the classic casino table game. Get as close to 21 without going over and beat the dealer and you win! A mix of luck and good management.
Roulette
A game of chance is seen the world over. Just pick a number, odds, evens, red, black or five intersecting numbers and wait and see the reel spin and stop.
Craps
The game with its own language and a social atmosphere. From individual winners to the whole table it just depends on what you bet on.
Big Six
All you need to do is correctly guess where the wheel will stop.
Poker games
Like all casinos, poker is a big draw card for casinos and has been a table game for a long time. Take your pick of several different kinds of poker at The Linq Las Vegas Casino.
Pai Gow Poker
Pai Gow Poker is an interesting mix of Western poker and Eastern Pai Gow Tiles. Bring your top poker strategies with your deal of 7 cards. With these cards form 2 hands, one 5 card and one 2 card hand. Both of these hands go up against the dealer and if you manage to win both hands you win what you bet.
Three Card Poker, 6 card bonus
Win a staggering $100,000 with just one hand! Play 3 card pokers but with an interesting twist. Any 3 straight or suited cards is a paying hand and if you manage to get then 9 to ace of Diamonds win $100,000.
Let it Ride Poker
A variation of 5 card stud poker when you have a great hand and just let it rides. Win up to $25,000.
Texas Hold'em Bonus Poker
The American classic poker game where you take on the dealer and play your way to win the pot.
Slots
The Linq Las Vegas casino has over 800 slot machines offering great jackpots on any spin of the reels. All the favorite slots are here from 1 cent to $25 dollar bets. Try a progressive jackpot game, a video slot game, Megabucks and Wheel of Fortune. With new slot games arriving all the time, check out the new reel slots, video slots and poker slots.
The Book
The Linq Las Vegas Casino brings The Book, a great interactive sportsbook experience. On arrival you are given a tablet that allows you to order from a digital menu, place bets, play social games as well as augmented reality games. With over 50 TV screens, food and drinks and a huge LED video wall you won't miss any action.
For special sporting events the food and drink is tailored to match at the Linq Las Vegas Casino. For the ultimate experience get a Fan Cave. Rent one of 12 rooms with a 98 inch TV screen that splits into 4 different screens, play Xbox games with up to 5 of your friends. Food and drinks are delivered to a Fan Cave so no need to stop and start your games. The menu is on your tablet and includes 12 types of wings, sandwiches fries and lots more fun game food.
Test out your betting skills against the live leader boards or challenge friends to games on the drink coasters.
Restaurants
Adjacent to the entrance of The Linq Hotel and Casino is Guy Fieri's Vegas Kitchen and Bar. With Guy's signature bold flavors and twists on the more traditional dishes, eat from 8am to well after 10pm. After 10pm a different late night dinner menu is served.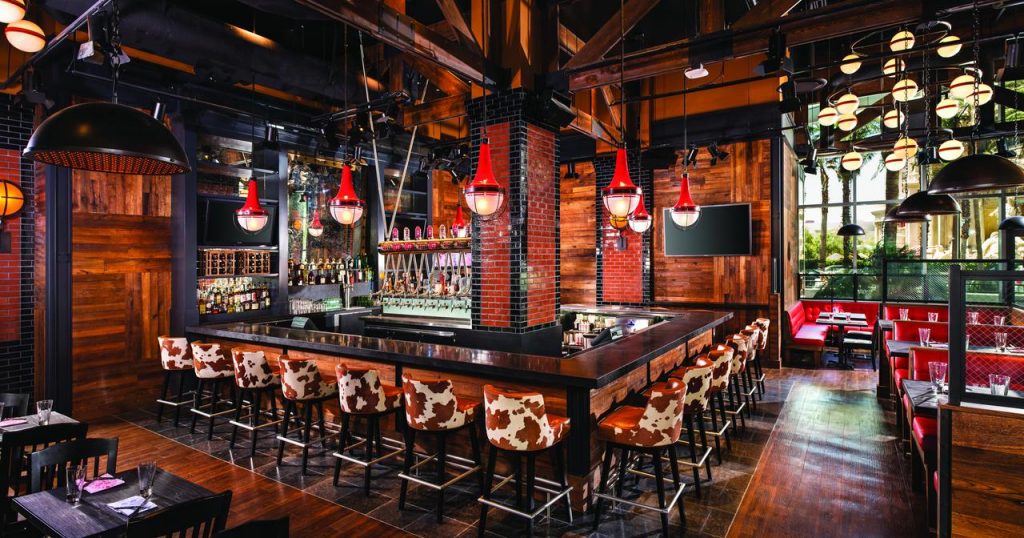 Seating 200 people, choose from a great range of burgers and fries, wings, tacos and sharing plates. The large eatery has an outdoor area with views of the Las Vegas Strip. See many of Guy's tattoos represented on serviettes, coasters and crockery. Choose from local Sonoma Wines, craft beers and shots that won't dilute due to the frozen dispensing system.
Many casual dining options are available including:
Sticky Chicken – next door to The Book. Choose from savory or spicy chicken wings and chicken sandwiches, a great salad and loaded fries.
Hash House a Go Go – "twisted farm food" from the heart of Indiana. Featured on Man v. Food and named Best Brunch and Best Sandwich. Open 24 hours for breakfast, lunch and dinner. Leave room for one of their decadent desserts.
Nook Express – for fresh food served every day. Choose a small sweet treat to have with your coffee or tea.
Nook Cafe – healthy choices here with great salads and sandwiches at The Linq Las Vegas Casino.
Corner Kitchen and Donuts – Hand tossed pizzas and gourmet sandwiches to tease your taste buds. And everything sweet from ice cream and donuts to bowls of your favorite sweet treats.
Conclusion
The Linq Las Vegas Hotel and Casino offers the full Las Vegas experience. A choice of rooms in towers or by the pool, great dining, Guy Fieri's, and shopping experiences, a relaxing spa or a gym workout and a choice of gambling favorites. Whether you like slots, table's games or poker it is all here in a vibrant and exciting location.
The best features though that separates The Linq Las Vegas from all the other casinos, are the High Roller Observation Wheel and the Fly Linq, a zipline taking you over the Strip that is Las Vegas. These 2 features offer a different experience and a different view of Las Vegas.
About the Author