South Point Las Vegas Review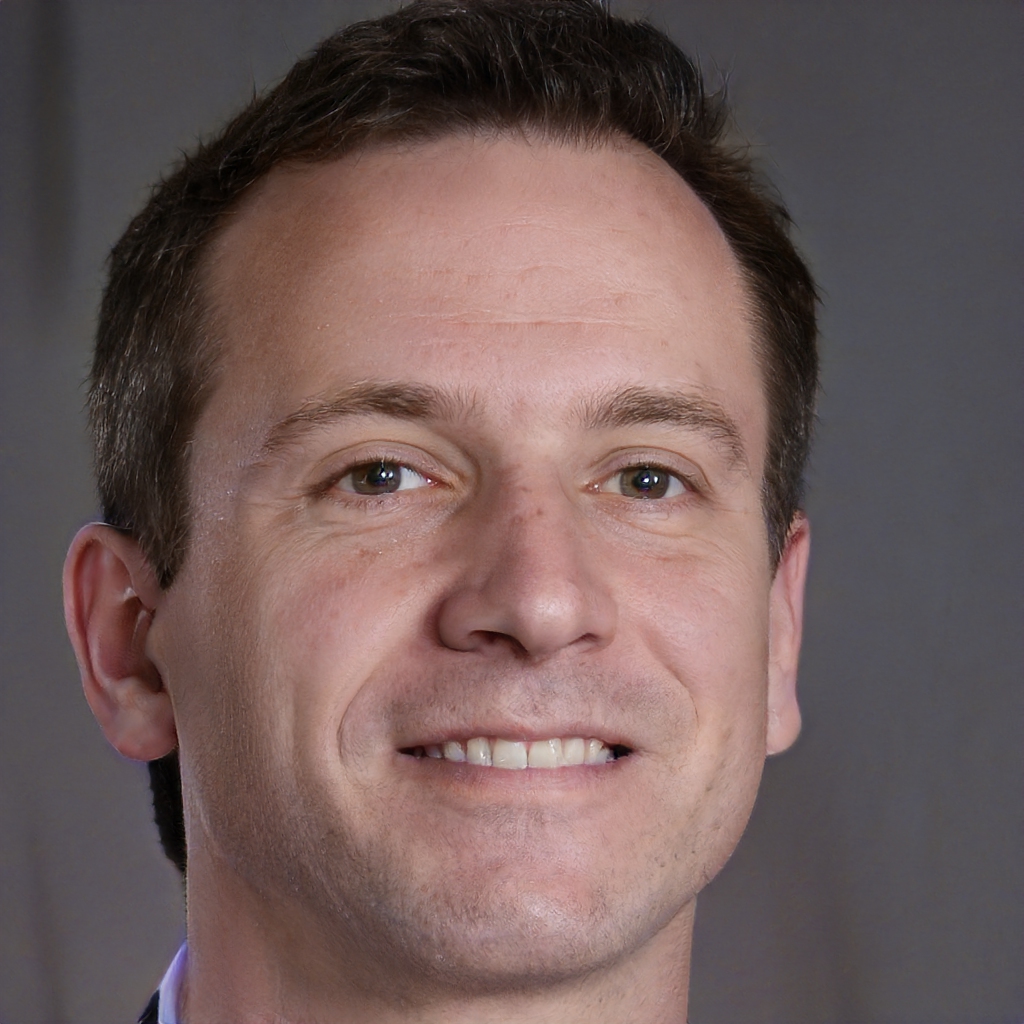 By Herbert Hanson
About South Point Las Vegas
Located at 9777 Las Vegas Boulevard South Las Vegas is the South Point Las Vegas Hotel and Casino. A 24 stored high hotel tower and over 90,000 square feet of casino make up the South Point Las Vegas. The casino is operated and owned by Michael Gaughan and is the primary sponsor of his son Brendan's race car.
Construction began in 2003 by South Coast Casinos with plans for a hotel tower and casino space. It opened in 2005 and was the first mega-resort south of the McCarran International Airport. Hotel tower had 662 rooms and it was renamed the South Point Las Vegas Hotel and Casino after it was sold to Michael Gaughan in exchange for his stock in Boyd Gaming.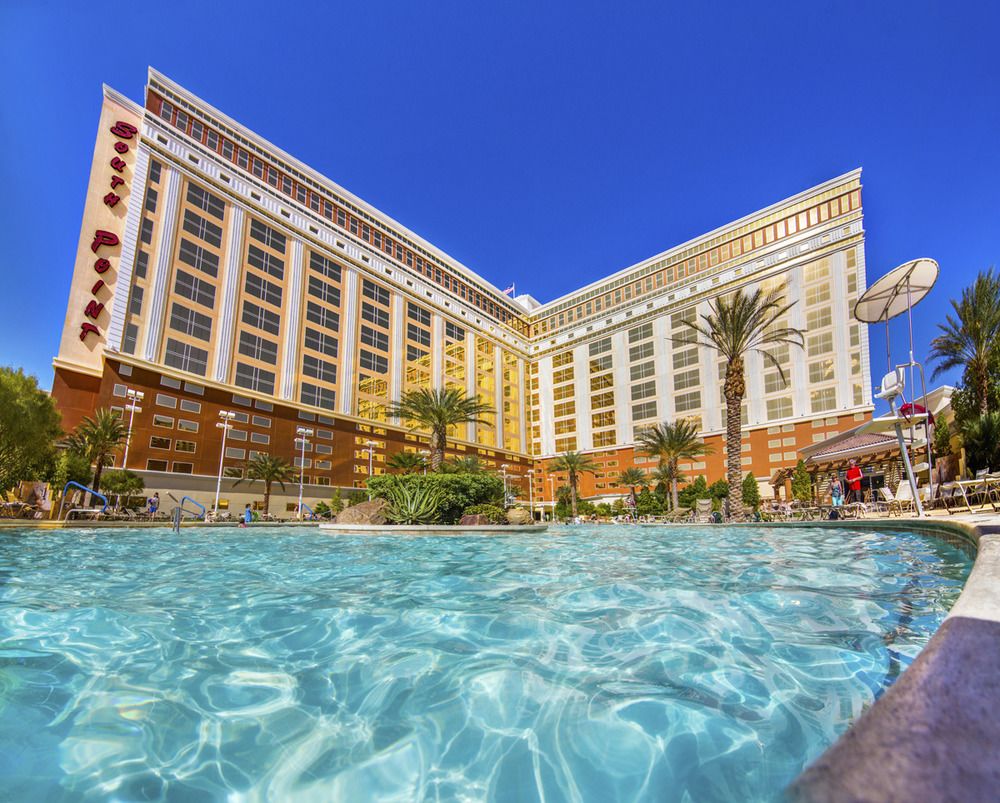 2007 saw an expansion of hotel rooms adding 830new rooms with construction of a third tower block. From the air, the towers made a T shape. Completed in 2008, five food and drink spaces, 10,000 square feet of convention space were added as well as more rooms. Room is now total 2163 and is one of the largest hotels in Las Vegas. In 2010 The Grandview Lounge was added.
South Point Las Vegas Hotel and Casino has made several appearances on TV and cable TV:
2006 NBC Poker after Dark and ESPN Pro-Am Poker Equalizer, GSN High Stakes Poker were all filmed or televised from here
Host for Jerry Lewis's MDA Telethon 2006 to 2011
South Point Bowling Centre next door site of 2014 PBS World series of Bowling
2012 Travel Channel Vegas Stripped took a look at the behind-the-scenes operation of South Point Las VegasCasino
Netflix series Real Rob
Location
Hotel Rooms
Stay in one of the 2163 air conditioned rooms all with LED TVs, private bathrooms, designer toiletries, and phone and iPod docks. Safes are compatible with most laptops. All rooms have blackout drapes for those late mornings sleep INS and 24-hour a day room service. Rooms have a coffee maker and a small fridge for your convenience.
Both the Premium and Deluxe King sleeps up to 3 with a roll away bed and Premium and Deluxe Double Queen rooms are spacious and sleep up to 4 people. No roll away beds allowed in double queen rooms. Enjoy room service and take advantage of the spectacular views over the city.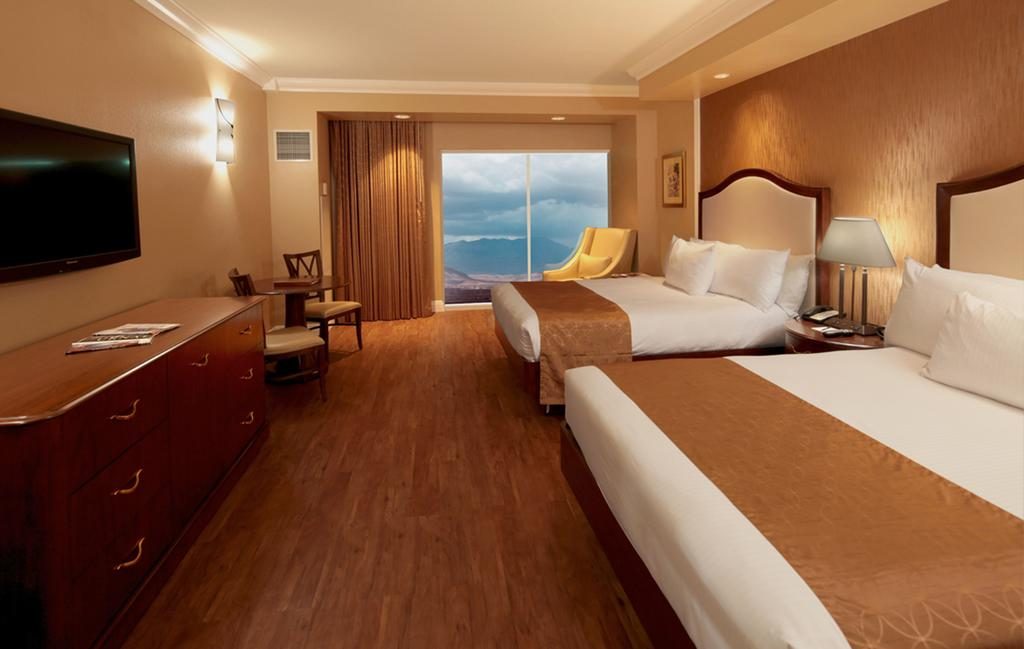 Spa and Fitness Centre
Costa Del Sur Spa and Salon
With 28 treatment rooms and a range of massages and facials the spa is the perfect place to pamper yourself while staying at South Point Las Vegas Hotel and Casino. There is a couples area as well as steam room, sauna and cold bath. Indulge in a rehydration treatment or rejuvenating massage with scented massage creams and oils.
Inside the spa area is a Fitness Centre with cardio and weight equipment for those wanting to keep up a fitness regimen while on holidays.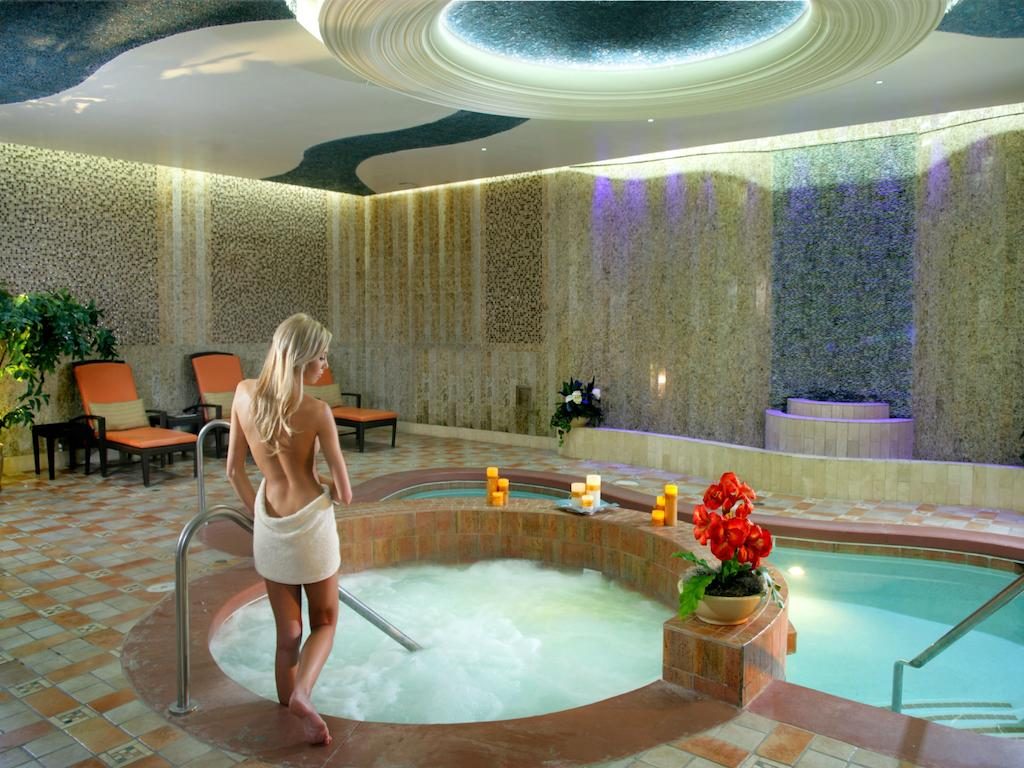 Entertainment
The Showroom
A South Point Las Vegas Hotel and Casino Showroom seat 400 people and is one of the best places to catch live entertainment. Acts such as Frankie Avalon, Tony Orlando and Bill Medley have all played here. Coming in 2019 are Frankie Scinta, Gary Puckett and The Union Gap, Frankie Moreno, The Kingston Trio and Abbacadabra. Other tribute shows include yesterday and today-The Beatles, It Takes Two-Tina Turner and Rod Stewart and Ricky Nelson Remembered. Don't miss the Winter Dance party a tribute to Buddy Holly, the Big Bopper and Ritchie Valens.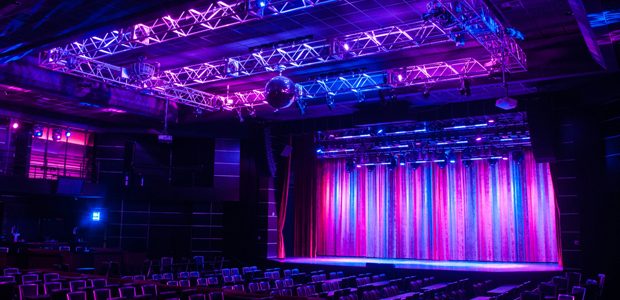 Comedy Club at the Showroom
See the greats of comedy here: Jay Mohr, Rob Schneider, Jim Breuer and Pablo Francisco.
Nightlife at the Showroom
Coming in 2019 are the Spazmatics, Greg Austin's M-Town and great dance parties to keep you going til well after midnight.
Grandview Lounge
This smaller area at South Point Las Vegas Casino is for great cabaret shows in a lounge and cabaret atmosphere of old Las Vegas. Be entertained by a tribute show to Tony Bennet and Lady Gaga called Anything Goes or catch the Tribute to Garth Brooks. For something different book the Usual
South Point Bowl
64 lanes of bowling wait in the bowling plaza area for the dedicated bowler or the beginner. Lanes are closed every day for maintenance from 4pm to 6pm. The center is open 24 hours a day 7 days a week and hosts many tournaments and meets. There may be a waiting list on busy holidays or weekends when tournaments are on. Voted the Best Bowl in 2013 and 2014. South Point Bowl is hosting the USBC championships and other events for 12 years beginning 2013.
Shoe rental sizes start at 7 for the kids and go to 17 for the men, TVs are visible from each lane and Brunswick scoring display is available at your table.
Movies
Catch the latest movie at Century 16 South Point Las Vegas Hotel and Casino. Theatres 9 and 10 have extreme XD for the next level in viewer enjoyment.
Arena and Equestrian Centre Priefert Pavilion
Opened in 2006 is this indoor equestrian facility and arena. Located near the exhibition hall and hotel towers and seating nearly 5000 people, the arena is ideal for many events. Fantastic centrepiece of the arena is the Cinch Saloon and there are several concessions stands around the arena. Guests at the hotel can catch all the action on TV channel Arena in their rooms.
Upcoming events include the 2019 USA Open Wrestling Championships, Silver State RC Car Indoor World Championships, Collegiate Rodeo competitions, and National Barrel Horse Association Events.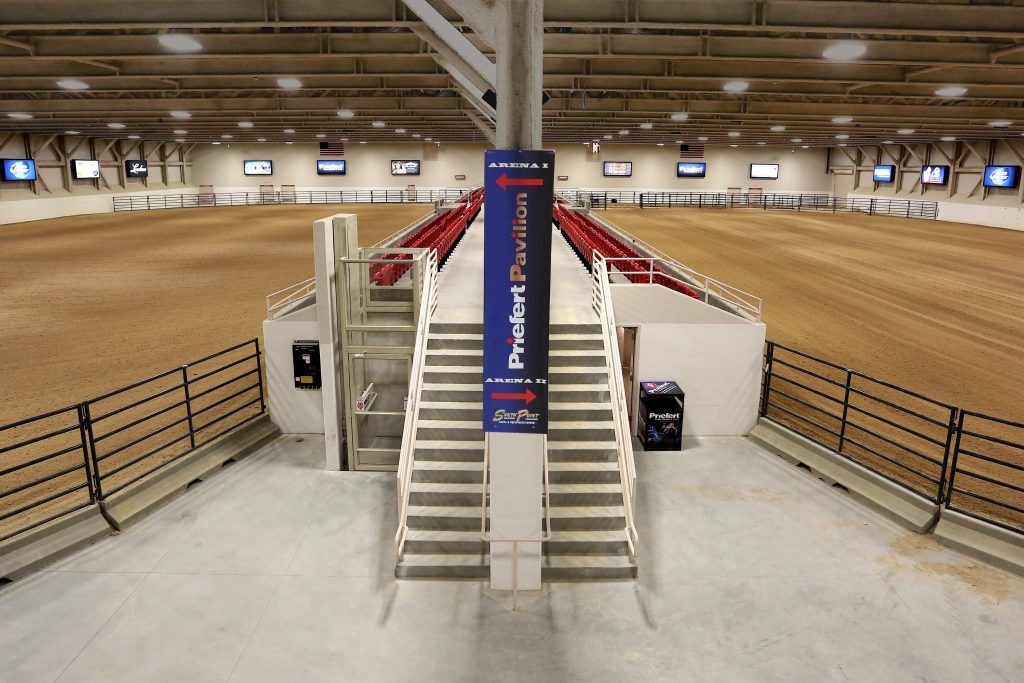 Exhibit Hall
With 80,000 square feet of divisible space for up to 400 individual spaces, and 4 meeting rooms the area is a great place for conventions and meetings. Coming in 2018 is the Home Improvement and Backyard Expo, and Car and Truck Show.
Swimming Pools
Relax and unwind in the 164 foot long free form swimming pool and spa tub. A rock garden and waterfall is the center feature of the 50×50 foot spa tub
Gambling
Bingo
South Point Las Vegas Hotel and Casino offers 8 sessions of Bingo every day. Each session has 12 games and a Cashball Jackpot. There is a Progressive Double action Game and a $10,000 Bonus Coverall at each session. Enjoy a complimentary drink while having bingo fun. Electronic units are available for a small fee of $2.
Slots
Join the Slot Club while at South Point Las Vegas Casino and get one point for dollar played that does not win. Get $12 cash back with just 4000 points. Free play credits are also available along with special offers every day.
Play your favorite machine with more than 2390 to choose from includes reel and video slot machines.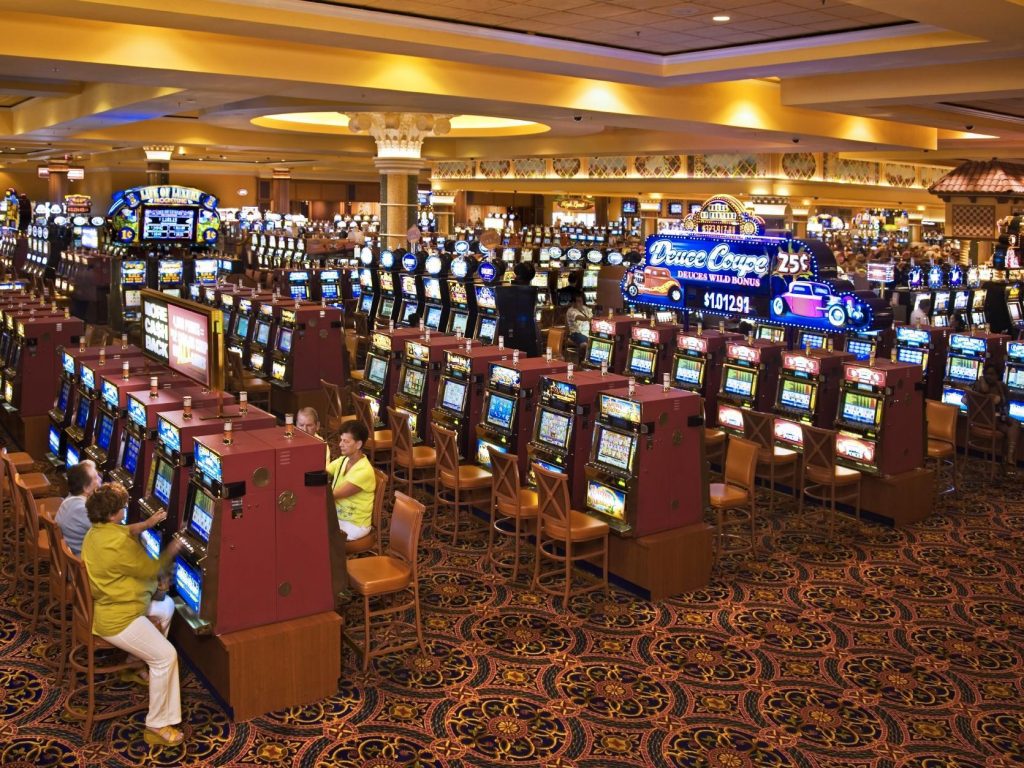 Table games
Join one of 60 table games featuring all your casino favorites.
Blackjack
Get as close to a total of 21 without going over and beat the dealer.
Craps
The dice game with its social standing and language.
Roulette
Pick a color or a number and see where the little ball stops.
Baccarat-no commission
The card game James Bond plays. It is a matter of luck.
Poker
At the South Point Las Vegas Hotel and Casino, the Poker Room is open all day every day and has 22 tables. This is a non-smoking room. For competitions there is a player tracking system. All your sports are on the TV screens so you won't miss a thing while playing your favorite poker game including Pai Gow Poker, Mississippi Stud and 3 card poker.
Win with a pair when the date matches the number e.g. 2 nines on the ninth of each month.
Play for one hour Monday to Friday between 10am and 4pm and get a free hot dog.
Texas Hold'em
Play with low limits of $2-$4 and $4 -$8 with half kills and full blinds or $1-$2 and $2-$5 blind no limit Hold'em poker. Tournament High hands pay
– 4 of a kind $25
– Straight flush both hole cards $50
– Royal Flush both hole cards $125
Omaha
Each player is dealt 4 cards and these are called the hole cards, 3 more for the flop, turn card is 4th dealt to table and river the fifth. Tournament High Hands pay:
– Flopped quads pair in your hand $25
– Straight flush with 2 hole cards $50
– Steel wheel or Royal Flush two hole cards $125
Deep Stack
Begin with a large stack of chips greater than the blinds. It is big cash on offer. $125 buy in gets you 15,000 chips guaranteed win of $10,000 every Sunday.
Sports Book and Race Book
South Point Las Vegas Hotel and Casino Sports Book is a spacious area with 2 wall sized TV screens, several smaller plasma screens and over 100 seats with extra seating in the Del Mar Lounge. Watch and bet on live sport screened throughout the room.
The Race Book has over 150 seats with TV screens and earplugs are available if you wish to hear the race audio. With 16 Interactive Player terminals available just set up your account with a Race Book Supervisor and you can start betting.
Restaurants
With dining options to appeal to everyone from fine dining to snack food, it is all available here at South Point Las Vegas Hotel and Casino.
Michael's Gourmet Room
This restaurant has received many awards including 4 Diamond award for Exceptional Cuisine, Excellent Service and Elegant Dining Atmosphere from the American Automobile Association, Award of Excellence from Distinguished Restaurants of North America and Finest gourmet from Las Vegas Review Journal.
Open daily from 5.30 pm to 10pm, business attire and no one under 12 years of age allowed. This small 50 seat restaurant is renowned for award winning food.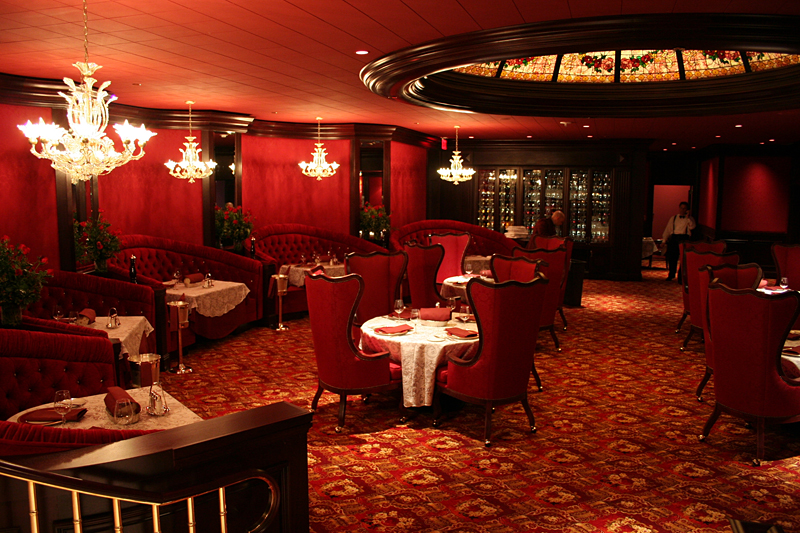 Silverado steakhouse
Open Sunday to Thursday 5pm to 10pm and Friday and Saturday 5pm til 11pm with a casual dress code. From the vintage photography to hand painted murals on the walls and the great steaks on offer, the steakhouse offers the best of American Steakhouse cuisine. Enjoy quality steaks and chops and fresh seafood as well as some continental dishes.
Don Vito's Italian Restaurant
Open from Sunday to Thursday 5pm to 10pm and Friday and Saturday 5pm till 11pm with a casual dress code. All your Italian favorites are here with pasta, fresh seafood, fresh baked breads and handmade gnocchi and ravioli. The great place is for a pre-show dinner with great Italian desserts.
Primarily Prime Rib
Open Sunday, Wednesday and Thursday 5pm to 10pm and Friday and Saturday from 5pm to 11pm with casual dress. Away from South Point Las Vegas Casino on the mezzanine level is the newest dining experience. Choose from 5 prime rib cuts all dry aged for tenderness and flavor and then slowly roasted. Other dishes include chicken and salmon and are sure to try the cocktails.
Big Sur Oyster Bar
Open every day from 11am to 1am, casual dress code. Oysters and everything from the ocean-shrimp, lobster and crab all prepared in front of you at the open bar. Enjoy a beer on tap or wine by the glass or share a bottle with friends.
Baja Miguel's Mexican Restaurant
Open Sunday, Wednesday and Thursday 11am to 10pm and Friday and Saturday from 11am to 11pm and casual dress. For all your favorites Mexican foods are such as tacos, tamales, fajitas and more. Or try one of the tequilas from the Tequila Bar.
Zenshin Asia
Open from 11am daily for contemporary Asian food, many with a casino twist in the name. Choose from appetizers, soups, noodles, or try a Bento Box or Sushi Box. Wash it all down with a selection from the Japanese and local beer, wine and sake.
Coronado cafe
Open all day every day. Your favorite American or Chinese food is for breakfast, dinner and lunch. Lunch starts at 11 and dinner is served until midnight. Try a Graveyard special entree from $2.95.
Garden Buffet
Open for breakfast, brunch, lunch and dinner daily. Garden buffet is a great food from the cuisines of Asia, Italy, and Mexico, China and BBQ and seafood. Create your own dish at the Mongolian Grill.
Conclusion
South Point Las Vegas Hotel and Casino is one of the best places to stay just off the busy Strip. Rooms are luxurious and spacious with quality toiletries and furnishings. The food choices are award winning and will have you coming back for more. From steak to seafood, burgers to ice cream it is all available at South point Las Vegas. Gaming is top level here with a large choice of poker games and table games as well as hundreds of slot machines to entice you. There is a lot to do at south point Las Vegas and it is a fantastic location and place to spend a few days in Las Vegas.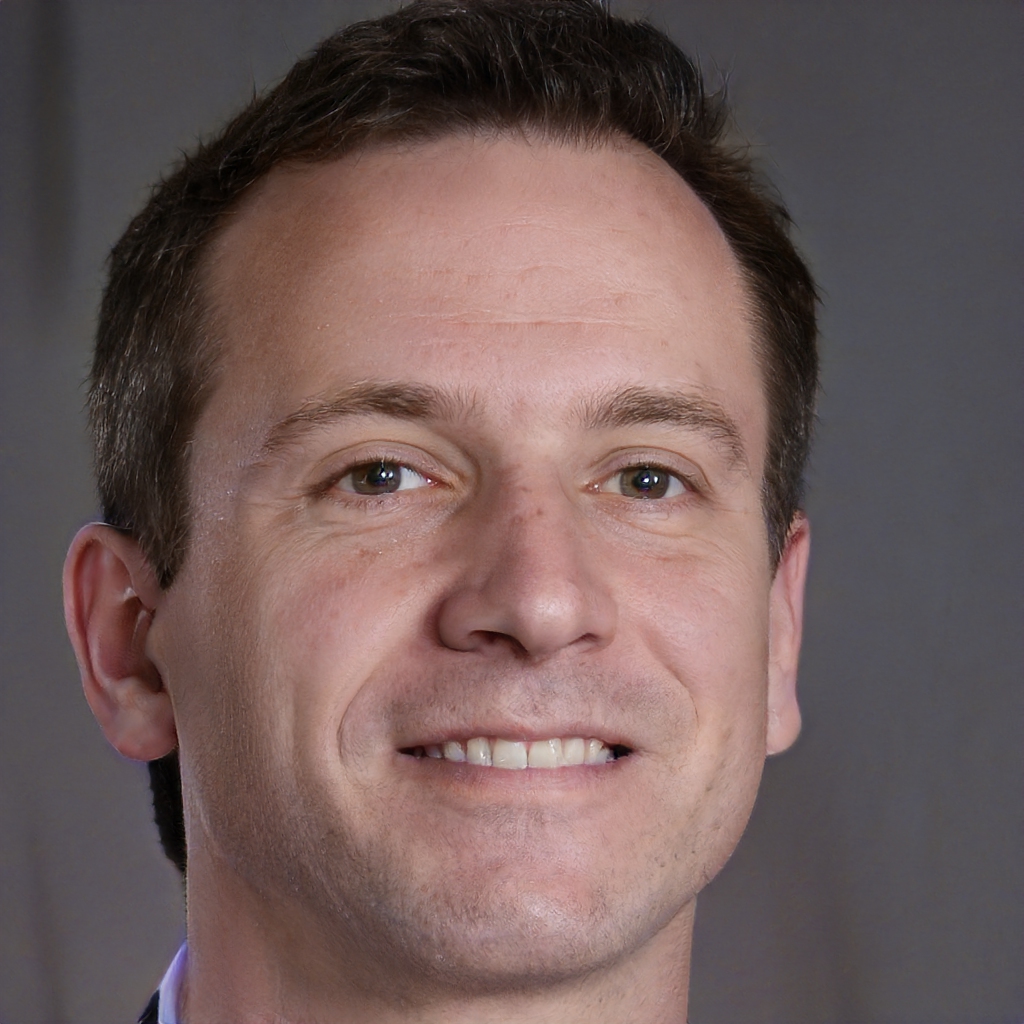 Author
Herb has spent years working in the gambling industry, helping to provide gambling entertainment. He started from the land-based casino and then moved to the iGaming industry and joined our team as an author with great knowledge of the Las Vegas casino industry. His unique approach is the key to our content creation strategy. Do you need the latest bonuses and promotions; Herbert Hanson is your man with great knowledge.