About Santa Fe Las Vegas
Santa Fe Station Las Vegas Hotel and Casino is located on North Rancho Drive on 15 hectares of land. Originally it is opened as the Santa Fe in 1991 and for many years had the only ice rink in the area. It was the site of a lengthy labor dispute with the Culinary Workers Union til it was sold to Station Casinos in 2000. At the time of construction the northwest area of Las Vegas had little construction and Paul Lowden believed the area would go ahead. Built alongside Route 95 and with a south western theme, the casino opened in 1991.
With 200 rooms, an ice rink, and 60 lane bowling alley, the hotel and casino was popular with hockey players and ice skaters. In 1994 the hotel and casino expanded and added 4 restaurants and a 700 seat bingo hall.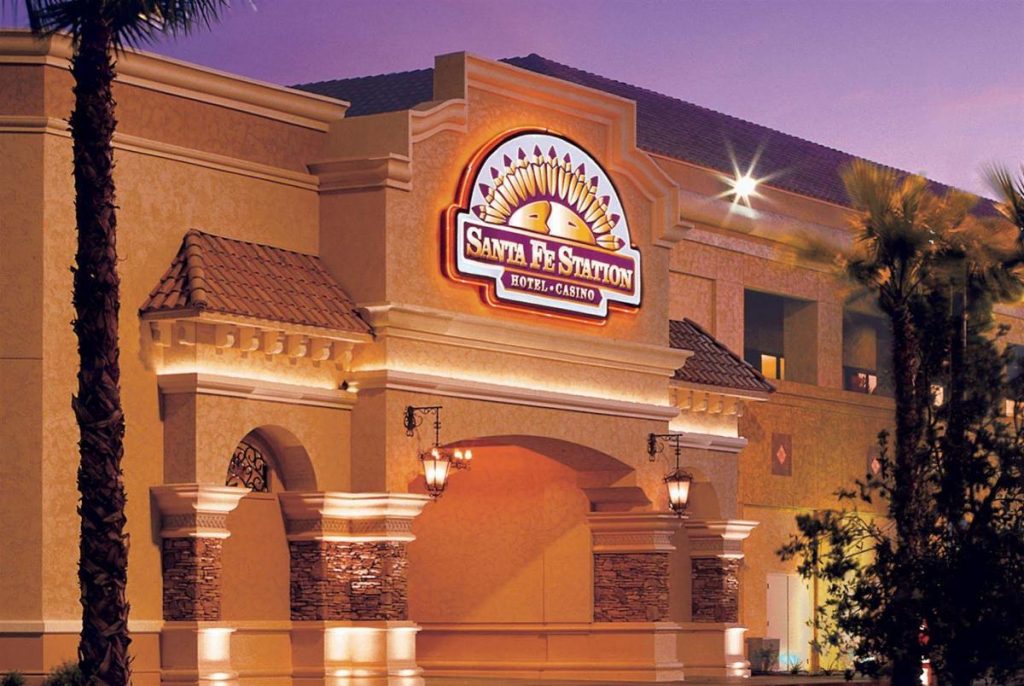 Discussions with Station Casinos began in 1996 and in 1999 Station Casinos bought land owned by Santa Fe Gaming with an option to purchase the present hotel and casino.
By June 2000 the hotel and casino was bought for $205 million and renamed the Santa Fe Station Las Vegas Hotel and Casino. A large renovation was planned and the south western theme would be retained. More parking spaces, slot machines, a 12 screen movie theatre, nightclub and childcare centre were all planned. The ice rink was removed but another was built at the nearby Fiesta Rancho. The Santa Fe Station Las Vegas Showroom opened in 2004 and a 16 screen movie theatre opened in 2005. Purple Reign, the Prince Tribute show first opened here in 2006.
By 2007 another parking garage, new restaurants, improved Sportsbook and remodelled bowling alley had all been completed. $458 million had been spent. In 2007 a new casino area with more craps and Blackjack tables and mini Baccarat tables were added. A new Bingo Hall was opened in 2016 making the casino cover an area of 151,000 square feet.
Location
Hotel Rooms
Spacious and comfortable hotel rooms at value for money prices are available at the Santa Fe Station Las Vegas Hotel and Casino. As well as being close to the Strip the hotel is close to Mount Charleston and the Red Rock National Conservation Area. A heated outdoor pool area has sun lounges and a spa for guest's enjoyment.
ADA accessible rooms are available with grab bars in bathrooms and a wheelchair accessible vanity. Rooms can be smoking or non-smoking.
To make sure you get a room at the best possible price check out the Hotels Promotions. Discounts are offered on accommodation, dining and entertainment. The Supersaver discount gives you 20% off if you have stayed previously. All 200 rooms have complimentary toiletries, free Wi-Fi, cable TV, air conditioning and blackout blinds for that extra-long sleep in, free local and long distance calls and daily newspapers. Children are more than welcome and stay for free if they use the existing bedding in the rooms.
Cribs are free for babies and roll away beds are available at $15 a night. Large groups can have adjoining rooms if bookings are made early enough. Baby sitting and childcare is offered for a charge.
Santa Fe Station Las Vegas Hotel and Casino offer Deluxe Double queen rooms with 2 queen beds and plenty of space to relax in. Deluxe king rooms have a king size bed and space to move around.
Entertainment
Century 16 Santa Fe Station Las Vegas Movie theatre
The place to see all the latest Hollywood has to offer. Have tickets sent straight to your mobile phone or print them at home before you go to the movies. Tickets can also be collected from the self-serve kiosk at the theatre. As plans can change at the last minute all tickets can be exchanged or refunded as long as the session they are for hasn't started.
Santa Fe Station Las Vegas Lanes
Bowl at one of 60 lanes with automatic bumpers for the kids and drop down screens. The area is ADAB accessible as well as bowling. On Thursday from 8am to 4pm play $2 games with just $3 shoes on Throwback Thursday.
Fridays from 9pm and Saturdays from 5pm enjoy Cosmic Bowling with music and lights or book a birthday party. Various packages are available for groups of any size.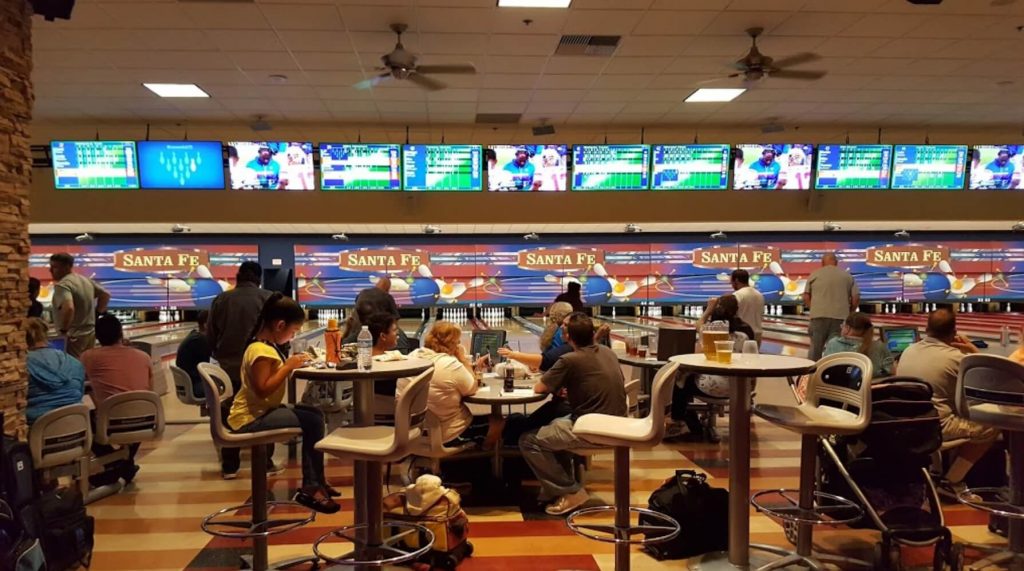 For children and babies from 6 weeks to 12 years old Santa Fe Station Las Vegas Hotel and Casino offers supervised professional entertainment with indoor play areas and quiet zones. The Tiny Tots Room lets the little ones explore and play under supervision. Open 7 days a week from 12 noon till late and evenings for an hourly charge. Also a great place for birthdays if your child has one while on holidays.
Cyber quest is a family friendly arcade gaming area for all members of the family. Win prizes at Red Rock, Texas Station, Sunset station, Santa Fe Station Las Vegas and Fiesta Henderson and redeem at a Prize Hub at any of the listed casinos.
Lounges and bars
A great nightlife is on offer at Santa Fe Station Las Vegas Hotel and Casino. The intimate bars and lounges offer a relaxing place for a drink or the place to step up the action with a dance party.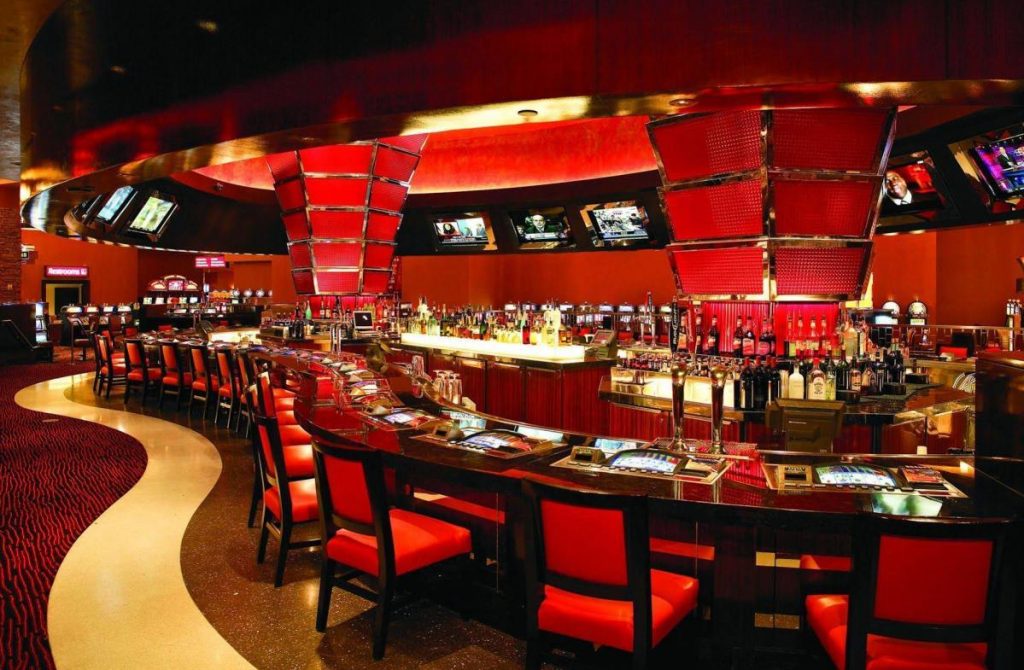 4949 Lounge
Located in the center of the casino floor is this lounge offering music and great drinks every night til 2 am. Enjoy music with a live DJ most nights, a mid-week Jazz Party or mid-week Dance party.
Swimming Pools
A heated outdoor pool area has sun lounges and a spa for guest's enjoyment.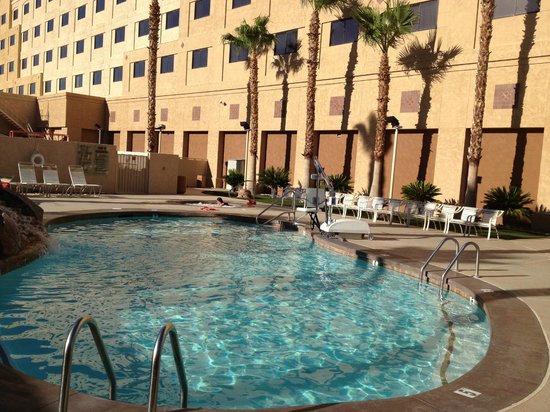 Shows
Chrome Showroom
Chrome showroom is a small and intimate showroom for some of the latest acts of touring Blues and jazz artists. Local and interstate live music on offer. Doors open at 8pm for 9pm shows on Friday and Saturday nights. Upcoming events include Bobby Caldwell and Hiroshima.
Gambling
Regarded as the local's favorite casino off The Strip, Santa Fe Station Las Vegas Hotel and Casino was awarded the "Best Blackjack" by Las Vegas Review Journal. More than 2700 slot machines, 40 gaming tables and a 14 table poker room all mean this is a great casino to visit. Grab a Boarding pass and be part of the Best players Club for the last 13 years running. Earn points at both the hotel and the casino and at other properties in Las Vegas.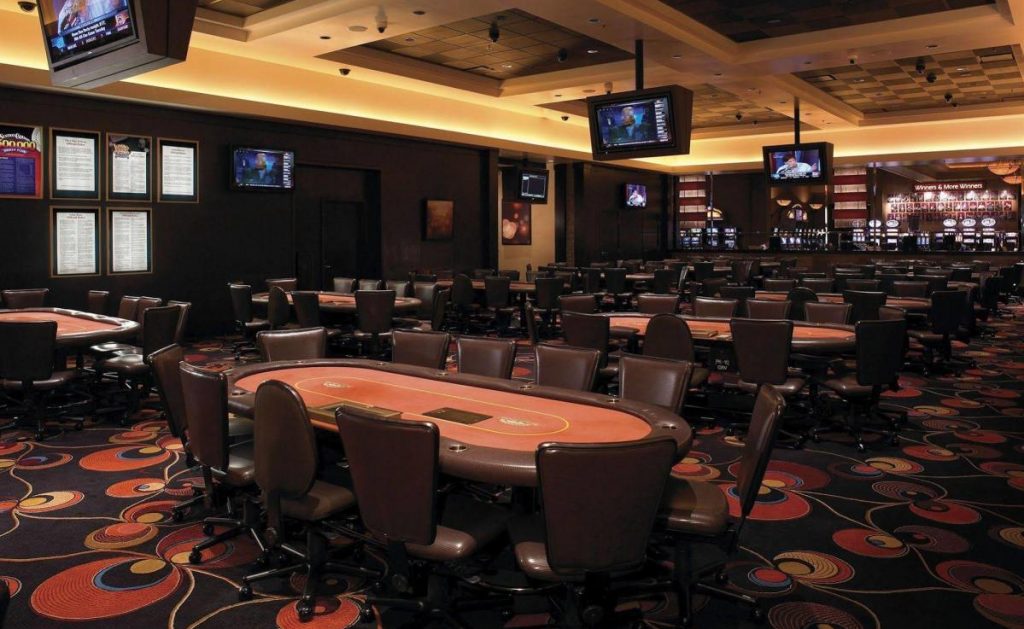 Bingo
If you are a Bingo lover Santa Fe Station Las Vegas Hotel and Casino has bingo for everyone. The room has 30 large screen TVs, a VIP area and a separate area for smokers. It has its own restrooms and personal service is available at the tables. Join in for promotions and giveaways and the bar has a great selection of drinks, cocktails and pastries. At the Saturday 11pm session all ladies get free drinks.
Last Friday of every month there is X-Treme Bingo and the 11pm session has a live DJ, drink specials and extreme giveaways and promotions.
Slots and Video Poker
Slots

With nearly 3000 slot machines your favorite will be here including free plays. You can earn up to $500 in free play by signing up for a Boarding Pass players club card. Choose a single reel classic or a new themed machine such as Wheel of Fortune or Megabucks. Try a High Limit machine if you are feeling lucky. With denominations of $1, $2, $5, $10 and $25.

Exclusive to Santa Fe Station Las Vegas Casino is the Cash Bonus Blitz II where three mystery progressive jackpots can be won just by playing with a boarding pass.

Jumbo dollars is a Station Casinos exclusive idea where you can play a Jumbo Penny machine for $1 and win one of 3 mystery progressive jackpots. Also exclusive to the 19 Station Casinos is the great reward point's deal. The game is offering three times the rewards points that can be converted to cash at any Station Casino.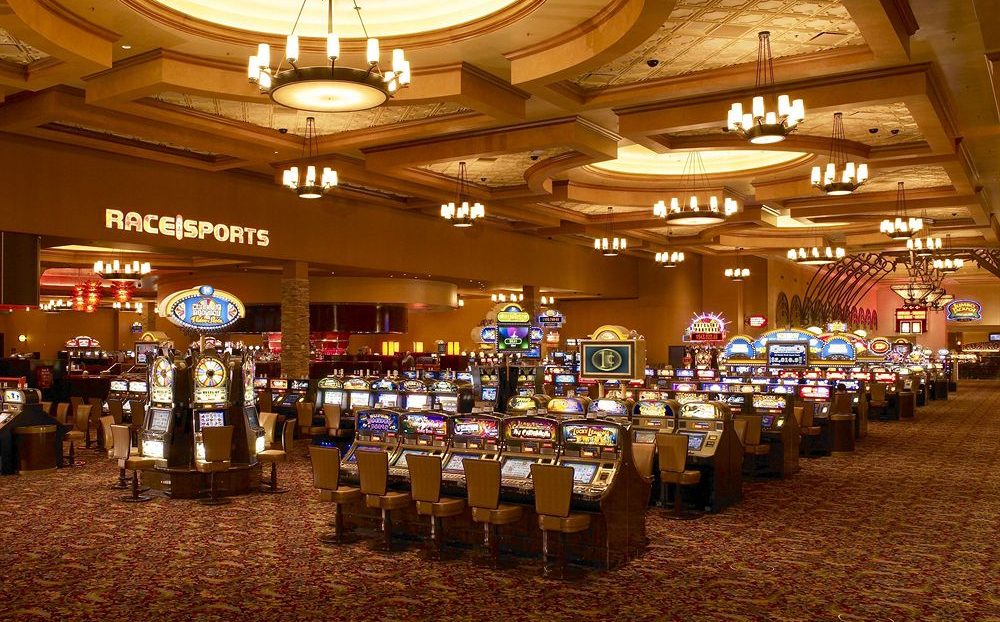 Video Poker

Slot machines and poker go hand in hand at Santa Fe Station Las Vegas Hotel and Casino. Many of the machines are 100% payback, 99.8% payback and Triple Play is 99.9% payback. !00% payback games include Double Double Bonus Poker, Loose Deuce Deuces Wild and Deuces Wild.

Other machines include Jacks or Better, NSU Deuces, Bonus poker, Deuces Wild Bonus, Bonus Deluxe and Super Double Bonus. With Triple Pay deuces win three times the standard payout. Reversible Royals has royals lining up from left and right for a win of 50,000 credits.
Try a multi hand machine and play Triple Five Play, Hundred Play, Spin Poker and many other versions of the great card game.
Table Games
All the favorite table games are here at Santa Fe Station Las Vegas Hotel and Casino. Best Blackjack in town as voted by the Las Vegas Review Journal and lots more table games to play.
Blackjack
Here there are more $5 Blackjack tables than in any other casino in Las Vegas. Get as close to 21 without going over and beat the dealer.
Craps
Try the side bet called Fire Bet where you bet $5 before the new shooter throws and you win each time a distinct point occurs before sevens and out. Highest odds are 1000 to 1 but the new shooter needs to hit 6 point spots before rolling craps.
Roulette
Roulette is one of the most popular casino games around the world. Choose a lucky number from 1 to 36, and in the USA 0 or 00. Bet red or black, odds or evens whatever you choose.
Poker
Try a game of poker in the 14 table poker room. Pai Gow is fun for beginners as well as the seasoned player.
Pai Gow
This game is a combination of Chinese Tile or Pai Gow and western poker. Make 2 hands from your 7 cards, one with 5 and one with 2 cards. Try to beat the dealer with both of these hands.
Ultimate Texas Hold'em
Take on the dealer and try to win the pot.
Race and Sportsbook
Watch the horse's race from one of over 250 seats or book a VIP area for a private function. Watch and bet on horse races from the USA as well as all the major racing from across the globe.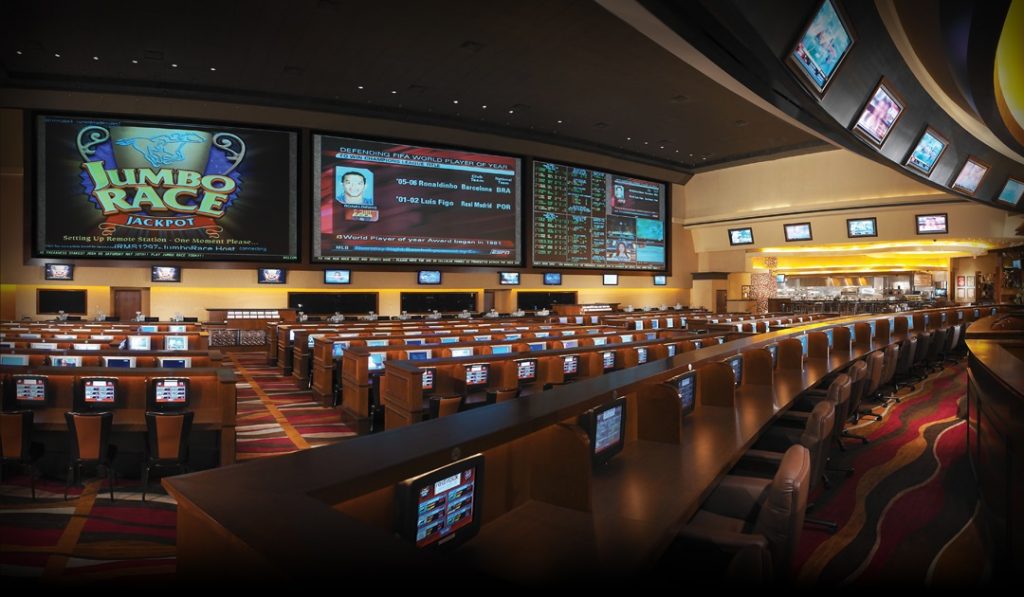 Santa Fe Station Las Vegas Hotel and Casino Race and Sportsbook could just be the best in Vegas. Complete with a 114 foot video wall and state of the art TVs you won't miss a single piece of the sporting action. watch and bet on all major sports in real time including football, baseball, hockey, golf, tennis, boxing and NASCAR.
Restaurants
Great variety of food is on offer at the Santa Fe Station Las Vegas Hotel and Casino with favorites for all the family to enjoy.
The Oyster Bar


Great seafood is on offer with Mediterranean Sea Bass, Alaskan King Crab legs, lobster tails and of course oysters. Try a craft beer from within the USA or a classic New Orleans cocktail with a Las Vegas extra. Wine is available by the glass or by the bottle.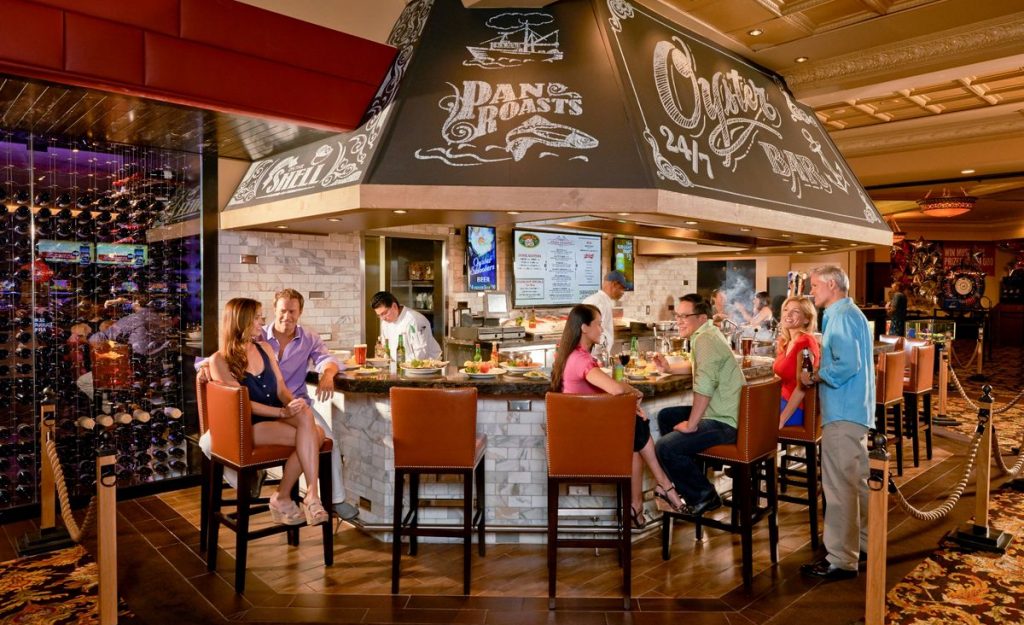 Grand Cafe
Choose from over 100 different menu items available every hour of every day. From salads and sandwiches to great breakfasts as well as lunch and dinner. No other place does desserts quite like the Grand cafe. Sweet tooth's should not miss this place.
Feast Buffet
Find one of the best buffets spreads in Las Vegas here at the Santa Fe Station Las Vegas Hotel winner of the Best Brunch Award from the Las Vegas review Journal. Choose from cuisines from around the world such as Chinese, Japanese, American and Italian. Prices are affordable so even the biggest groups can eat here at the buffet. Try the Chili and salsa bar or the Fajita Station and don't forget the hickory BBQ.
Leticia's Cocina and Cantina
For genuine Mexican flavors that can't be beaten in Las Vegas eat here at Leticia's. Dishes are served family style and individually. Open Monday to Thursday from 11am, Friday and Saturday from 11.30am and weekends from 10am. Check out the happy hour specials posted inside.
The Charcoal Room
The place for fantastic steak and fresh seafood is the award winning Charcoal Room including the Award of Excellence from Wine Spectator. Try the bone in New York Steak and Rib Eye, Porterhouse and 3 peppercorn beef filet. Fresh fish every day as well as lobster tails and surf and turf. You may need to take a doggie bag back to your room. Happy Hour specials include half price cocktails from 4.30pm to 6.30pm and social snacks to share with friends for $9 between 5pm and 6.30pm.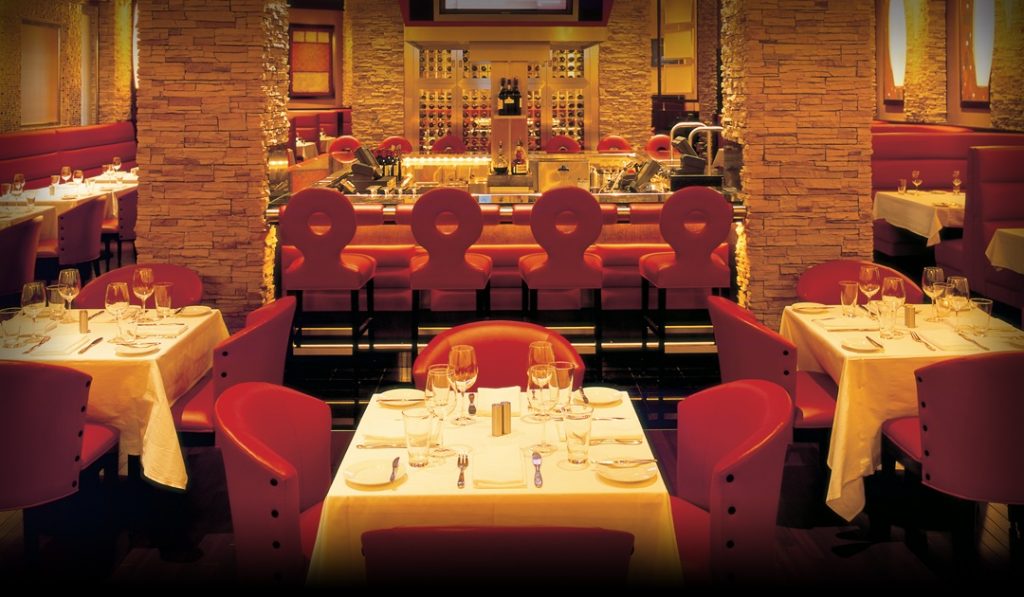 Keglers Grill
It is located in the Bowling alley for a great snack while bowling with friends. Full combo meals start at just $6 and other food is all your favorites with wings, pizza, burgers, nachos and fries.
Sports Grill
Open Thursday to Monday grab a bite during every game without leaving the Sportsbook area. Tail gate food a specialty here with everyone's favorites from hot dogs and burgers to fries and more. Try loaded fries with homemade chili and cheese, jalapeño poppers to zing your taste buds and don't forget to try the great Gridiron Burger.
Conclusion
Though only offering 200 rooms, the Santa Fe Station Las Vegas Hotel and Casino provides other amenities. Here are great bars, restaurants and family entertainment every day. Award winning gaming and food is a draw card here and they cater for the little ones very well. A supervised child's area as well as baby sitting is on offer. Though not on The Strip you are closer to National parks and Mt Charleston Recreation areas. There is so much more on offer here other than gambling.
About the Author