Planet Hollywood Las Vegas Review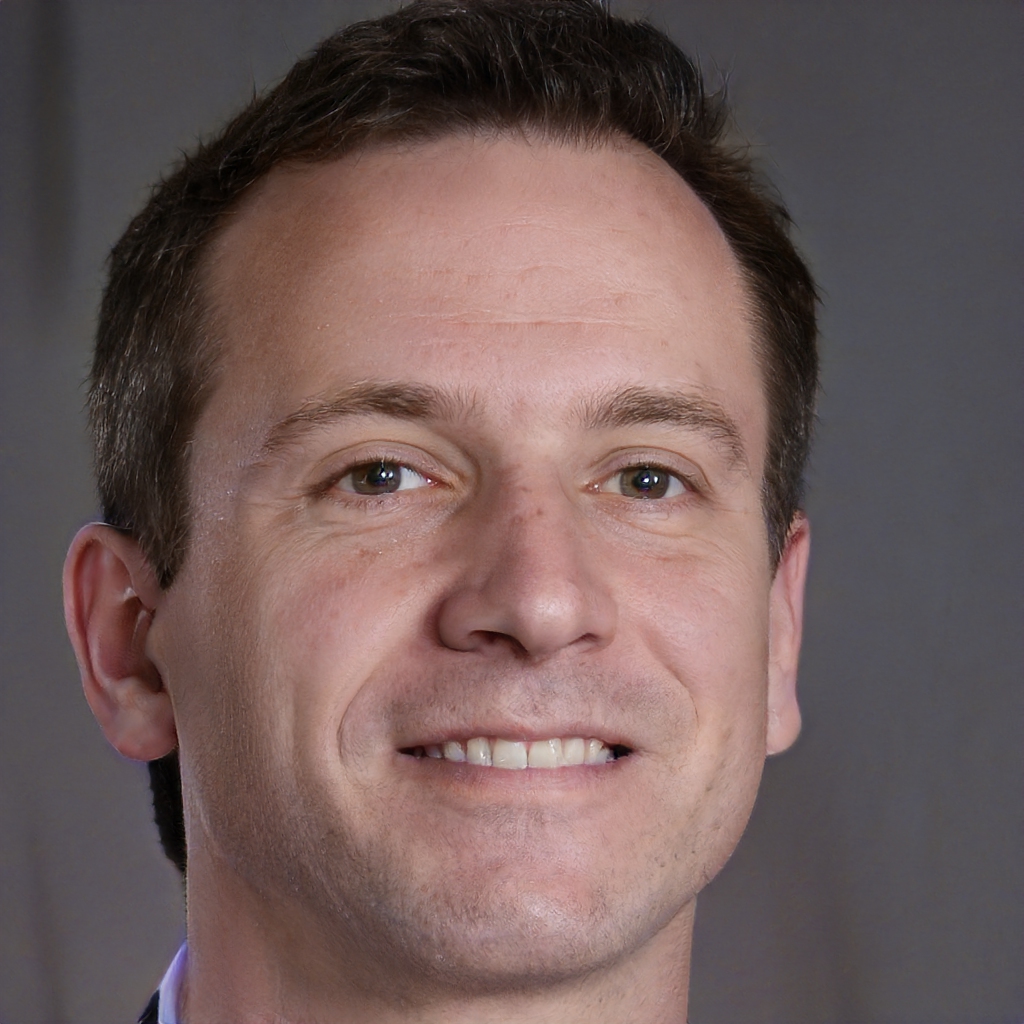 By Herbert Hanson
About Planet Hollywood Las Vegas
Formerly Aladdin, Planet Hollywood Las Vegas is a hotel plus casino owned by Caesars Entertainment; it is located on the Strip. Edwin S. Lowe, a toymaker and game entrepreneur, originally opened Tally Ho hotel on this property in 1963. It used to be the only major hotel located in Nevada, Las Vegas that didn't include a casino. Tally Ho hotel closed at the end of 1963 and Kings Crown Inns of America purchased it and reopened the property and renamed it King's Crown Tally Ho.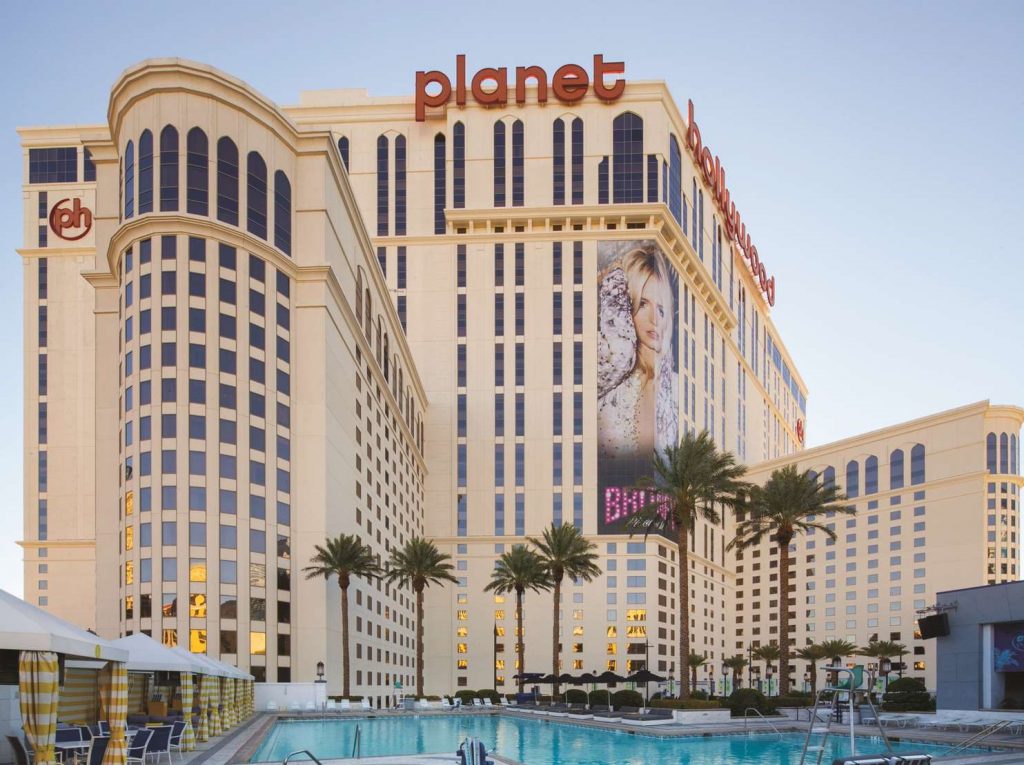 In January 1966, the hotel was sold to Milton Prell and started an extensive 3-million dollar renovation of the property and reopened it on April 1966 as the Aladdin. In 1972, a hotel tower with 19 stories was added. After several ownership changes, this hotel was closed in 1997. In 1998, the Aladdin was demolished to make room for the new Aladdin, which opened in August 2000. Due to financial difficulties, the new Aladdin was sold to a partnership of Starwood Hotels and Resorts Worldwide and Planet Hollywood, and the name was changed to Planet Hollywood in 2007.
In December 2009, Caesars Entertainment Corporation, which was formerly Harrah's, started its process to take over the property by purchasing some of the debt the resort had. Starwood Hotels and Resorts Worldwide dropped its affiliation on January 16, 2010 so that Caesars could take over the operations of the hotel. Nevada Gaming Commission gave Caesars the approval of taking over the property on February 18, 2010. On February 19, 2010, Harrah's officially became the owner of the property.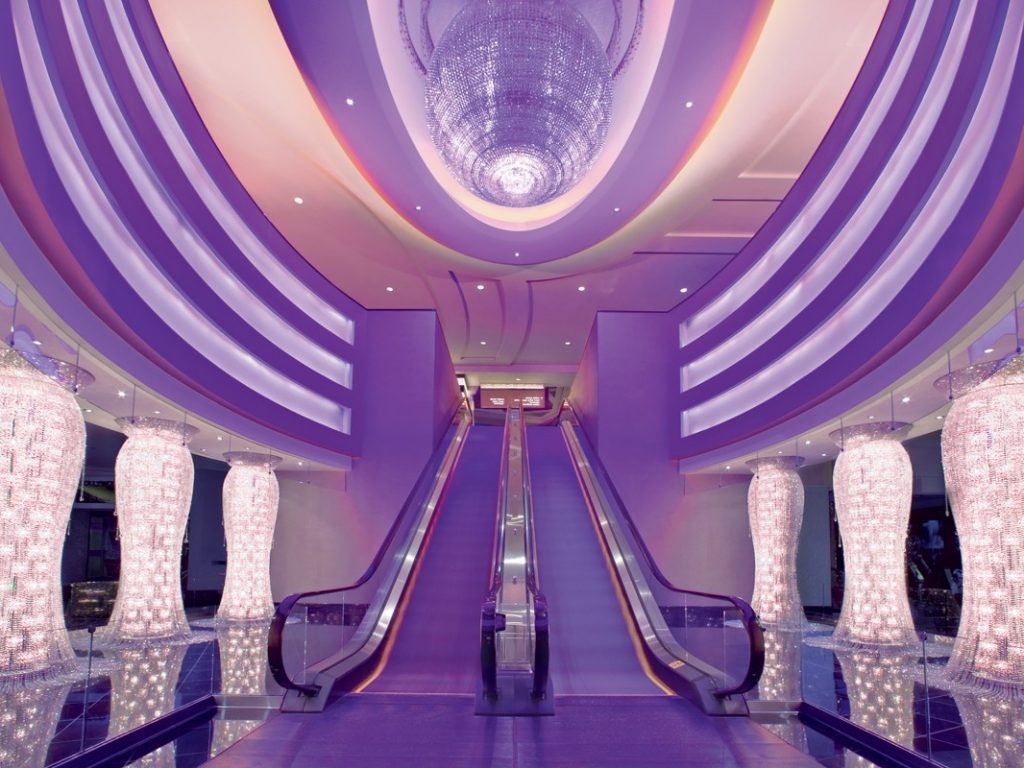 The interiors of Planet Hollywood Las Vegas are contemporary and overall it is an accessibly fashionable atmosphere. The main allure at Planet Hollywood Hotel and Casino Las Vegas are the big-ticket entertainment draws that rides a combined wave of nostalgia and youthfulness. Expect world-famous names performing every night plus a brash mix of dining and gaming options that epitomize the newer generation of Las Vegas resorts.
Location
Hotel Rooms
Planet Hollywood Hotel Las Vegas features 2,500 guest rooms that match with its Hollywood theme. The 400-foot tall resort has 37 floors (the final 2 floors being VIP). Each room in this resort is dedicated to a different movie like Backdraft, a 1991 drama thriller film written by Gregory Widen and directed by Ron Howard. Rooms feature actual memorabilia and props from the movie. The standard rooms start at 430 sq. ft. The luxurious "Panorama" suites have a view of the entire Strip.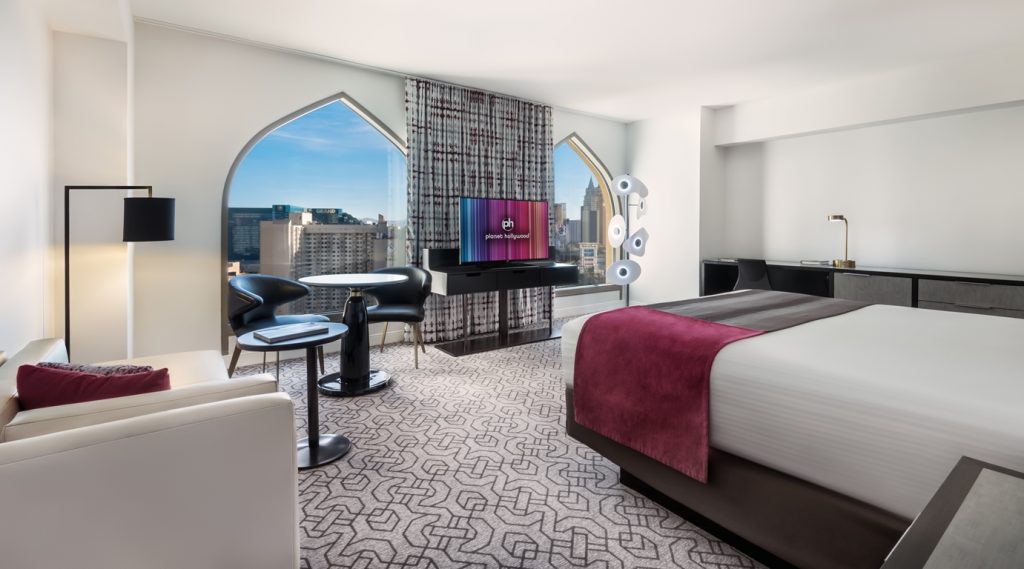 The Ultra-Hip King Room is located on the 25th floor; it has stunning mountain views. There are large, colorful and attractive fashion magazine-type posters framing the room. The color choices are bold and youthful, mostly blacks and reds for the bedding plus monochrome carpets and curtains. There is a long, comfortable sofa by the picturesque window. Also, the deep bathtub has a nice touch. In early 2017, Planet Hollywood Las Vegas completed a 100-million-dollar project to remodel the 2,500 rooms at the resort.
Spa and Fitness Centre
The Spa by Mandara at Planet Hollywood Hotel and Casino Las Vegas measures 32, 000 square feet. Hotel guest can enter for free while non-hotel guests enter for 35 dollars. The spa uses ancient Balinese rituals together with flower and plant-infused body treatments. In addition to its extensive menu of facials, body treatments, and massage, you will also find Salon By Mandara as well as a fitness center offering personal training sessions.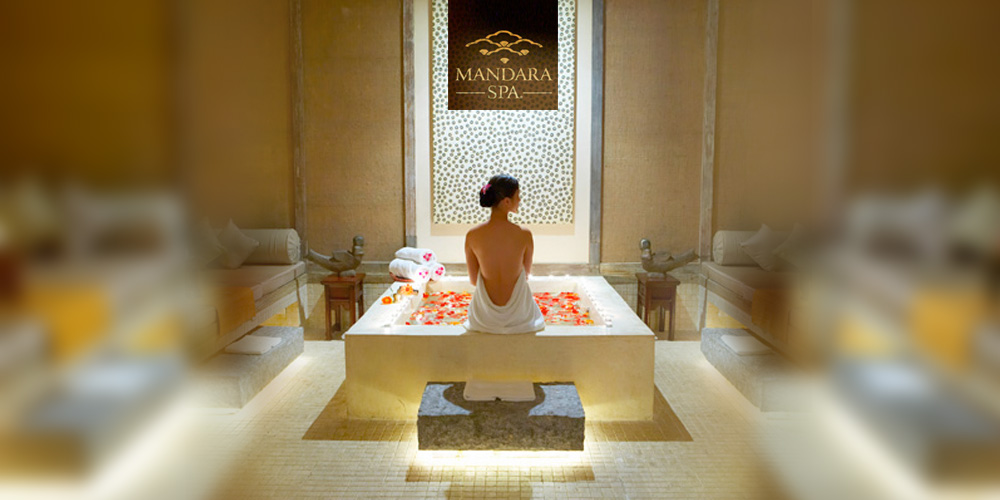 Venues
Zappos Theater at Planet Hollywood Las Vegas is the largest theater on the Las Vegas Strip and the country's largest theater of that kind. The auditorium was named one of the city's Best Concert Halls and Theaters in 2011. Visit Zappos Theater to enjoy the exceptional sound and shows from the globally-famous musical acts.
Entertainment
Bars and Lounges
There are lots of 24-hour bars at Planet Hollywood Las Vegas where you can go and enjoy a drink. The Heart Bar features all the elements of a hot Vegas party; for instance, they have live DJ-spun music and lots of flat-screen TVs, where you can watch the latest hits. The lounge-style booths in this bar make the seats feel like VIP. The circular bar is a great place for enjoying your beer while watching the crowd.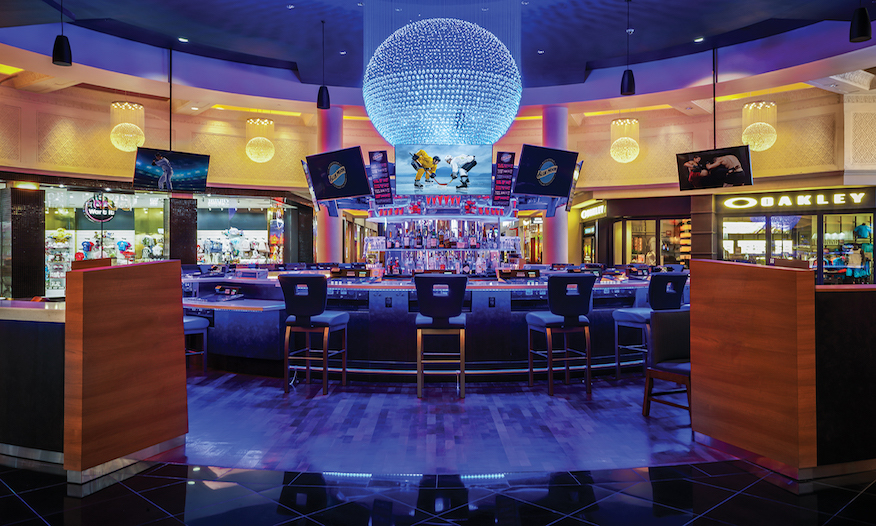 The open-air Extra Lounge Las Vegas is full of excitement, and it is a hot spot for extra correspondents to mingle, mix and interview celebrities. You can come here to listen to the latest music while enjoying a drink. PH Shiver Frozen Cocktails at Planet Hollywood Hotel and Casino Las Vegas is a great place to quench your thirst. You can order a 46-ounce frozen cocktail or a cold draft beer. This lounge offers delicious frozen cocktails in different flavors such as Classic Margarita, Pink Lemonade, Captain Crush, and Strawberry Rush.
The Blue Moon Bar at Planet Hollywood Las Vegas offers limited-release and seasonal craft beers only available at the Denver-based River North brewery owned by Blue Moon. If you need a more creative fix, this bar also has a wide selection of seasonal beer-based cocktails. Blue Moon Bar is equipped with multiple TVs, video poker machines, and lounge seating, making it the ideal meet-up spot.
Swimming Pools
You can access the pool at Planet Hollywood Las Vegas through the 6th floor. This area overlooks the Las Vegas Strip with an amazing view of the south and north. It features 2 hot spas and 2 pools, one of each in the North and South Strip. The one located in the North Strip area features VIP cabanas for rent. If you want a place to sit and eat while at the pool, there is a nice bar/grill/snack-bar with pool chairs.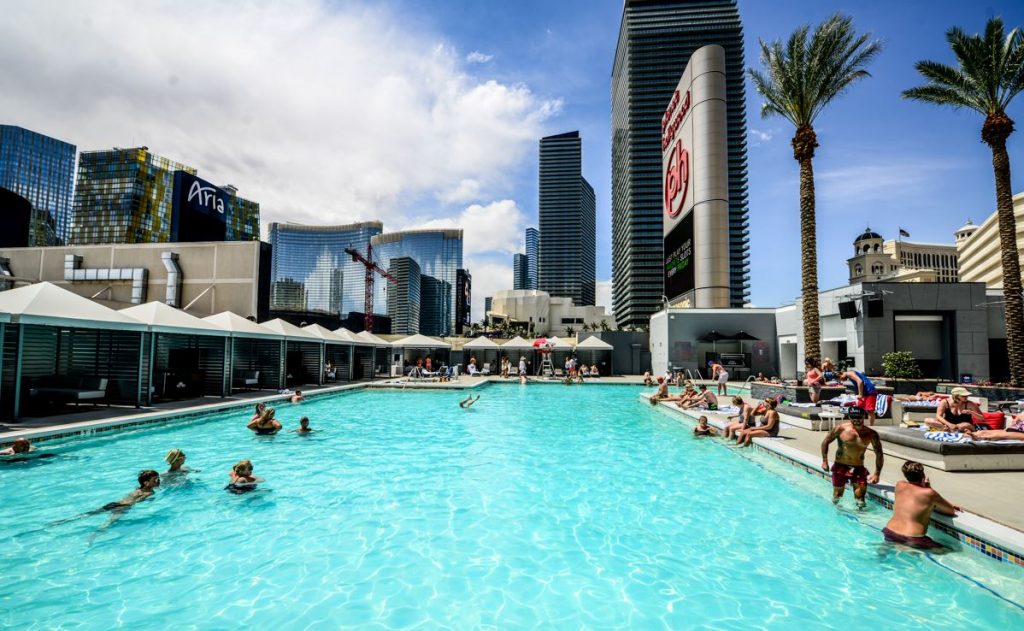 Shops and Boutiques
PH SHOPS at Planet Hollywood Las Vegas offer everything guests will need while in Vegas. You can visit these shops to pick up unique celebrity memorabilia, Planet Hollywood hotel merchandise, and sundries. Head over to PH 24 if you need snacks, drinks, the daily newspapers, or magazines. The shop also has one-of-a-kind souvenirs and unique Planet Hollywood apparel. PH Need It is another shopping venue for magazines, mints, gum, drinks, snacks, and more.
Miracle Mile Shops at Planet Hollywood Hotel and Casino Las Vegas features 200 shops, live entertainment venues, and tempting restaurants.
Coveted brands include:

White House/Black Market
Urban Outfitters
GUESS
M·A·C Cosmetics
Victoria's Secret, and more.
Backstreet Boys and Jennifer Lopez fans can go to the show merchandise store situated right across the Zappos Theater. Here, you can choose from a wide variety of T-shirts, key chains, and other dazzling souvenirs.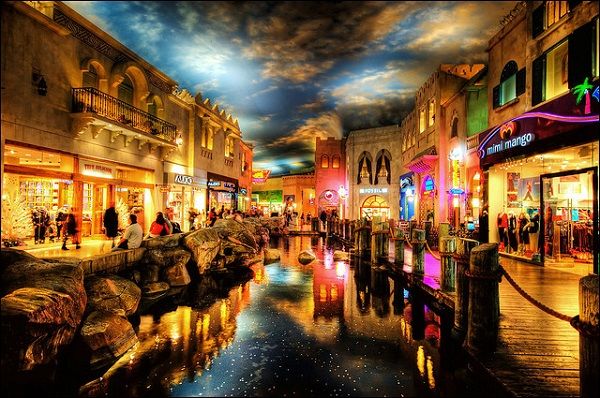 Shows
Fame lives at Planet Hollywood Las Vegas where celebrities and superstars, such as Gwen Stefani and Christina Aguilera, take the stage nightly to entertain guests with one of the best shows and concerts in Vegas. The resort features electrifying music, dance, plus comedy entertainment in its Vegas show offerings.
Gambling
The gaming floor at Planet Hollywood Casino Las Vegas measures 61,000 square feet. Go-go dancers entertain guests as they play table games at night. The casino also offers slots and has a racebook and sportsbook section.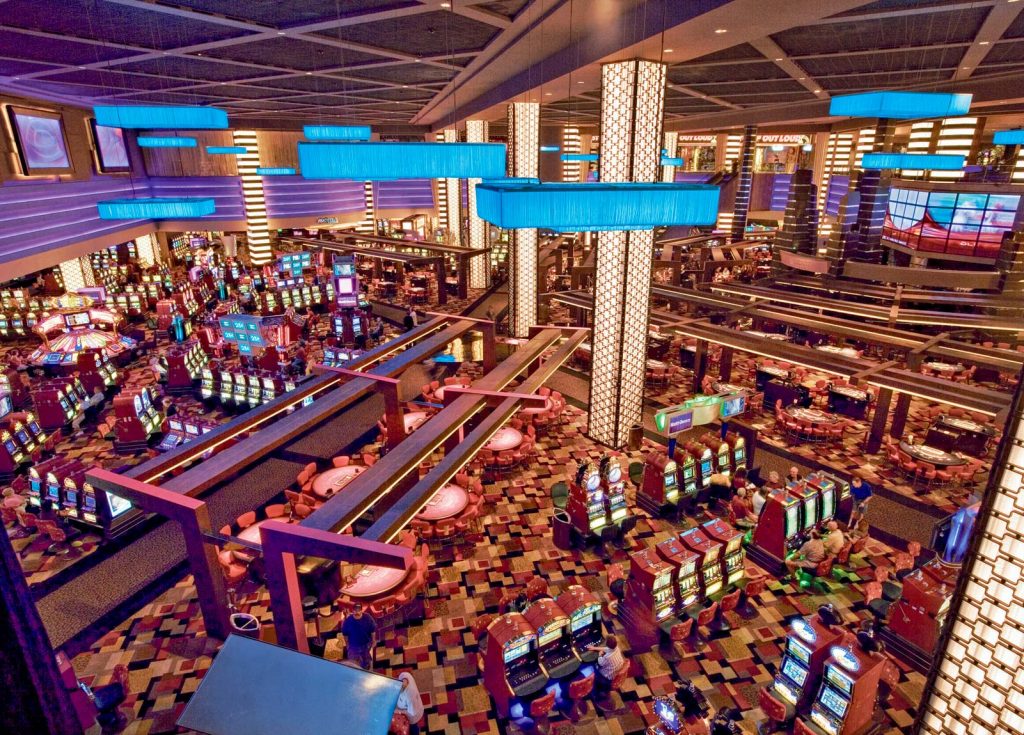 Blackjack
Planet Hollywood Las Vegas offers many blackjack tables spread throughout the main pit with odds of 6-5. They have 10 and 25-dollar minimum tables and the dealer has to hit on soft 17. You will also find 15 and 25-dollar tables with 3-2 odds; these tables have the same rules as the rules you will find at 6-5 tables. The casino also offers a 25-dollar blackjack table with 3-2 odds and several 5-dollar virtual blackjack games that come with a live dealer.
Roulette
If you love playing roulette, Planet Hollywood Casino Las Vegas has standard double zero roulettes with 10 and 15-dollar minimums. Additionally, the casino has a 10-dollar roulette wheel with 3 zeros. If you want to play a live-wheel virtual roulette, you can go to the slots where you'll find a 5-dollar game.
Baccarat
Planet Hollywood Las Vegas has one 15-dollar minimum mini-baccarat table on the main floor.
Other table games at this resort include Mississippi Stud, Ultimate Texas Hold'em, High Card Flush, Crazy 4 Poker, Let It Ride, and Three Card Poker, all with a 5-dollar minimum. There is a great selection of mixed games to keep players entertained.
High Limit Room
The high limit section for table games is large and secluded. It also has comfortable couches and chairs. The games here include blackjack and mini-baccarat with a minimum of 100 and 200 dollars. They offer double deck blackjack tables where the dealer always has to hit on soft 17. However, if you decide to play the 6-deck shoe, the dealer will stand on soft 17 and you can split aces even 4 times.
Slots
There are more than 1,200 slot machines spread throughout Planet Hollywood Las Vegas. You will find penny slot games, 1-dollar slot machines, and everything in between. They have some of the popular slot games, including Megabucks, Game of Thrones, and Dragon Spin. The high limit slot section is located in a very quiet, secluded corner. You can find 1-dollar machines in this section, but the limits are usually 5, 50, and 1000 dollars. Most of the slot machines in the high limit room are new video reel machines.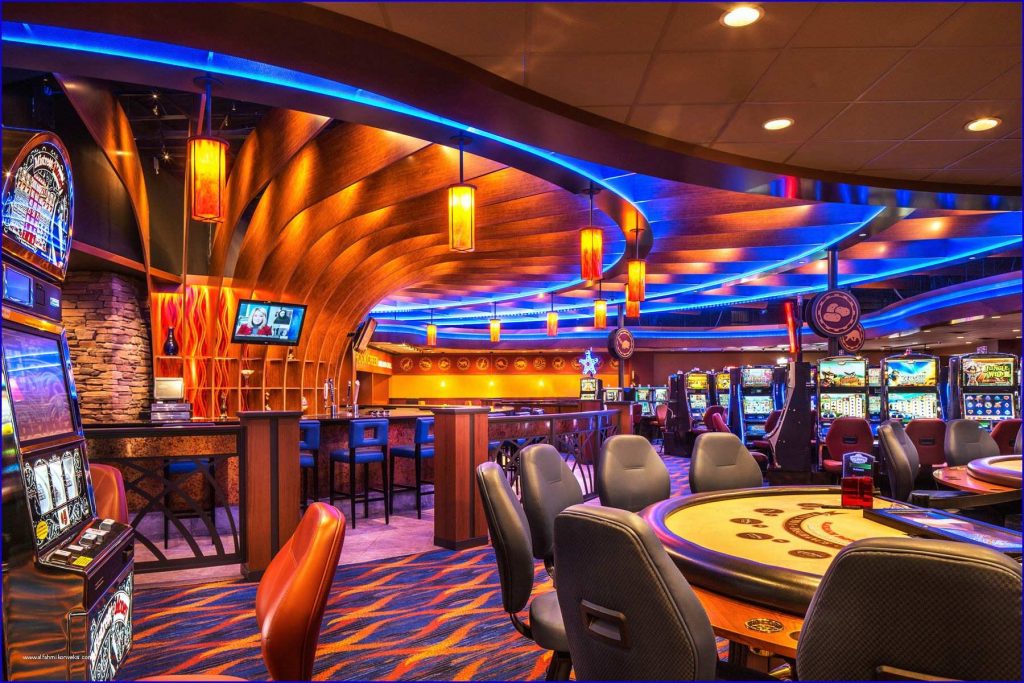 Poker Room
The poker room at this resort is located in the center of the casino, which gives the whole casino a club-like ambiance. The 12-table poker room is cozy and fun. If you are looking for a fun, casual poker room on the Las Vegas Strip that offers lots of tournaments and promotions, the poker room at Planet Hollywood Las Vegas is the best place to go.
They offer $1/$2 No Limit Hold'em with a buy-in of $100-$ 300. Sometimes, upon request, they offer a Pot-Limit Omaha game. You can also find the $2/$5 No Limit Hold'em, with 200-dollar minimum and no maximum, running during the night on busy weekends; it's also available during the WSOP.
During the WSOP, the casino runs a large tournament called The Goliath. There are also 5 daily tournaments: the 10 p.m., 4 p.m., 1 p.m., and 10 a.m. tournaments have an 80-dollar buy-in plus a $1,500 guaranteed prize pool. There is a bounty tournament (25 dollar bounty) at 7 p.m. with 130-dollar buy-in, and every Sunday it is 135 dollars with a 10,000-dollar guaranteed pool.
Video Poker
Planet Hollywood Las Vegas has lots of video poker machines, which is one of the ways you can get comped drinks at the resort's bars. There are several multi-game machines you will find in the poker room that have limits of one quarter, 50 cents, 1, 2, and 5 dollars. Most of the video poker games are one area near Café Hollywood with betting limits ranging from 10 and 5 cents per credit.
Sportsbook
The sportsbook at Planet Hollywood Las Vegas has lots of TVs and there is plenty of seating. If you are a race book bettor, you can go to their racebook and place your bets. Races are displayed every day on their 2 jumbo screens with the sound coming directly from the track.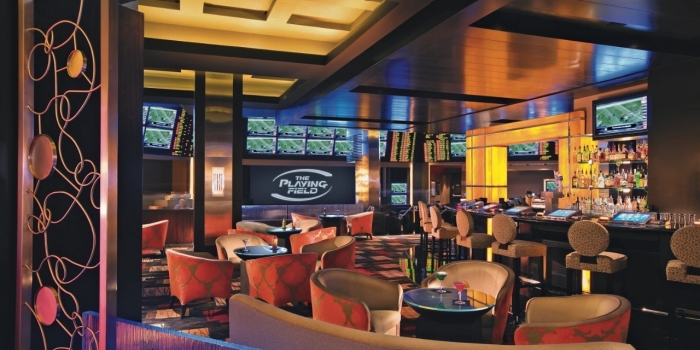 As for the sportsbook bettors, they can check out their extensive selection of future Vegas sports book wagering. It includes auto racing, hockey, baseball, pro and college basketball, pro and college football, and more.
Restaurants
There are many places to eat offering a large selection of affordable food. Café Hollywood is always open 24/7. The casual options include YOLOS Mexican Grill, P.F. Chang's, and Gordon Ramsay Burger. For something quick, head over to Pink's Hot Dogs or Earl of Sandwich, where you'll find sandwiches with options like the Earl's Club with bacon, turkey, and Swiss, or horseradish sauce, cheddar, and roasted beef. The Sandwiches at Earl of Sandwich are made with fresh-baked, artisan bread plus the finest ingredients.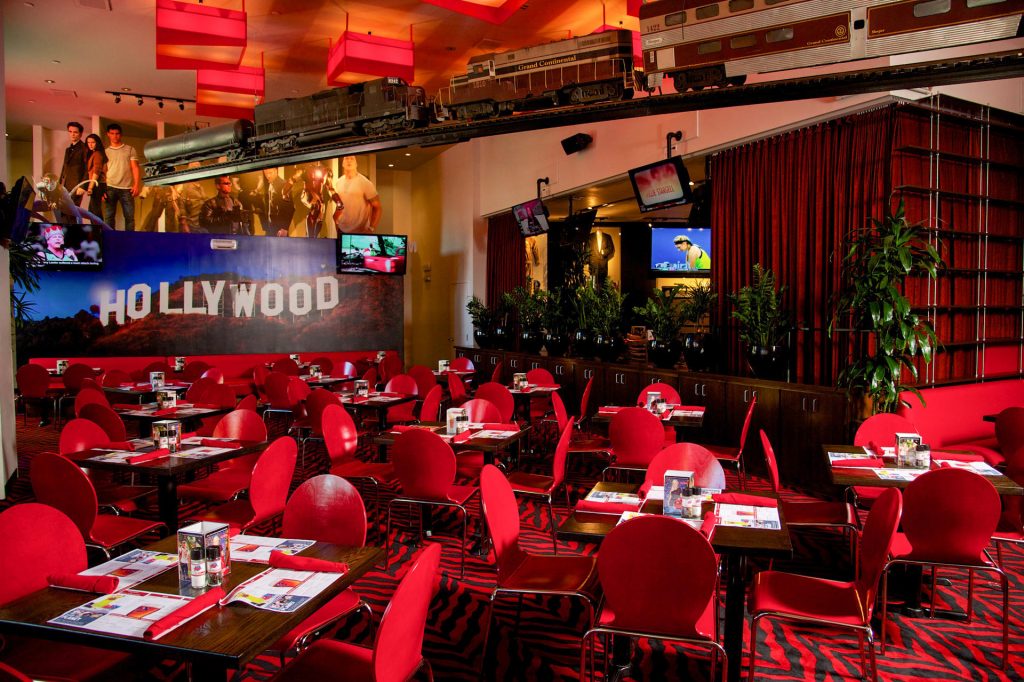 If you want something exquisite, the high-end restaurants at Planet Hollywood Hotel Las Vegas are always open for dinner only. They are located on the mezzanine floor. Strip House Steakhouse has a reasonably priced menu with a large selection of seafood and Koi is also a great value Japanese restaurant offering evocative dining rooms that will transport guests from the casino floor.
Koi mixes sultry Asian design components with Hollywood energy and style. Strip House's dishes and decor create one of the best steakhouses on the Strip. It features red decor, mood lighting plus vintage black and white photos of captivating women from the 1900s.
Conclusion
If you want to go all-out Vegas shopping spree or you need entertainment, a place located on The Strip where you can have a drink, eat or have fun gambling, Planet Hollywood Las Vegas has you covered. They also offer great event spaces and guest rooms with amazing views of the Las Vegas Strip.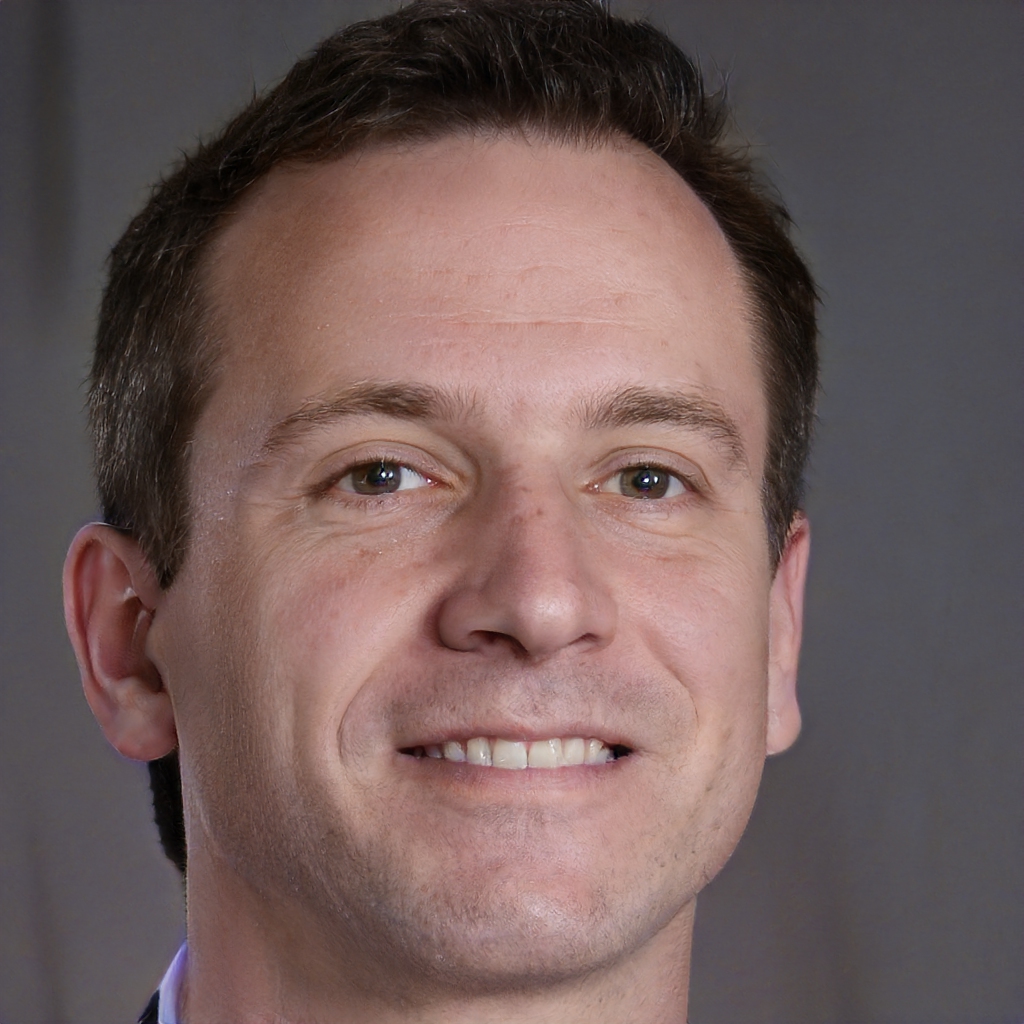 Author
Herb has spent years working in the gambling industry, helping to provide gambling entertainment. He started from the land-based casino and then moved to the iGaming industry and joined our team as an author with great knowledge of the Las Vegas casino industry. His unique approach is the key to our content creation strategy. Do you need the latest bonuses and promotions; Herbert Hanson is your man with great knowledge.