About Park MGM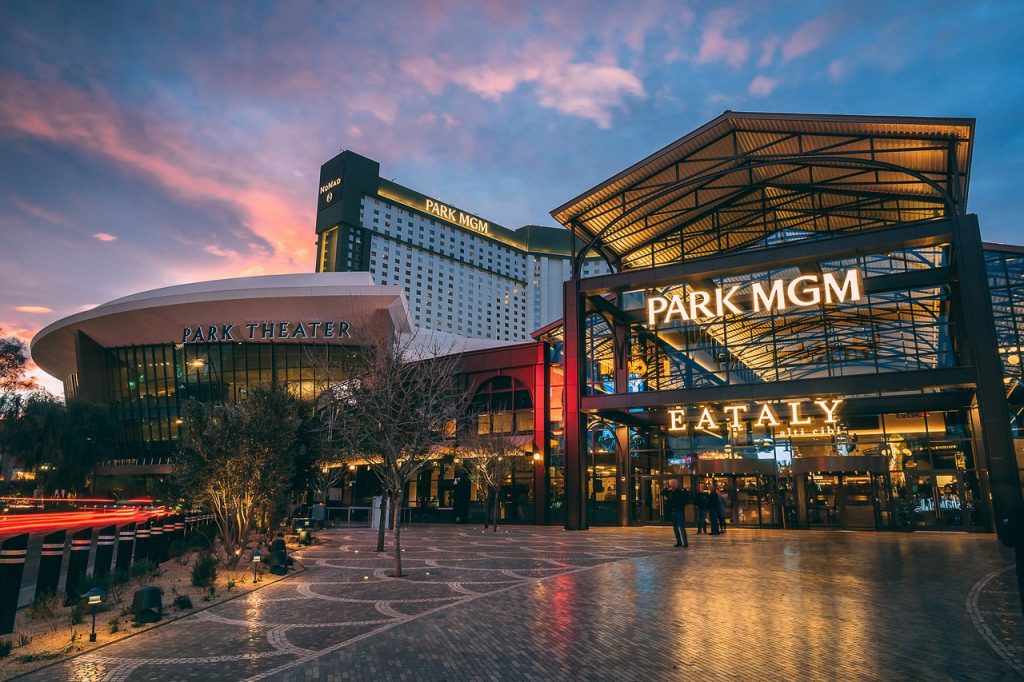 Park MGM Las Vegas is situated on part of the site where the Dune hotel and golf course was located. In 1992, Mirage Resorts bought the Dunes and closed it in early 1993. On May 1994, Gold Strike Resorts and Mirage made an announcement about a joint venture to construct a 250-million-dollar hotel-casino targeting budget-conscious guests, on 43 acres of the Dunes site. In March 1995, the ground was broken for this hotel. In June 1995, Gold Strike was acquired by Circus Circus Enterprises and the company took over its role and started managing the project.
On June 21, 1996, Monte Carlo opened its doors to the public. The cost of building the project was $344 million. The Park Theater with 5,200 seats located at the Monte Carlo hotel-casino was built and opened at the end of 2016. The park had residencies by Cher (Classic Cher) and Ricky Martin (All-In).
When Monte Carlo was rebranded and called Park MGM Las Vegas, it was named after The Park, an entertainment and dining district that opened to the public in April 2016. The upper floors were converted into NoMad Las Vegas, a boutique hotel that features a new Eataly restaurant. On May 9, 2018, the property name was officially changed to Park MGM.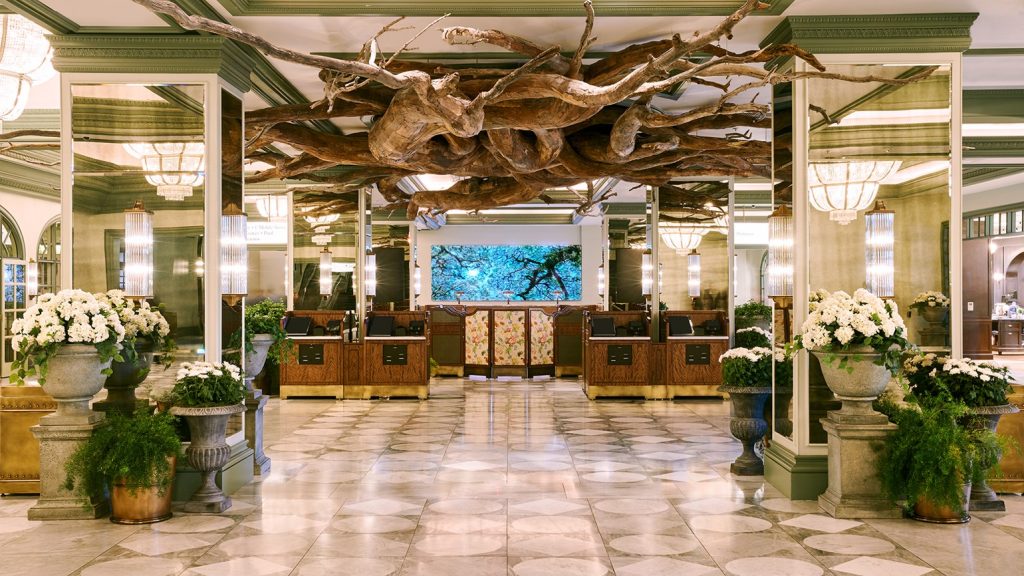 This MGM reincarnation certainly feels like an amazing natural evolution, and it has understated beauty with more stylish, adult feel than most of its peers located on the Las Vegas Strip. The elegant interior design mixed with impressive, thoughtful bars and restaurants makes for a remarkable but mature ambiance.
Location
Hotel Rooms
Park MGM Las Vegas hotel offers more than 3,000 rooms, including 259 luxury suites. Rates fluctuate based on the time of year you visit, but you can get its regular guest room for less than 100 dollars plus a 42-dollar resort fee. This fee includes pool access, fitness center, Wi-Fi, and more. AAA members are given a 10-percent discount off the guest room rate.
The standard remodeled Park MGM Las Vegas Hotel room measures 406 sq. ft. Also, you can get a guest room of the same size with an amazing view of the Las Vegas Strip. Nightingale and Nighthawk suites are reserved for VIPs, and each measure 700 sq. ft.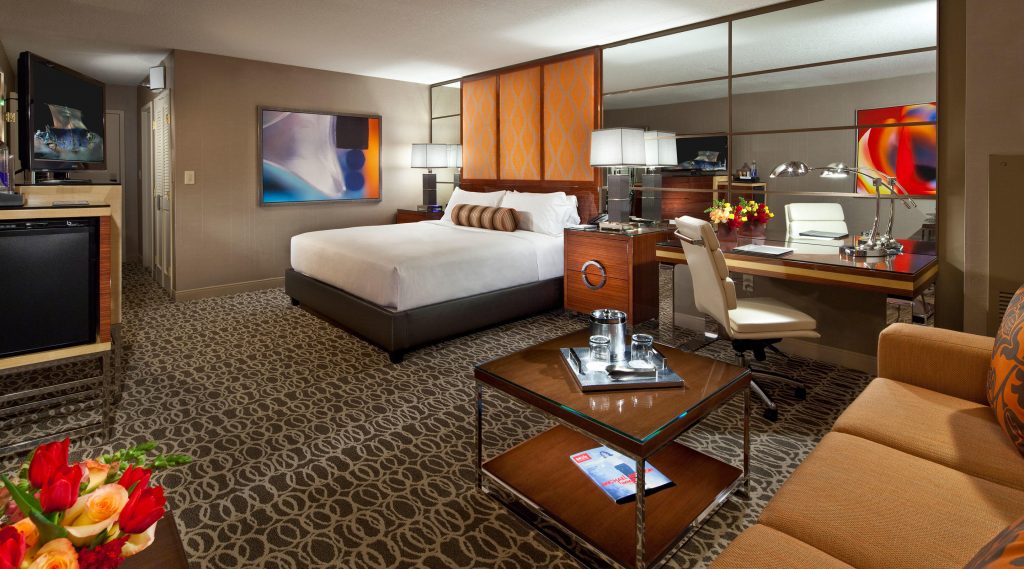 The Park MGM Las Vegas Hotel Kings offer you a blend of classic and modern design. They have a feel of an elegant studio-style Junior Suite; they feature entertainment books with comfortable sofas by the window plus sizeable cocktail tables. The dark green and white décor notes and a uniquely curated in-room art display that does not feel pretentious are pleasing and palpable. The tile and marble bathrooms are reassuringly modern, which completes the 'no-frills' yet confidently class style.
Spa and Fitness Centre
Park MGM Las Vegas spa has facilities like a steam room, sauna, and jacuzzi, all of which guests can use them for a 30-dollar service charge. The fee is waived when you book a spa service. The services offered at this spa include hair care, massage, facials, nail service, body services, and hair removal. The new fitness center is located on the second floor. It is always open 24/7 for hotel guests who want to work out.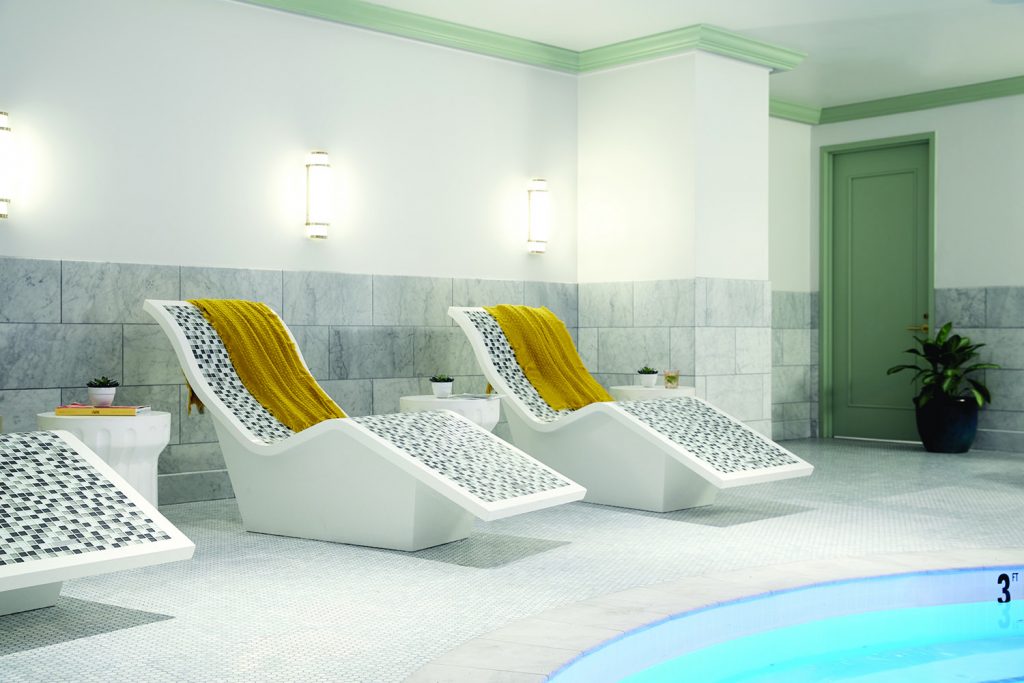 The fitness center has a wide range of cardio equipment plus free weights, treadmills, bikes, ellipticals, and other ultra-modern machines to work your muscles. There is a separate room for self-led fitness routines and yoga.
Venues
The Park Theater, an indoor amphitheater, has a 6,400 capacity (5,200 for residency shows), which makes it the second largest theater located on the Las Vegas Strip. The venue is 150,000 s. ft. with a 7,500 sq. ft. proscenium arch and a 135′ by 40′ stage. The theater was designed to ensure the back row was just 145 ft. from the stage. Also, it includes a huge 80′ by 40′ 4K-LED screen. The 90-million-dollar theatre hosts residences, concerts, conventions, award shows, sports and it's adjacent to the Toshiba Plaza and T-Mobile Arena.
Entertainment
In addition to Moneyline, Double Barrel, and Bavette's, there are also other bars spread throughout Park MGM Las Vegas that offer video poker such as ignite, which is open 24/7. You can also head over to Juniper Cocktail Lounge and enjoy the hand-crafted cocktails they are offering in a serious space about kicking back since it's about cocktails. The lounge was named after juniper berries, which is the main ingredient of most gins, and it's home to the city's largest collection of gin.
The menu consists of a curated cocktail program created using syrups and house-made juices together with spirits menu selected in a highly proficient manner.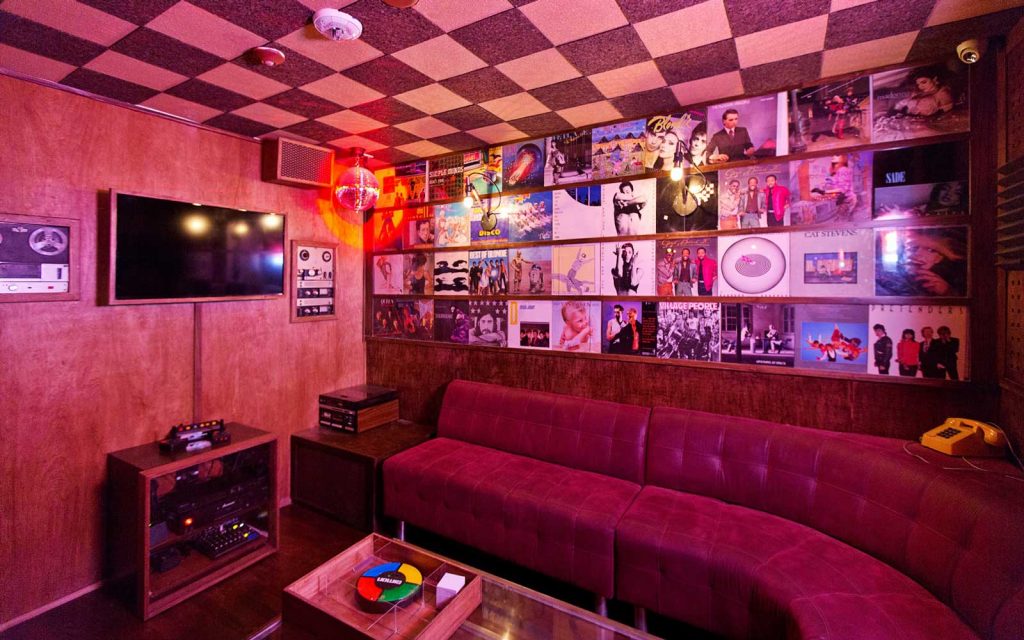 Swimming Pools
You can chill out at the pool and make new friends, party in a cabana, take a siesta on a day bed, or enjoy music while taking a swim. You can also enjoy craft drinks and fresh bites by the pool. There are 3 pools, 2 bars by the pool, and a heated hot tub plus lots of places for lounging.
Pool service often includes a Park Punch or Frosé. You can also have Watermelon and Arugula Salad or the Fajita Chicken Nachos plus a craft beer. You can reserve seats with extra perks; there are also daybeds located in prime spots by the pool ideal for couples. Baja Ledge Chairs allow guests to lie back, relax and enjoy the sun and water. The Park Bungalow comes with exclusive amenities plus space for up to twenty guests.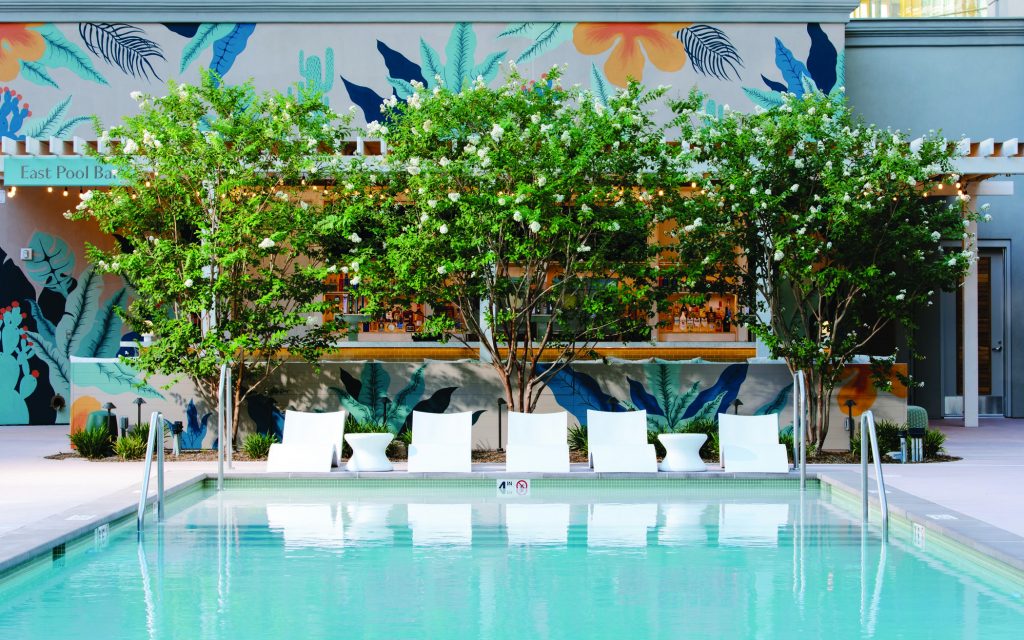 Shops and Boutiques
Shoppe at Park MGM Las Vegas provides guests with essentials as well as a diverse mix of unique and interesting items. The curated selection includes groceries, cold beverages, wines and spirits, snacks, and travel essentials. Additionally, Shoppe has beauty and wellness products, which you can mark with your own personal touch. This is the best place to get an essential you forgot when packing or a gift to take home.
Art Walk Wednesday
Park MGM Las Vegas walls are lined with a collection of art that pays tribute to nature through the Nevada desert and urban parks lens. Artists represented in the art collection come from all over the world. On Wednesdays at 10 a.m., you can enjoy the curated tour of the art collection and installation.
Park MGM Las Vegas curates a wide variety of collections of works executed by renowned artists from different parts of the world to complement the new resort experience that was inspired by natural landscapes classic European gardens. In collaboration with Sydell Group and MGM Resorts International, be-poles, a design studio that has offices in NY and Paris, brought together an impressive mix of existing and commissioned works to form a global visual narrative that has elements of surprise, featuring artists like Shahram Karimi, Shoja Azari, Henrique Oliveira, and David Hockney.
Shows
You can also enjoy outdoor concerts and shows at Park MGM Las Vegas throughout the year performed by popular artists such as Bruno Mars, Lady Gaga, Janet Jackson, and Cher, who is a Golden Globe, GRAMMY, Emmy and Oscar-award-winning pop star.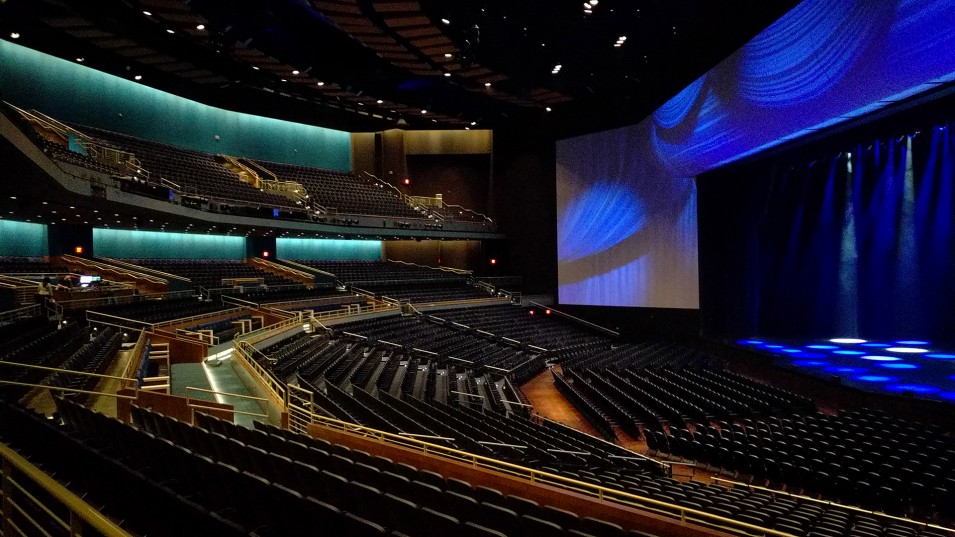 Gambling
Park MGM Las Vegas casino has a gaming space that measures 102,000 sq. ft. A decent selection of table games is available in 2 different sections. Slots are spread throughout the place and there is also a sportsbook.
Roulette
Roulette is one of the most played table games at Park MGM Las Vegas casino. You will find roulettes with a 10-dollar minimum bet and the standard two-zero wheel. Also, you can enjoy a triple zero roulette at this casino or you can go to the slot section and play the virtual roulette game with a $3 minimum that comes with a live wheel.
Blackjack
If you love playing blackjack for real money, you can enjoy this game at Park MGM Las Vegas casino. The resort offers quality blackjack gaming. The game pays 6-5 and the house dealer hits soft 17 at all blackjack tables. For guests who love playing single deck blackjack, Park MGM Las Vegas casino has a 25-dollar minimum table. If you would like to play other variations of blackjack, you can try blackjack Switch. There is also a 3-dollar blackjack game by the slot section for guests who prefer playing small amounts.
High Limit Room
Park MGM Las Vegas high limit table games section is near the high limit slot section and gaming floor. If you love playing baccarat, there is a mini-baccarat table that starts at 100 dollars. There are 5 blackjack tables in the high limit room with a 100-dollar minimum. The rules are the same, except that the dealer must stand on soft 17 and double-deck is also offered.
Craps
Park MGM also offers Craps with the standard 3-4-5 odds and a $10 minimum. There is also a 2-dollar virtual craps game in the slot area, where you have to push a button to shoot the dice.
Sportsbook
Park MGM Las Vegas brings a different atmosphere for those who love sports betting with its Moneyline Bar and book. The layout is classic and the sportsbook offers a warm and cozy environment. You will easily find the cashier and betting board because it's just right up front.
Inside the Moneyline sportsbook, there is a cozy room that has banquettes, high-quality TV's with big screens, and a billiards table. This is a great place to watch the games when you do not want to sit in the dining area or at the bar.
If you want something to eat, you can head over to Moneyline Deli. For every 100 dollars you bet on any game, you will be given a drink ticket. You can bet over the counter or you can bet on games after they have started (live betting). To start live betting, you have to open an account at the cashier. It's free, fast and once you have registered, you just download their sports betting app called PlayMGM and you are good to go.
Slots at Park MGM
Park MGM Las Vegas has around 1,400 slot machines spread all throughout the main floor. Most of these slots are new and some of the popular and unique slot games that you will find include Walking Dead, Animal House, Zorro, Avatar, Breaking Bad, The Simpsons, Top Dollar, Buffalo Stampede, and Wheel of Fortune. Wagers start at one penny and increase in small amounts up to one dollar.
The high limit slot section is secluded and has its own entrance and bathroom. The limits start at one dollar and go to 5, 20, 25 and 100 dollars. You can also play video poker at the high limit slot section starting from a quarter up to one and 5 dollars.
Video Poker
There are more than twenty video poker games at Park MGM. You can play different varieties of video poker with 98.01 percent payback for Bonus Poker and 99.5 percent for Triple Double Bonus.
Restaurants
There are more than ten dining options at Park MG. The flagship spot is certainly the Bavette's classically elegant steakhouse; you'll also have a taste of delicious seafood, enjoy the glowing chandeliers, live jazz, and a full wine plus cocktail list.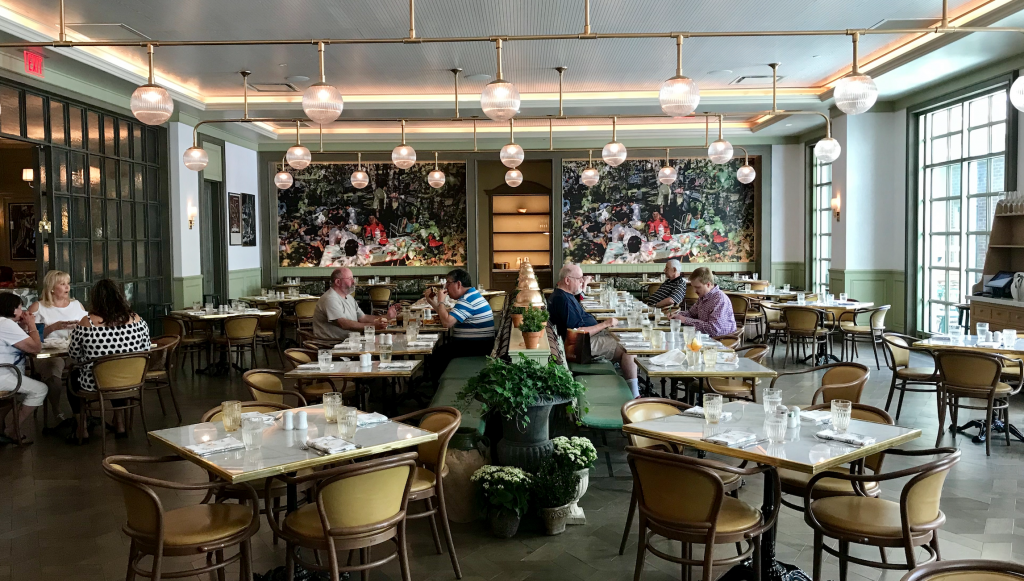 Eataly, a large food court of more than a dozen Italian delicious food from gelato to pasta, is well worth exploring. The playful, charming Best Friend by Roy Choi, where you can get contemporary Korean dishes, is also a definite recommendation. There is classic American fare at NoMad, which is set in a classy soaring space. For casual Asian options, go to La La Noodle restaurant. If you are looking for a place to have breakfast, Primrose is the ideal spot; it serves egg dishes and pancakes.
Conclusion
If you are looking for a classic place where you can rent a guest room, gamble, and shop or just have a fun night out while enjoying your favorite drink and music, Park MGM Las Vegas is the ideal place. The resort is family-friendly, has access for visitors with disabilities and is well worth the money you will spend on while in Vegas.
About the Author