Palazzo Overview
The Palazzo Las Vegas Hotel and Casino is a luxury hotel plus casino resort situated on the Strip, adjacent to The Venetian. The 2 are sister properties owned and operated by the casino and resort company Las Vegas Sands Corporation. It's the tallest completed building located in Nevada. The resort was designed by HKS, Inc., an international architecture firm based in Dallas, Texas. The all-suite hotel has the Strip's largest standard accommodations at 720 sq.ft. per guest room, and the hotel complex is also the world's second-largest hotel.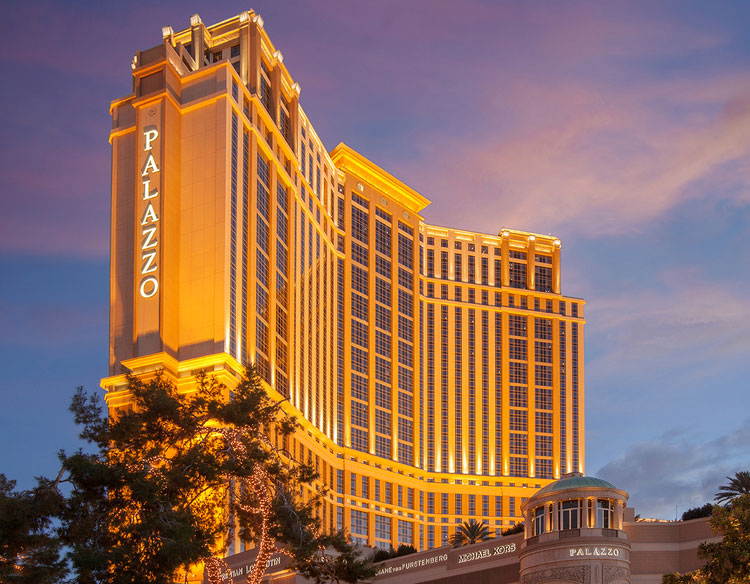 The 8-room Park Lane Motel called Ottilia Villa Motel and Maggie's restaurant occupied the property by 1949. In 1953, The Carousel Motel opened to guests on the property. Around 1954, Park Lane Motel, located adjacent to the Carousel, was incorporated into this motel. In 1957, the name of The Ottilia Villa was changed to the Spanish Trail Motel. In 1959, the 100-roomed Tam O'Shanter motel was opened; it closed in 1960 and reopened in 1962 as the Imperial 400 Motel.
In 1973, the Carousel became a motel called the Sand Dunes Motel, which was demolished in the year 1998. The Imperial 400 Motel became a Days Inn in 1990, which became the Vagabond Inn in 1996.
In June 1997, Bernie Zeldin, the owner of the motel, finalized a 12.5-million dollar deal to sell the motel to Las Vegas Sands, founded by business magnate and investor Sheldon Gary Adelson. In 1999, Las Vegas Sands opened Venetian resort. Venetian officials bought 11.4 acres of land; this includes the Tam O'Shanter, which was purchased in October 1998.
Tam O'Shanter was operated by Leah Zeldin (Zeldin's daughter) until it was closed. On December 2003, Zeldin's family was notified about the Venetian's plans of demolishing the motel to give way for a future project called The Venetian Phase II, consisting of a billion-dollar resort with 3,000 hotel rooms.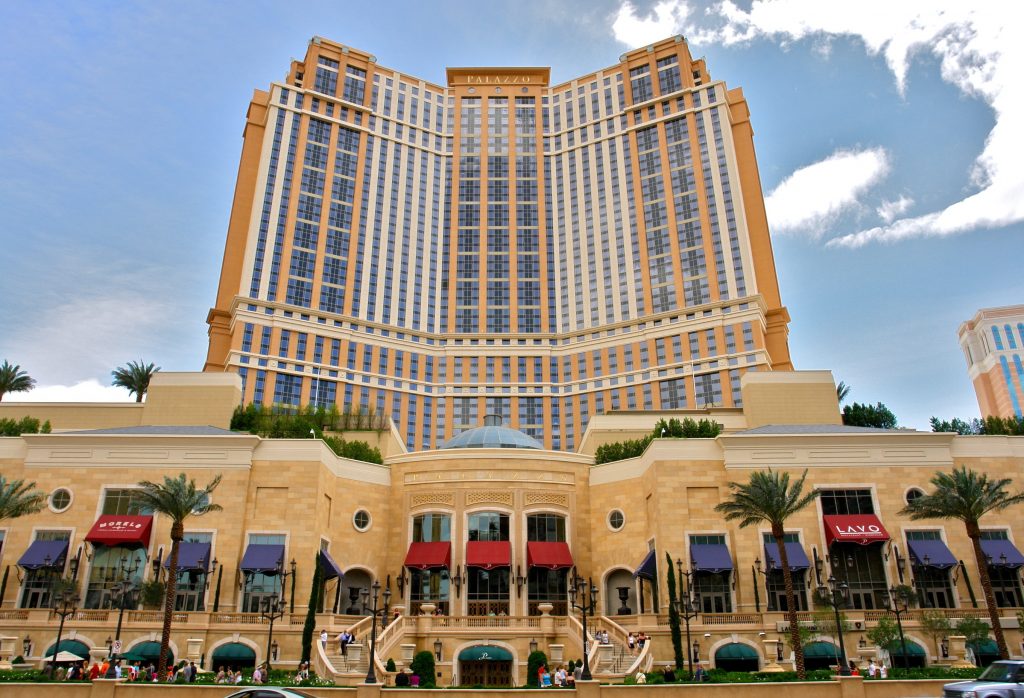 Foundation work on the 1.6-dollar The Palazzo Las Vegas Hotel and Casino started in September 2004. On December 30, 2007, parts of this resort opened to the public. The official grand opening of this resort was on January 17, 2008. After its completion, it became the country's largest building with its floor space covering 6,948,980 sq. ft. The resort has sophisticated touches like its Renaissance-tinged atrium, which attracts people who come to admire the building.
Location
Hotel Rooms
There are 3,068 Palazzo Las Vegas suites, with the rooms starting at 720 sq. ft. This is an all-suite property, meaning that even the entry-level accommodations at this resort are something to behold. The clock at this resort is almost double the size of standard hotel rooms in Las Vegas. The rooms feature oversized padded headboards, gleaming counter tops, and comfortable velvet sofas.
The contemporary light fittings and art have a stylish restraint to them. The remote-controlled curtains and shades will make relax like a movie star. The bathrooms boast Roman tubs and twin sinks along with stand-alone shower units and Agraria toiletries.

The Bella Suite at The Palazzo Las Vegas Hotel features two queens, while the Luxury Suite features one king. Room rates start at 239 dollars on weekends and 150 dollars on weeknights. There is also a 25-dollar night resort fee. Other resorts available to guests include Siena, Prestige, and Fortuna. While being a high roller several large suites will be reserved in advance.
Spa and Fitness Centre
The 134,000-square-foot Canyon Ranch spa and fitness center is one of the largest spas in the world, with over 90 treatment rooms and exclusive amenities. You can choose from over 150 extraordinary services. You can attend their fitness class or let a personal trainer help you work out. Additionally, you can choose to enjoy in-suite services for couples or individuals that Canyon Ranch treatment specialists provide in your hotel room. You can also go to the Salon to get that dazzling new look. The spa also has a 40-foot rock climbing wall.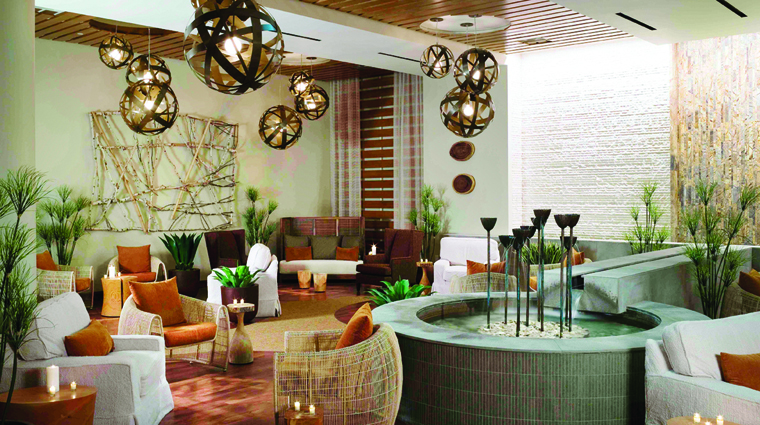 Venue
The Palazzo Las Vegas Hotel and Casino is the ideal venue for meetings and weddings. The resort shares a 100,000-square-foot meeting space with the sister property The Venetian. Their virtual planner allows you to explore, customize and visualize the ideal space for your trade show, convention, and meeting needs.
Entertainment
There are 2 casino bars at The Palazzo Las Vegas Hotel and Casino. The Palazzo makes it easy for guests to enjoy late-night or early-evening drinks on the Strip without going outside the resort.
Lavo is one of the most popular nightclubs on the Strip from the creators of TAO Beach, TAO Nightclub, and TAO Asian Bistro. Located at The Palazzo Las Vegas Hotel and Casino, Lavo has become a celebrity haunt in Vegas that has hosted numerous star-studded evenings. You can enjoy a pre-dinner cocktail at Lavo in a sexy and warm environment.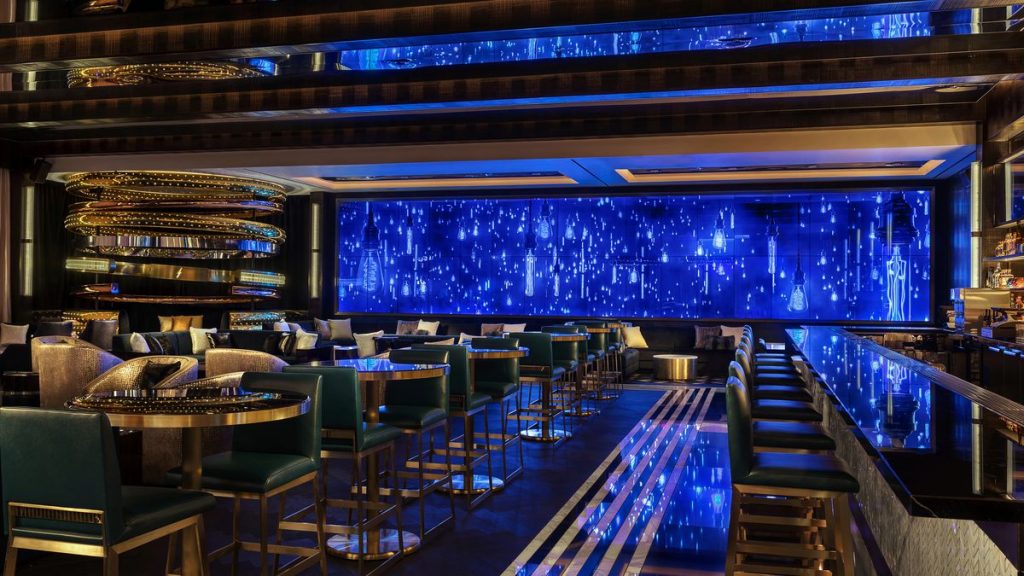 Before dinner service, many restaurants at this resort open their lounges and stay open until late. Sushisamba and Dorsey are some of the restaurants with nice bars that serve their specialty house cocktails plus beverages. Lagasse's Stadium is a sports bar with stadium seating and tons of TVs. If you want to sip whiskey, head over to Double Helix Wine and Whiskey Bar.
Dal Toro Las Vegas
Dal Toro Las Vegas is a Las Vegas Car Museum inside Dal Toro restaurant. It features exotic automobiles displays from automakers, including Koenigsegg, Saleen, Spyker, and Bugatti. The 20,000sq. ft. showroom is decorated with vibrant artwork, rich leather wall coverings, and Italian-imported tile and marble flooring. The space was initially Lamborghini Vegas dealership.
The Waterfall Atrium
The Waterfall Atrium at The Palazzo Las Vegas Hotel and Casino will make you forget that you are steps away from 2 major casinos on the Strip. The colorful indoor garden at this resort offers a refreshing break from the action with thoughtful displays, natural lighting, and a beautiful arrangement of foliage and flowers.
The Waterfall Atrium is the perfect spot for taking a stroll while enjoying nature. A cascading 2-story waterfall that has escalators on both sides provides a delightfully charming backdrop. The Palazzo Las Vegas and Venetian's skilled floral horticulture team change the atrium seasonally for Chinese New Year, winter, fall, summer, and spring.
Swimming Pools
The Palazzo Las Vegas Casino features pools where guests can enjoy a refreshing swim. The pool deck offers cabanas rich in amenities and a Lounge Pool that comes with one foot of water. When temperatures start cooling down, heated pools are available to keep the guests warm while they enjoy the pools.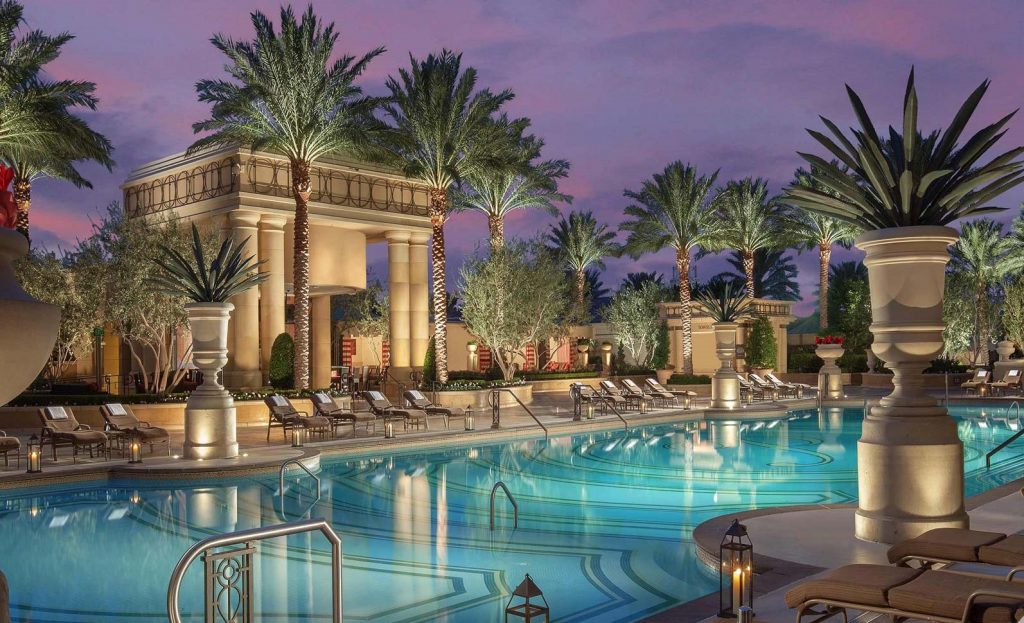 Shops and Boutiques
The Grand Canal Shoppes is a premier destination for Vegas luxury shopping. The only Barneys New York in Nevada anchors an 85,000 sq. ft. emporium to display their impeccable fashion. The Shoppes are definitely more than a Vegas shopping mall, featuring more than 160 signature stores with tons of luxury brands. The upscale boutique stores you will find at Grand Canal Shoppes include Charriol, Anya Hindmarch, Catherine Malandrino, Christian Louboutin, Burberry, Michael Kors, Bulgari, Bottega Veneta, Chloè, Diane von Furstenberg, Piaget, Cole Haan, Jimmy Choo, and Ralph Lauren.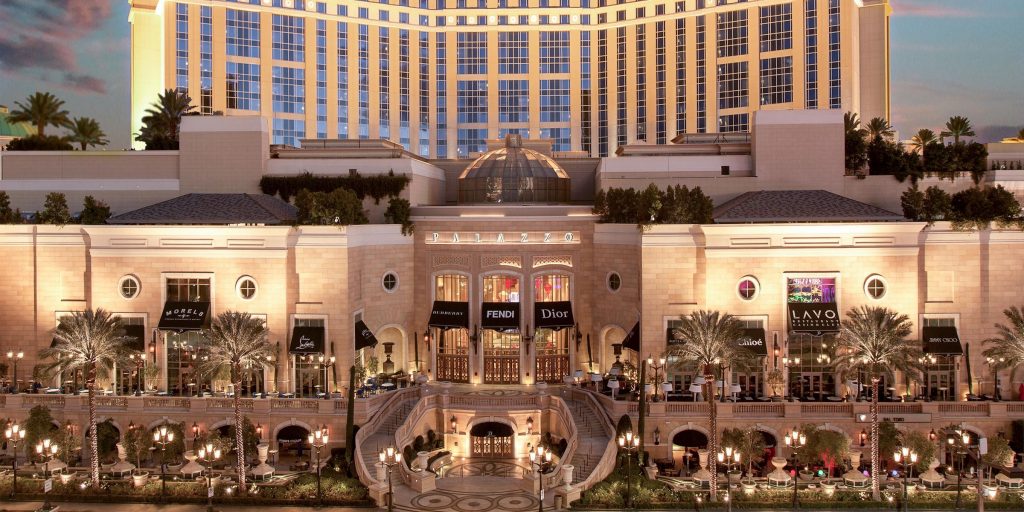 Shows
Guests can also enjoy shows from some of the most prominent artists in the world. The list includes the American singer-songwriter Anita Baker, the keyboardist Michael McDonald, the Australian boy band Human Nature, and the American musician and singer-songwriter Jackson Browne, who has sold more than 18 million albums in the U.S.
Gambling
The Palazzo Las Vegas Casino is large and covers 105,000 sq. ft. The casino has 80 table games and a great selection of slot games along with a sportsbook.
Blackjack
The Palazzo Las Vegas Hotel and Casino offers twenty-three 6-deck blackjack games on its main casino floor. The games start at 15 dollars at peak times and 10 dollars during slow periods. The maximum bet is 2,000 dollars. All these blackjack games have a 6-5 payout on a natural black.
The double deck blackjack tables have 3-2 games with a minimum bet of 50 dollars per hand. You can find two of these games in the main pit. Additionally, there are four 3-2 double deck blackjack games in the Asian pit: the maximum bet here is 5,000 dollars. The Palazzo Las Vegas Casino also offers Blackjack Switch and Free Bet Poker with10-1,000-dollar limits.
Craps
Craps is one of the table games you will find at this casino. There are eleven craps tables at The Palazzo Las Vegas Hotel and Casino with $10-$5,000 limits and 3-4-5 odds. The casino also offers One Big Wheel game with a 2-dollar minimum.
Roulette
There are 9 roulette tables at this casino. Eight of them are double zero roulettes with limits of $10-$500. The limits of the one single zero roulette table are $25-$500.
Baccarat
There are 4 baccarat tables at The Palazzo Las Vegas Hotel and Casino with 25-20,000 dollar limits. The limits for Pai Gow Poker are $25-$5,000. The casino also offers an entertaining stadium version of baccarat. In this game, one live dealer will be available to dozens of participants and uses a touch screen when making wagers. You can also play blackjack on this machine at the same time: the minimum bet is 5 dollars.
High Limit Room
You can find a great selection of games in Palazzo's high limit salon. Double Deck Blackjack at the high limit room has a 200-dollar minimum and allows you to double down after splitting. The six-deck blackjack games start at 100 dollars. Double down after splitting and surrender are allowed. All stay on 17 and pay 3-2 when you get a blackjack. Baccarat starts at a 200-dollar minimum bet.
Poker Game Varieties
The Palazzo Las Vegas Hotel and Casino offers several proprietary poker games. Caribbean Stud, Crazy4Poker, Three Card Poker, and Ultimate Texas Hold'em have $10-$100 limits. Big Raise Poker is also available with $10-$1,000 limits.
The Palazzo Las Vegas Casino also offers several video table games. Baccarat and Dealers Angel blackjack are available. Dealers Angel blackjack pays 3-2 when you get a natural and allows you to double after you have split and surrender. The casino also offers Roulette Revolution machine. All have a 5-dollar minimum bet.
Poker Room
The Palazzo Las Vegas Hotel and Casino shares a poker room with The Venetian. The DeepStack Extravaganza tournament is one of the world's popular Poker tournament festivals. There are 5 major events every year, bringing poker players excitement and tournament action. The Resort offers two daily tournaments. The games you will find at this poker room include Pot Limit Omaha, Omaha 8 or Better, No Limit Hold'em, and Limit Hold'em. Limits start at $4/$8.
Slots at The Palazzo Las Vegas Casino
The casino has more than 900 slot machines. All the popular slot games are available. Regular updates bring you the latest slots like Ghost Busters 4D and Lord of the Rings. Experience the thrill as your reels spin and receive awards for your play after joining the premier loyalty program on the Strip called Grazie.
The High-Limit Slots Salon at The Palazzo Las Vegas Hotel and Casino offers a relaxing respite from the resort's casino. The games in this section allow you to bet up to 50000 a spin.
Sportsbook
CG Technologies (previously called Cantor Gaming) operates the sportsbook at this resort. Around the walls of this sportsbook, you will find many framed and signed jerseys of popular sports stars. When it comes to seating, it's all comfortable premium leather couches, ottomans, and chaises. Instead of the normal row seating design, each row ascends as one is going up, that is why it is called Lagasse's Stadium. There are 13 TVs, including a big screen to watch all your favorite games.
Restaurants
There are numerous dining options at Palazzo Las Vegas restaurants. Casual dining outlets include the Grand Lux Café, located off the casino floor and operated by the restaurant company called The Cheesecake Factory. Also, there are several coffee shops and pizza joints. Also, many of them can be found in the Grand Canal Shoppes. There are also 2 food courts offering quick bites at Venetian.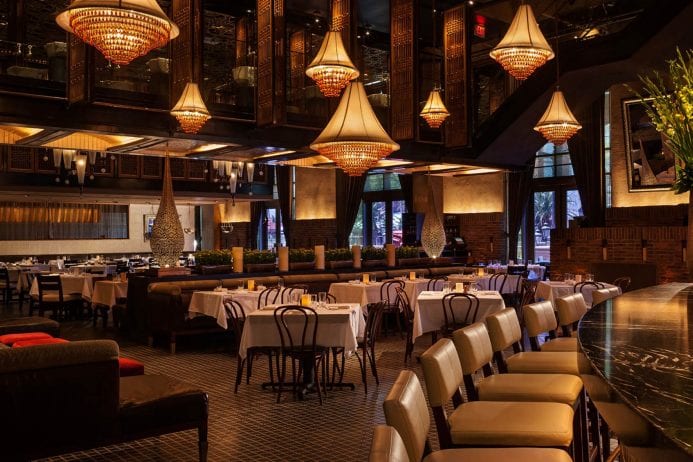 Upscale dinner options at The Palazzo Las Vegas Hotel and Casino include AquaKnox, which specializes in seafood; B&B Ristorante, an Italian restaurant; Bouchon, a restaurant that offers French cuisine for brunch and breakfast and seafood menu for dinner; and CUT, a modern American cuisine.
Delmonico Steakhouse is a traditional American Steakhouse that opens for dinner every day and lunch from Monday to Saturday. dB Brasserie is a French restaurant open for dinner. Tao also serves Asian cuisine every day for dinner. Table 10 is a Traditional American cuisine, including pasta, seafood, and steak; it's open every day for lunch and dinner. Sushisamba is a Brazilian, Peruvian, and Japanese fusion served every day for lunch and dinner. Zeffrino is an Italian seafood restaurant open daily for lunch and dinner.
From 2009 to 2013, The Palazzo Las Vegas Hotel has been given the AAA Five Diamond Award.
Conclusion
Guests love the majestic, all-suite accommodations at The Palazzo Las Vegas Hotel and Casino. The pool area is appealing and the hotel also has a total of 66 adapted rooms for visitors with disabilities; they feature adapted bathrooms, visual alarms, widened doors, and roll-in showers. Additionally, the resort offers guests numerous options when it comes to gambling, entertainment, and shopping.
About the Author