Luxor Las Vegas Review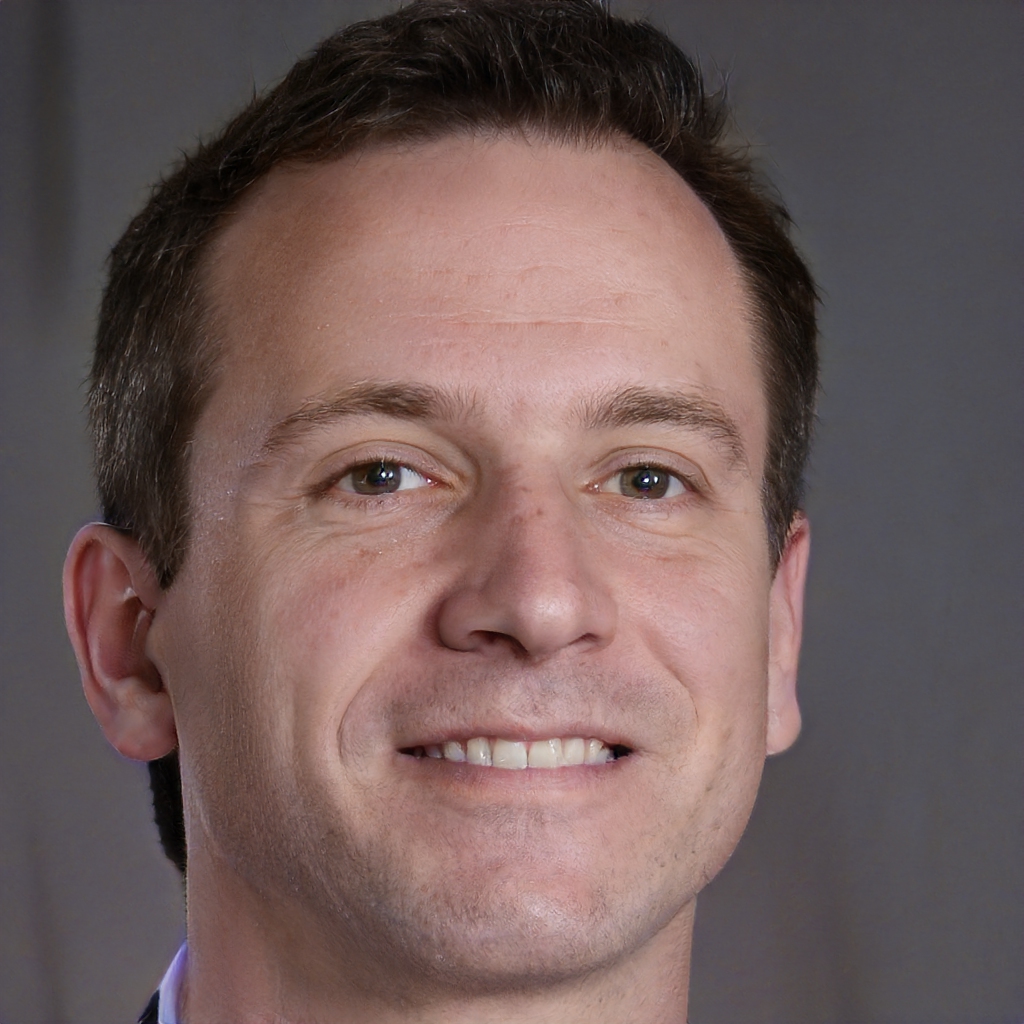 By Herbert Hanson
About Luxor Las Vegas
Luxor Las Vegas is a hotel and casino located on the Las Vegas Strip. MGM Resorts International owns and operates the 30-story resort. It's named after the Luxor city (ancient Thebes) in Egypt.
Groundbreaking for the resort took place in March 1992; Luxor Las Vegas officially opened its doors to 10,000 guests on October 15, 1993. The cost of building the pyramid was 375 million dollars and the building was the tallest on the Strip when it opened.
Petty cash that was earned from other properties owned by Circus Circus Enterprises financed the resort and didn't include any financial investors from outside. The size of the hotel's pyramid is the same when compared to the Bent Pyramid and Red Pyramid (north pyramid) of Egypt.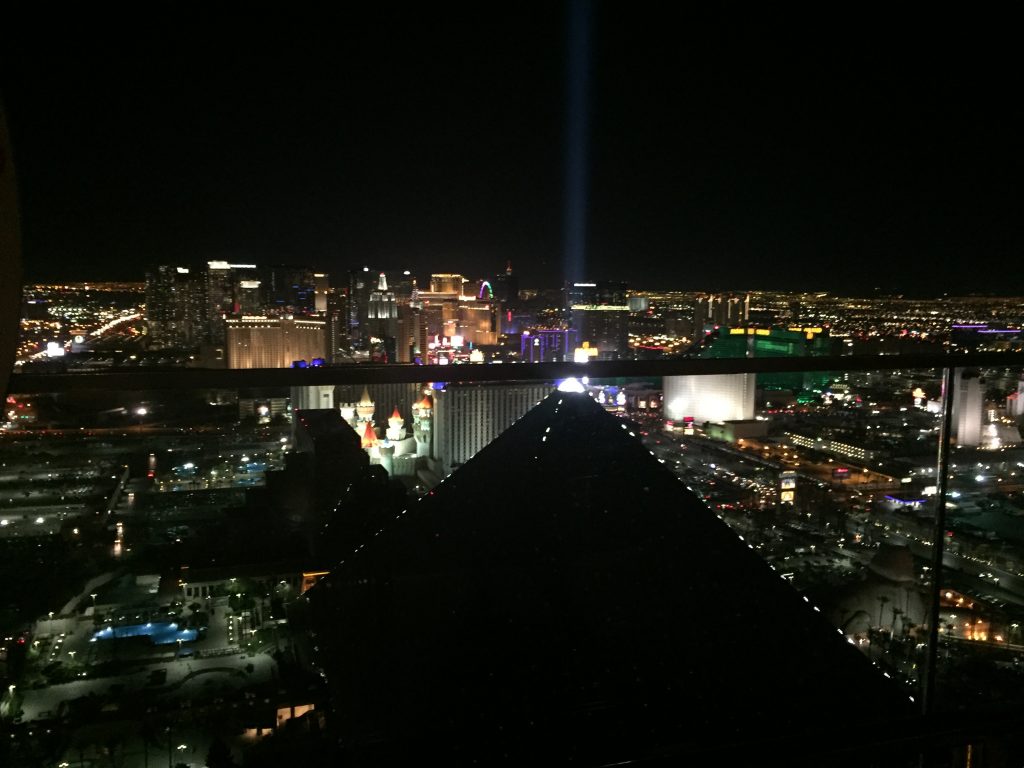 In 1998, two additional towers and a theater were added for 675 million dollars. When it opened, Luxor Las Vegas featured the Nile River Tour, a river ride carrying guests to various parts of the beautiful pyramid and passed by ancient artwork pieces on a river encircling the gambling section.
Also, the gambling house featured the Tomb of King Tutankhamen and Museum. In July 2007, MGM Resorts International made an announcement about plans of thoroughly renovating the resort and spent 300 million dollars to remodel 80 percent of the resort's public areas.
They removed most of the ancient Egyptian theme then replacing it with more modern and adult-oriented clubs, restaurants, and lounges.
This black pyramid-shaped resort has been a landmark on the Strip since the early nineties. Larger-than-life statues of a sphinx and pharaohs greet arriving hotel guests and gamblers. A 42.3-billion-candela lumen beam of light (Luxor Sky Beam) shoots out of the huge pyramid into the sky at night, where it is visible from the passing planes. This Luxor Sky Beam is the world's strongest beam of light.
Location
Luxor Hotel Rooms
After the 2008/2009 renovation work, the management of the hotel modernized the design of the property to contain 4,407 rooms (including 442 suites). The average nightly rate for Luxor's standard rooms is under 100 dollars, but there are always occasional promotions for nightly rates starting at 45 dollars.
The hotel's rooms line the main tower interior walls, which is pyramid-shaped, plus other new 22-story twin ziggurat towers. Renovated "Cleo" rooms have modern slate, blue, and purple design schemes, with oversized showers, striped wallpaper, and nice patterned carpeting.
Some pyramid rooms are decorated with earth-toned fabrics and walls plus mirror frames and fine black bedside lamps. Tower rooms have deep soaking tubs, and they are more spacious.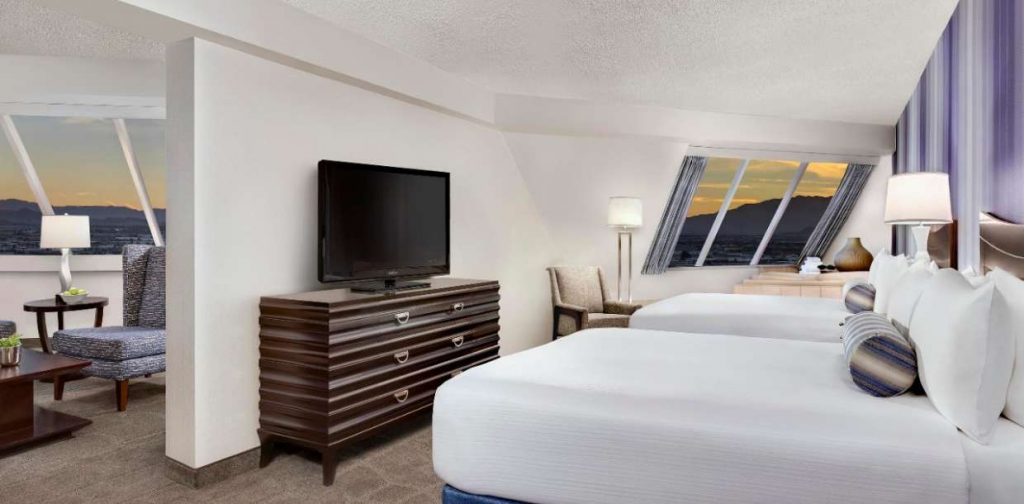 Luxor Las Vegas Spa and Fitness Centre
Hotel guests pay $25 to enter the Nurture Spa, while non-hotel guests pay $40. The spa opens from 6 a.m. to 7 p.m., but treatments do not start until 8 a.m. For those looking for salon service, the Nurture Salon opens from 10 a.m. until 6 p.m.
The Nurture Spa offers a wide variety of massages, facials, and body treatments, and there are also different types of packages that guests can purchase. The salon does face treatments and massages as well, to go with waxing, nail services, and hair services. The fitness center at Luxor Las Vegas is open from 6 a.m. to 7 p.m.

Entertainment Venues
With 35,000 sq.ft. of flexible meeting space, Luxor Las Vegas accommodates groups of all sizes. Egyptian Ballroom offers complete flexibility with 20,000 sq.ft. of spacious ballroom space. This space can be divided into ten different sections, hence it can accommodate different set-ups.
Tender Steak & Seafood offers a rare experience and allows meetings to breakout as well as enjoy a private setting for events and group meals, up to 220 people. The pool section at Luxor Las Vegas covers 19,000 sq.ft. and features four sections of pools. This space allows them to accommodate groups of all sizes to enjoy the great outdoors.
Nightclubs, Bars, and Lounges
Aurora Bar features unique lighting effects over the ceiling based off the Northern lights and Aurora Borealis.
Located in the lobby, Aurora Bar creates a welcoming ambiance where you can enjoy specialty drinks as you play your favorite bar top games.
The bar offers a wide variety of contemporary cocktails plus Luxor Las Vegas signature sips.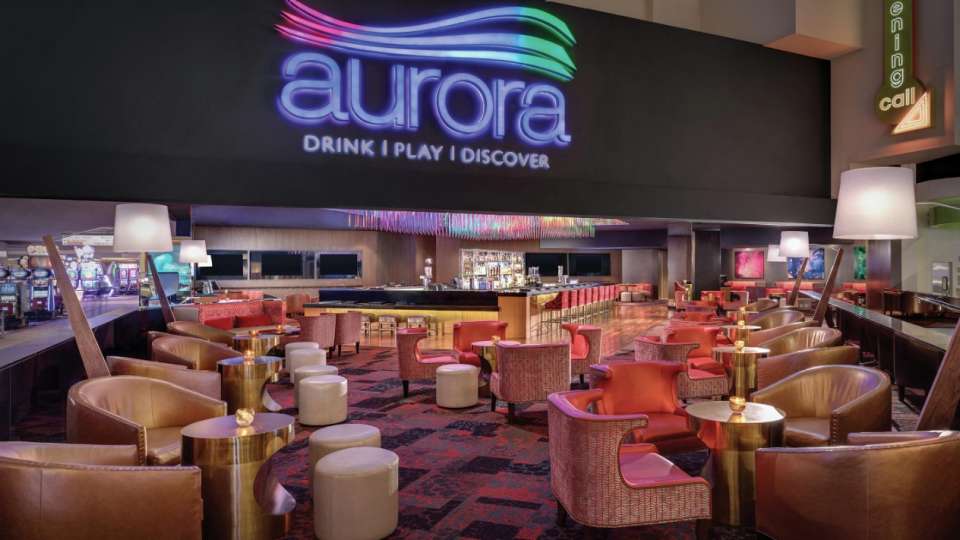 Playbar is open 24/7 and located right by the sportsbook. Watch your favorite games while taking Luxor Las Vegas signature sips. The high energy and comfortable furniture at Flight bar make it one of the best places to party. Specialty beer, modern cocktails, plus creative beverage presentations will definitely make this experience memorable.
High Bar is located near the high limit section; it's as much a great lounge as a bar offering intimate seating availability.
Centra Bar & Lounge also open 24/7. It's the ideal place to enjoy a casual Vegas style with your favorite drink in your hand while playing your favorite video slot and poker games at the bar. Temptation Sundays is Vegas' longest running gay pool party; entrance is 10 dollars for hotel guests and 20 dollars for everyone else.
Shops and Boutiques
Guests who would like to shop can find a wide array of nice items at Luxor's retail stores, from unique gifts to gorgeous jewellery and designer clothing. For a variety of sundries, snacks, beverages, cigars, magazines, and spirits, guests can go to 24/7 or Essentials. Everything's $10 Boutique is located right next at the More Buffet and features jewellery, watches, and accessories for men, women, and kids at a great price: All the items at this store is $10.
LX Logo Store has a complete line of Las Vegas merchandise and of Luxor logo items for guests to take home and remind them of their Vegas experience. These include hats, jackets, sweatshirts, T-shirts, and souvenirs for kids and adults. Also, LX Logo Store offers a collection from FANTASY (Luxor's hit show).
For a variety of Luxor themed items and glitzy Vegas, Lux Vegas is the perfect place for shopping. Lastly, Luxor Las Vegas Pool Store offers all the essentials needed for a day in the Vegas sun. These include drinks, snacks, flip flops, suntan lotion, hats shades, and suits. It's open seasonally together with pool hours.
Criss Angel
Criss Angel, an illusionist, with Cirque du Soleil presents an entertaining show for guests. The history behind these names is interesting as the show itself. Performances start at 7:00 p.m. on Tuesday through Saturday with another 9:30 p.m. show on Tuesdays, Fridays, and Saturdays. Guests can get tickets at 70 dollars.
Shows
Menopause The Musical
Menopause The Musical is an entertaining, uplifting production that celebrates the changes women usually go through during menopause.
This story follows 4 women parodying popular music from the sixties, seventies, and eighties. Although it's designed for women, men will also appreciate the lighthearted, funny musical.
Shows start at 5:30 p.m. on Wednesday through Monday and on Tuesdays it starts at 5 and 8:30 p.m. Ticket prices start at 49.95 dollars. From 2000-2005, the Luxor Theatre hosted the Blue Man Group, a performance-art show which relocated to the Venetian Las Vegas.
Starting November 18, 2015, Blue Man Group show returned to the Luxor Theater. In 2009, Luxor Las Vegas also started hosting "Bodies: The Exhibition," which is an educational show on human body, plus "Titanic: The Artifact Exhibition," which replaced their three-story arcade.
From 1996 to 2008, IMAX-Cinema was operating inside the pyramid. It was one out of twenty IMAX screens at the time it was opened.
The resort is home to 2 shows, consisting of comedian Carrot Top and "Fantasy" (a topless revue). Carrot Top is considered one of Vegas' best comedians, and it has been packing in crowds ever since he took the stage.
Self-described as a culmination of Gallagher, Steven Wright, and George Carlin, this wild red-headed comedian always keep audiences from around the world in stitches from the start to the final act.
Performances are from Wednesdays to Monday and ticket prices start at 49.95 dollars. Fantasy is also regarded as one of the Strip's hottest shows. It's a thrilling seductive show of comedy, dancing, and vocals.
For more than a decade, this topless show has entertained audiences from all over the world with a combination of adult-based banter with high-energy production standards. It's tasteful and fun, ideal for couples or individuals on their own. Ticket price for Fantasy start at 39 dollars and it takes place every day at 10:30 p.m.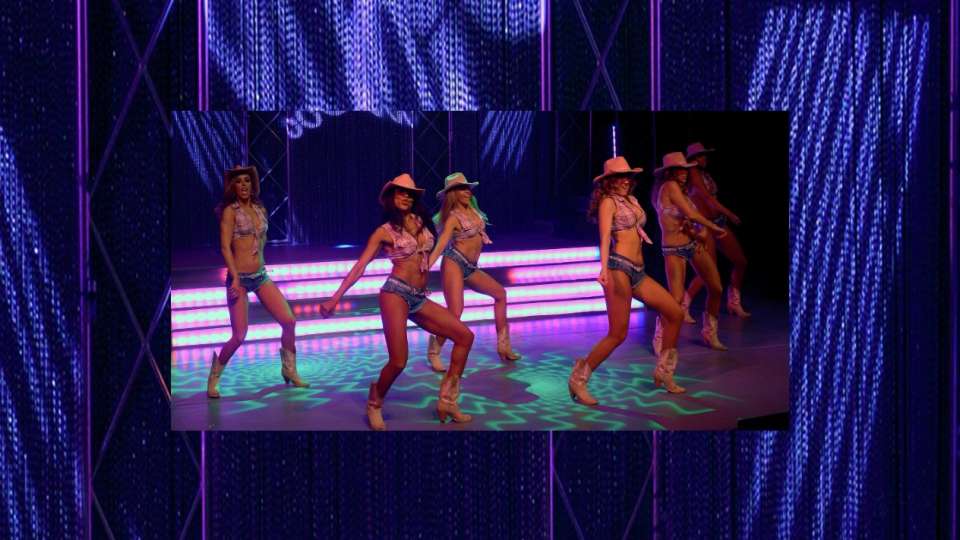 Gambling
The casino at Luxor Las Vegas has a 120,000 sq.ft. gaming space with 87 table games, spread throughout the main floor. Luxor Las Vegas Casino also offers slot games, and sports book as well as racebook.
Baccarat
For guests who love playing baccarat, there is one table for playing mini-baccarat for 10-dollar per hand.
Craps
Craps games at Luxor Las Vegas casino start at 10 dollars with standard rules and 3-4-5 odds. Also, virtual craps games are offered in the slot section with a 2-dollar minimum.
Blackjack
Blackjack is one of the popular table games in the world. Luxor Las Vegas casino has lots of blackjack tables, and the dealer must always hit on all soft 17s.
To get 3-2 odds for being dealt this games, guests should play the 25-dollar tables. The minimum is 10 dollars with a payout of 6-5. Luxor Las Vegas casino also offers Free Bet Blackjack and a virtual blackjack game, which can be found at the slot machines with a 5-dollar minimum and a live dealer.
There are 2 blackjack tables with 100 dollar minimums at the high limit room, which have the same rules as the blackjack games on the main floor.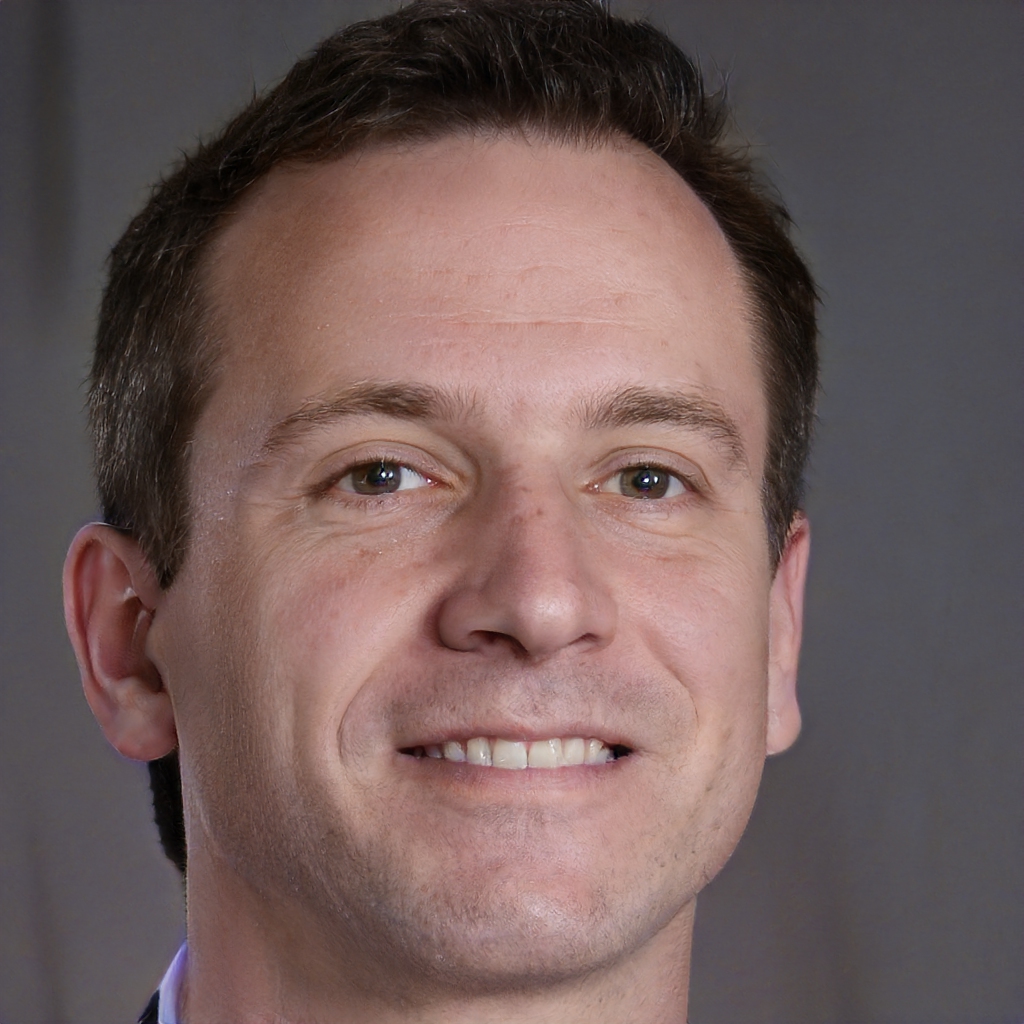 Author
Herb has spent years working in the gambling industry, helping to provide gambling entertainment. He started from the land-based casino and then moved to the iGaming industry and joined our team as an author with great knowledge of the Las Vegas casino industry. His unique approach is the key to our content creation strategy. Do you need the latest bonuses and promotions; Herbert Hanson is your man with great knowledge.