Green Valley Ranch Las Vegas Overview
Located in a planned community in Henderson Nevada, Green Valley Ranch Las Vegas Casino and Spa is operated and owned by Station Casinos. In March 2000, Station Casinos said they would build a resort and casino in Green Valley Ranch Las Vegas expected to cost $280 million. There is 8 restaurants, a 13,000 square meter casino and 495 rooms and suites. The resort is next door to The District which is a mixed-use development. Primarily a casino for the locals it was expected to attract many upscale tourists who didn't want to stay on the Strip.
Considered the finest luxury hotel in the area, Green Valley Ranch Las Vegas has inspired the Mediterranean. The pool and gardens have been carefully designed to give you the feeling of the lush Mediterranean. Here you will find classic elegance and the height of luxury.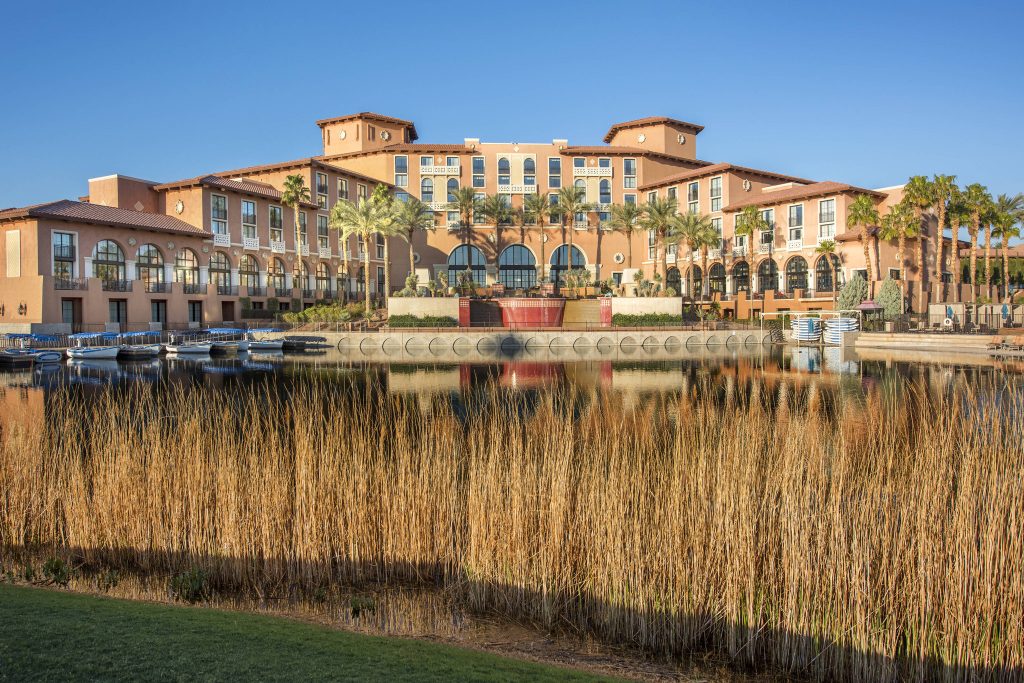 Green Valley Ranch Las Vegas has appeared on TV and movies.
2004– a TV series for the Discovery Channel and Travel Channel was filmed here on running a casino
CSI-several episodes filmed here
2007-winner of the third season of Hell's Kitchen Rahman "Rock" Harper was awarded a 12 month contract as head chef at Terra Verde Restaurant
2012-Food Network featured the Tomahawk Steak
Location
Hotel Rooms
All rooms are spacious with large bathrooms and offer great views back to The Strip and over the valley. There are 7 king bedrooms and 2 suites that meet the ADA guidelines. Grab bars are in the shower and vanities are wheelchair accessible. Peepholes are lower and bathroom mirrors are installed at the recommended height.
All rooms have luxury appointments and are furnished in a classical or modern style. Enjoy movies and TV on the 42 inch screen, mini bar, laptop sized safe and desk. The bathrooms all have a bath and shower and a fluffy robe for you to relax in.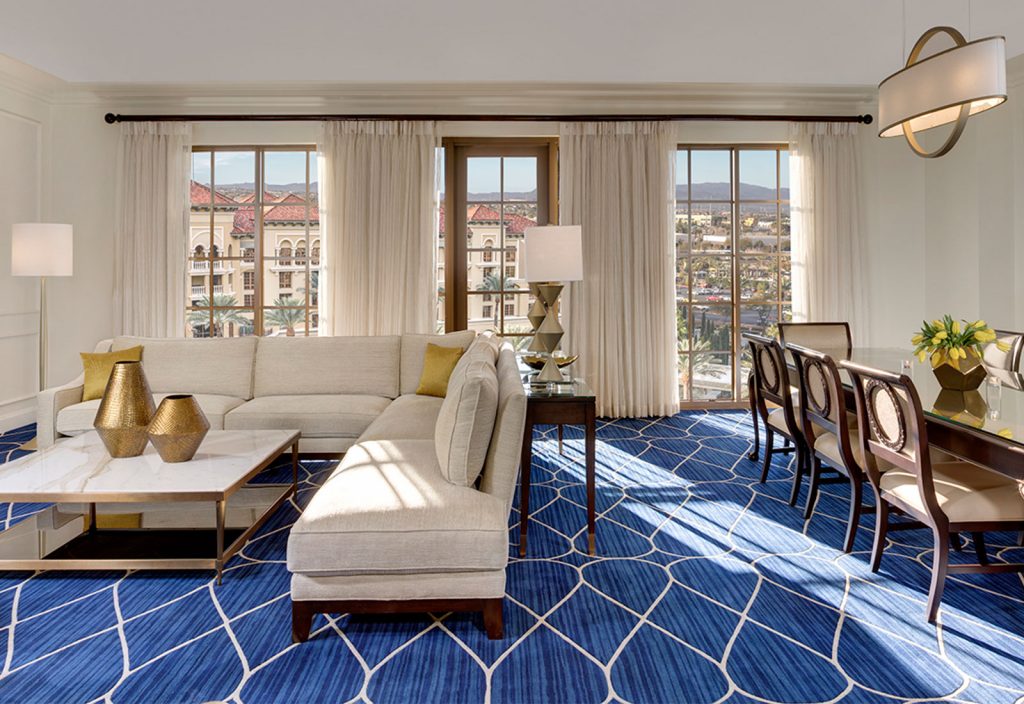 King and double queen rooms are spacious and are ideal for singles and couples. Larger suites are ideal for larger groups and families. All Executive Suites have separate bedrooms and lots of room to relax and spread out. These are ideal for the working holiday. Grand suites have one bedroom and 2 bathrooms with a Jacuzzi tub for ultimate relaxation or fun. A connecting double queen room makes this ideal for families.
For the most luxurious and pampered stay choose a Geneva Suite with 2 bathrooms and a butler to cater to every whim. Luxury patio Suites have views over the Backyard and pool area as well as the Las Vegas skyline and have private patios.
Spa and Fitness Centre
You can find a range of massages and body treatments. As a result you can be pampered during your stay at Green Valley Ranch Las Vegas. You can relax and be pampered but if you don't want to miss out on your fitness training the center has classes in Pilates, Yoga and much more.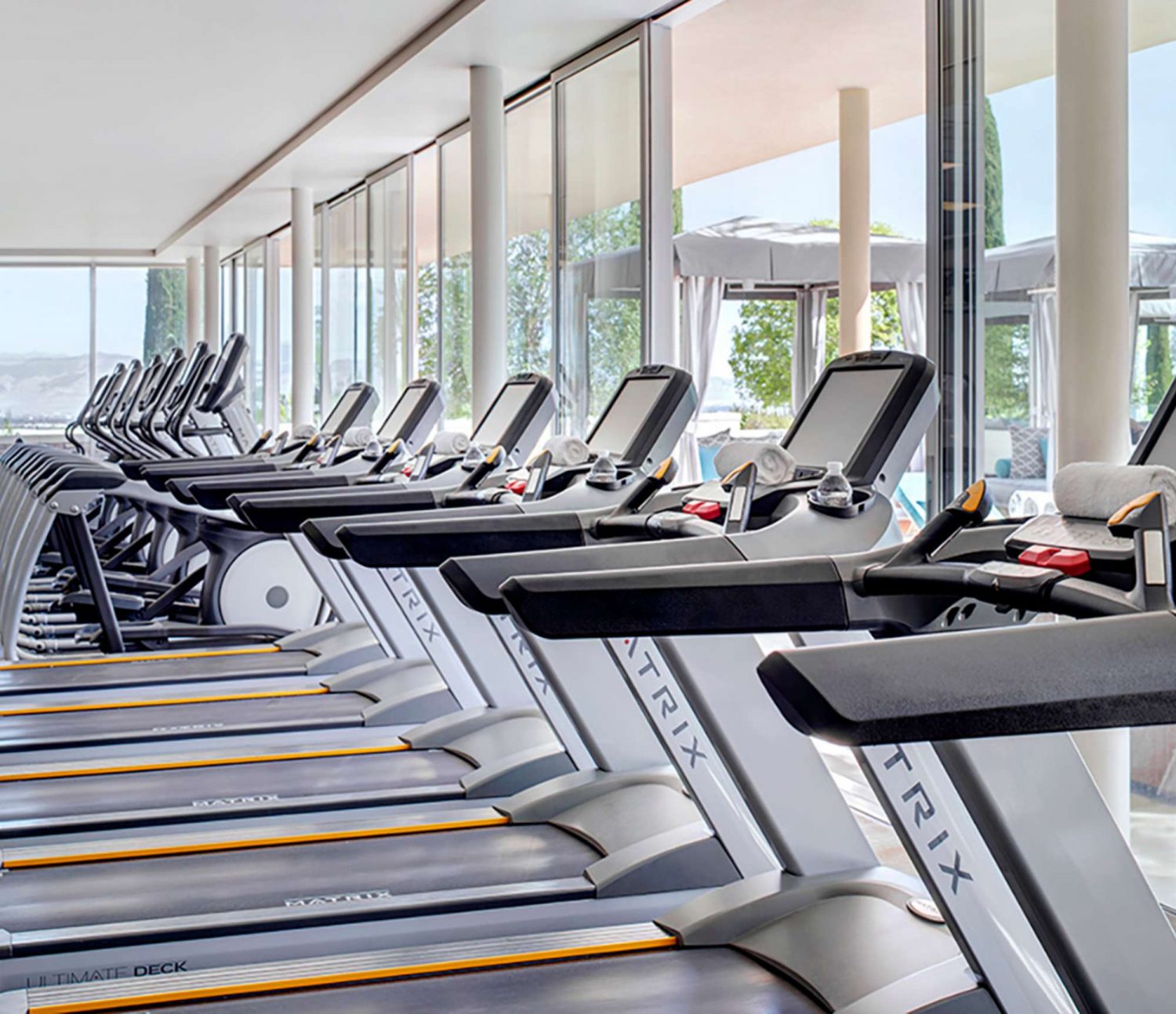 Entertainment
Lounges and Bars
Enjoy live music with a DJ at the Drop Bar or Lobby Bar. Each night there are drink specials, live bands or a DJ.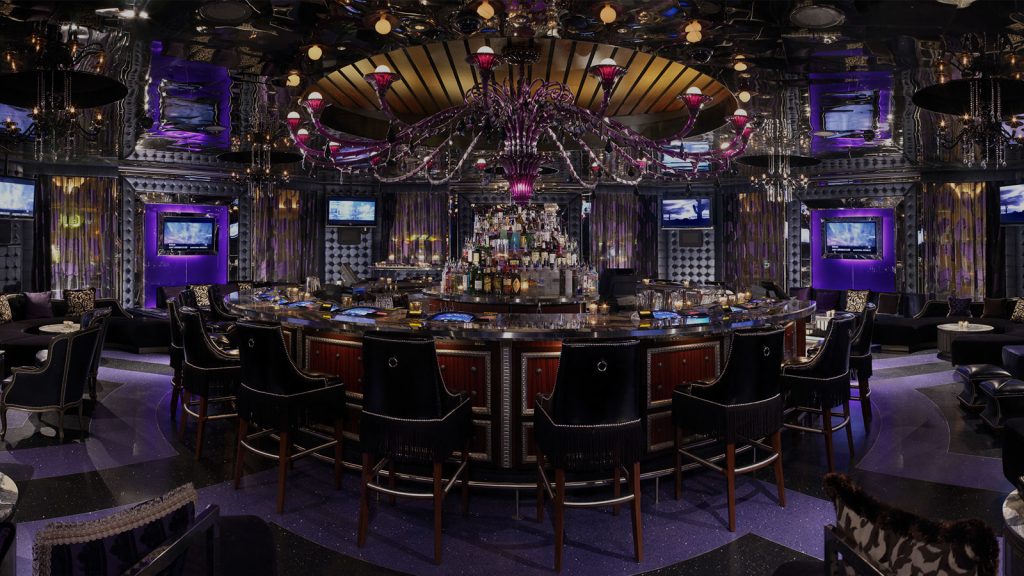 Kids Quest
For an hourly fee the kids can be entertained at Kids Quest at Green Valley Ranch Las Vegas Casino and Spa. Lots of activities to keep the kids occupied while you explore the casino and spa. Open every day, times may vary. There is a sports zone, craft table and lots of interactive activities for kids of all ages. It is a great place for a birthday party. For children aged 30 months to 12 years old.
Movie theatre
Catch the latest movie while at Green Valley Ranch Las Vegas Casino. All the latest feature films are shown here with several movies shown each day. Tickets can be sent to your mobile or picked up at the kiosk. All tickets are transferable or refundable up until the session starts. Reserved seating is also available.

The Salon
If you have a special night out planned but feel you need a trim or new hair style visit The Salon, for men and women. A makeup artist is available to help you look gorgeous and get your nails done at the same time.
Arcade
Fun for all ages the Arcade has a number of games to play. Challenge the kids to a see who is the best player.
The District
The place is to shop at green Valley. With over 50 favorite stores, wander along the promenade and grab a bargain or gift to take home. There is a selection of shops, boutiques and restaurants.
Local attractions
While staying at Green Valley Ranch Las Vegas you are close to a number of great places to visit. Check out Hoover Dam, Red Rock Canyon and Las Vegas Strip. A shuttle service will take you to The Strip for a look at some of the amazing sights to see. It's Including the Zipline and Observation Wheel at Linq Casino. For more family fun visit Las Vegas Wet'n'wild or Cowabunga Bay Water Park. There are also several golf and country clubs close by. The Concierge is able to offer you all the information you need to have a great time in the Green Valley Ranch Las Vegas area.
Swimming Pools
The Backyard Pool
The pool is one of the best you will see anywhere. It has a sandy bottom so you can imagine you are on a Mediterranean beach relaxing under the sun. Enjoy dining by the pool or have a relaxing drink with friends-kitchen and bar open between 9am and 5pm. The pool area covers 8 acres and offers landscaped gardens and pools. Hire a pool side cabana or sun bed and enjoy a relaxing time by the pool in our backyard.
An adults only pool, The Pond is available for all hotel guests to use. It is a quieter area with no laughing children. After a dip in the pool stand under the waterfall and feel yourself relax as the water hits you.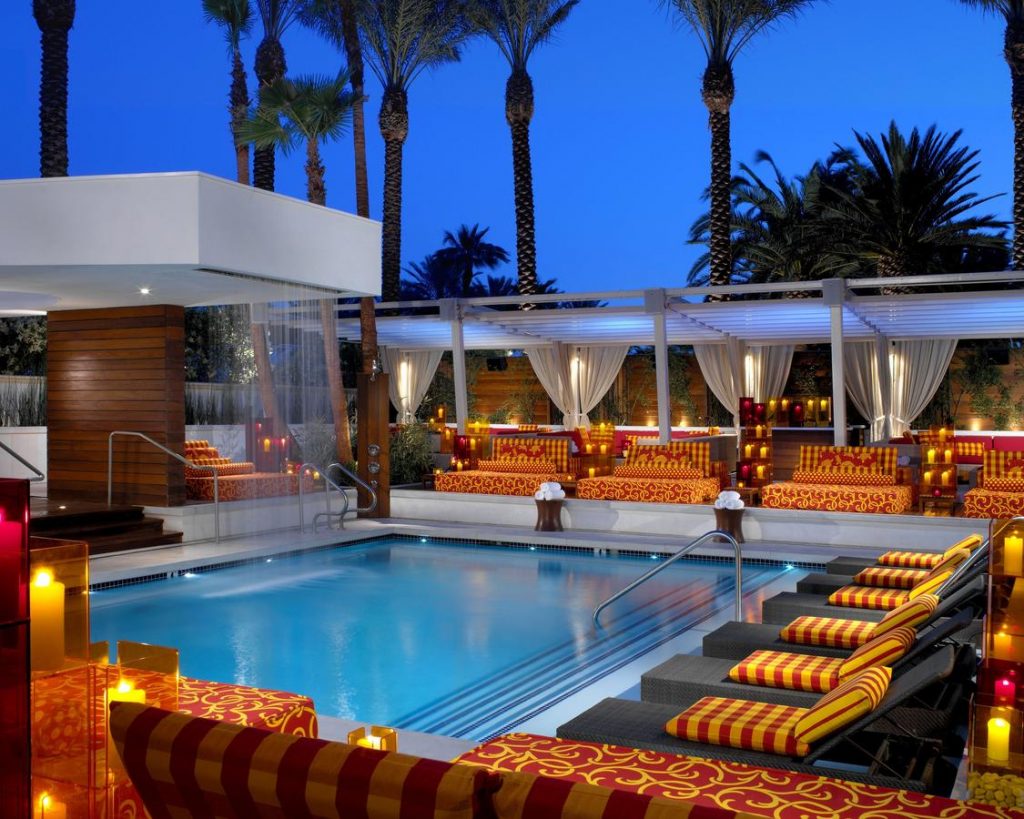 Shows
See some of the biggest names in music live at the concert venue in the Grand Events Centre. With stadium style seating for 2000, you won't miss a thing. From rock, jazz, country it is all here every year. Tribute shows to The Beatles, Journey, Barbra Streisand and more are coming up this year.
Gambling
Green Valley Ranch Las Vegas Casino has all your favorite gaming attractions from table games and poker to slots and bingo. Become a member and get your Boarding pass with some of the best rewards available in Las Vegas.
Table games
All your favorites are here with over 40 different table games.
Blackjack
The 21 card game most of us have played at some stage. Get as close to 21 as you can without going over and beat the dealer.
Baccarat
The game 007 James Bond plays with his enemies.
Roulette
Pick red or black, your favorite number and wait for the little white ball to finish spinning.
Craps
The most famous dice game where the whole table can win. You will learn a whole new language playing this game.
Pai Gow Poker
East meets west in this 2 hand card game.
Poker Room
Join a game at any time of the day with play going on 24 hours a day. Only allowing Players over 21 years old to the non-smoking room and casual dress rooms. For times and games download the Bravo Poker app on your phone. There are over 20 TV screens, 22 tables and a cell phone station for charging all devices at each seat. Enjoy a complimentary coffee while you play a game of poker. Choose from Texas Hold'em, No limit Hold'em, Progressive Royals, Quad floppers and Quads or better.
Bingo
The Bingo Hall is the latest addition to the casino and offers over 400 seats.  All sessions start on odd hours every day and there are great jackpots to be won and lots of specials during the day.
Keno
Pick your numbers and hopefully get lucky. Play every day between 8am and 11pm.
Slots
With over 2000 slot machines you will definitely find your favorite here. Lots of ways to win with progressive jackpots and big jackpots on many machines. Try your hand at video poker only in the slot machine area. There is a non-smoking area.
Race and SportsBook
Here you will find the races and every sporting event including NASCAR. Watch all the action on one of 5 movie size screens or one of 33 50 inch TV screens. Sports Illustrated magazine rate this the best SportsBook.
Restaurants
Hank's Fine Steaks
Open from 4pm daily with dinner starting at 5pm. The AAA Four Diamond award was awarded for some of the best aged steak and seafood in the country. The elegant mid-century decor makes for a classic dining experience. The private dining room at Hank's seats 50 people comfortably and can be split into 2 halves each side seating 22.
Grand Cafe
Open 24 hours every day with a selection of all your favorites from Philly Cheese Steak, Elvis Waffle, classic American dishes from the diner or a tasty salad and detox juice. It is all available here at any time of day.
Feast Buffet
Voted the Best Buffet by Las Vegas Review Journal with food from all the world all in one place. Choose from Chinese, Italian, Mongolian and American and more from the cooking stations. Make sure you leave room for dessert, always a must from the Feast Buffet at Green Valley Ranch Las Vegas Casino. Friday night special is seafood buffet and on Saturday enjoy the Prime Rib and Shrimp buffet.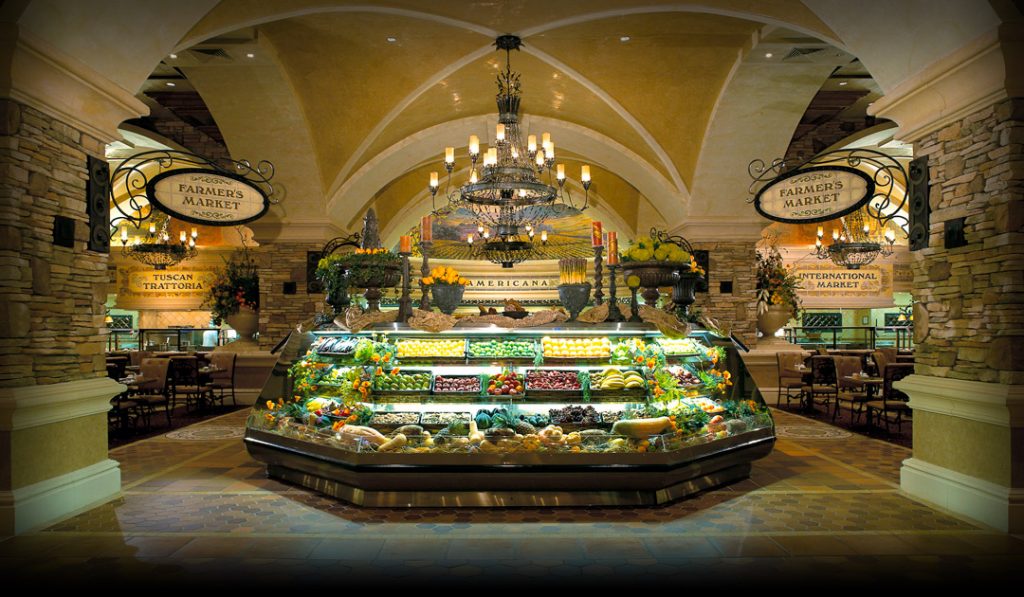 Borracha Mexican Cantina
Open weekdays from 4pm and weekends from 12 noon. This Mexican inspired menu offers you a range of favorites and sharing plates for friends and family groups. Happy hour is between 4 and 6 pm and you can get $7 food and drinks. Tuesday is all you can eat taco day from $24 with bottomless drinks.
Bottiglia
Open every day from 5pm with brunch on Sundays from 10am to 3 pm. Enjoy rustic Italian cuisine with a sophisticated flair. The extensive wine lists has labels from all over the world.
Tides Seafood and Sushi
Open from 11.30 am to 10pm every day. Oysters, mussels, shrimp it is all fresh and delicious here at Tides. Enjoy the taste of New Orleans in the Gumbo and southern inspired dishes. Sushi is now available.
Pizza Rock
Open Monday to Saturday all year and on Sundays during NFL season. Try a gourmet pizza, calzone, pasta and other Italian delights with all sausages and pastas made in house. The wine list and craft beers give you something nice to pair with your pizza or pasta.
Turf Grill
Open every day from 11am to 7 pm. Offering great casual dining at Green Valley Ranch Las Vegas Casino. For some of the best burgers and hot dogs in Las Vegas try Turf grill. The menu is available to dine in as well as takeaway.
Conclusion
Green Valley Ranch Las Vegas Casino has great accommodation from spacious rooms to luxurious suites. Dining is fantastic with lots of choices to tempt your taste buds. Casual dining here is at its best with burgers, pizzas, pasta, seafood and great steaks. All your favorite gaming options are available with over 2000 slot machines, Bingo and Keno. The Poker Room is stylish and offers many different games and is open 24 hours a day. If you want to stay in Vegas but away from The Strip and its hustle and bustle this is the place for you.
About the Author