About Encore Las Vegas
Located on the Strip in Las Vegas, the Encore Las Vegas Hotel and Casino is also known as Encore at Wynn Las Vegas and just Encore. It is owned by Wynn Resorts and has been awarded AAA Five Diamond Award each year since it opened in 2008. Forbes Travel Guide has awarded the Tower Suites with 5 Star awards and it holds more awards than any other casino resort across the globe. With 4750 rooms it is the 7th largest hotel in the world and is thought to be one of the finest.
To celebrate Wynn Casino's first anniversary the construction on the Encore Las Vegas Tower Suites was begun in 2006 and opened in 2008. The tower has 2034 rooms and the hotel is located on Las Vegas Boulevard. Initially it was just to be a further expansion of Wynn Las Vegas but is now a full scale resort in its own right.
It is connected to the original Wynn by a shopping esplanade and does share some resources. Next door to Encore Las Vegas is Wynn Paradise Park that features a lagoon complete with an area for water sports, a boardwalk and more dining experiences. It is thought that the new development has added more than 5000 jobs to Las Vegas.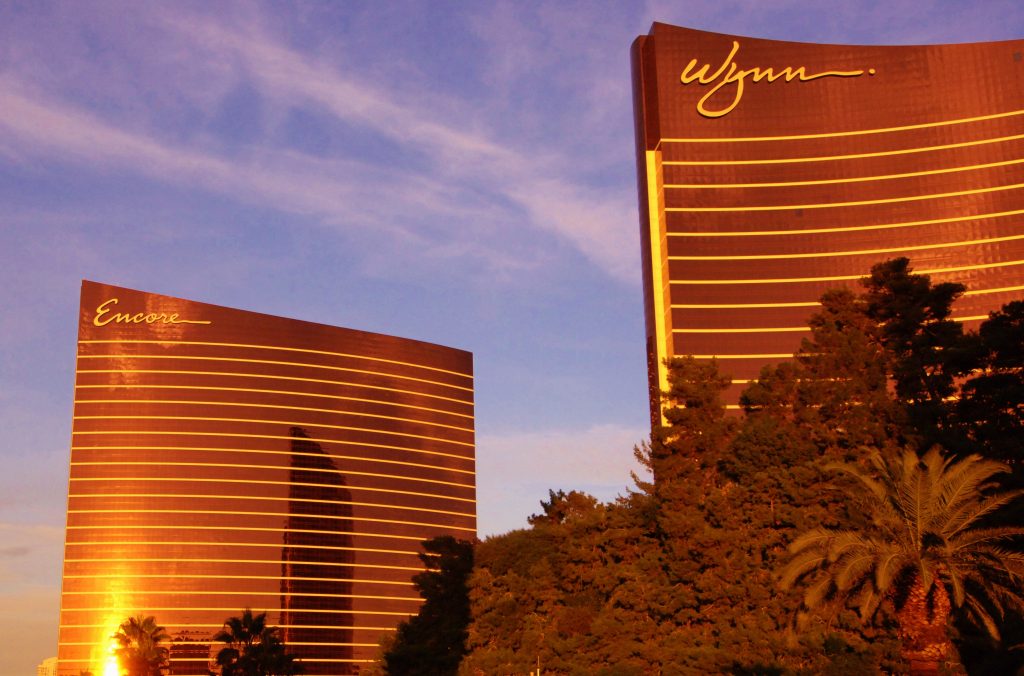 Opening during a downtown in the economy, it was more subdued than most other casino openings. In opening the betting, Steve Wynn declared "Let the games begin!" A recording of Luck be a Lady Tonight by Frank Sinatra was played and the high rollers were given a few million dollars to place initial bets with by Steve Wynn.
Featuring 80,000 square feet of casino area, 60,000 square feet of convention areas and 27,000 square feet of shopping space, the Encore Las Vegas Hotel and Casino covers a large area of Las Vegas Boulevard. There is a spa and salon, 5 restaurants and 7 bars as well as a nightclub. The Tower is 3 floors higher than Wynn Las Vegas and has 48 floors. Floor numbering actually goes to 68 as several numbers have been omitted for superstitious reasons. Floors missing are 2, 3,4,13 and 40 through to 49. In 2017 a new Sports Book space was introduced.
Location
Hotel Rooms
All rooms in the Encore Las Vegas resort area of the Encore Las Vegas Hotel and Casino have separate living and sleeping areas. From the luxurious lounge or the bed a large 4K UHD TV can swivel to be seen. There is a console by the bed that has a phone charger and controls all lights and curtains in your room. Each room has one king bed or 2 queen beds, bathroom with a large marble tub, separate shower, terrycloth robes and floor to ceiling windows with views over The Strip. The King and double queen rooms in the Encore Las Vegas Tower are the same as the resort rooms.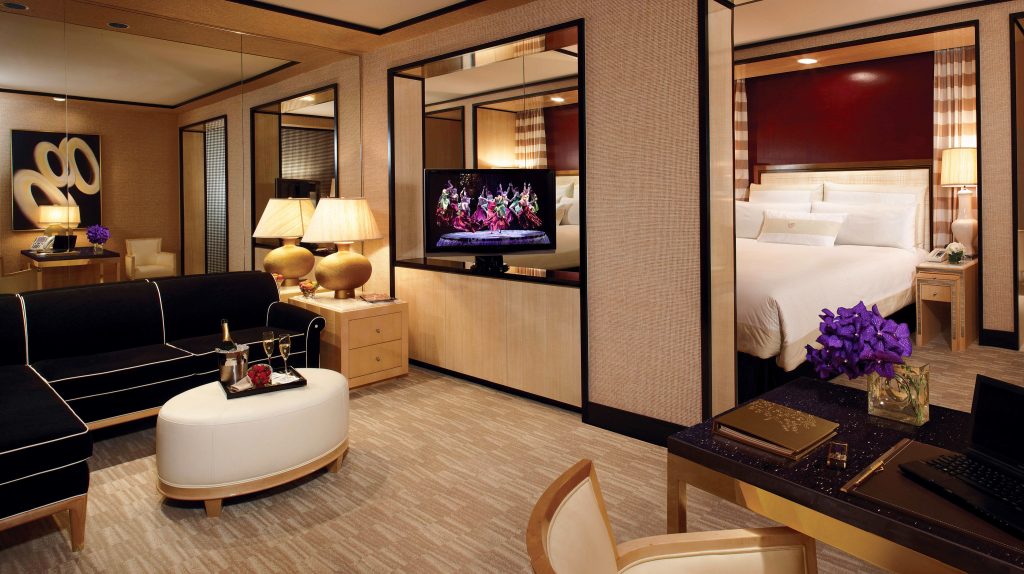 Encore Tower Suite Parlor
This is the suite right for pampering with a massage room allowing for a private massage in your room. Included is a $50 daily credit for breakfast, daily morning coffee and tea, daily housekeeping and night time turn down service. You also get access to the Tower Suites Pool in addition to the inclusions for a resort room.
Encore Tower Suite Salon
This is a more spacious version of the Parlor Suite.
Encore 2 bedroom Apartment
Get all the inclusions of the other suites plus a marble wet bar with seating, complimentary high speed internet access, bathroom with dual sinks, $200 in room breakfast credits every day as well as access to the Fitness Centre and pool.
Encore 3 bedroom duplex
Included in this luxury accommodation is private whirlpool baths, dining table and wet bar with buffet, access to The Spa, Fitness Centre, pool and a cabana each day of your stay. Entry to the nightclubs is faster, priority dining, salon and spa reservations and a limo service to and from the airport. It is also a butler's service and late check-out.
Spa and Fitness Centre
The Spa at Encore Las Vegas
Be pampered in the luxurious Spa at the Encore Las Vegas Hotel and Casino. Consisting of garden villas and couples suites this is the ideal place from some relaxation and body treatments to reinvigorate you. Relax in the separate male and female lounges, hop into a plunge pool and enjoy the lush plants and crystal chandeliers. Polynesian influenced Nalu ritual allows restoring of your body's chakras. Grab a luck promoting massage before you hit the casino floor or a clay treatment from Morocco to liven up your skin. Open every day from 7am to 8pm with treatments available in your room or poolside cabana.

Entertainment
Entertainment is varied at the Encore Las Vegas and don't forget to check out the special dinner and a show offers available.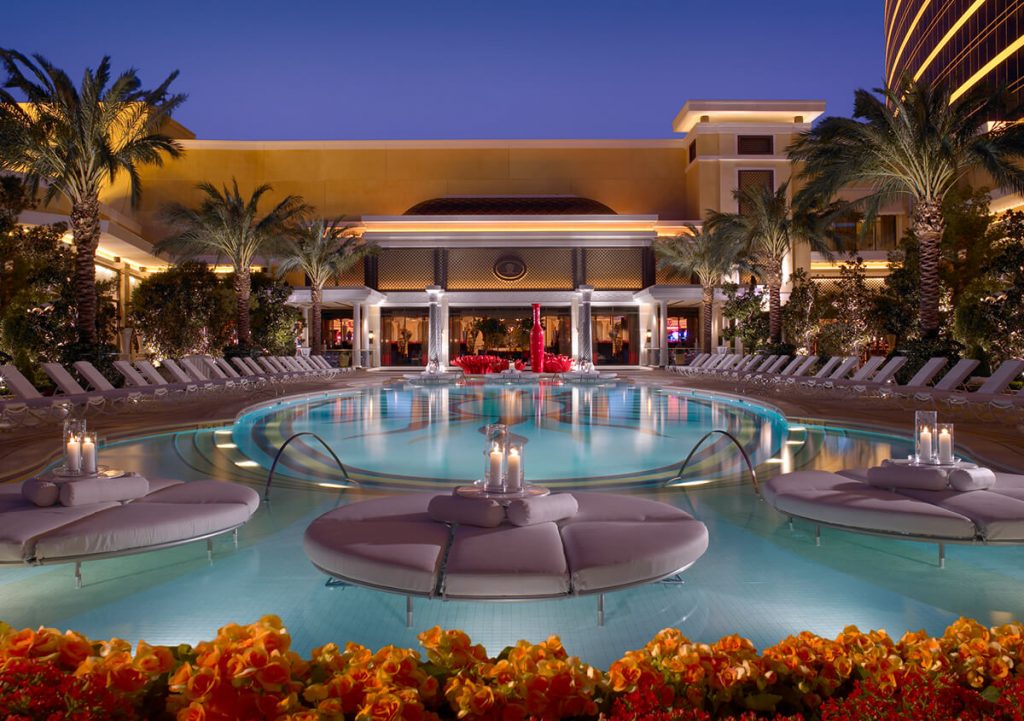 Parasol Up
Located where the casino meets the atrium and Wynn Esplanade is Parasol Up. This looks out over the waterfall that land in the Lake of Dreams and the colorful parasols. Enjoy a cocktail from the specialty menu while watching the sights. Open from Sunday to Thursday 11am to 3am and Friday and Saturday till 4am. The Lake of Dreams show is on nightly every 30 minutes from 8pm to 12.30am. Dress is casual resort but no swimmers or tank tops.
Parasol Down
Ride on the spiral escalator down from Parasol Up and watch the waterfall cascade down a pine topped vista. When it is fine you can sit and enjoy your cocktails on the outside patio. Open from 12 noon to 2am every day. Dress same as Parasol Up.
Eastside Lounge
Another spectacularly furnished cocktail lounge at Encore Las Vegas looking out over the resort pool area. Enjoy a classic or signature cocktail, wine, beer or your favorite spirit. Open from 6pm to 2 am with live entertainment every night from 9pm. Dress is resort casual but remember no swimmers or tank tops.
XS Nightclub
Surrounding the pool area is the hottest nightclub as named by Conde Nast Traveller and the best nightclub in America by Nightclub and Bars Top 100 for the last 5 years. State of the art sound and lighting with laser and pyrotechnics can be seen from anywhere around the pool area. The design has been inspired the curves of the human body including the amazing golden staircase. Open Friday and Saturday nights from 10.30pm till close.
Intrigue Nightclub
This 14,000 square feet of space has stunning decor and the latest in sight and sound equipment. The patio has a breathtaking waterfall and pyrotechnic show every Wednesday and Saturday from 10.30pm til close. Feature artists include Afrojack and RL Grime and many special guests.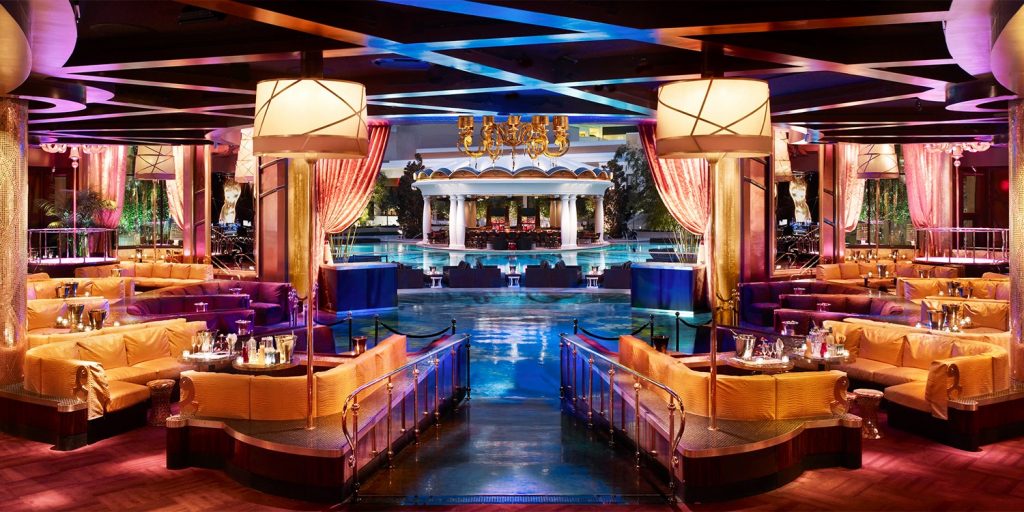 Swimming Pools
For a great day and night of fun and excitement the Beach Club at the Encore Las Vegas Hotel and Casino is a must. Hire one of the 26 poolside cabanas that have a TV, daybeds and a fridge. The bungalows have their own bathroom, infinity pool and a private balcony. This club was named the Day Club of the Year 2019 by Southern Nevada Hotel Concierge Association. Previous entertainment has been by David Guetta, The Chain-smokers and Kygo.
On Friday and Saturday nights the area turns into a XS Nightclub with tables and a full service bar open. Resident artists here include Dillon Francis, Flosstradamus and RL Grime. It is a great spot for night time music and dancing.

Shops and Boutiques
Shops are open between 10 am and 11pm Sunday to Thursday and between 10am and midnight on Friday and Saturday. Located on the Esplanade there are shops with something for everyone. From boutiques and dining, accessories to fun it is all here for you. Brands available include Saint Lauren, Omega, Louis Vuitton and Stella McCartney.
Shows
The place is for premier entertainment at Encore Las Vegas Hotel and Casino. Coming guests include John Cleese, Lionel Ritchie, Smokey Robinson, John Fogarty and more of your favorite entertainers.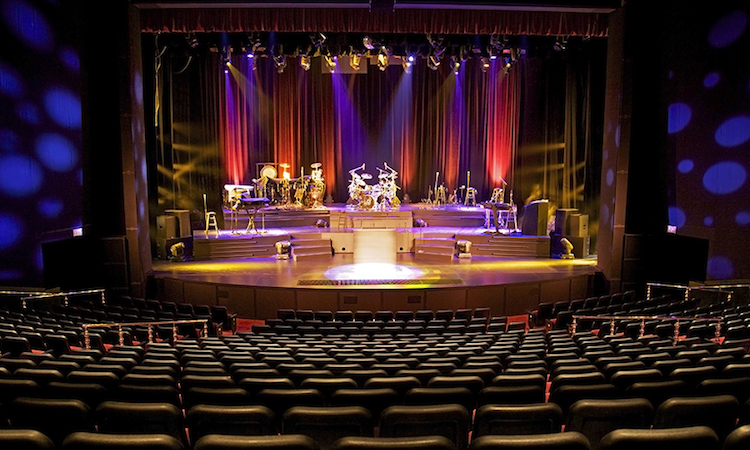 Gambling
The casino at the Encore Las Vegas Hotel and Casino has all your favorite table games, slots, high limit salons as well as gaming by the pool. Art, lush plants and flowers along with sky lights, light up and fill the casino. Don't forget to sign up to become a Red Card member and enjoy extra privileges and receive special offers. By downloading the Wynn mobile Sports app you are able to place a bet while anywhere in Nevada.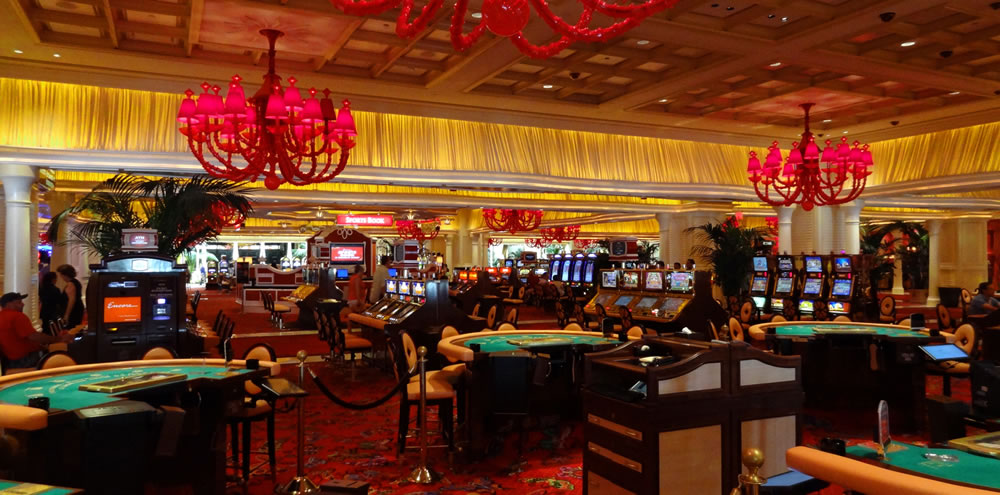 The casino area is stunning with a decor of red and gold opulence, stained-glass windows letting in natural light and over 100 hand-blown glass chandeliers.
Slots
All of your favorite slot machines with new machines added all the time are available in the casino. While staying in the Encore Las Vegas Hotel and Casino download the slots app and you are in the line to win a major daily jackpot.
Poker Room
The 28 table poker room gives you a great space for your favorite poker game. There is a betting window and TV screens so you don't miss what is happening while in here. On offer here are low and mid stake cash games and high stake games with no maximum. Choose your game of poker from Omaha, Texas Hold'em and many others.
Table Games
Table games are played in the casino and Blackjack and Craps by the pool at XS Nightclub and Encore Las Vegas Beach Club. New table games are being added all the time so there will always be a game to play. All your favorite and traditional table games are here.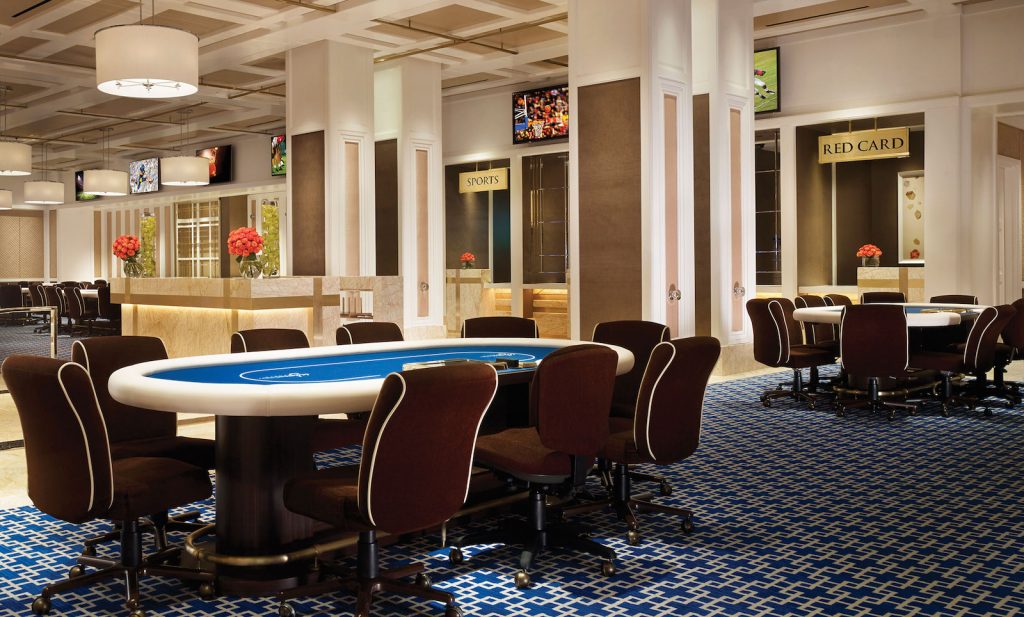 Craps
The crazy game is of dice that has its own language and where the entire table can win.
Blackjack
Get to 21 in total without going over and beat the dealer.
Roulette
Pick a number or color and wait till the little ball stops.
Race and Sports Book
With comfy seating and 3 betting stations, Encore Las Vegas Race and Sports Book has all that Wynn Las Vegas has to offer but in a more intimate atmosphere. Multiple TV screens ensure that you don't miss a race or sporting event. Race and Sports book is located next door to the players' Lounge.
Restaurants
Dining choices at Encore Las Vegas Hotel and Casino are varied from fine dining to more casual cafes and restaurants. Many of these at Encore Las Vegas are only open in the evenings but Wynn Las Vegas next door has more varied options open during the day. All fine dining restaurants recommend you make a booking for dinner or lunch (if served).
Fine Dining
Andrea's
This has been awarded a Forbes Travel Guide 4 Star award for its sharing plates from Chef Devin Hashimoto and its social scene. Located overlooking the Beach Club pool with private booths and elevated dining room is set for a fun night out. Try the Wagyu steak or the Lobster roll. New York Strip Steak and other Asian inspired delights. Open for dinner each night from 6pm. Dress is business casual for men and dressy and elegant for the women. Andrea's does not permit children under 5 years of age.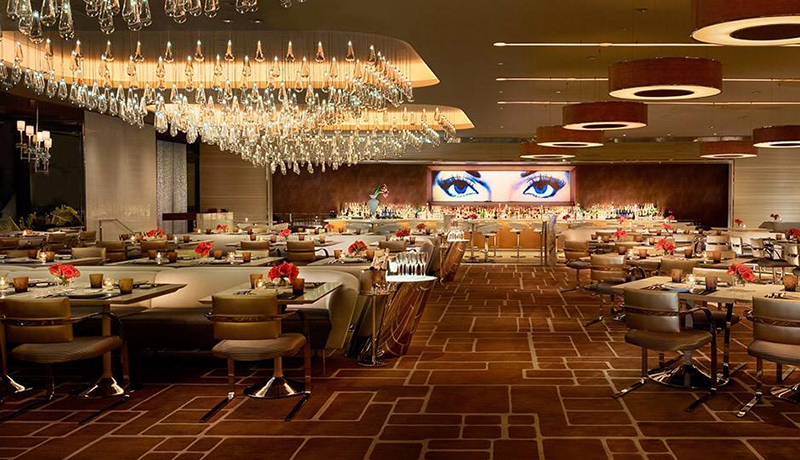 Botero
Open nightly for dinner from 5.30pm beside the pool. 2011 saw Botero awarded a AAA Four Diamond Award for its modern take on classical American dishes. Try a steak or a fantastic sandwich. Dress is business casual.
Sinatra
For a modern take on classical Italian cuisine with menu changing seasonally to ensure only the freshest ingredients are used. Dine inside or out on the patio. Open nightly from 5.30pm to 10.30pm reservations suggested as only a small number of tables. Dress is business casual.
Switch Steak
Open from 5.30pm every day for dinner where you can dine inside or by the pool Switch Steak is located on the casino floor near the Beach Club entrance. Try delicious seafood and steak on the French inspired menu. Dress is business casual.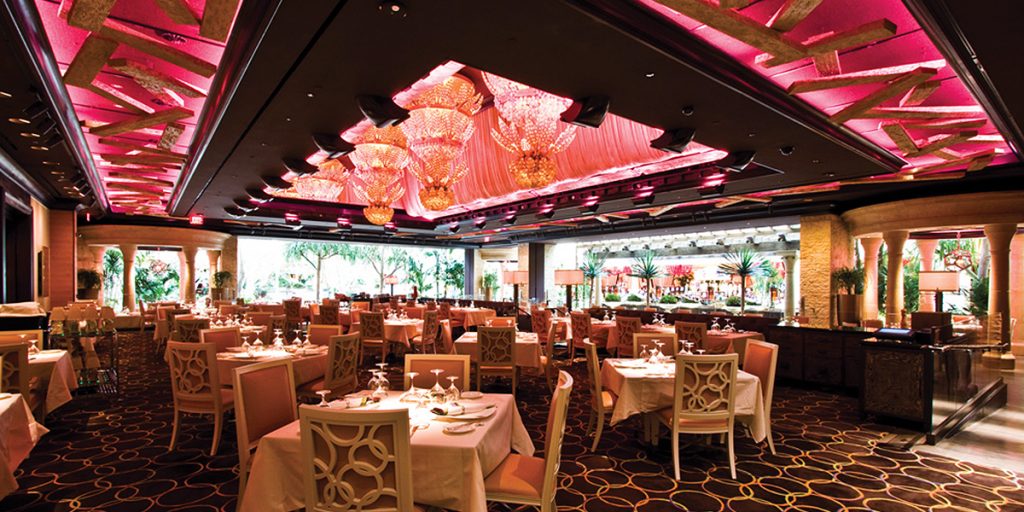 Wazuzu
Located near the casino this Asian restaurant offers dishes from Japan, China, India, Singapore and Thailand. Open daily for lunch and dinner from 11.30am till late. Dress is business casual.
Casual dining
Society Cafe Encore Las Vegas
Esquire magazine named this cafe one of the Best New Restaurants in 2009. Open from 7am til late every day of the week for all day dining at Encore Las Vegas Hotel and Casino. On the menu is Buttermilk Pancakes, shrimp cocktails and Turkey Burgers all at affordable prices and far better than any bistro offerings. Not sure what it chooses then opt for the Chef's Menu at $41 a head. Check out the late night munchies menu available between 11pm and 1am. Dress is resort casual.
Lobby Bar and Cafe
Located in the Lobby of Encore Las Vegas and is the place to grab a quick snack, pastry or drink before you try your luck at the casino or have a dip in the pool. Open from 6am till the wee morning hours.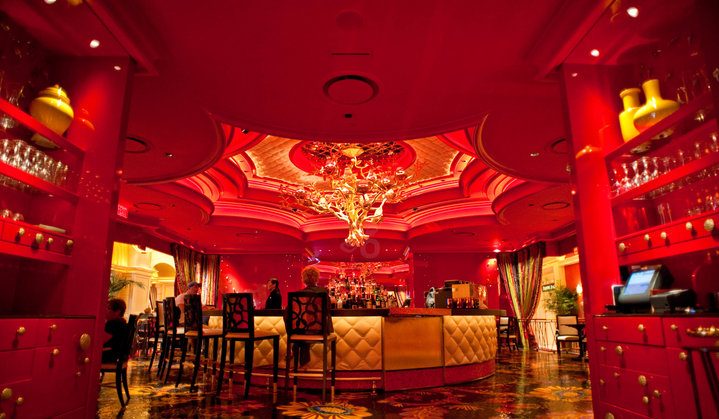 Goodies on Demand
Located near the registration desk for Encore Las Vegas Hotel and Casino is this up market cafe. Choose from gourmet and artisanal dishes from 6am to 12 midnight. It is very famous for great coffee, pizza and fresh salads, pastries and sweet treats.
Conclusion
The accommodation on offer here is superb with luxury and space in all rooms and suites. There is exceptional attention to detail to the decor which is plush and sophisticated. Encore Las Vegas Hotel and Casino exudes class with great style. Dining options here are mainly open for dinner but at nearby Wynn Las Vegas are many more restaurants and cafes to choose from.
There is great entertainment with some of the top names in music appearing here over the course of each year. Comedians, magicians, musicians and cabaret acts as well as live music in the bars is on offer daily. This is truly an outstanding and modern resort in Las Vegas located on The Strip.
About the Author