About Cosmopolitan
The Cosmopolitan Las Vegas, a luxury resort casino plus hotel, is located on the Strip, south of the Bellagio. It consists of 2 high-rise towers: the Chelsea Tower and the Boulevard Tower, both of which stand at 184 meters tall.
Plans for this property were announced in April 2004. A joint venture called 3700 Associates was formed by Soros Fund Management, a real estate developer called Ian Bruce Eichner, and David Friedman, who was a former executive of Las Vegas Sands. The developers bought the site, a 3.4-hectare U-shaped parcel, for 90 million dollars from an American company controlled by Margaret Elardi, the owner of New Frontier. In November 2004, further details about this project were released, including the Cosmopolitan name.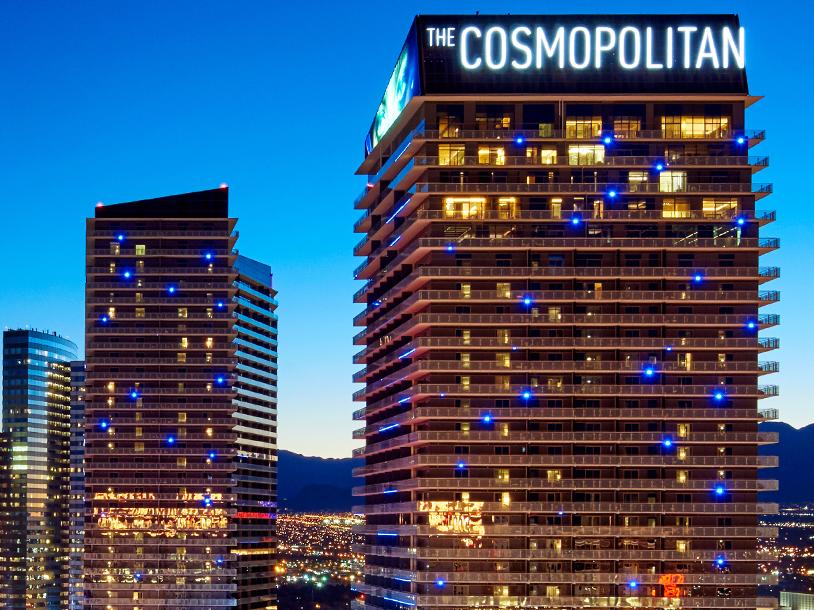 Friedmutter Group led the design team of Cosmopolitan Las Vegas Hotel and Casino as the executive architect; Arquitectonica was the design architect for the themed exterior of the building. DeSimone Consulting Engineers was the company that engineered the building. The interior design team of this building included Bentel & Bentel, Adam Tihany, Jeffrey Beers, The Rockwell Group, the Friedmutter Group, Prophet, and Digital Kitchen.
The Cosmo was built on the site that was previously Jockey Club's parking lot. An agreement was made for the residents of the Club to use part of the Cosmo's parking garage because the resort occupies most of the parking lot. The resort was the second Vegas hotel to have an underground parking garage situated directly below the hotel.
On December 15, 2010, the project officially opened and was part of the Autograph Collection managed by the multinational diversified hospitality company called Marriott International. In May 2014, Deutsche Bank sold the resort to Blackstone Group for 1.73 billion dollars.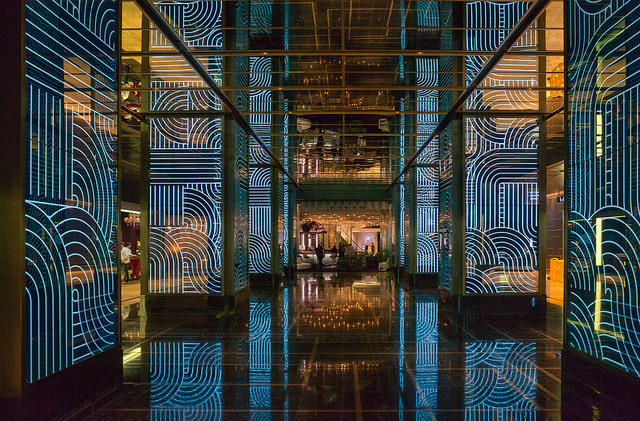 As soon as you enter The Cosmopolitan's lobby, you are surrounded by impressive digital art installations. The cutting-edge interior design details continue throughout the public spaces; each corner reveals another outstanding, interactive sculpture or illuminated staircase. Beyond the gaming floor of this resort, the upper floors of shops and restaurants also have creative, whimsical layouts that feature themed seating areas as well as a litany of attractive visual distractions to discover.
Location
Hotel Rooms
Cosmopolitan Las Vegas Hotel offers 3,027 rooms. Most of these rooms have their own private terrace, which is a great feature since the balconies allow you to get fresh air without leaving your room and you also get stunning views of the Las Vegas Strip.
Cosmopolitan Las Vegas Hotel and Casino has several room types, including the Bungalow, Two Bedroom City Suite, Reception Suite, Lanai Suite, Executive Suite, Terrace Suite, Terrace Studio, City Studio, City Room, and the Penthouse, which is in The Chelsea Tower. The largest room option at this resort is up to 3,700 sq. ft. while the smallest option measure 460 sq. ft.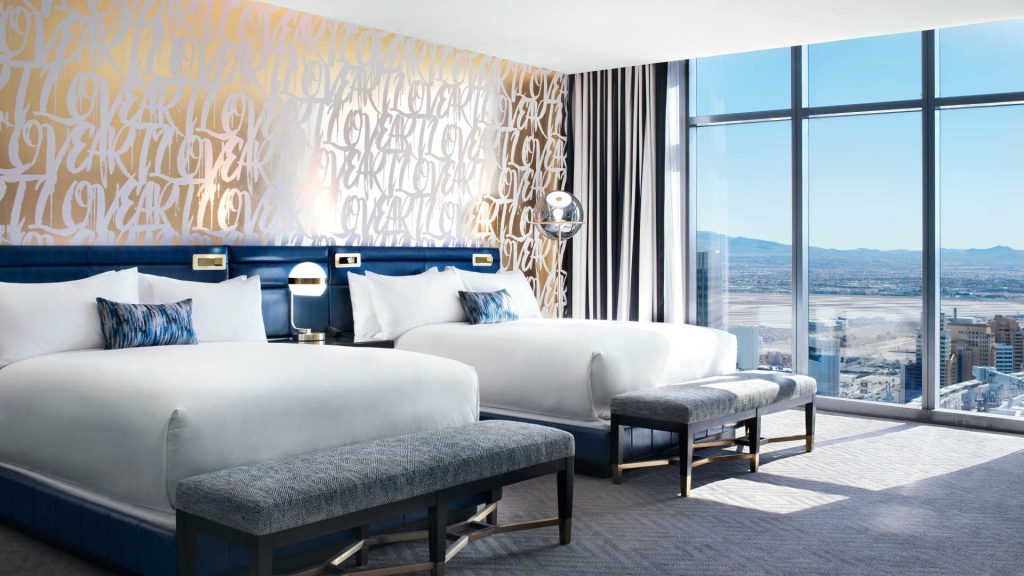 Since the original concept for this building was residential, all the rooms are spacious and liveable, even the entry-level City Rooms. The design consistency is breathtaking. Blues and bold greys frame an unswervingly modern space, with detailed and sexy modern photography and art. The Cosmopolitan Las Vegas is very aware of its millennial customers, and air-conditioning and iPad-controlled lighting are standard. You will also find black-marble bathrooms in these rooms, which is a classy design choice.
Spa and Fitness Centre
The Sahra Spa & Hammam at the Cosmopolitan Las Vegas Hotel is a full-service Vegas spa that provides spa services to soothe, restore, as well as rejuvenate your body and skin. You can enjoy their invigorating vitality pool with sauna, steam room, experiential monsoon rain showers, and cool mist room experience before and after your services.
There are state-of-the-art fitness centers in Boulevard and Chelsea Towers. These fitness centers feature personal lockers, free weights, tennis courts, 13 elliptical machines, and 19 treadmills.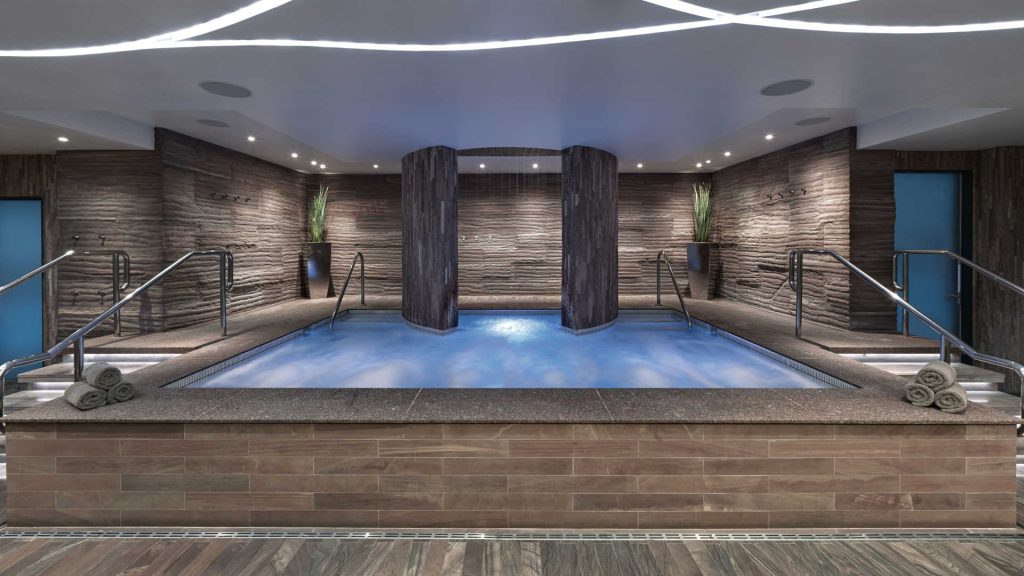 Venue
The Chelsea at Cosmopolitan Las Vegas Hotel and Casino is a 40,000 sq. ft. event and concert venue featuring private VIP gallery boxes, a vintage lobby bar, a diverse array of stage production props, remnant brick tiling, and a grand staircase that comes with a dramatic chandelier. It attracts some of today's popular music and comedy acts, plus sporting events. With 100,000 square feet of meeting space, the resort is also the perfect place for your next meeting or wedding.
Entertainment
The Chandelier lounge is a multi-story visual wonder that houses 3 unique bar experiences: it expresses elements of playground, cocktail haven, and art displays, all at the same time. This lounge is a living, architectural wonder created by bright, beaded curtains of light.
The Chandelier features unique cocktails ranging in price, but hover around 16 dollars a drink. CliQue Bar and Lounge at Cosmopolitan Las Vegas Hotel has beautiful decor and serves as a respite from the outside world; it offers house-made mixers and artisanal cocktails.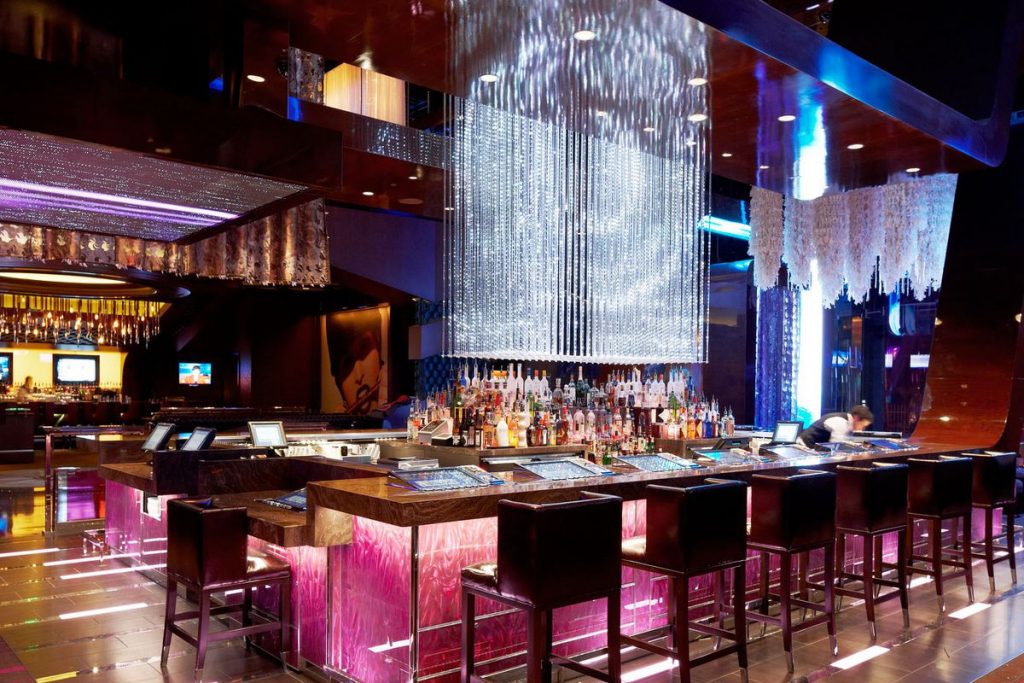 The Study at Rose is a bespoke destination for cocktails. Taking inspiration from classic speakeasies, this joint is a cocktail haven where guests can relax in a timeless space enriched with leather, dark woods, and tailor-made details.
Ghost Donkey at The Cosmopolitan Las Vegas is a Mezcal and Tequila Bar that features a menu that gets inspirations from the alluring Mexican ingredients and flavors. With a wide variety of mezcal, this bar serves expertly chosen tasting flights with crafted cocktails. These cocktails are uniquely made with traditional spirits from Mexico and artisanal brands.
Swimming Pools
The Cosmo's district of 3 distinct Vegas pool experiences lets guests choose the scene they prefer. The Chelsea Pool at Cosmopolitan Las Vegas Hotel and Casino is a refreshing retreat and an indulgent escape. Designed for pampering, the discrete havens of this pool provides varying degrees of privacy. It's the ultimate Vegas relaxation zone; you can go to this pool to relax while listening to the soothing ambient sounds and take a break from all the excitement of the Las Vegas Strip. The Chelsea Pool opens every day from 8 a.m. to 6 p.m.
Boulevard Pool opens from 8 a.m. to 6 p.m. Its multi-level, open-air environment provides great views of the Strip. Upbeat music, combined with closely spaced daybeds and lounge chairs, creates a communal ambiance and vibrant social scene. You can also enjoy the movies on the marquee and live musical shows on the pool stage.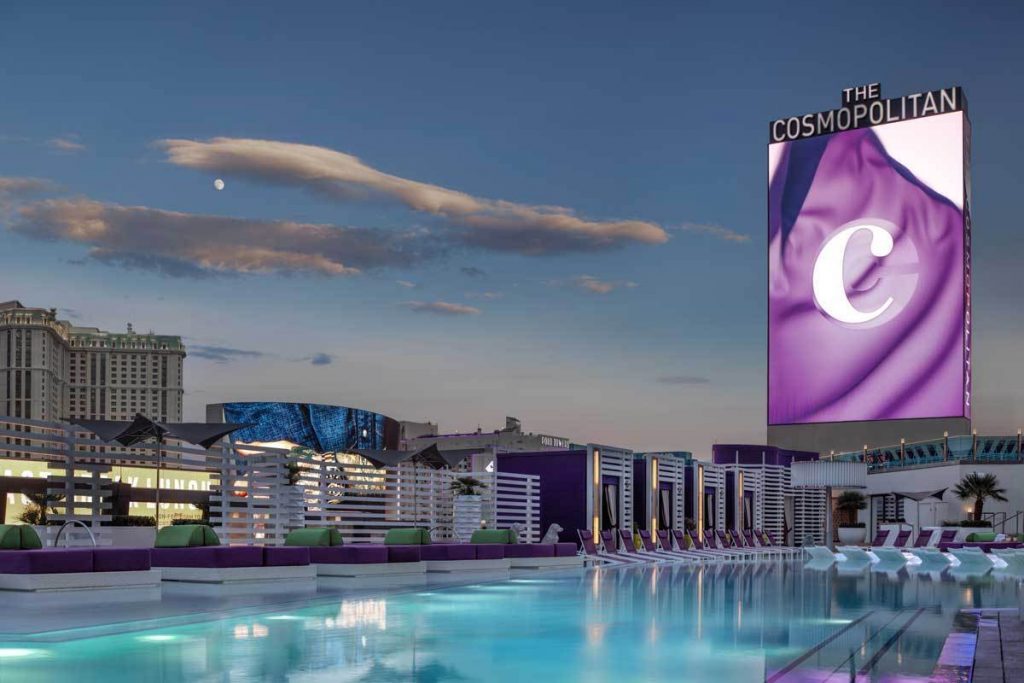 The Marquee Dayclub pool at Cosmopolitan Las Vegas Hotel is a lively beach club experience only for adults. During the day, the beach club has a lounge-like feeling, and at night the place transforms into an entertaining extension of the nightclub. The area features 3-story Bungalow Suites, all having a deck on top, infinity plunge pool, and living quarters. The Marquee Dayclub pool opens daily from 11 a.m. to 6 p.m. Thursday to Sunday.
Shops and Boutiques
This resort has the most eclectic selection of shops assembled on the world-famous road – Las Vegas Boulevard. The shops include women and men's clothing, swimwear, jewelry, accessories, footwear, travel essentials, books, souvenirs, gifts, wines and spirits, tasty snacks, and more. The shops are Vitals, The Goods, The Corner, Stitched, Jason of Beverly Hills, Skins 6
Shows
Cosmopolitan Las Vegas Hotel has some of the best shows on the Strip. They include the Opium, an adult-only show from Spiegelworld, a live entertainment production company famous for its shows that combine adult comedy, music, and acrobatics with a modern twist on the normal traditions of burlesque, vaudeville, and speakeasy bar culture. The list also includes globally-famous artists, bands, and comedians such as the Los Angeles-based alternative rock band called Silversun Pickups, the comedian Adam Richard Sandler, and more.
2 Cosmetics, Reviv, Retrospecs & CO., Monogram, CRSVR Sneaker Boutique, Molly Brown's Swimwear, and All Saints.
Gambling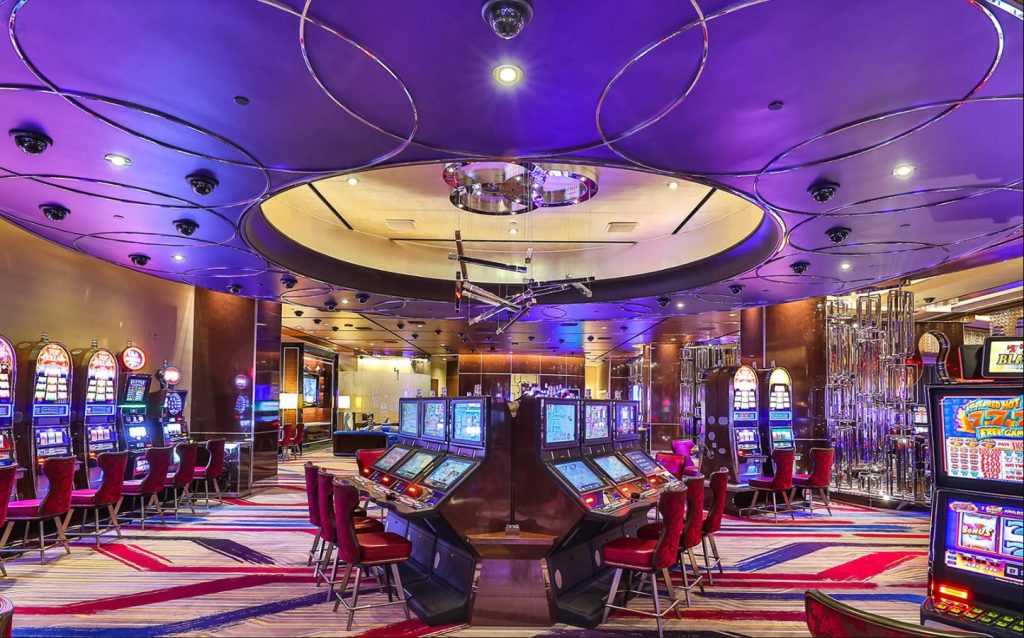 Sportsbook
The Cosmopolitan Las Vegas sportsbook is spacious, convenient, and comfortable and offers a significantly upgraded experience. There are ultra-modern LED video walls for race and sports as well as numerous HD TV screens. The sportsbook also offers players the option of wagering using their mobile devices with their latest technology. Every bit of furniture in the sportsbook is top quality. There are leather club chairs, leather sofas, and approximately 16 deck spaces with leather swivel chairs.
Restaurants
Cosmopolitan Las Vegas Casino offers classic table games on their 110,000 sq. ft. casino floor. Whether you're a learner or a serious player, you will definitely find a table game that will meet your needs since bets range from $10-$10,000.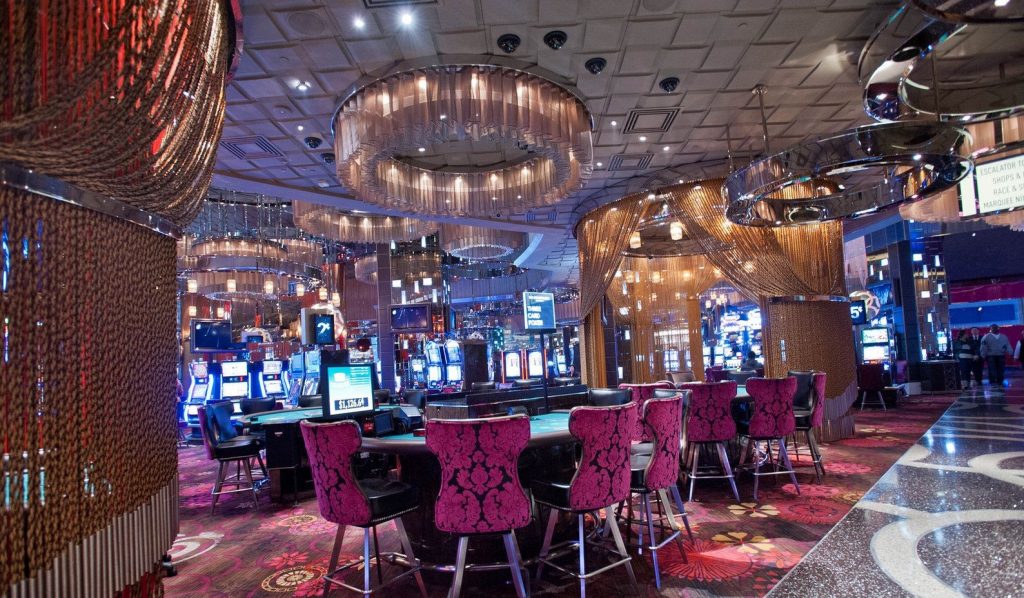 Conclusion
The Cosmopolitan Las Vegas offers around 20 dining options in a carefully curated selection that's appealing. Wicked Spoon, their signature buffet, is a step above its competitors. Even the casual breakfast spots like Va Bene coffee stand definitely have a stylized, retro feel. The lower end restaurants at this hotel are priced between $12 and $20 per meal. The flagship restaurants include David Chang's Momofuku, a hip outpost that offers innovative Asian classics amid intriguing street art. The celebrity chef Jose Andreas has 2 spots, including China Poblano, which is Jose's Mexican-Chinese fusion restaurant. The Henry opens 24/7 and serves American-based cuisine, but also has an option for most.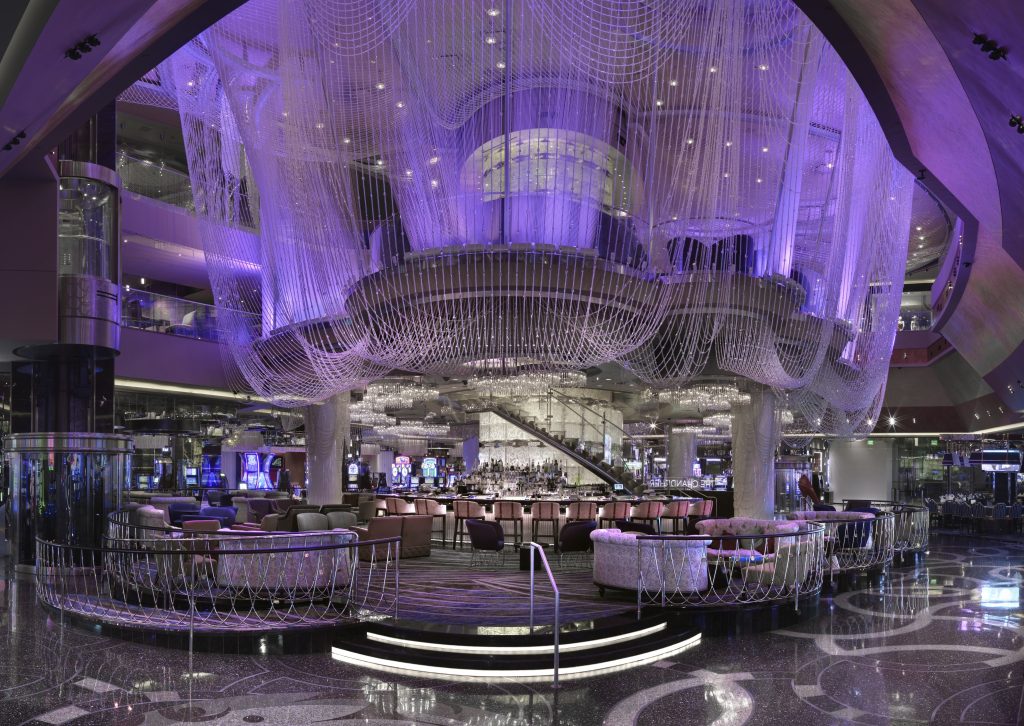 In 2013, Gogobot rated this hotel the best in the world. The 2015 Condé Nast Traveller Gold List named the resort as one of the world's top hotels.
About the Author