About Bally's Las Vegas
Located at 3645 South Las Vegas Boulevard is Bally's Las Vegas Hotel and Casino. Currently operated and owned by Caesars Entertainment Corporation. Choose from one of the more than 2,800 rooms, many renovated in 2018. Majority of the spacious rooms and suites are in the Resort Tower and the remaining rooms are in the Jubilee Tower that was built in 1981. Complete with a floor of shops and boutiques below the gaming level, there is also a monorail station at the rear of the complex. Bally's Las Vegas is linked by a bridge to a sister property, Paris Las Vegas.
The site was originally the Three Coins Motel in 1963 and then became the Bonanza Hotel and Casino in 1967. By 1973 it was the MGM Grand and was a bigger building than the Empire State Building. Dean Martin was a long time entertainer and his TV show Dean Martin Roasts was filmed here. A new standard in luxury and size when it was built, it had a big impact on what was to follow.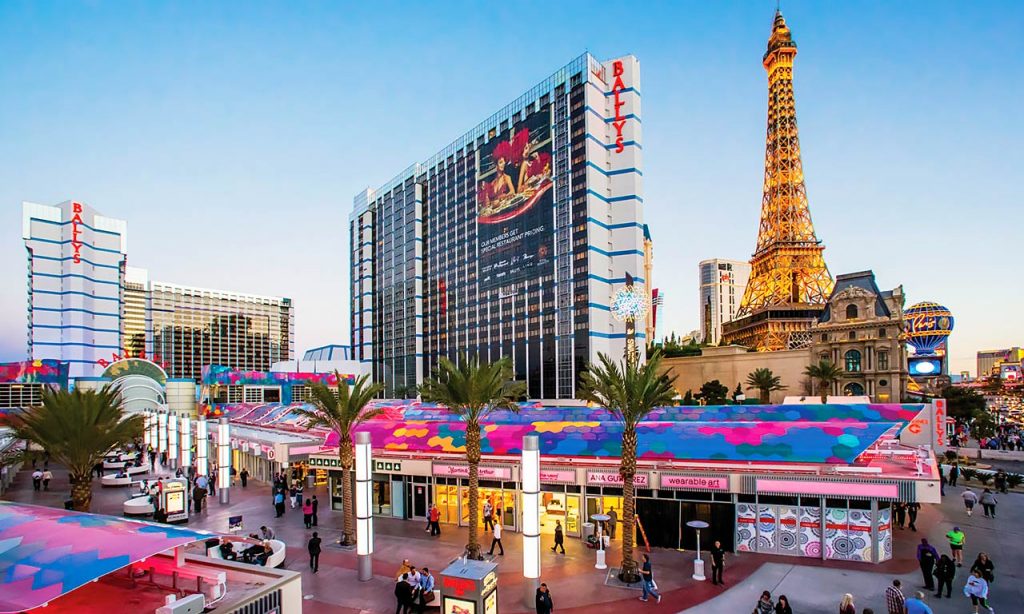 Sold to Bally Manufacturing in 1986 for a staggering $594 million, the name MGM Grand was transferred to the Marina Hotel. Hilton Hotels bought Bally in 1995. In 1997 Paris Las Vegas was started and opened 2 years later. Hilton's casino division became Caesars Entertainment in 2003. In 2018 a $125 million renovation of more than 2000 rooms saw the North Tower renamed the Resort Tower. The Jubilee or South Tower was renovated in 2014.
Bally's Las Vegas Hotel and Casino has featured in many TV shows and movies:
Dean martin Celebrity Roasts from 1974 to 1984
Rocky IV-site of Apollo Creeds exhibition bout
Fever Pitch 1985
The Late Show with David letterman for one week 1987
Hot Shots 1991
Honeymoon in Vegas 1992
Leaving Las Vegas 1995
Hosted the second season of Monopoly Millionaires Club
Who wants to be a Millionaire studio is located here
Location
Hotel Rooms
Bally's Las Vegas Hotel and Casino is a vibrant mix of shopping, gaming and entertainment. Accommodation is spacious and all newly renovated with the majority of rooms and suites located in 2 towers. Rooms are smoking and non-smoking and you can have your dogs on holiday with you too.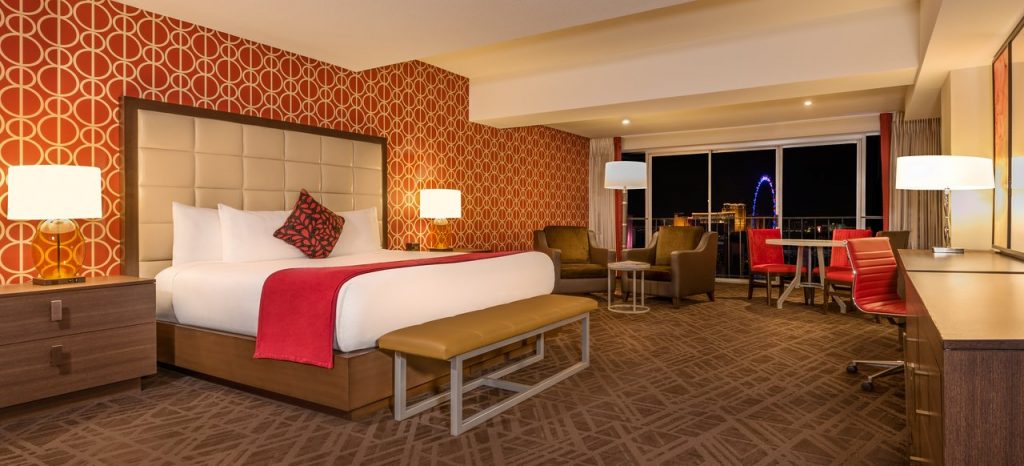 Resort studio suite Hotel Rooms
Resort rooms: feature 1 king bed or 2 queen beds and can be smoking, non-smoking and pet stay. All rooms include a 42 inch TV with in-room movies and upgraded bathrooms.
Jubilee Rooms: all feature plush furnishings, rich wood tones and a marble bathroom and have 1 king bed or 2 queen beds. Can be smoking or non-smoking with a view of the Strip.
If more room is needed a Resort Studio Suite or Jubilee Studio suite has a living area and bedroom with either a king bed or 2 queen beds. Smoking or non-smoking. Jubilee Executive Suites and Resort Executive Suites are bigger again and can be pet stay and smoking or non-smoking.
Resort Premium Suite/Resort Presidential Suite:have a large living rooms and dining areas as well as a king bedroom. There is room for the entire family here.
For maximum room the Penthouse Suite has 2 king beds and 2 living areas with a whirlpool tub in each bathroom.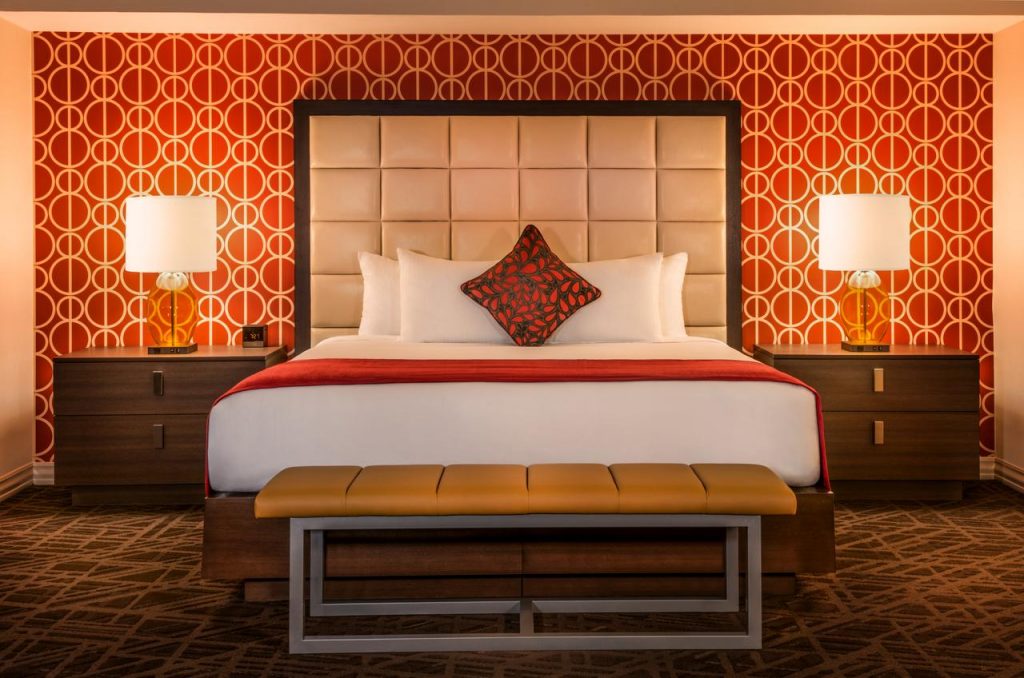 Spa and Fitness Centre
The Spa at Bally's: The Spa at Bally's Las Vegas is the place to escape the fast life and relax in a quiet and peaceful environment of saunas. Hot tubs and steam rooms. From a facial to a full body massage using products from Dermalogica and Pure Fiji as well as vegetarian and vegan products, this is the place to relax and be pampered. Take home the products used as a reminder of relaxation. For the more energetic is the gym open to all people over 18 years of age. This is inclined in the resort fee so no hidden costs.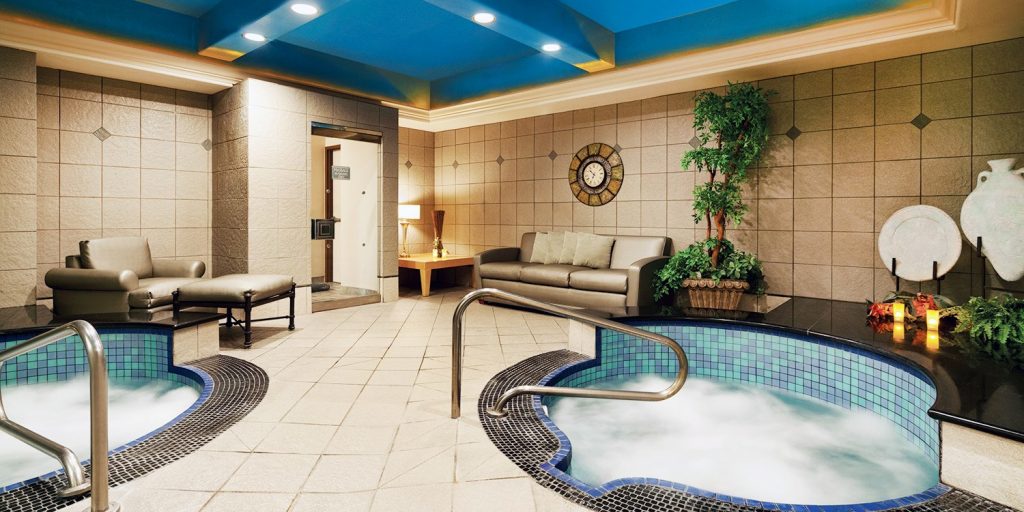 Shows
Paranormal with Frederic Da Silva:
Da Silva is an international mentalist who uses the powers of the mind to bring you a sensational show. Full of magic, mind reading, hypnosis and mystery all wrapped up in one amazing show. At 4pm every day in the Windows Showroom.
Xavier Mortimer's Magical dream:
Once a part of Cirque do Soleil's line up, this show transports you to a world of imagination and dreams. A show for all the family with amazing characters throughout the performance. From 6pm every day in the Windows Showroom.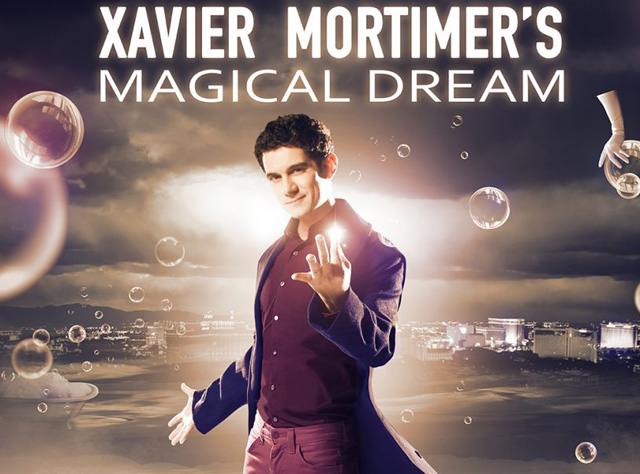 Miss Behave:
See London's queen of cabaret in this funny game show setting. A world record sword swallower and part of the Olivier Award winning shows Absinthe and La Soiree. In the Back Room from 8pm Wednesday to Sunday. Must be over 21 years of age.
Nitro Circus:
This fabulous show is coming soon to Bally's Las Vegas Hotel and Casino

.

X Rocks:
A fabulous high voltage rock show that is a combination of burlesque and rock music. See all your favorite rock songs as never before. In the Back Room from 10pm Thursday to Monday. Must be 21 years of age and over.
Real Bodies: See what our bodies look like with the skin and fat stripped away. This exhibition is a fascinating look at the human form on the inside. See how each bodily system works and what happens when we eat and breathe.
The Salon: For that new hairstyle cut or color while at Bally's Las Vegas Hotel and Casino The Salon is the place to be pampered. Located past the shopping area and behind Race and Sports Book is the perfect spot for a new look for men and women. This is the one stop shop for your nails, hair and make-up, spray tans and waxing.
Shops and Boutiques
Blu Pool at Bally's Las Vegas: Surrounded by a lush garden is the outdoor pool with private cabanas containing fridge, TV and phone. Complete with a deep end to the pool, music and frozen cocktails, the place to laze away the day.
Gambling
Shopping Promenade: The dedicated shopping level at Bally's Las Vegas Hotel and Casino has everything you could need. There is jewellery, both costume and gold and silver selections, clothing, home gadgets, collectibles as well as mementos to take home of your time in Las Vegas. Art of Music has everything celebrity including autographed items, and at Higuchi there is home decor and collectibles.
Slots
At Bally's Las Vegas Hotel and Casino, a great slots experience awaits you. As well as a great selection of slot machines, you can join in a tournament and compete on slot machines. Compete with other players in a timed round or with the same credit on the same slot machine. Get the highest score and be the winner. Choose from new video slot machines or the more traditional reel machines.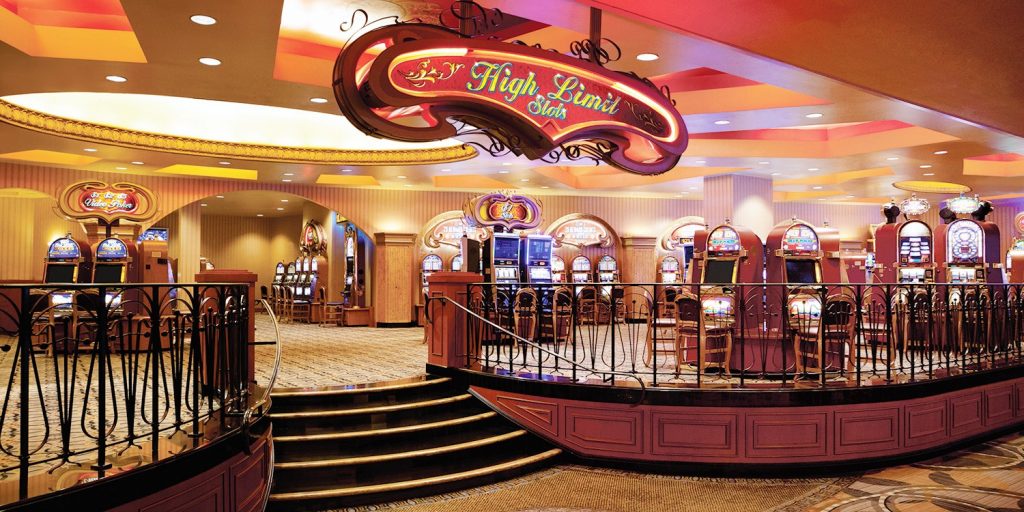 Poker
The poker room at Bally's Las Vegas Casino is made for poker players with 10 seat tables and nothing to distract you from the card game at hand. Join a no limit table or join a table with an upper limit of Texas Hold'em Poker. Stakes usually set at $1-$2, $2-$5 and $3 to $6. Poker tournaments are on here every day and World Series of Poker has a tournament here every year.
Every day you can join a $60 no limit tournament or join a competition for $1 an hour of play. Drink service is fast to all poker tables.
From the seasoned poker veteran to the beginner a poker game is waiting for you to join at Bally's Las Vegas Hotel and Casino.
Texas Hold'em poker
Two cards are dealt face down to every player. Five cards are then dealt face up in 3 stages as community cards. Pick the best 5 cards from your hand and the community cards.
7 Card stud
After initial deal of 2 cards each a round of betting occurs. Then another card and another round of betting or folding as the case may be. This continues until 7 cards each have been dealt. the remaining players place a final bet then show cards to see who has won.
Let it Ride
A variation of 5 card stud poker when you have a great hand and just let it ride
3 card poker, 6 card bonus
Win a staggering $100,000 with just one hand! Play 3 card pokers with an interesting twist. Any 3 straight or suited cards is a paying hand and if you manage to get the 9 to Ace of Diamonds you can win $100,000. This game is exclusive to Caesar's casinos.
Table Games
Table games at Bally's Las Vegas Hotel and casino has all your favorites from Blackjack, 4 versions to choose from, to Roulette, Baccarat and Craps. With more than 60 table games to choose from, one will become a favourite.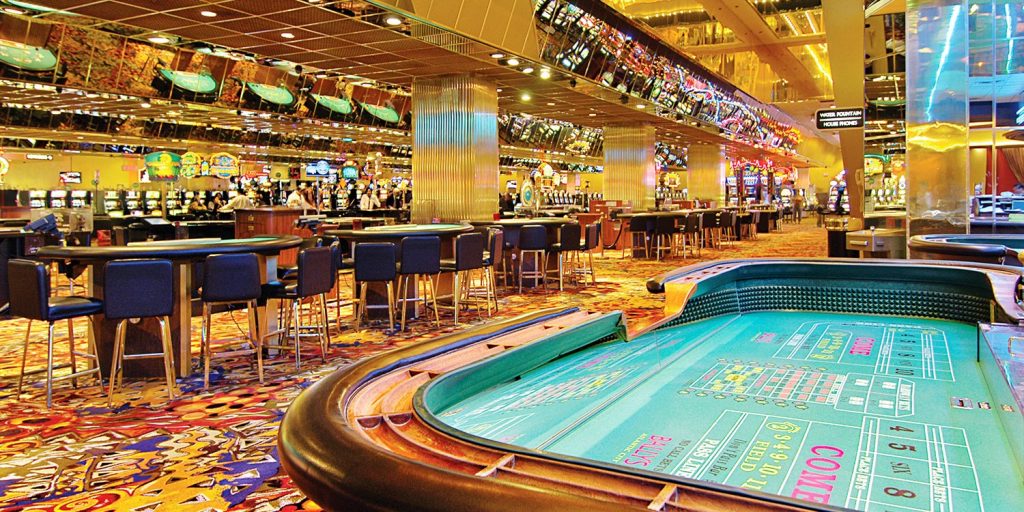 Baccarat
James Bond's quintessential card game. Baccarat is a simple game to learn with a simple decision to make. Bet on the player or the bank. The hand that gets the closest to 9 will win.
Blackjack
Get as close to 21 without going over.
Craps
The dice game with its own distinctive character and language. Crap is a dynamic and very social game to play with the people around the table at Bally's Las Vegas.
Pai Gow Poker
This table game is a combination of poker and Eastern Tiles. From the 7 card draw, choose a 5 card and a 2 card hand. Both hands go up against the dealer. It can be an exciting game to play.
Pai Gow Tiles
Also called Chinese Dominoes, a challenging game where you create 2 hands from 4 tiles and go up against the dealer.
Roulette
One of the most popular casino games around the world. Choose a lucky number from 1 to 36, 0 or 00. Bet red or black, odds or evens whatever you choose.
SportsBook and RaceBook
For a bet on a horse race or live sports games check out the Sports Book and the Race Book at Bally's Las Vegas Casino. With large screen TVs and Individual monitors this is the place to be to place a bet. open Monday to Wednesday from 8am to 8:30pm,  Thursday 8am to 9:30pm, Friday 8am to 10pm, Saturday 7:30am to 10pm and Sunday 7:30am to 9pm.
SportsBook
For all betting on the day's biggest sporting games you can watch live on large screen TVs.
RaceBook
Race Book is for all betting on horse racing from all over the USA.
Restaurants
Food for the entire family is available at Bally's Las Vegas Hotel and Casino from formal to casual or just a quick snack.
SEA: The Thai Experience:

For great Vietnamese and Thai dishes located off the casino floor near the Steakhouse. Open for lunch and dinner.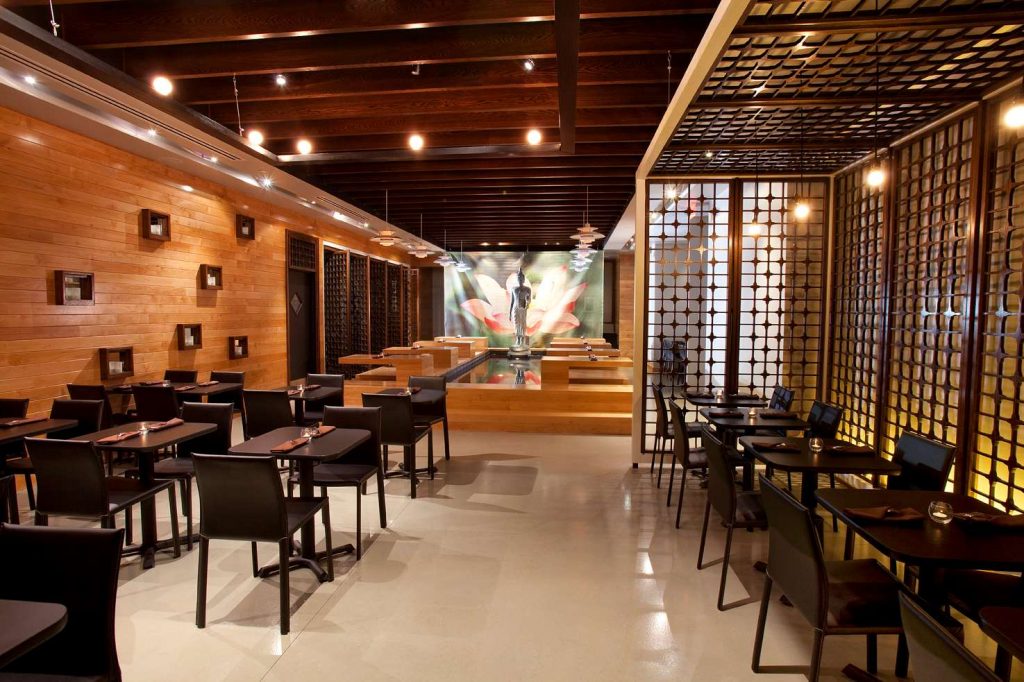 Nosh Deli: Located next to the elevator for the Jubilee Tower, Nosh deli offers great food in a hurry. From gourmet sandwiches to pastries, salads and coffee, wraps and bagels, breakfast and lunch. Open from 6am to 8 pm daily.
Lavazza: For your morning coffee, juice or smoothie at any time of the day. It is Also serving freshly baked goods every day.
Sbarro: For pizza, pasta and all things Italian open 24 hours a day.
BLT Steakhouse and Sterling Brunch: At Bally's Las Vegas for a more up market food experience this is the place to go. The All American steakhouse is with steaks, seafood, a variety of side dishes and wonderful desserts. The wine list contains over 300 labels. Happy hour is on every day from 4-6pm.On Sunday mornings it becomes Sterling Brunch with a great seafood, lamb and beef brunch menu. Join the self-serve line or order from your waiter and enjoy champagne and mimosas. A range of gluten free items are available.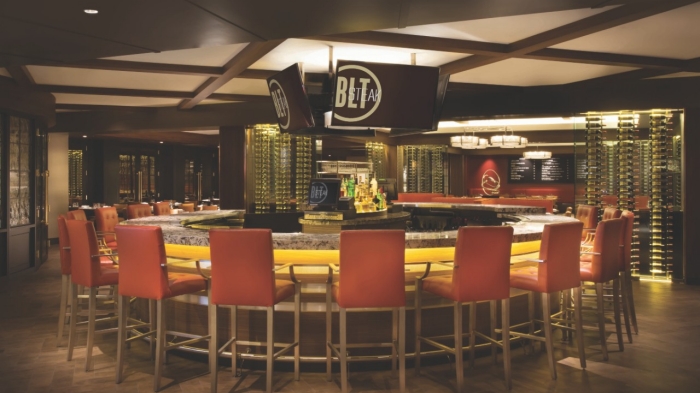 Tequila Taqueria Bar and Grill: Choose from more than 30 Tequilas and 10 Mexican beers to have with your authentic Mexican fare. A full range of tacos, tortas, fajitas, and enchiladas. Open from 12 noon to midnight
Nathan's Famous Hot Dogs: For everything related to hot dogs straight from Brooklyn this is the place to grab a quick bite. With a range of hot dogs, burgers, sandwiches and "the best" crinkle cut French fries ever. It is located next door to the Race and Sports Book.
Buca di Beppo: Buca di Beppo is a great Italian food including banquet menus for large groups. Open for breakfast till Noon then dinner from 5pm.
About the Author