About Aria Las Vegas
Aria Las Vegas is a luxury resort plus casino and consists of 2 curved glass plus steel highrise towers that are adjoined at the center. The resort was opened on Dec.16, 2009, as a JV (joint venture) between Infinity World Development and MGM Resorts International. This was the same month that several CityCenter properties opened such as The Crystals, which is an attached retail shopping mall.
Pelli Clarke Pelli Architects conducted Aria's architectural design, and construction started in early 2006 on the land located between Monte Carlo and Bellagio. The site was previously occupied by a large parking lot, retail stores, and the former Boardwalk hotel-casino; all of them were excavated, beginning in April 2006.
Following the excavation, the foundation of Aria Las Vegas was poured in June 2006. In September 2007, vertical progression commenced. Point construction workers were building at a rate of 1 floor every one week until they reached the final height (61 floors). In 2007, amid ongoing construction, Infinity World Development invested about 2.7 billion dollars to acquire a 50 percent stake in that CityCenter project.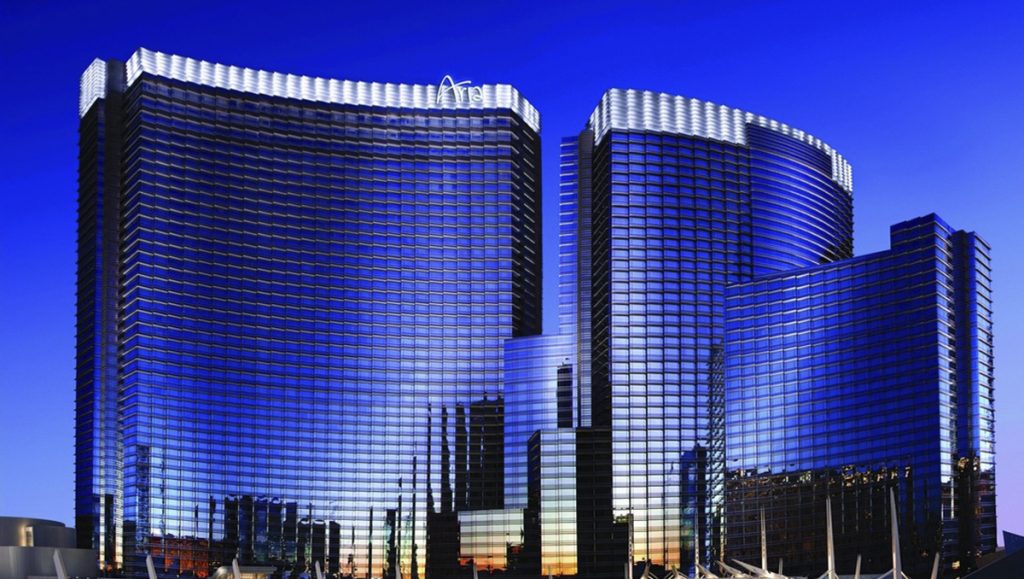 This vibrant high-rise resort is conveniently part of the CityCenter complex located on the Strip, just off Las Vegas Boulevard. This puts guests who choose to stay here within reach of everything the Las Vegas Strip offers, although there is plenty to do without leaving the resort itself. When it comes to this ultra-contemporary resort, wow factor is high: it's decorated with the best of CityCenter's 40million-dollar fine art collection.
Outside the hotel lobby, you will find colorfully lit fountains spritz, while "Silver River" sculpture is dangling over the reception desk inside Maya Lin's shiny. Throughout the public spaces of the hotel, the surprisingly curved and angled walls, glittering metallic accents, and lofty ceilings enhance the arty look.
Location
Hotel Rooms
Aria Las Vegas has 4,004 guest rooms within its 370,000 square meters. The suites at Aria Las Vegas make up 568 of the total rooms and a portion called Sky Suites, a Forbes Five Star and AAA-5 Diamond hotel. Sky Suites are classified separately since they're accessed via an elevator and private entrance, and they include transportation between the airport and hotel in limousines that are fueled by compressed natural gas. All rooms come with a touch-screen automation system that turns off unused electronics and lights, automatically adjusts curtains, plus regulates the temperature when you enter or leave the room.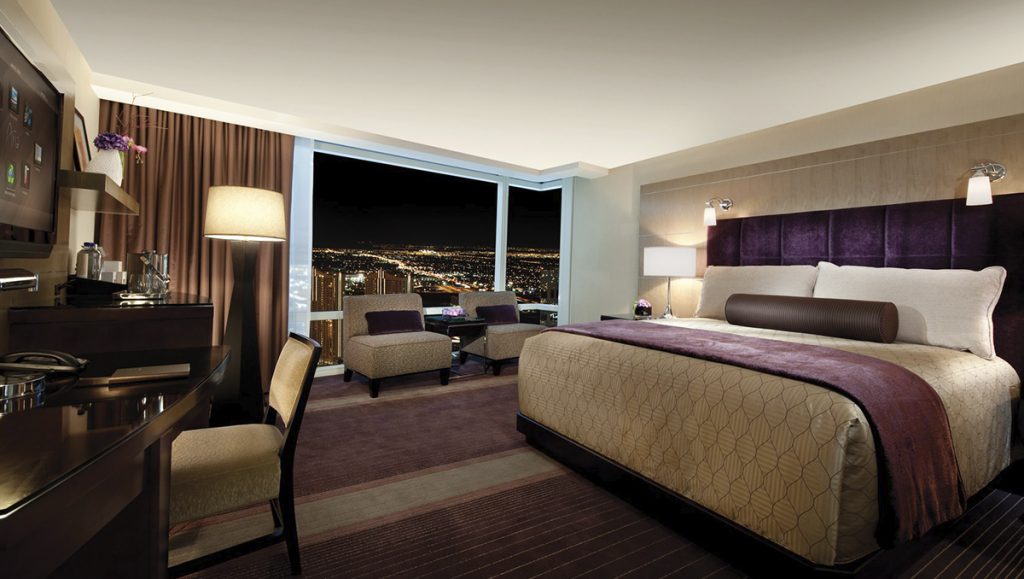 The standard guest rooms are also larger than you might expect. Generally, cushy in-room amenities include a high-tech workstation, triple-sheeted bedding, and a marble bathroom with separate soaking tub and shower. The décor is exciting and stays stylish by use of modern prints plus a palette of chocolate brown, slate, and black. All suites and rooms are non-smoking.
Spa and Fitness Centre
Aria's spa is very expansive and most of the usual spa offerings are included in your daily resort fee. Also, non-hotel guests can opt into a spa visit at Aria for a fee, which depends on the services or facilities you are using. Your name on the reservation and hotel key are sufficient for entry to Aria's spa and fitness center.
In addition to a salt room, therapy pool, massages, and salon, the resort also has an ultra-modern fitness center ideal for guests staying at the property. Again, in your resort fee includes access to Aria's fitness center.. The fitness center and spa are open every day from 5 a.m. to 8 p.m., including weekends.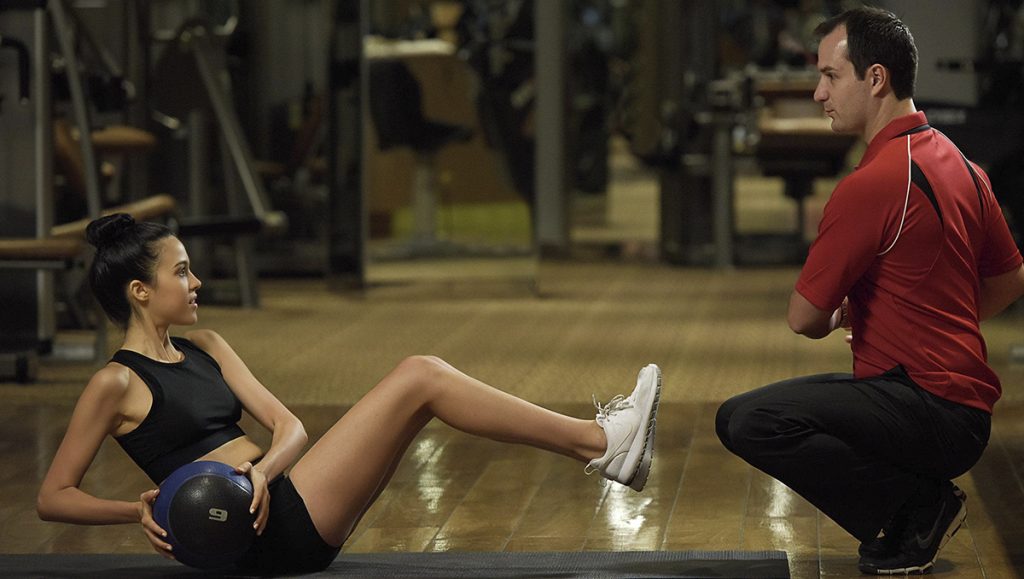 Venues
Aria Las Vegas has a banquet hall that will make your events memorable. This includes corporate events, special events, wedding ceremonies, and wedding receptions.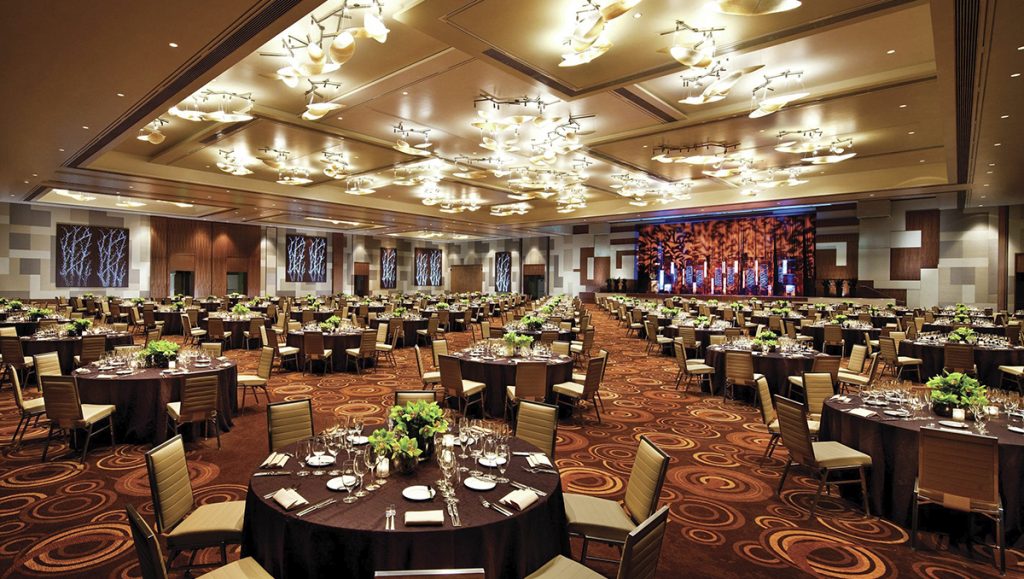 There is a 3-story, 300,000 square foot convention center at Aria Las Vegas that includes 4 ballrooms, 38 meeting rooms, plus a 3-story 400 ft long window overlooking the swimming pool.
Entertainment
There are ten bars and clubs within the resort. When the mood strikes, guests can go to Lobby Bar and unwind with a mouthwatering cocktail. The prime location of this bar makes it the best place to kick-off your evening at ARIA before going to dinner or one of Aria's lounges. Alternatively, guests can go to the Gem Bar for an organic cocktail or craft beer, and watch their favorite team in high definition while at the same time enjoying bar top gaming.
The Baccarat Lounge is also one of the hidden gems at Aria Las Vegas. It's an intimate bar situated at the corner of the Baccarat Room. This lounge has a posh ambiance, which complements Aria's discerning atmosphere and gives you a welcome retreat from the exciting Vegas nightlife.
JEWEL is the nightclub show star at Aria Las Vegas. It's one of the most popular Vegas nightclubs. JEWEL is open from Friday through Monday nights, and occasionally on Thursday when there is a special event. The club opens at 10 p.m. and closes at 4 in the morning. This nightclub is a great club for the modern Las Vegas experience.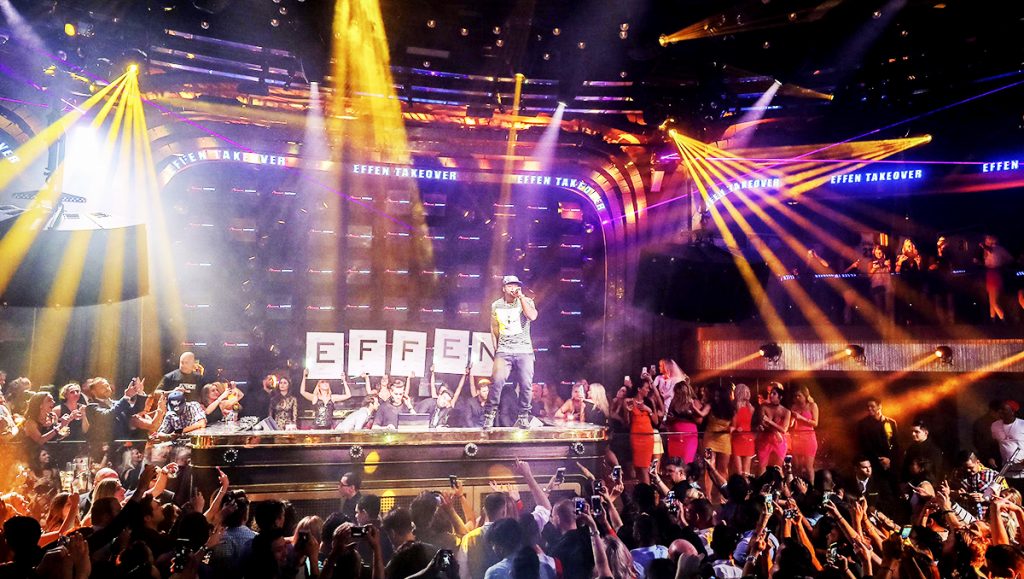 Gold Lounge owned by Cirque du Soleil is located in this resort. The design of this 3,756-square-foot lounge is reminiscent of Graceland, Elvis' mansion; gold and black are used extensively throughout the décor. Also, the shape of the bar is similar to the one at the Elvis mansion. The music played at Gold Lounge changes throughout the night and includes Pop, Top 40, minimal hip-hop, Elvis remixes, commercial House music, and upbeat Classic rock. As of mid-2015, the Gold Lounge was closed for remodeling and a 4-million-dollar makeover.
Swimming Pools
The Pool Deck at Aria Las Vegas contains one large pool that's surrounded by tropical landscaping plus multiple smaller pools. The 182,985 sq ft Pool Deck has 34 cabanas, Pool Bar, as well as a retail shop and security kiosk at the entrance. The 34 cabanas are structural steel, which are covered with tensile fabric. Pool Bar are sweeping canopies that have been created by layering fine plaster used for coating wall surfaces (stucco) on top of curved steel skeletons. In March 2010, LIQUID Pool Lounge (a separate outdoor swimming pool area) was opened.
Shops and Boutiques
Guests can explore the season's new lines and discover accessories boutique from fashion-forward designers within Aria resort. Guests can pamper themselves with some of the finest things found in Aria's shops and boutique. The shops at this resort include Aria at Home, ARIA Men's, Elena Bulatova Fine Art, Elements, Optica, Sundries Express, Radiance, The Art of Richard MacDonald, Terrene, and The Spa & Salon at ARIA.
Shows
Cirque du Soleil, NEG Holdings, LLC, and its subsidiary EPE (Elvis Presley Enterprises, Inc.) created a show at the resort celebrating Elvis Presley's music entitled Viva Elvis. This premiered on Feb 17, 2010, and it consisted of acrobats, dancers, singers, music, plus multimedia components that were paying tribute to Rock 'n' Roll king. The Gold Boutique Nightclub and Lounge at Aria Las Vegas is themed after Elvis Presley's former Graceland home.
Gambling
The casino at Aria Las Vegas is the only one within the CityCenter complex. It's 150,000 square foot gaming space includes table games, poker, a sports and race book, and slot machines.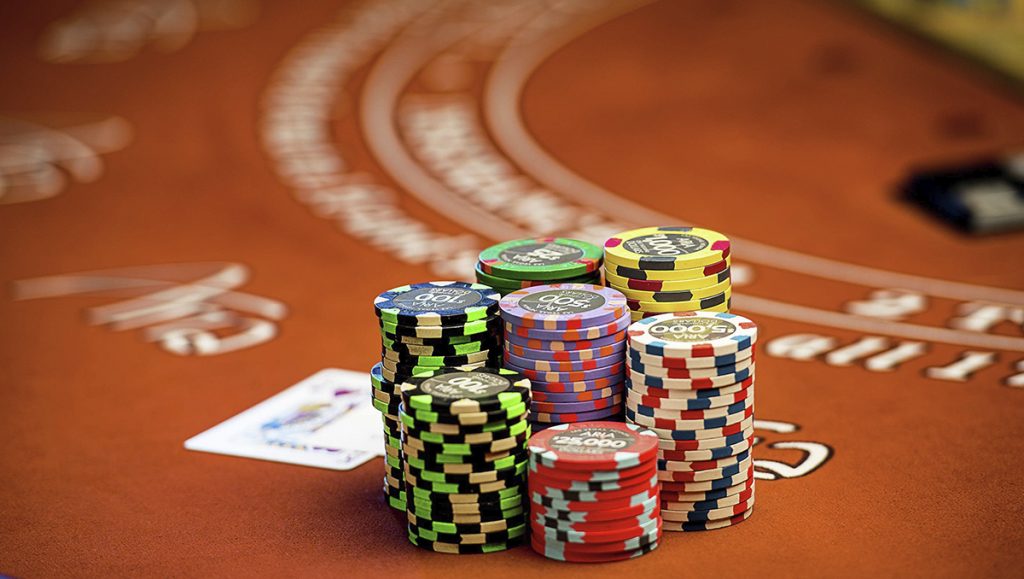 Slots at Aria
There is always something new happening at Aria, with new slots featuring fun interactivity, exciting bonuses, and big jackpots. Aria has a total of 1,940 slot machines, which are spread throughout the property, with lower limit slot machines comprising the majority of the floor, and mid limit sections located just outside of Aria's high limit area.
Blackjack
Aria has 33 blackjack tables that deal a 6-deck shoe and also hit soft 17. You may double on any 2 cards after splitting. Also, surrender and re-split aces are allowed. The minimum bet is 15 dollars, while the maximum is 5,000 dollars. Aria also offers a nice Double Deck Blackjack game.
The game allows double downs after a split and on any 2 cards. Re-split aces is also allowed. Bets from 100 up to 10,000 dollars are accepted and the dealer stays on 17. Other popular Blackjack variations at Aria include Free Bet Blackjack and Blackjack Switch. Bets between 25 and 5,000 dollars are accepted.
Baccarat
There are twelve baccarat tables at Aria, and they start at $25 minimum with $10,000 maximums or even more. Guests who want to squeeze their cards while playing can be subject to a 50 or 100 dollar minimum per hand.
Roulette
Roulette is also one of the popular table games at Aria. There are twelve tables: Eleven have a 15-dollar minimum bet and have 2 zeros on the wheel.
A 50-dollar table has one zero, and it offers European rules, meaning that if zero is called, you will be given half of your original wager on even money bets. Aria is among the few casinos located on the Las Vegas Strip that offers European roulette.
Craps
There are twelve craps tables at Aria Las Vegas Casino, and the betting range is 10 to 5,000 dollars. Odds are 3-4-5.
Aria's Sportsbook
Guests can join the betting action for horses and sports at Aria Las Vegas. Aria's sportsbook betting include placing wagers through mobile phone after downloading and installing the PlayMGM betting app and betting at the window. You will get the same odds through your smartphone bets just as you would when placing bets at the counter.
The seating at the sportsbook is all wide comfortable couches or leather club chairs with nice tables to match them. There are several couches against the main television wall underneath the telly facing the racebook. There are numerous large TVs spread across the main wall and some on the side. The whole sportsbook is smoke-free.
Aria's Poker Room
Aria resort is home to a poker room that has 24 tables. Aria's Poker room has some of the city's highest limits avaiable. The main games are 5/10, 2/5, and 1/3 No Limit Texas Hold'em. Also, Pot Limit Omaha is regularly spread with blinds of 2/5 and 1/3. Mixed games are common at this poker room as well.
There are two 125-dollar No Limit Texas Hold'em (NLHE) tournaments, which are spread every day. Multi-Table Tournaments are popular at Aria. Generally, the poker room at Aria Las Vegas is one of the busiest locations on the strip. Aria always has many 2/5 games, along with pot-limit Omaha, and higher limit No Limit Texas Hold'em options, often featuring 5/10 with a maximum buy-in of $3,000.
Aria's High Limit Room
Designed by the American architect Peter Marino, Spin high limit room has unique high-stakes gaming areas offering a comfortable dining area that comes with lounge seating, individual restrooms, and a devoted high limit slots team to elevate the guests' experience every visit.
The new technology called QuickPay is only available at Aria. It has revolutionized the procedure of jackpot payout and significantly enhanced the guest experience. QuickPay enables the W2G accrual log, allowing you to service your own jackpot without any delay due to paperwork or employee interruption. The QuickPay technology virtually eliminates errors made when completing W2G manually, as customer information and jackpot events are recorded electronically and automatically stored.
Restaurants
Aria Las Vegas resort offers a total of 16 restaurants. Julian Serrano is a tapas restaurant located in the lobby and named after its chef. Esquire Magazine noted this restaurant among twenty best new restaurants in 2010. In the lobby, you will also find Sage, which was described as a modern American restaurant. Other restaurants that are led by celebrity chefs include steakhouse run by the French-American chef Jean-Georges Vongerichten and BARMASA, which is a contemporary Japanese restaurant by Chef Masa Takayama
Aria's Café is open 24/7 and has the most affordable meal in Aria Las Vegas Resort. Also, Five50 and buffet are affordable options. Guests looking for a decent meal that is affordable can also go to Lemongrass, a restaurant that offers Asian cuisine. Aria received AAA Five Diamond resort and restaurant award less than one year after opening.
Conclusion
Aria Las Vegas Resort is known to be the epitome of luxury hotel-casino with luxury suites, the best environment for gambling, top-notch service, and expansive views of the Strip. This makes the resort one of the best places to visit while in Las Vegas.
About the Author