Santa Fe Station Las Vegas Hotel and Casino is located on North Rancho Drive on 15 hectares of land. Originally it is opened as the Santa Fe in 1991 and for many years had the only ice rink in the area. It was the site of a lengthy labor dispute with the Culinary Workers Union til it was sold to Station Casinos in 2000. At the time of construction the northwest area of Las Vegas had little construction and Paul Lowden believed the area would go ahead. Built alongside Route 95 and with a south western theme, the casino opened in 1991.
With 200 rooms, an ice rink, and 60 lane bowling alley, the hotel and casino was popular with hockey players and ice skaters. In 1994 the hotel and casino expanded and added 4 restaurants and a 700 seat bingo hall.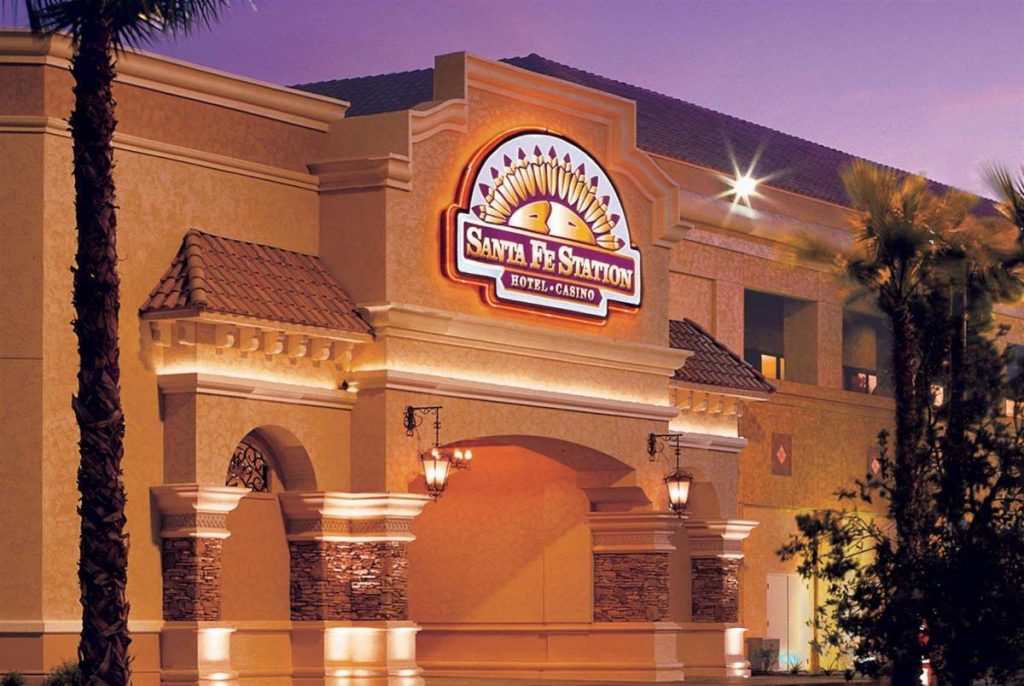 Discussions with Station Casinos began in 1996 and in 1999 Station Casinos bought land owned by Santa Fe Gaming with an option to purchase the present hotel and casino.
By June 2000 the hotel and casino was bought for $205 million and renamed the Santa Fe Station Las Vegas Hotel and Casino. A large renovation was planned and the south western theme would be retained. More parking spaces, slot machines, a 12 screen movie theatre, nightclub and childcare centre were all planned. The ice rink was removed but another was built at the nearby Fiesta Rancho. The Santa Fe Station Las Vegas Showroom opened in 2004 and a 16 screen movie theatre opened in 2005. Purple Reign, the Prince Tribute show first opened here in 2006.
By 2007 another parking garage, new restaurants, improved Sportsbook and remodelled bowling alley had all been completed. $458 million had been spent. In 2007 a new casino area with more craps and Blackjack tables and mini Baccarat tables were added. A new Bingo Hall was opened in 2016 making the casino cover an area of 151,000 square feet.