Located on the Strip, New York New York Las Vegas is a hotel and casino owned by MGM Resorts International. It uses the NYC influence of its name in many ways. Its architecture is designed to evoke the NYC skyline of the forties era. The resort includes several towers that are configured to resemble towers in New York City such as the Chrysler Building and the Empire State Building.
In front of this property, you'll find Grand Central Terminal, the immigration inspection station on Ellis Island, the art museum called Whitney, as well as replicas of the colossal neoclassical sculpture Statue of Liberty and Soldiers' and Sailors' Memorial Monument.
Within New York New York Las Vegas, particular gambling areas, meeting rooms, restaurants, and lounges are named after NYC landmarks or neighborhoods. For instance, the restaurants are modeled after the Village (Greenwich Village) while the main casino area was named after Times Square. Special decks of cards are used at the casino where apples replace heart suit.
Mark Adven and Sig Rogich, who used to be a US Ambassador to Iceland, conceived the idea of a resort modeled after the NY skyline. Sig brought the idea to Gary Primm, who was his friend and head of Primm Valley Casino Resorts. In 1994, Primm approached Bob Maxey, MGM president, with the idea for the prime Strip location of MGM; a joint venture between the two companies was formed and construction started in March 1995. The cost of constructing New York New York Hotel and Casino Las Vegas was 460 million dollars. It was officially opened to the public on January 3, 1997.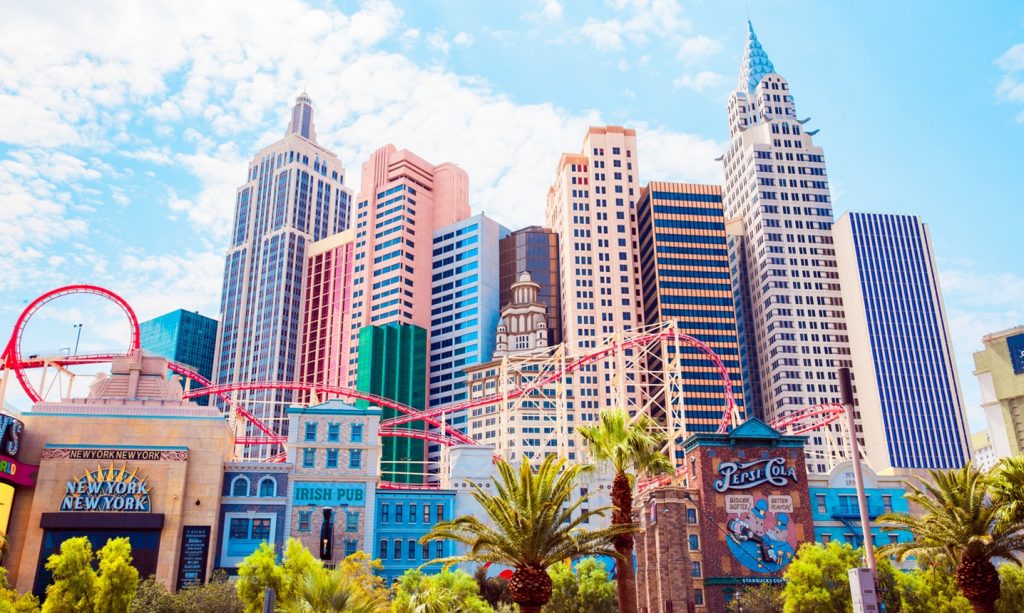 Wrapped around a colorful, brightly-lit skyline of skyscrapers, you will see thunderous Big Apple rollercoaster. The atmosphere is lively and draws a younger crowd. Let loose and have fun at this New York City-themed hotel-casino. The nightlife scene is unmatched and the jewel-like rooms are stylish.