Mandalay Bay Las Vegas is a luxury resort and casino located on the Strip. It's owned and operated by a company called MGM Resorts International. One of the property's towers is operating as the Delano Las Vegas; the Four Seasons Hotel occupies 5 floors (35to 39), and it's operated independently within the Mandalay Bay tower. The 2,749-foot-long Mandalay Bay Tram connects Mandalay Bay Las Vegas to its sister properties: Luxor and Excalibur. All three were constructed by Mandalay Resort Group (formerly Circus Circus Enterprises) before MGM purchased it.
Circus Circus Enterprises purchased the Hacienda for 80 million dollars and an adjacent 30-ha site for 73 million dollars in 1995. On December 1, 1996, they closed the Hacienda and razed it on New Year's Eve, which was one month later. Plans for the "Project Paradise" were announced the same day. The estimated budget for the tropical-themed project was 800 million to billion dollars. This project was given a new name (Mandalay Bay) in February 1998 to evoke the tropical romanticism of the Mandalay poem.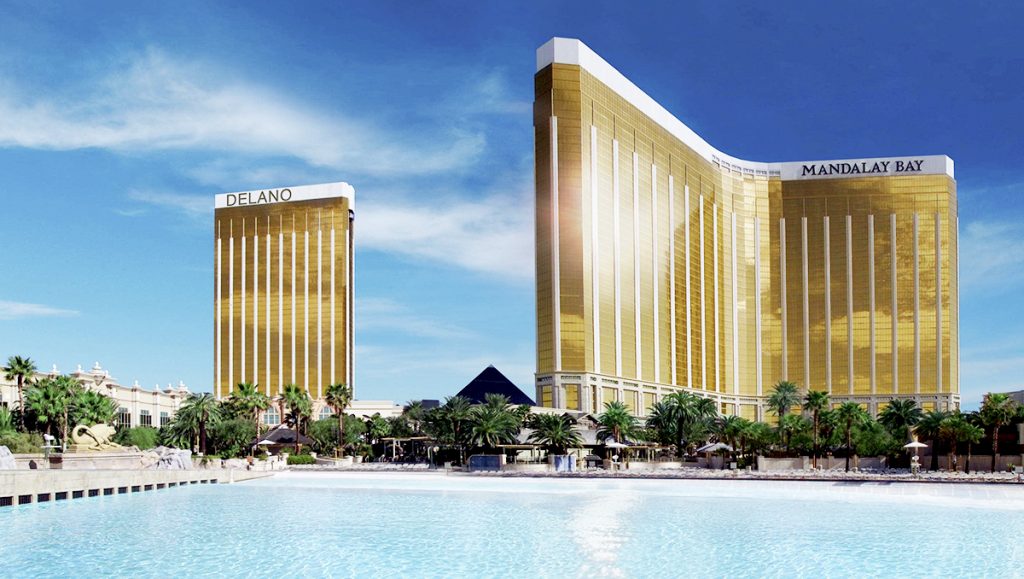 The unique destination resort has been operating since March 2, 1999. It opened with grand opening festivities, including the Blues Brothers (John Goodman, James Belushi, and Dan Aykroyd) leading a procession of two hundred motorcycles to the front doors of Mandalay Bay Las Vegas, and a concert by Robert "Bob" Dylan (an author, singer-songwriter, and visual artist) at the House of Blues. Circus Circus Enterprises was renamed Mandalay Resort Group in June 1999.
Home to sun, sand, and fun, Mandalay Bay Las Vegas stands as one of the nicest hotel and casinos in Las Vegas and offers an exciting Vegas experience. The MGM Resorts International brand of reassured sophistication is well represented in this resort and the ambiance of complete refinement is shining through immediately.