Excalibur Las Vegas is a hotel and casino situated on the Strip. MGM Resorts International owns as well as operates the resort. It was named after King Arthur's mythical sword Excalibur and uses the Middle Ages theme in several ways. The facade of the resort is a stylized castle's image. Until 2007, a figure that looks like a wizard representing Merlin the enchanter looked out from the high turret. A figure that advertises Dick's Last Resort replaced it. A free tram connects the resort to its sister properties to the south, Mandalay Bay and Luxor.
Circus Circus Enterprises built Excalibur Las Vegas, and it opened officially on June 19, 1990. When it opened, it was the world's largest hotel covering more than seventy acres. As of 2016, it's the 7th largest hotel in Las Vegas (by the total number of rooms), and the 11th largest hotel in the world. In 2005, MGM Resorts International acquired the property. The resort was designed in accordance with the "theme resort" approach that was popular among operators of casinos during the nineties, which included the traditional Vegas gaming experience combined with family-oriented elements.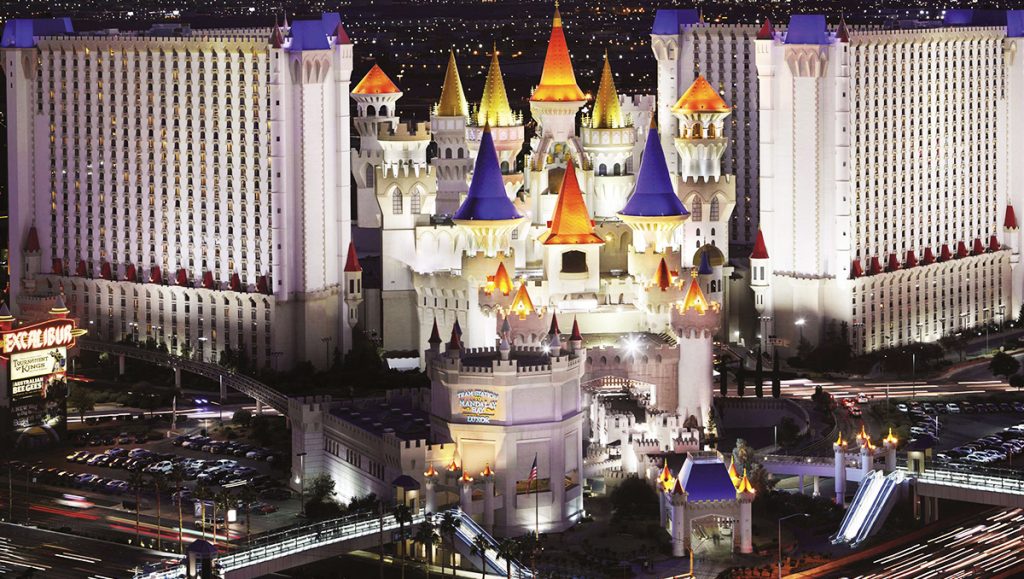 Since 2006, (as part of a 4-year renovation and modernization project), many of the medieval-themed scenery and statues have been removed. As of 2010, only a few of the themed wall decorations still remained as the resort was updated to include more understated and modern elements, including modern furniture plus flat-screen plasma TVs in a total of 2,000 renovated guest rooms.
Excalibur's medieval theme is unique, even on the Las Vegas Strip where there are numerous other fantastical theme casinos. You cannot miss the overhead pedestrian bridge across Tropicana Avenue and the candy-colored turrets. Inside the legend of King Arthur legends continues with heraldic crests, stone towers, and stained glass.