The Cosmopolitan Las Vegas, a luxury resort casino plus hotel, is located on the Strip, south of the Bellagio. It consists of 2 high-rise towers: the Chelsea Tower and the Boulevard Tower, both of which stand at 184 meters tall.
Plans for this property were announced in April 2004. A joint venture called 3700 Associates was formed by Soros Fund Management, a real estate developer called Ian Bruce Eichner, and David Friedman, who was a former executive of Las Vegas Sands. The developers bought the site, a 3.4-hectare U-shaped parcel, for 90 million dollars from an American company controlled by Margaret Elardi, the owner of New Frontier. In November 2004, further details about this project were released, including the Cosmopolitan name.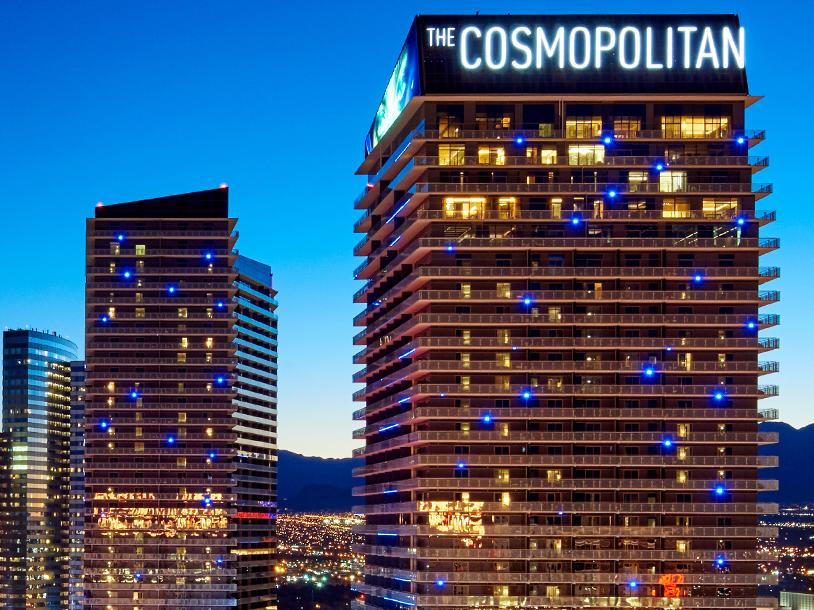 Friedmutter Group led the design team of Cosmopolitan Las Vegas Hotel and Casino as the executive architect; Arquitectonica was the design architect for the themed exterior of the building. DeSimone Consulting Engineers was the company that engineered the building. The interior design team of this building included Bentel & Bentel, Adam Tihany, Jeffrey Beers, The Rockwell Group, the Friedmutter Group, Prophet, and Digital Kitchen.
The Cosmo was built on the site that was previously Jockey Club's parking lot. An agreement was made for the residents of the Club to use part of the Cosmo's parking garage because the resort occupies most of the parking lot. The resort was the second Vegas hotel to have an underground parking garage situated directly below the hotel. On December 15, 2010, the project officially opened and was part of the Autograph Collection managed by the multinational diversified hospitality company called Marriott International. In May 2014, Deutsche Bank sold the resort to Blackstone Group for 1.73 billion dollars.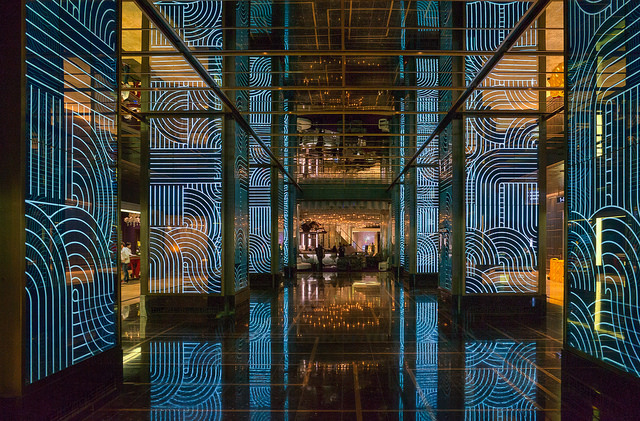 As soon as you enter The Cosmopolitan's lobby, you are surrounded by impressive digital art installations. The cutting-edge interior design details continue throughout the public spaces; each corner reveals another outstanding, interactive sculpture or illuminated staircase. Beyond the gaming floor of this resort, the upper floors of shops and restaurants also have creative, whimsical layouts that feature themed seating areas as well as a litany of attractive visual distractions to discover.