Caesars Palace Las Vegas is a luxury hotel plus casino located on the Strip's busiest intersection between The Mirage and Bellagio. It's one of the best-known and largest landmarks. Caesars Palace Las Vegas was founded in 1966 by the American developer Jay Sarno, who wanted to create a lavish facility that would give guests a sense of life during the period of the Roman Empire.
In 1962, Stanley Mallin and Sarno, who were cabana motel owners, applied for a 10.6-million-dollar loan from the International Brotherhood of Teamsters (IBT) Central States Pension Fund. Sarno started plans of constructing on Kirk Kerkorian's land. He would later act as the designer of the luxury hotel he planned to build. Caesars Palace Las Vegas was contributory in starting a new era of opulent casinos from the late Sixties onward.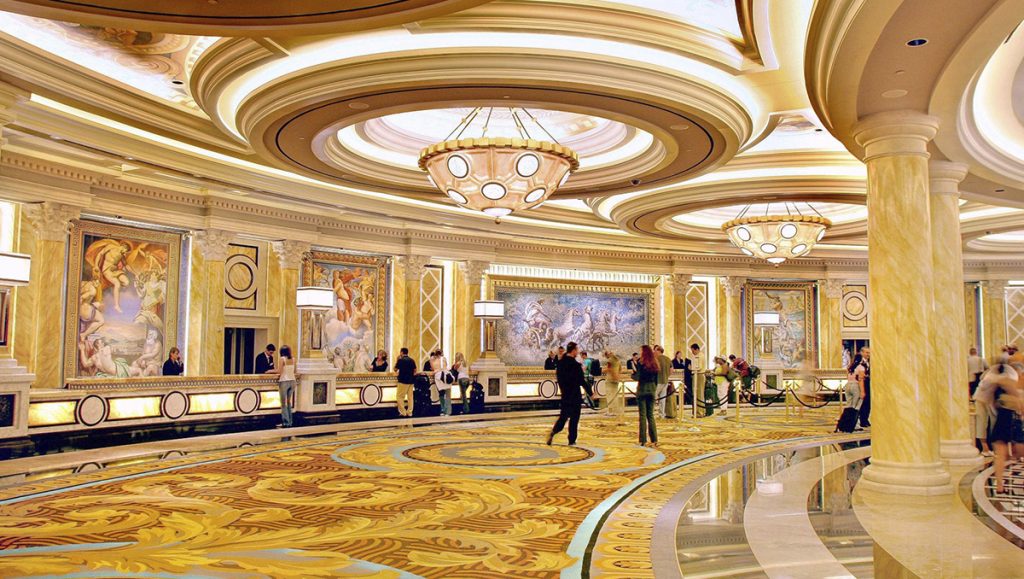 The inauguration ceremony took place on August 5, 1966. Jay Sarno and Nate Jacobsen (his partner) spent $1million on the event. This cost included the largest Ukrainian caviar order ever placed by any private organization, 50,000 glasses of champagne, 300 pounds of Maryland crabmeat, and 2 tons of filet mignon. Cocktail waitresses wearing Greco-Roman wigs greeted guests saying "Welcome to Caesars Palace, I'm your slave.". Phil Richards and Andy Williams were among the performers at Caesars Palace's opening ceremony.
The Greco-Romanesque resort is undoubtedly a Las Vegas classic, from the giant statuary as well as the Colosseum concert hall to the sprawling pool complex where you will find bronzed goddesses and gods lazed in cabanas. Since it opened, Caesars Palace Las Vegas has not abandoned its zany theme. Cocktail waitresses are still wearing mini-skirted toga-inspired dresses. There are many replicas of famous Roman and Greek statuary in the gargantuan twin casinos as well as around the fountains and sparkling pools; Everything at Caesars Palace Las Vegas looks larger-than-life.