Your Kids Will Love It

5 Family-Friendly Things to Do in Las Vegas

Even though Las Vegas is best-known as the gambling haven of the world, this exciting city has so much more to offer to its lucky visitors. If you're not the type to visit casinos, you don't have to. There are plenty of other activities you can do with your family that your kids will absolutely love!
Of course, if you're going to Sin City with your kids, you'll probably want to leave the "sin" part out of the equation. Las Vegas has gone through a complete revamp in the 1980s when the authorities decided they wanted to attract different demographics. 
If you have accepted the invitation and you're coming with your family, here are the best five places to visit and activities to do that are fun for everyone.
Indoor Skydiving
When you ask kids what they want to be when they grow up, or who they want to be, many of them will mention Superman. That dream does not have to remain a dream, as you can give them the Superman experience by taking them to skydive indoors. 
This exciting activity provides visitors with a feeling of skydiving from an airplane and floating through the air. Of course, Las Vegas also offers real skydiving, but that is too much for most people. 
When you arrive at the location, you will first be given thorough training and you'll be provided with all the information you might need. After that, it's time to suit up and jump inside the wind tunnel. 
The winds in the tunnel can reach up to 120 mph, so the minimum weight allowed for kids is 40 lbs. When inside the tunnel, you can just levitate, or you can turn around, spin, and do tricks. It's an opportunity to snap some pretty unique family photos.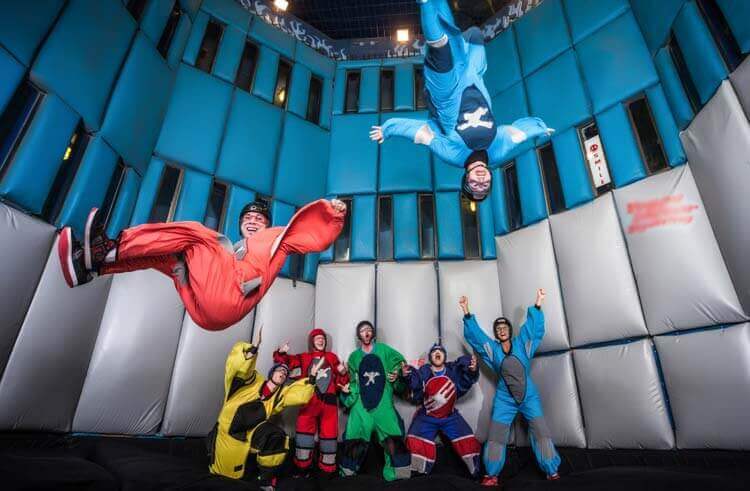 Vegas Indoor Skydiving
Visiting a Bowling Hall
Few things are more fun for the whole family than bowling. Kids simply love it and it's the favorite pastime of many adults as well. Las Vegas has an incredible selection of bowling halls you can visit and have more fun than ever before. 
In many parts of the world, bowling is a pretty expensive activity. Taking the whole family there means you need to spend a lot of money. However, that's not the case when it comes to bowling in the United States, Las Vegas included. 
Most people are surprised to learn that the prices at the most popular locations are quite reasonable. Some of the best ones that we recommend are Gold Coast Bowling Center and Bowling at GameWorks Las Vegas. However, you'll have lots of fun wherever you go.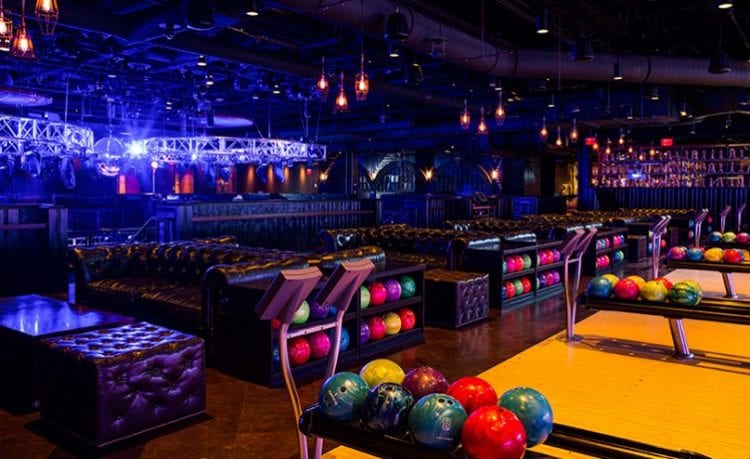 Vegas Bowling Hall
Go to the Stratosphere Tower
The Stratosphere Tower is one of the most authentic places Las Vegas has to offer. A visit to this city would not be complete without visiting the Tower. Your kids will be forever grateful to you if you also take them on at least one of the available rides. 
The Stratosphere Tower is the tallest building in Las Vegas. It is 1,150 ft in height, which is hard to imagine until you see it with your eyes. It was originally designed to be the tallest building in the US but the authorities decided against it because they were concerned about air traffic safety. We think it's pretty tall even like this!
If you want to make your kids (and yourself) scream in excitement, you can take them to the top of the Stratosphere Tower. From there, you can go down using one of the three rides: Insanity, X-Scream, or Big Shot.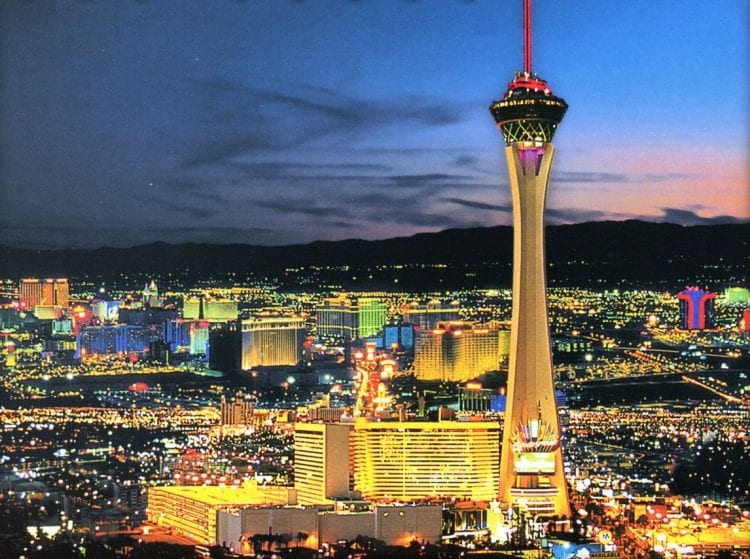 Stratosphere Tower
Ride the High Roller
When you're done riding down the Stratosphere Tower in style, it's time to head to the High Roller while your heart rate is still up. The High Roller is the tallest observation wheel in the world, but it's perfectly safe for children of all ages, even toddlers. 
The wheel has 28 fully-enclosed air-conditioned cabins. So if you want a place where you can escape the hustle and bustle and the Las Vegas heat, this is the perfect place. As a bonus, the 360-degree view from the top of the 550 ft tall construction is hard to top.
At this height, you will be much higher than all hotels and most other buildings in the city. Therefore, you will be able to get a perfect view of the landscape, as well as the surrounding valleys and desert. 
If you have a fear of heights, you might consider skipping this attraction. However, kids are usually more relaxed than adults when it comes to going up, so it's a great opportunity for them to have some fun.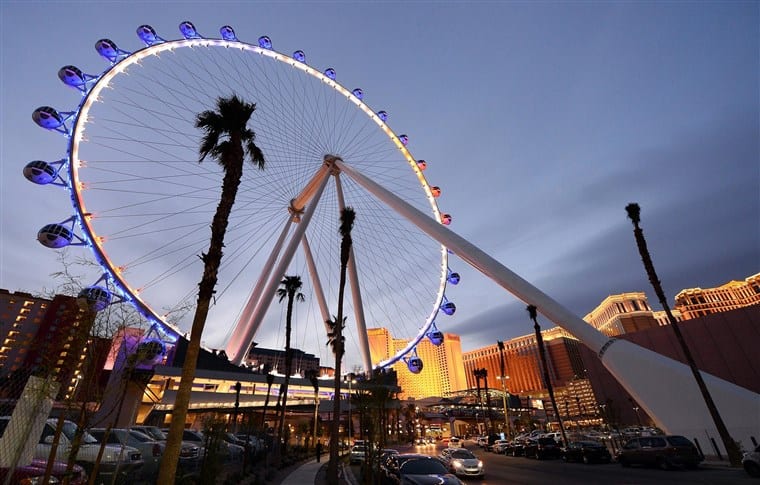 High Roller
See the Tournament of Kings
Apart from Superman, another thing that children are fascinated by are castles, kings, queens, and knights. That's exactly what you can give them a chance to see if you take them to the Excalibur Resort. 
As you might have guessed, the resort is designed according to King Arthur's castle, so it's the logical place for hosting the Tournament of Kings. The show is unique and fun for the whole family. 
The tournament features medieval knights on horseback, battles with swords, chains, and shields, spectacular and colorful costumes worn by everyone involved, medieval music, and so much more. 
Of course, all the battles are carefully planned and practiced, which makes them suitable for even the youngest children. 
If you're hungry, you can also enjoy a three-course meal that you can eat with your bare hands, just like the peasants used to centuries ago. The tickets are pretty affordable and kids under the age of three can enter free of charge.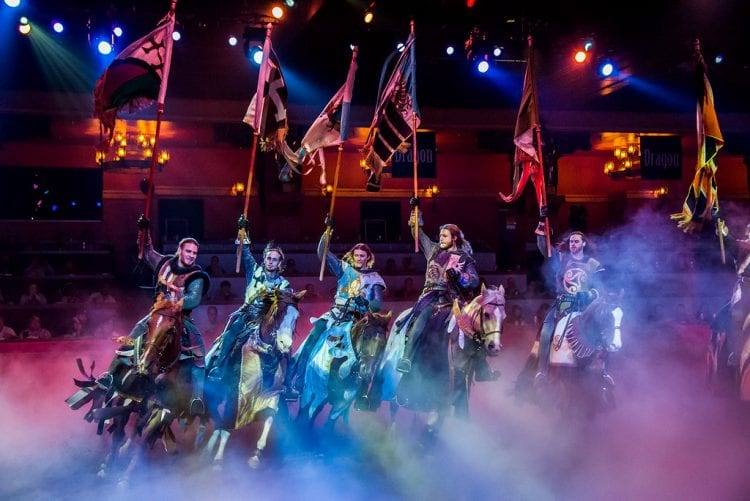 Tournament of Kings
24 Feb 2020 | Adam Shaw | 0 Comments
COMMENT
SHARE
Top Casinos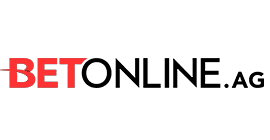 Get 100% up to $3000 on The First Three Deposits
Play Now
Read Review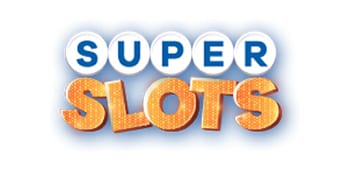 300% Match Bonus Up to $2000 with Bonus Code SUPER300
Play Now
Read Review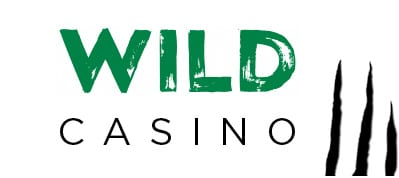 250% match bonus up to $1,000 with Bonus Code WILD250
Play Now
Read Review